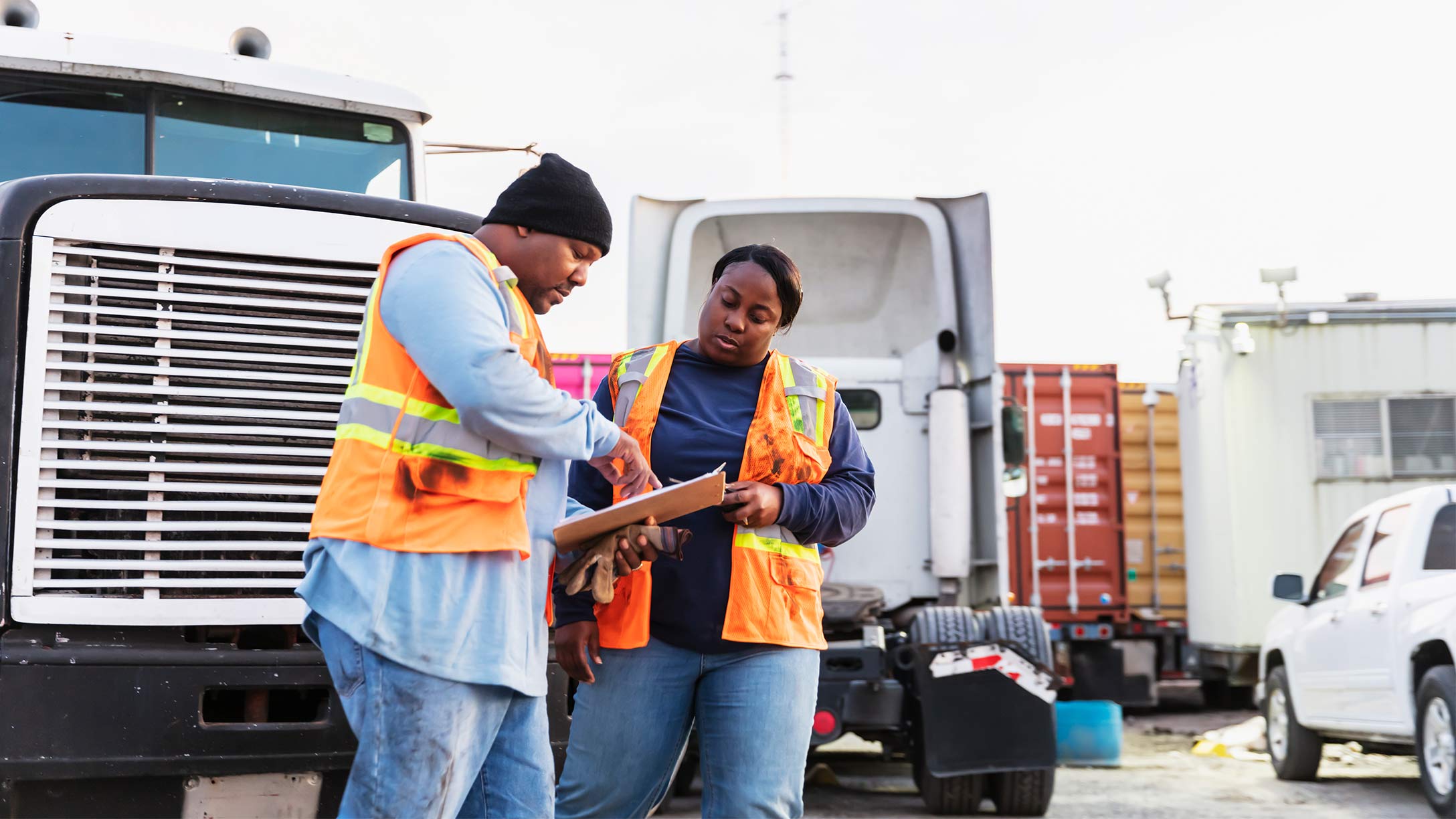 What is a fleet manager?
---
A fleet manager role is more vital than ever for a business to run efficiently.
Have you ever thought about how items get delivered on time? From the warehouse, to the delivery vehicle, all the way to the final destination, there is a lot of work involved. Behind the scenes, a fleet manager is the expert who manages every detail — big and small — helping each task stay on track to meet business goals.
What is a fleet manager?
A fleet manager is an individual who is responsible for a company's group of vehicles. This includes all aspects from hiring all the way to maintaining fleet efficiency.
Each fleet has their own unique set of tasks and challenges that fleet managers help to navigate. A fleet manager oversees fleet operations within a company to help a business run efficiently, safely and in compliance with the laws and regulations.
Fleet managers are responsible for directing and managing the costs of the vehicles owned or leased by their companies. They also create policies based on company requirements, to address vehicle usage and driver behaviour, and may also set driver schedules.
What does a fleet manager do?
While everyday tasks might differ for each fleet manager, the job has common strategic responsibilities that include promoting and raising awareness on safety, maximising fuel efficiency and lowering operational costs. All of the responsibilities are directed towards minimising the impact of fleet operations to the company's bottom line.
Fleet manager duties and responsibilities
Fleet managers responsibilities vary but generally, they are tasked with duties including:
Vehicle acquisition
Negotiating pricing and demands with manufacturers, as well as engineering technical solutions (particularly with trucks and equipment) is an important part of reducing costs. Consideration of the vehicle's job and the load it must carry are required in forecasting and planning fleet purchases.
Designing and managing fuel programs
Fuel is consistently one of the three greatest expenses in a fleet budget. Managing a preferred fuel network, fleet card program and/or on-site fueling with suppliers directly impacts a fleet's cost per kilometre. Various tools, including telematics, fuel reporting and gamification are used to influence drivers to purchase fuel according to their policy.
Designing and managing maintenance programs
Fleet managers set preventive maintenance policies based on vehicle type, vocation and geography as it impacts driver safety, saves repair costs and optimises resale value.
Leading safety programs
Fleet managers are passionate about safety. When an incident occurs, potential negligent and brand damage come with staggering costs to organisations.
Working with the executive team and/or health and safety department, the fleet manager has the responsibility to limit a company's liability, improve safety within the communities they operate and positively impact the lives and well-being of their drivers. A program that proactively improves driving behaviours and reduces incidents will also result in reducing fuel and maintenance costs.
Tracking fleet metrics
To monitor fleet activities, fleet managers typically use GPS fleet tracking devices and software. A manager's work routine includes reviewing daily, weekly and monthly reports, and measuring performance in areas such as idling, routing, asset utilisation, fuel consumption and driver safety. Here are various examples of common fleet management reports.
Understanding and managing compliance
Keeping up-to-date with legislation changes and new regulations allow fleet companies to stay in compliance and avoid heavy fines. Examples of vehicles subject to compliance regulations include motor carriers and drivers, vehicles carrying hazardous materials and food. Many heavier commercial vehicles are required to perform driver vehicle inspections and report on them.
Vehicle remarketing
Managing vehicle life and coordinating replacement with the timing of the sale is important in achieving optimal remarketing value. Keeping the vehicle in a clean, well-maintained condition with all the accessories it was delivered with (extra key fobs, mats, seats, headrests) help sell the vehicle at a better price.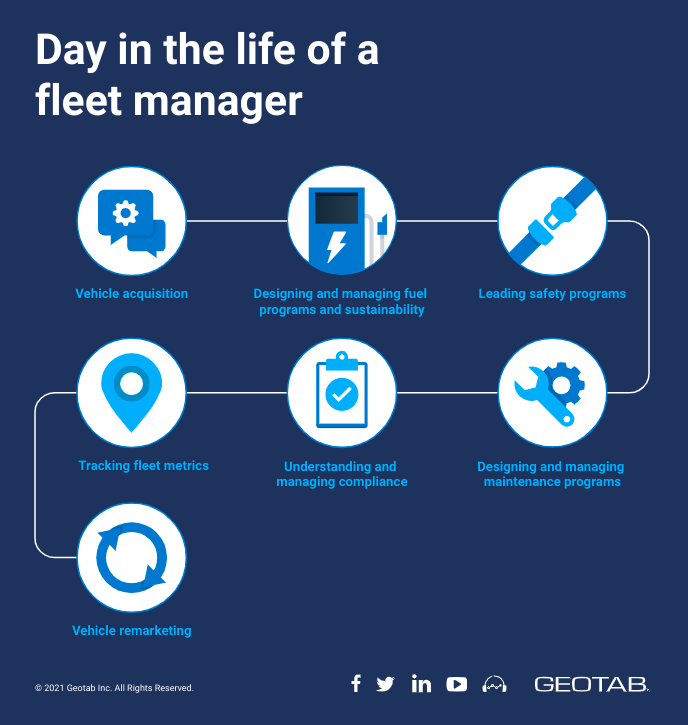 What key skills or core competencies does a fleet manager need?
Fleet managers need excellent operational experience and skills to cope with their primary tasks which include:
Digital analysis
Knowing how to use software and fleet technology such as telematics and dash cams is critical to tracking performance trends, predicting mechanical failures, minimising downtime and providing valuable insight into the vehicle's replacement cycle. Keeping on top of reports, understanding systems and following up on the insights provided is essential when managing assets.
Business management
Maintaining collaborative relationships with both internal and external stakeholders that impact fleet operations, staying up-to-date with regulatory requirements and company and driver policies will help avoid fines and maximise safety.
Financial comprehension
Fleet managers are required to create fleet budgets which requires an understanding of the business, careful analysis and benchmarking within the industry and current economic conditions.
Familiarity with security
Cybersecurity is an important responsibility for executives, including fleet managers. Fleet managers need to know how to evaluate security requirements when integrating data into the companies' environments, including partnering with key stakeholders who oversee data security and privacy for their organisation.
How the role of a fleet manager is evolving
Evolving technologies and vehicle types are pushing fleet manager skill sets to a new level. There is an increased demand for knowledge of technology and data uses, analytics and strategic forecasting. The evolving fleet manager role will require the additional ability to:
Be involved with analytics and make decisions based on the data.
Be an excellent communicator who can collaborate cross functionally with all departments in the company from C-Suite to drivers and integral key stakeholders both internally and externally.
Make insightful recommendations to minimise exposure and foster opportunities to capitalise on industry developments.
Identify and manage technology, telematics, sustainability, logistics and safety.
Consider how new legislation will impact fleet operations. Legislation might also begin to include taxes or penalties related to carbon footprint or fuel consumption, which may impact the types of vehicles being purchased to comply with new standards for fuel consumption.
Top challenges fleet managers face and how to overcome them
All jobs have their fair share of challenges and it is no different for fleet managers. The top three challenges facing fleet managers include pressures surrounding the following:
Reducing cost — The ability to analyse and make suggestions while taking into account fluctuating vehicle costs, a volatile fuel market and unexpected expenses that arise.
Minimising fuel consumption — Managing fuel costs and identifying ways to decrease this expense is critical. Fuel prices are difficult to forecast and make planning a budget challenging.
Increasing driver safety/productivity — Enabling driver productivity through technology can lead to challenges with driver safety, making driver education on proper uses of technology imperative. Managers must create and manage fleet and driver safety policies in order to reduce incidents and the associated repair costs, downtime and liability.
The future of fleet managers
According to research company, MarketsandMarkets, the market size of global fleet management is expected to grow to 34 billion by 2025. Fleet managers will continue to play a bigger and more vital role in companies, with the rise of electrification, OEM and sustainability efforts.
By lowering costs, providing savings and directing policies and operations that impact revenue and the bottom line, fleet managers will continue to be valued contributors and play an integral role in organisations.
Fleet managers can use telematics to make their everyday tasks easier.
To learn more about Geotab and how it can help your fleet, view our fleet management solutions.
---
If you liked this post, let us know!
---
Disclaimer
Geotab's blog posts are intended to provide information and encourage discussion on topics of interest to the telematics community at large. Geotab is not providing technical, professional or legal advice through these blog posts. While every effort has been made to ensure the information in this blog post is timely and accurate, errors and omissions may occur, and the information presented here may become out-of-date with the passage of time.
Other posts you might like