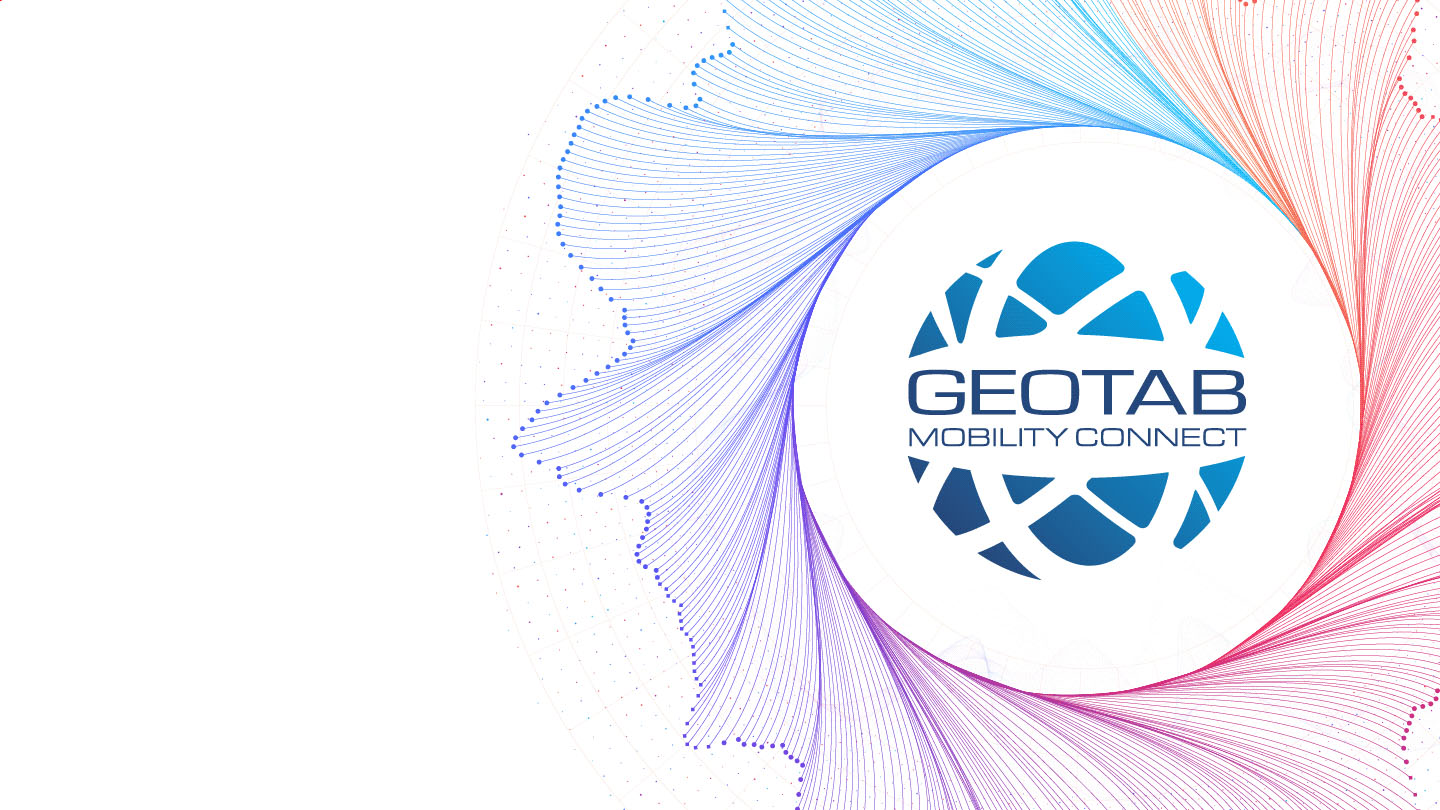 Geotab Mobility Connect 2020 sheds light on the future of fleet mobility
---
Mobility Connect 2020 offered a virtual event experience for European fleet owners, Resellers, Partners and more.
On October 15, 2020, fleet professionals from all across Europe joined Geotab for the third-annual Mobility Connect conference. Featuring presentations, regional breakout sessions, panel discussions, interviews and more. This virtual event spanned over six hours and showcased the latest pieces of innovation and topical debate in the fleet industry including:
New mobility
Big data
Sustainability and electric vehicles (EV)
Large fleet management
Transportation and logistics
Data privacy
OEM and connected mobility
Off- road and construction
"We believe that Geotab is in an incredible space as companies embrace the digital economy and adopt innovation such as EVs and new mobility trends. Geotab is a platform that can help organisations create the building blocks to succeed" said Edward Kulperger, Senior Vice President for Europe at Geotab. "We are laser-focused on data and engineering, which enables our Partners to stay ahead of the curve.."
See also:
The future of electric cars in Europe
The complete guide to fleet management
The latest product launches and announcements at Mobility Connect 2020
Every Geotab event is filled with new information and product launches and Mobility Connect 2020 was no different. For the latest updates on Geotab's newest offerings, read below:
Introducing Geotab Keyless
Chris Mendes, Vice President of Electric Vehicles introduced a new car sharing product at Geotab Mobility Connect. Geotab Keyless is a platform solution for remote vehicle management that is scalable to any fleet size and provides secured, keyless entry into vehicles.
The IOX-Keyless Add-On connects directly to Geotab GO9 device models (or later), which allows it to validate security and receive commands through cellular or Bluetooth connection. The Add-On enables automatic lock and unlock features validated with a security key.
"Keyless vehicle access is critical not only for fleets seeking to improve cost and operational structures but also consumers, who are moving away from vehicle ownership and expecting an easier, more convenient driving experience," said Mendes.
Geotab partners with Mercedes-Benz
At the end of the OEM and connected mobility session, Geotab also brought forth an additional new product announcement, this time from Fabian Seithel, Geotab Business Development Manager, Europe. Seithel along with Geotab CEO Neil Cawse and Christoph Ludewig, CEO, Mercedes Benz Connectivity Services, announced the new OEM integration between Mercedes-Benz Connectivity Services and Geotab.
The Geotab and Mercedes-Benz Connectivity Integrated Solution in Europe is available for cars and vans across Europe. This integration allows Geotab to be fully integrated with Mercedes-Benz vehicles through an open platform connection.
With a cloud-to-cloud integration, Geotab can leverage Mercedes-Benz embedded telematics modules. With this partnership, Geotab now has access to rich engine data including direct OEM information. Additionally, with this integration there is no need for an external Geotab GO device to be installed.
"For fleet managers it is important to have control of the data. As a company you don't give away the right to your data, you want to maintain control over it. If you use connectivity services, you don't use it for entertainment purposes, you use it to optimise your fleet, to reduce your costs and have a monetary benefit," said Christoph Ludewig, CEO, Mercedes Benz Connectivity Services.
Discover EV Charge Assurance
During a session on sustainability and EVs, Tamás Halbrucker, Geotab Solutions Engineering, presented details on the newest MyGeotab Add-In, EV Charge Assurance. This dashboard is designed to provide a comprehensive overview of the charging status for electric vehicles within a fleet.
EV Charge Assurance allows users to quickly see which EVs are ready for use and fully charged while also setting up custom notifications to proactively resolve charging issues. When utilising this dashboard, you can pre-plan asset utilisation and dispatch EVs confidently, knowing they will have enough charge to complete their scheduled workload.
Get a free trial of the Geotab Data Science Package
During a session on big data, Geotab announced the opportunity for a free six-month Data Science Package trial. This trial will provide access to a consolidated data lake with curated data sets for your analysis. It will also allow you to query across thousands of vehicles and years of data in seconds, easily connect your line of business applications and industry-leading BI tools, sample queries and python notebooks in GitHub, receive daily batch updates into your own BigQuery data projects and so much more.
For those interested in taking advantage of this trial, you can find more information at the Data Science Package web page.
Key takeaways from Mobility Connect 2020
Europe is moving forward with EVs
In collaboration with our partners Fleet Europe, we surveyed over 100 fleets across Europe to understand their appetite for fleet electrification. According to the survey:,
41% found fleet electrification to be a priority
31% found it to be very important
76% of those surveyed stated they had already integrated EVs into their fleets.
Motivation factors for adopting EVs were also interesting, with 76% stating that adopting electric vehicles into their fleets would allow them to meet their company's sustainability and environmental targets. When it comes to connectivity in EVs, the top benefits were gaining better access to reporting, optimising charging infrastructure and cost-savings.
"We think it is paramount to our industry and our ecosystem to start leading the globe with regards to sustainability initiatives. We believe electric vehicles are a catalyst towards a sustainable future," Kulperger noted during the conference's opening remarks.
Big data is still at the forefront of telematics
In an interview-style session hosted by Geotab's own Vice President, Data Analytics, Mike Branch, along with Data Science Solution Engineers, Jorge Gonzalez and Paul Stobbe, attendees were treated to a special demo of the Geotab Analytics Lab, a data insight template that fleet managers can use to further analyse telematics data.
The Analytics Lab uses visualisation tools to gain insights into trends that can help make better informed business decisions and assist with fleet optimisation.
In addition, attendees were given previews of upcoming big data launches including intelligent zoning, electrical systems ratings, advanced collision detection and AI modelling.
"The Analytics Lab provides full access to any new applications we're pushing out in experimental modes or APIs. Through completing minimum viable products for our customers and partners, we learned that the products we created were useful for not only the customer but also for the entire Geotab ecosystem as well," said Branch. "We needed a way to get these insights out to our customers and the Geotab Analytics Lab was the solution to that problem."
New trends are emerging in telematics
This event also highlighted the emergence of new trends in the telematics and technology industry. One prime example of this is rental car companies. These companies, like Wunder Mobility, a featured company at Mobility Connect 2020, are now beginning to look for counterless and contactless methods of customer interactions with their products by making the switch to virtual pick-ups and drop offs.
In line with this, OEMs are now starting to look more into leveraging existing dealer networks to extend their reach and automotive retail networks are looking to further diversify their portfolios through an increased use of mobility and connected car services.
These trends highlight the need for vehicle connectivity as fleets move forward. Embracing connectivity and mobility in fleets not only helps to increase safety and mitigate risks but also serves as an important piece in planning for the future.
What's next for Geotab in Europe?
There's always something new on the horizon for Geotab. As Neil Cawse, Geotab's CEO said in the fireside chat that closed the event, "We see data as education. When you teach me how to do something, I can pass it on. I use it to make better decisions. When you combine data, you can do more."
"There are so many ideas and potential of how data can be used for the greater good and for the fleets to improve their operations. There are so many possibilities," added Ludewig.
For updates on future product launches, events and more, be sure to visit www.geotab.com/uk/. Additionally, keep your eyes on our YouTube channel as we will be posting session recordings from Mobility Connect 2020 soon.
---
If you liked this post, let us know!
---
Disclaimer
Geotab's blog posts are intended to provide information and encourage discussion on topics of interest to the telematics community at large. Geotab is not providing technical, professional or legal advice through these blog posts. While every effort has been made to ensure the information in this blog post is timely and accurate, errors and omissions may occur, and the information presented here may become out-of-date with the passage of time.
Subscribe to the Geotab Blog
Sign up for monthly news and tips from our award-winning fleet management blog. You can unsubscribe at any time.
Other posts you might like