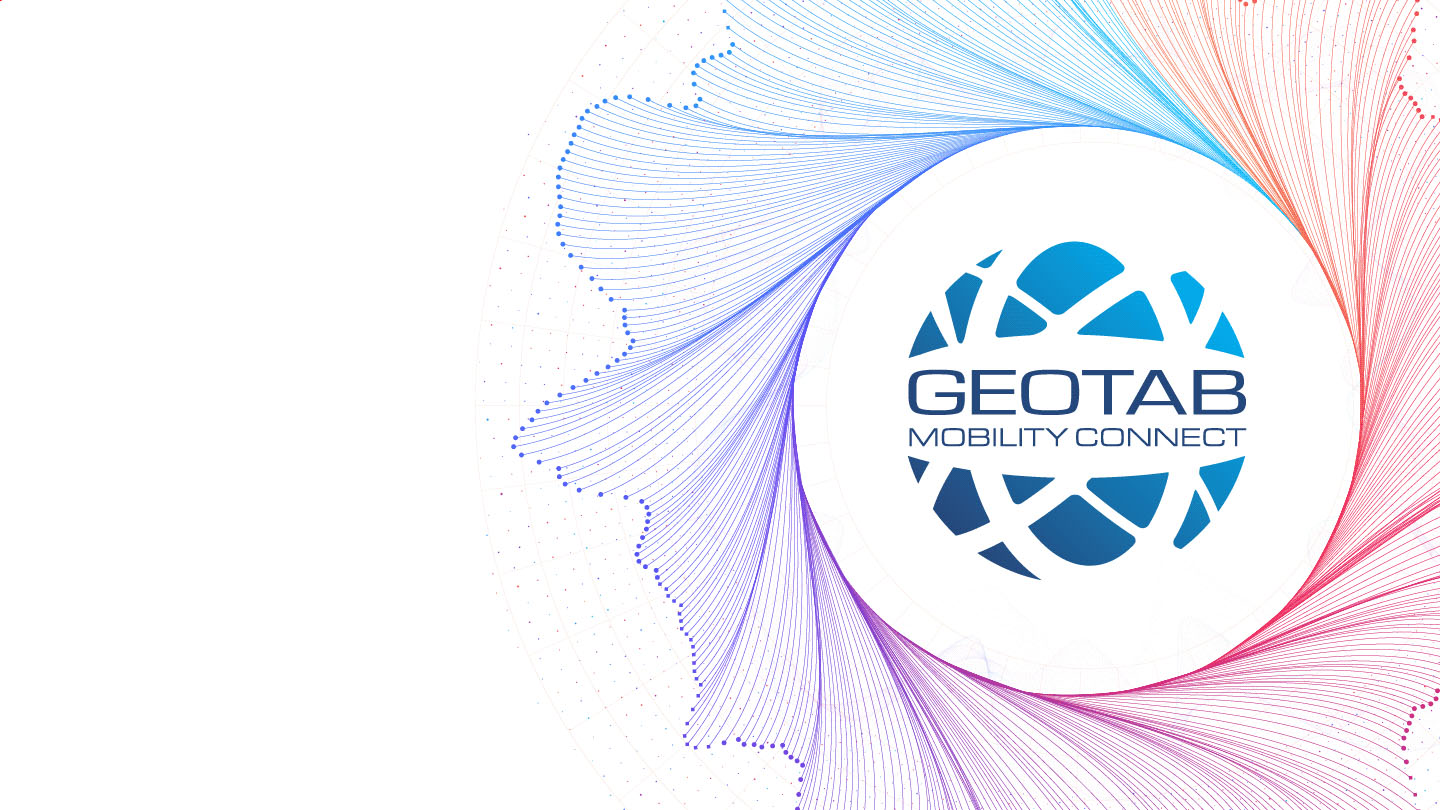 Counting down to virtual Mobility Connect 2020
---
Register online for the virtual conference..
Connected vehicles are the future. How can fleets prepare for change and thrive? What better way to learn than by joining us online for Geotab Mobility Connect 2020 on Thursday 15 October.
The third annual Mobility Connect conference, returning this year in an accessible virtual format, brings together fleet industry leaders from across Europe to discuss current mobility trends and challenges facing businesses and municipalities today. Attendees will get the chance to learn about best practices for managing electric vehicles and participate in smaller breakout sessions to discuss regional challenges and solutions.
Mobility Connect includes a wide range of sessions on topics such as:
Big data
Data privacy
Managing large fleets
New mobility
OEM integration
Sustainability & electric vehicles
Transportation & logistics
How to register online for Mobility Connect 2020
Mobility Connect 2020 will take place online on Thursday 15 October, from 9 am to 3 pm BST (10 am to 4 pm CEST). Sign up now to reserve your spot and learn about the mobility and technology trends shaping fleet management.
What to expect
Browse through a few sessions in more detail:
Data privacy
Learn how to navigate data privacy with ease and get answers to questions such as "What makes a robust data privacy program?" and "How do I use the privacy features in the Geotab solution?"
Leveraging big data solutions in Europe today
Sit in on an exclusive interview to discover which big data solutions you and your European customers can leverage today. Hear about Geotab's upcoming data and analytics tool launches and get a sneak peek of the upcoming new feature tests .
Managing large fleets
Led by a panel of leading EU fleet professionals, this session will cover the particular challenges facing fleets in today's climate. This session will have particular focuses on EV transition, as well as reducing the cost and associated risks of owning and operating large vehicle fleets.
New mobility
Gain a better understanding of shared mobility and tune in for Geotab's global product launch for the new mobility industry. Hear from two leading mobility software companies on their customer implementation strategies for new mobility, and discover how new mobility can enable traditional businesses.
Sustainability and electric vehicles
Join Geotab for an information session on EV fleet management, including a tour of the new EV Charge Assurance Dashboard and how to set EV rules. Hear about real-world success stories from Arcadis and Madrid City Council. Learn how your businesses can integrate the EVSA into your fleet strategy and leverage Geotab to get the most out of your EVs.
The future of OEM and connected vehicles
Hear about Geotab's recent collaborations with OEMs and learn more about our existing European OEM partnerships.
Transportation and logistics tools in the Geotab ecosystem
Attend a panel discussion with a special focus on the Geotab Truck Ecosystem. Learn how you can expand your access to telematics tools and insights and improve your fleet's productivity, optimization, efficiency, driver safety and compliance with Geotab's latest heavy-goods vehicle solution.
Keynote speakers
Speakers from across the global fleet industry and municipal governments will be presenting at Mobility Connect. These include:
Simon Swan, Arcadis
Enrique Garcia, Madrid City Council
Paul Hollick, Association of Fleet Professionals
Damian Penny, Lytx
Thijs Marijnissen, DAF Trucks
Christoph Ludewig, Mercedes Benz Connectivity Services
Andrew Pearce, LEVL Telematics
Jan O'Hara, LEVL Telematics
Melika Jahangiri, Wunder Mobility
Attendees will also hear from Geotab experts and leaders such as:
Neil Cawse, CEO
Edward Kulperger, Senior VP, Europe
Tamas Halbrucker, Solutions Engineering, Europe
Mike Branch, VP, Data & Analytics
David Savage, Regional Manager, UK & Ireland
Dirk Schlimm, Executive VP, Europe
Stefano Peduzzi, VP, Technology Solutions & Operations
We'll see you there!
We look forward to connecting with the European fleet community. For the latest updates and to register, visit the Mobility Connect event page.
If you would like to see highlights from last year's conference, check out this blog post. Mobility Connect 2019 was held in Estoril, Portugal in November 2019.
See also: Geotab Mobility Connect 2020 sheds light on the future of fleet mobility
---
If you liked this post, let us know!
---
Disclaimer
Geotab's blog posts are intended to provide information and encourage discussion on topics of interest to the telematics community at large. Geotab is not providing technical, professional or legal advice through these blog posts. While every effort has been made to ensure the information in this blog post is timely and accurate, errors and omissions may occur, and the information presented here may become out-of-date with the passage of time.
Subscribe to the Geotab Blog
Sign up for monthly news and tips from our award-winning fleet management blog. You can unsubscribe at any time.
Other posts you might like