What's new in Geotab — Version 1901
---
What's new? Read a summary of the latest Geotab Drive, ELD and MyGeotab updates, as well as database updates and report enhancements.
Welcome to What's New — a must-read summary of recent Geotab Drive and MyGeotab updates for Authorized Resellers and Geotab Users.
Resellers: Review this post for important changes affecting your customers and note any recommended actions. If you have suggestions for improvement, please leave a comment below.
Geotab Users: To verify your version: go to MyGeotab > Administration > About and check the build number, (e.g. 5.7.1901.xxx release/2019-01).
Don't miss out! Please subscribe to the Geotab newsletter to stay informed of updates.
Geotab Drive Updates
New ruleset
Alaska 34–hour restart has been added to available rulesets.
Improved UI for shipment section
We have updated the Geotab Drive interface for attaching shipment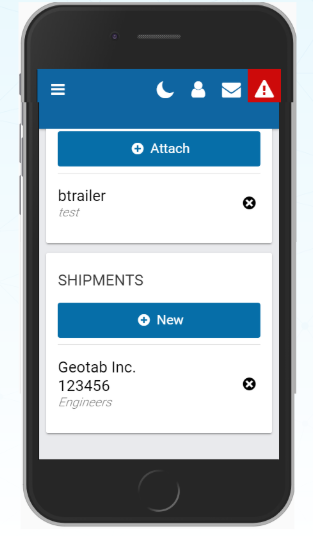 Saved annotations
The Geotab Drive app now remembers previously entered annotations and will offer them as suggestions on future entries.
New prompts and notifications
A notification will remind drivers to make manual logs when the tablet moves out of coverage range
Drivers are now prompted to do an inspection when attaching and detaching trailers within the app
Audit logs when skipping the login/logout prompts
An audit log is now created when a user skips the prompts to claim unassigned logs, verify unassigned logs, or perform DVIR. These logs can be viewed in MyGeotab, in the Audit Log section, under the following types:
DVIR inspection
Skip workflow: HOS log verification
Skip workflow: unassigned HOS log claim
Improvements to the compliance print report
Four new entries have been added to the compliance print report:
Home Terminal Address
Ruleset
Plate number of Vehicle and Trailer
Co-Drivers (Name, ID, License state, License number)
Changes to the DVIR report setup
DVIR reports can now be run by device, trailers, or both.
The addresses of DVIR inspections are now available on the Advanced Excel report.
DVIR log ID information can be found in the Default and Advanced DVIR reports under the Data tab, and is called "DVIRLogid".
ELD updates
HOS log transfer improvements
Error messages during HOS log transfer are more descriptive. When possible, the full error from FMCSA will be displayed. The error messages will also identify the driver as well as any missing fields that need to be filled.

The Shipper Name and Commodity is now provided to the FMCSA in the ELD transfer if the Document Number is not provided.
HOS updates
Notifications regarding minimum rest requirements for Canadian HOS
There is now a pop-up when the driver tries to leave Sleeper Berth or Off-Duty status without completing the minimum break time.
New filter for unassigned Yard Move logs
A new filter has been added in the Options for the Duty Status Logs page to choose only Yard Move for unidentified drivers. These logs can also be bulk annotated. This option only appears if a driver has not yet been selected.
HOS-related rules additions (Feature Preview)
Users with "Feature preview" enabled under their settings will be able to use new rules under the Compliance category:
Yard Move Exemption (also called UPS Exemption): prevents users from being kicked out of Yard Move when doing an ignition cycle. Users will still be kicked out of Yard Move if they go over 20 mph or leave a specified zone.
Pre/Post-Trip DVIR Missing: Identifies drivers who begin or end their work day without performing inspections. Duration and distance thresholds can be customized when setting this rule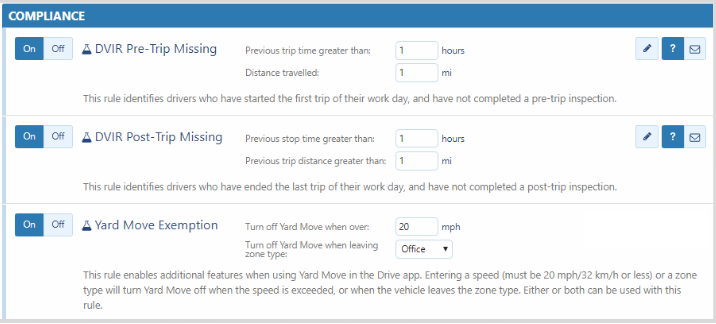 HOS availability page improvements
Colored icons now indicate drivers approaching their limits
A dropdown menu has been added to let users view logs, send messages, view recaps, and view violations
Now shows date/time of last status change
Additional prompts for administrators when modifying logs
Warning messages now appear when attempting to remove drivers, vehicles, or trailers.
When a log edit is performed, a message will now appear that explains a driver sign-off is needed to finalize the changes.
Users who try to delete devices or trailers will now be notified that doing so will also remove any associated HOS and DVIR records.
Improved logic when a driver disassociated with a vehicle
When a driver is disassociated from the current vehicle, multiple logs will be made depending on the current status:
PC/YM/WT -> OFF/ON log for vehicle
Situational driving clear
OFF/ON log for no vehicle
D/SB/OFF/ON -> OFF/ON log for no vehicle
The driver will then be switched to "no vehicle" and the following notification will appear:

Lock screen changes
Notifications of upcoming violations will be automatically dismissed after 20 seconds when the screen is locked. A top warning bar will still be visible after the notification is dismissed.
Improved overall display of the lock screen to increase readability during the day
Rest requirement when changing Canadian HOS rulesets
Drivers now need to complete a cycle reset when trying to change from Canada 7-Day Cycle 1 ruleset to Canada 14-day Cycle 2 ruleset.
SDK updates
Sunsetting support for SendEmail API. This is for security. No longer available in API documentation.
Device: Active from/to:

The device property ActiveTo will automatically be set to max date (2050-01-01) to denote that it is active.
To account for differences in Client machine time vs Server machine time, we are allowing users to set the value of ActiveTo to a max window of 24 hours in the future (i.e. Current Time + 24 hours). In this situation we are considering it to be historical/archived.

DVIRLog: Added Location property.
SecurityIdentifier: Added ViewBusinessIntelligence, ActiveTrackingClearance.
SecurityRole: Added EmailSent, SkipHosVerify, SkipHosClaimUnassigned, SkipDvirInspect.
For more info on SDK updates, please visit the MyGeotab SDK What's New page.
Fleet Industry Trends report — coming soon
MyGeotab users will be able to get industry insight, right alongside their other vehicle and driving data, in the upcoming Fleet Industry Trends report.
The fleet, fuel, idling and safety trends are based on aggregated data from a global network of connected vehicles. By default, the tab will be visible for all users except those with "Nothing" and "Driver App" clearances. Stay tuned for more details to come.
Example fuel consumption trend chart from the Fleet Industry Trends report in MyGeotab
User interface (UI) enhancements
MyGeotab login page update
The login page for MyGeotab has been updated to separate the username and password to cater for SAML users.
Auto-update option
It is now possible to toggle automatic updating on the Messages page. This feature will be expanded to other pages in future updates.

Search Bar update
The Search Bar in MyGeotab is now able to perform multiple searches at once. Additional search items need to be separated by a comma. Up to 400 items at a time can be searched for in this manner.

Feature preview items display
Feature preview items are now visibly identified with a flask icon (for example the filter button above).
User account policy changes
Administrators can now set password expiry requirements in System Settings under the User Account Policy tab.
User lockout feature
Administrators can set a user lockout policy that will lock a user out of the system for the specified period of time if they exhaust all login attempts during a set time frame. This feature prevents passwords from being repeatedly guessed and helps improve overall account security.
Active Tracking notification update
Vehicle Edit page to clarify that users cannot reverse the subscription to ProPlus by turning the Active Tracking setting off again.
Other UI changes
Updated the VIN decoder to have added support for model year 2019 vehicles and improved decoding for non-North American vehicles.
The Trips History page now displays the driver's first and last name.
Simplified the user interface for purge settings by removing the purge frequency option.
Added information about purging private data in the confirmation page.
More changes
Database
Added new and revised diagnostic codes. See list of codes here.
Language
Improved Brazilian Portuguese and German language translations.
The built-in rules in the exception report are now translated from English to the user's preferred language in the reports.
Learning resources
Looking for a previous update? Read the 1804 Updates summary post here.
Learn more about Geotab Drive, MyGeotab, and the Geotab GO telematics device by consulting these resources:
See also: What's new in MyGeotab — Version 1902
---
If you liked this post, let us know!
---
Disclaimer
Geotab's blog posts are intended to provide information and encourage discussion on topics of interest to the telematics community at large. Geotab is not providing technical, professional or legal advice through these blog posts. While every effort has been made to ensure the information in this blog post is timely and accurate, errors and omissions may occur, and the information presented here may become out-of-date with the passage of time.
Other posts you might like