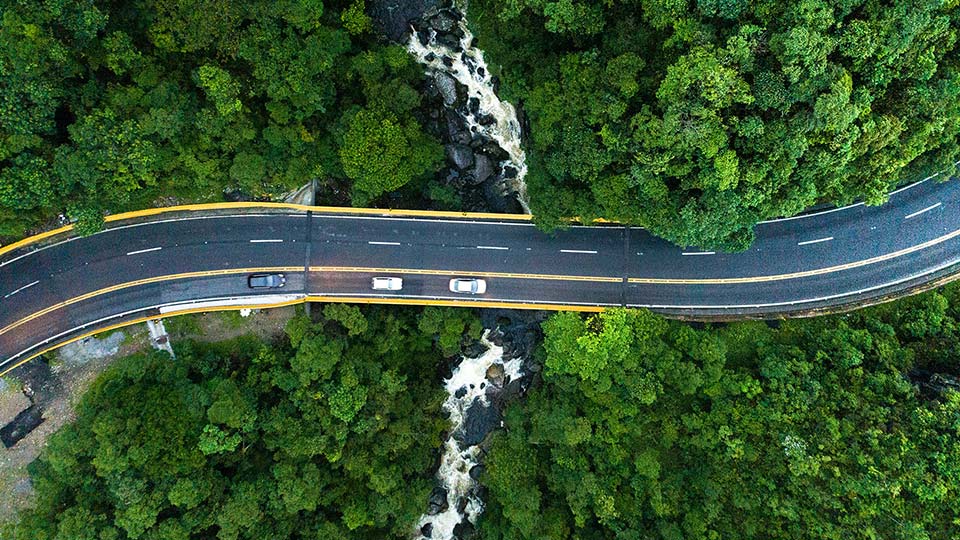 Increase sustainability with the Green Fleet Dashboard
---
Improve fuel economy and reduce emissions with this easy-to-use tool from the Geotab Marketplace.
With more organisations setting firm corporate sustainability targets and government mandates to address climate change, fleet managers, both private and public, are looking to measure and monitor their environmental impact and take action on areas that can be improved.
What is the Green Fleet Dashboard?
The Green Fleet Dashboard (GFD) from Geotab is a vital tool for fleet operators eager to green their fleets and save on fuelling costs.
Available on the Geotab Marketplace, the telematics-based dashboard provides fleet managers with the ability to track progress on their fuel use, environmental footprint and electric vehicle (EV) utilisation. Managers can use the data insights to monitor the success of green initiatives such as anti-idling policies and electrification and compare progress with similar fleets in the Geotab ecosystem.
Understand your fleet's performance in sustainability
Using the Green Fleet Dashboard, you can find the answers to important sustainability questions like:
Is my average fleet fuel economy improving over time?
How much are my vehicles idling?
What is the carbon footprint of my ICE (petrol) vehicles?
What driving behaviours do my drivers need to work on?
How do I compare with similar fleets?
How can I increase my EV utilisation?
How much are my EVs helping lower cost and emissions?
The Green Fleet Dashboard allows you to analyse performance, identify opportunities for improvement and set a new goal or target. For companies looking to electrify, pair the dashboard with an EV Suitability Assessment to identify the best vehicles to replace with EVs.
Download the Green Fleet Dashboard.
Green your fleet by focusing on these five areas
On the surface, a sustainable fleet strategy may not seem cost-effective. Greening your fleet not only reduces your carbon footprint and helps you meet emissions targets, it can actually result in meaningful cost savings too.
There are five major areas of focus when it comes to greening your fleet, regardless of fleet size. Let's explore them each in more detail:
1. Fuel efficiency
While the importance of fuel efficiency is well known, it can be difficult to identify what steps need to be taken in order to improve it. To start, you must have a clear understanding of how much fuel you're using and why — after all, you can't manage what you don't measure.
Telematics can help you better understand not only how much your fleet is consuming fuel, but also why. With that information in hand, fleet operators can implement effective measures to help improve fuel efficiency. Examples include: monitoring tyre inflation and providing real-time driver feedback to curb unwanted behaviours that contribute to inefficiency and dangerous conditions.
Average Internal combustion engine vehicle (ICEV) Fuel Economy trend over time compared to benchmark and best-in-class fleets.
2. Vehicle utilisation
While it may be tempting to keep underutilised vehicles in your fleet (e.g., "If I'm not using it, I'm not paying for maintenance or fuel".), operating a right-sized fleet can provide cost savings, which in turn can be reinvested in the procurement of better-suited vehicles — including EVs.
On the other hand, it's also important that the vehicles you do have are being used to their full potential. Proper fleet asset utilisation can help you identify vehicles that could be repurposed, rotate vehicles to manage downtime and see how conditions impact trips to inform how shifts could be adjusted. For EVs in your fleet, aiming to maximise electric miles and shifting use from combustion vehicles to EV improves your ROI can help lower overall operating costs and emissions.
3. Route planning
Better route planning plays a major role when it comes to fleet efficiency. With efficient route planning, fleets can benefit from a decrease in fuel consumption and reduced stress for drivers, resulting in safer driving practices. The reduced mileage that comes with efficient route planning can also save labour costs associated with dead time between deliveries.
Also, make sure that heavily used vehicles are the most efficient available. As different makes, models and sizes of EVs become increasingly available, fleet operators have more options at their disposal to choose the best vehicle for the job.
4. Driver behaviour
Improving driving practices contributes greatly to the efficiency of your fleet. Monitoring common issues like harsh braking and cornering, as well as acceleration and speeding can help fleet operators understand the areas to focus on for improvement. Setting up notifications to instil new behaviours, like plugging in EVs at the end of a shift, will help maximise uptime in the fleet. In addition, supporting a more environmentally friendly driving style not only helps fleets become greener, it also boosts efficiency, resulting in cost savings.
See the average number of hard acceleration incidents compared to similar fleets to help determine if further driver coaching is needed.
5. Electrification
Deploying electric vehicles will have a significant impact on fleet emissions. A good place to start is to identify where EVs are best suited for your fleet and where an EV can do the job at an equivalent or lower total cost of ownership.
To get started, the free EV Suitability Assessment analyses your fleet to provide EV recommendations.
Simplify green fleet management
Paired with the capabilities of the Green Fleet Dashboard, these five key factors can help fleets from any industry take the first steps toward becoming green fleets.
Download the Green Fleet Dashboard.
Learn about more ways to track and improve your fleet sustainability with Geotab.
---
If you liked this post, let us know!
---
Disclaimer
Geotab's blog posts are intended to provide information and encourage discussion on topics of interest to the telematics community at large. Geotab is not providing technical, professional or legal advice through these blog posts. While every effort has been made to ensure the information in this blog post is timely and accurate, errors and omissions may occur, and the information presented here may become out-of-date with the passage of time.
Subscribe to the Geotab Blog
Sign up for monthly news and tips from our award-winning fleet management blog. You can unsubscribe at any time.
Other posts you might like