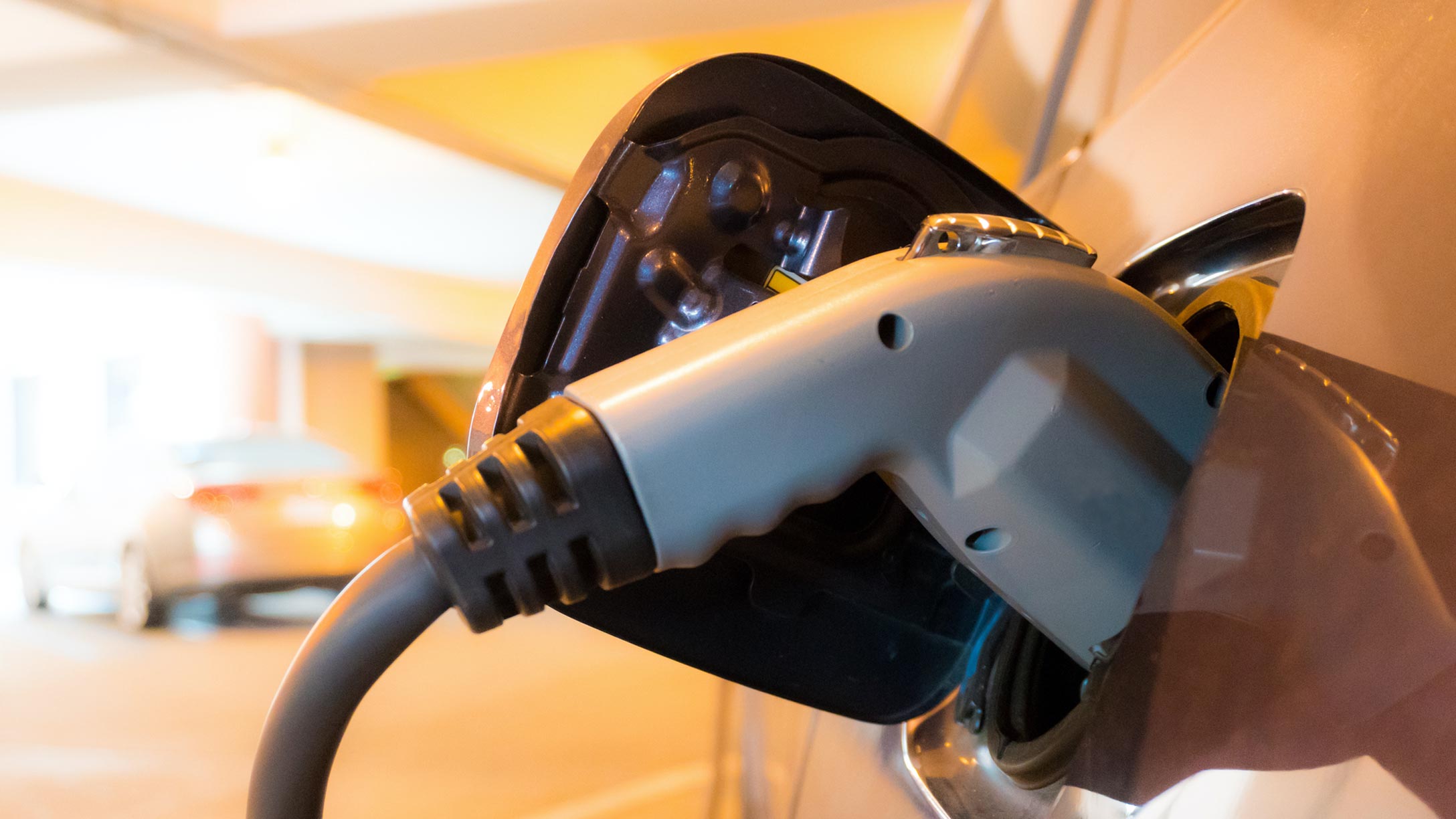 Six ways telematics supports green fleet management
---
Discover six ways to track and manage fuel usage, EVs and maintenance.
Fleets are increasingly under pressure to reduce emissions and minimise costs. Telematics offers a variety of tools and reports to help companies meet their green fleet management goals.
Why use telematics for green fleet management?
Telematics supports green fleet management in six key ways:
Reducing idling and inefficient driving
Lowering CO2 emissions
Route optimisation
Proactive vehicle maintenance
Electrification
EV fleet management
How telematics supports green fleets
1. Promoting efficient driving and reducing unnecessary idling
Telematics can be used as a tool for reducing fuel through driver and safety management. Reports and alerts can highlight aggressive driving behaviour, such as speeding, harsh acceleration and other environmentally harmful activities that burn up more fuel.
This information on driver behaviour provides managers with the ability to improve driver efficiency by directing training at the specific areas needing the most attention. With an increase in awareness, a driver's average MPG is likely to follow.
One of the biggest culprits in vehicle carbon (CO2) emissions is idling. In an example from Natural Resources Canada, if every Canadian were to reduce daily idling by three minutes, CO2 emissions could be cut by 1.4 million tons yearly, or the equivalent to taking 320,000 vehicles off the road.
Here is a fleet management success story about a courier fleet that was able to significantly reduce fuel costs through idle reduction.

About Geotab idling rules:

Geotab allows managers to see how long each driver is idling and overall fleet idling time, as well as the cost of all that idling. Drivers can also receive alerts when the engine has idled for too long, and warnings can be sent to their manager as well. Reports can be automatically emailed at preferred time intervals, such as weekly, through the MyGeotab user interface.

2. Minimising your fleet's carbon footprint

Geotab also offers a custom report specifically for fleets looking to understand and reduce their carbon footprint, called the CO2 Emissions Report. It is free to download on the Geotab Marketplace. This report uses engine-based fuel economy data to calculate an estimated amount of CO2 emissions from fleet activity.
Green Fleet Dashboard:
The Green Fleet Dashboard, available on Marketplace, also helps to manage all of these factors, including idle time, fuel economy and emissions monitoring.
3. Optimising routes
By optimising routes, fleets can both reduce unnecessary miles and avoid heavily congested routes as much as possible. For example, if you have a customer delivery every week and you see a report indicating that your vehicle has been moving at a speed well below the posted speed limit for 25 minutes or more, it is safe to assume this is due to some type of traffic congestion issue. If enough fleets optimise routing, municipalities will see decreased traffic congestion, which could reduce the need for building additional road capacity.
With MyGeotab, you can pre-set routes for drivers and avoid these known high-traffic areas. This feature can provide drivers with the most efficient route and increase the number of stops they can make in a day. This will result in less fuel wastage, increased productivity/profitability and again, fewer carbon emissions released into the air.
4. Practising proactive vehicle maintenance
Some of the common contributors of fuel waste and unnecessary carbon emissions are based on vehicle maintenance not being completed on a regular basis. A perfect example of this includes tyre maintenance. According to the U.S. Department of Energy, for every 1 psi that tyres are under-inflated, fuel economy is reduced by 0.2%.
Be Car Care Aware (BCCA) advises that driving a vehicle with deteriorating brakes forces the vehicle to work harder in order to accelerate, as the brakes will not release properly and in turn increase the amount of fuel being used. All in all, the BCCA also warns that a poorly maintained vehicle could cost you 15% more in fuel, which also means unnecessary carbon emissions.

How telematics helps with vehicle maintenance:

Fleet managers can optimise their maintenance programmes by using telematics to keep a record of diagnostic trouble codes (DTCs), such as through real-time alerts and tracking odometer readings to accurately schedule preventive maintenance. You can also record completed vehicle maintenance and updates for future service dates. Through the Geotab Marketplace you can simplify this process further with the Dynamic Vehicle Maintenance Reminder report.
Beyond that, fleets can also compare vehicle efficiency within similar specifications and duty cycles, and highlight vehicles that need more robust preventive maintenance or that could even need replacement due to high maintenance costs. In other words, service schedules, odometer readings and DTC tracking can be centrally managed so that maintenance schedules are upheld and the health of the fleet optimised.
5. Integrating electric vehicles into your fleet
Of all the new vehicle technologies available, EVs offer fleets the greatest opportunity to improve urban air quality, as they create zero roadside emissions from the exhaust pipe. With far more efficient drive trains, EVs also offer the best pathway to reduce overall GHGs. However, it is important to right-size any EV to its required duty cycle, and to be confident in exactly which vehicles on which routes would make the best candidates for replacement. To do this, fleet operators require access to the data that will make the case.
An Electric Vehicle Suitability Assessment (EVSA) provides all the information required to help ensure that you are choosing the EVs that best fit your fleet. With an EVSA, fleet managers can see the environmental and financial case for transitioning to electric, based on real duty cycles, taken from the vehicle. The final report provides a roadmap for which vehicles are best suited to switch to EVs, allowing organisations to forecast the effects of purchasing decisions before making them.
6. Managing EVs with finesse
EV tracking can be easily integrated into existing fleet management routines. On the Geotab platform, fleets can run reports on both historical and real-time EV data, along with data from their non-electric vehicles.
Here are just a few of the way telematics can help you track and monitor EV performance:
Use real-time alerts to remind drivers to plug in
Make sure that EVs have the charge needed to complete their work with the Charge Assurance Dashboard
Use smart integrations with load management software to make sure that EVs are fully charged when needed, while minimising electricity and infrastructure costs
Run vehicle energy and charging reports to track and monitor operating costs
Learn more about Geotab's EV fleet solutions.

Thanks to technology, greening a fleet has never been easier. Read about Geotab's own environmental practices here.
See Also: Top 3 tools for successful fleet maintenance in MyGeotab
---
If you liked this post, let us know!
---
Disclaimer
Geotab's blog posts are intended to provide information and encourage discussion on topics of interest to the telematics community at large. Geotab is not providing technical, professional or legal advice through these blog posts. While every effort has been made to ensure the information in this blog post is timely and accurate, errors and omissions may occur, and the information presented here may become out-of-date with the passage of time.
Subscribe to the Geotab Blog
Sign up for monthly news and tips from our award-winning fleet management blog. You can unsubscribe at any time.
Other posts you might like