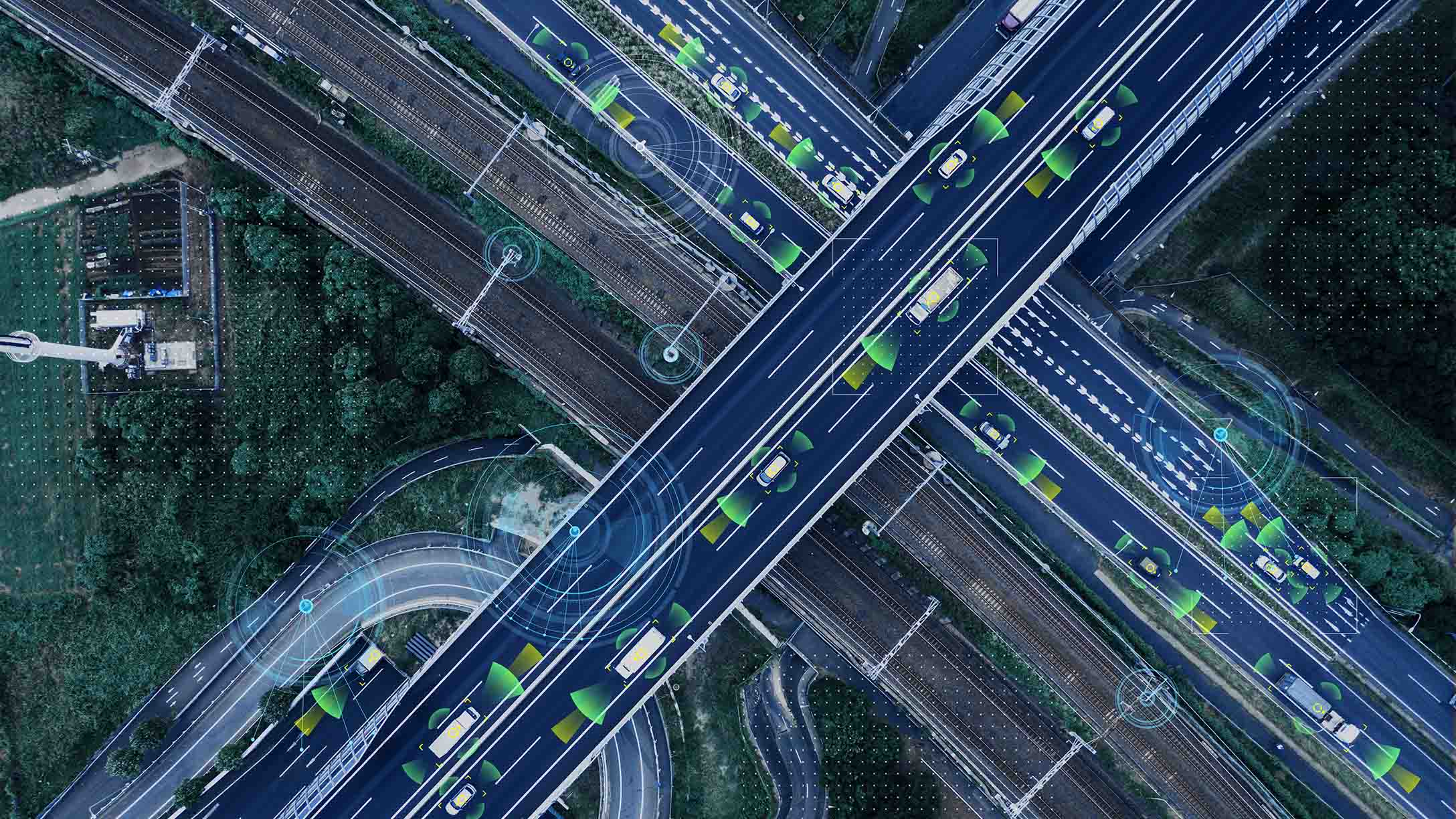 Smart telematics for smart mobility
---
Discover how businesses, fleet managers and drivers can benefit from connectivity, automation and smart mobility in their day-to-day.
What will mobility in the workplace look like in the future? What are the capabilities of connected car technologies and telematics solutions? How do automotive data applications and autonomous driving impact trade, sales, transport and logistics? All over the world, experts in telematics, mobility, automotive engineering, connected cars and the Internet of Things (IoT) consider these questions every day.
The 2022 Intelligent Telematics event gave some answers to these questions. Participants were able to take a look into the future of mobility and hear about the latest trends. We summarised the most important developments for you.
Key facts on smart mobility: 90-second overview
Private mobility is shifting from motor vehicles to alternative forms of mobility, while corporate mobility is becoming increasingly relevant.
The future of mobility will be shaped by e-mobility, alternative forms of mobility and autonomous driving. Connected car solutions are a key technology.
Today's connected vehicles do not only collect data on the vehicle's own health, but also interact with their environment (V2X connectivity).
Connected and/or autonomous vehicles require a faster and more reliable data network infrastructure. The 5G network expansion plays a major role in advancing the technology.
The share of corporate vehicles has been consistently on the rise for the past few years: "Today, the share of fleet vehicles compared to privately used vehicles and trucks is already at roughly 50% and counting", says Christoph Ludewig, Vice President OEM Europe at Geotab.
E-commerce drives growth in corporate mobility
The main driver for corporate mobility is the strong growth of e-commerce. Unlike stationary retail, e-commerce heavily depends on last mile fleets and their logistics.
Connected car applications are the key technology for the future of connected mobility. 95% of all new vehicles will be equipped with connectivity solutions at the factory by 2030. 340 million connected vehicles will be on the road by 2024 alone. The market for connected vehicles is booming worldwide. It will reach a size of 121 billion US Dollars by 2025. Connecting fleets, corporate vehicles and private cars is already generating new opportunities for businesses, fleet managers, mobility managers and users.
As a world-leading telematics provider, Geotab is a pioneer and actively contributes to the future of mobility. This is why Christoph Ludewig joined the Board of the Connected Vehicle Systems Alliance (COVESA). "We want to harness the full potential of connected cars and create a diverse, sustainable and integrated mobility ecosystem", he explains.
Why do we need connectivity and connected car applications?
The main goal of connected car technology is for all road users to take each other into account, to recognise changes in their environment immediately and react intelligently to them.
What does that mean? Future connected (corporate) vehicles will not only collect and transmit their "own" data to the cloud (e.g. routes, speed, wear and tear, damages), but also use the network to record data from their environment (e.g. other road users, public cameras/dashboards, digital maps, traffic signs and navigation, management and warning systems).
V2X (vehicle-to-everything)
V2X is one type of connectivity. It means the vehicle is interacting with any object in the vehicle's vicinity. This communication could be vehicle-to-vehicle (V2V); vehicle-to-person (V2P) if it's with other road users such as pedestrians, cyclists and scooters; or vehicle-to-infrastructure (V2I). By using connected car data, the system can create detailed models of the environment, recognise the location and behaviour of pedestrians and cyclists, and anticipate green lights.
Mobile network: No 5G, no autonomous driving
By using self-learning algorithms and cloud-based artificial intelligence (AI), the vehicle can trigger automated reactions immediately in emergency situations in which fast decisions are essential, such as braking or changing lanes. This prevents severe collisions or traffic delays. The next level of connected car technology will be connecting the vehicle to its environment and enabling it to constantly interact with it.
V2X technology and an adequate 5G or 6G network are both key enablers for autonomous driving. Efficient and reliable autonomous driving systems require vehicles to monitor the vehicle itself as well as its surroundings. Vehicles also need to learn to tackle cyber risks and uncertainties like missing data and information, and how to incorporate them into the decision-making process in real time.
"More data than 3000 smartphones"
Connected vehicles generate as well as process significantly more data than smartphones or other digital devices. Every connected vehicle generates up to 5 TB of data per operating hour. This equals the amount of data that 3000 smartphone users would generate.
The network infrastructure and the expansion of the 5G network in particular have the largest impact on the success of connected car technologies. 5G, the fifth generation of the mobile communications network, is 100 times faster than 4G. It is capable of processing the data of up to one million devices per square kilometre within a shortened reaction time of 1 to 4 milliseconds.
"5G offers improved data transmission without having to compromise on speed. It has an extended bandwidth and is indispensable for real-time connectivity in the mobility sector", emphasises Christoph Ludewig.
Safety, comfort and optimised traffic flow: Where to apply connected car solutions
There are four categories of connected car solutions, depending on the focus area:
Safety: Applications to reduce the severity and frequency of collisions (e.g. alerts for construction sites, wrong-way drivers and other hazards).
User comfort: Applications to manage the vehicle's health, carry out diagnostics and software updates, and adjust personal settings (e.g. preheating/inside temperature, position of the steering wheel, seats and mirrors, and user-specific entertainment settings).
Safety of vulnerable road users (VRUs): Applications to ensure a smooth and safe interaction between vehicles and non-motorised road users, such as pedestrians, scooters and bicycles.
Advanced Driver Assistance Systems (ADAS): Applications to optimise the flow of traffic and the efficient use of vehicles (e.g. traffic light prediction, adjusting to the speed limit depending on the traffic, and alerts for weather events, storms and hazards).
Advantages for fleets and drivers: 4 examples from real life
Cutting-edge telematics and connected car solutions offer a variety of benefits that go far beyond a digital logbook or real-time GPS tracking.
Today we want to present four use cases of customers, fleets and fleet managers who are already leveraging these powerful tools:
1. Fleet electrification: Efficient and data driven
An economically and ecologically sound fleet electrification process requires fleet managers to be highly knowledgeable. Fleet managers have to identify which EVs meet their daily operational needs and plan the charging infrastructure accordingly. But they also need to take into account how fleet electrification will impact the fleet's operating costs.
Geotab can help fleet managers tackle these challenges with the EV Suitability Assessment (EVSA). The software analyses driving habits, determines which vehicles are the best candidates for replacement by EVs and recommends suitable EV models accordingly. It will also calculate the savings on the total cost of ownership (TCO) as well as analyse how CO2 emissions can be reduced. By using EVSA, you can compare the fuel costs of traditional combustion engines with the energy costs of EVs. Moreover, it will show you what you need for an efficient and optimised charging infrastructure ("smart charging").
2. Predictive maintenance
Every electric vehicle follows a particular voltage curve when the vehicle is started. Intelligent algorithms with pattern matching enable currently connected car software to identify vehicles that deviate from the expected voltage curve. The software is able to anticipate if you need to change the battery and schedule time to carry out the necessary maintenance.
Predictive maintenance allows fleet managers to identify imminent breakdowns and damages. Expensive repairs can be avoided, and it reduces the number of trips to the workshop while improving fleet safety by up to 25% (e.g. brake wear).
Connected car technologies help to minimise reactive measures (breakdowns, downtime, maintenance) and to maximise the fleet's economic benefit for the business.
3. Platooning and how to make the most of your resources
Cutting-edge telematics already offer the option to connect individual road users with a stakeholder group. This way, a company's lorries and transport vehicles can be grouped together to run autonomous (and, if necessary, driverless) operations in the same direction, irrespective of brand and manufacturer.
Platooning describes the action of forming a convoy consisting of several vehicles driving in a row, and enables drivers to steer multiple vehicles at a time. V2V communication transmits commands controlling the steering, braking and accelerating to other lorries.
A "platoon" steers, accelerates and brakes simultaneously. This reduces the number of staff needed, increases road capacity (higher traffic density per lane) as well as road safety, and can help to save fuel.
4. Cooperative driving and collision prevention
Cooperative driving enables vehicles to interact with the surrounding traffic. Real-time data of close-by vehicles, networks and traffic infrastructure is pooled and coordinated. One example is a vehicle (slightly) slowing down during an overtaking manoeuvre to speed up the flow of traffic.
This way, companies can minimise disruptions due to lane changes, sudden braking and other unexpected manoeuvres. The system is able to recognise collision risks early on. Today's on-board telematics systems are also capable of correcting the steering angle of a vehicle or triggering a forced braking manoeuvre. The next level of cooperative, telematically assisted driving consists of a fully automated driving process (autonomous driving, level 3 to 5).
Geotab's Intelligent Transportation System (ITS) helps transportation and city planners access anonymised traffic data (e.g. most-used routes or average waiting times at traffic lights/junctions). It provides them with a data-driven foundation for their future planning of smart cities.
Learn more about Geotab's connected vehicle solutions.
---
If you liked this post, let us know!
---
Disclaimer
Geotab's blog posts are intended to provide information and encourage discussion on topics of interest to the telematics community at large. Geotab is not providing technical, professional or legal advice through these blog posts. While every effort has been made to ensure the information in this blog post is timely and accurate, errors and omissions may occur, and the information presented here may become out-of-date with the passage of time.
Subscribe to the Geotab Blog
Sign up for monthly news and tips from our award-winning fleet management blog. You can unsubscribe at any time.
Other posts you might like