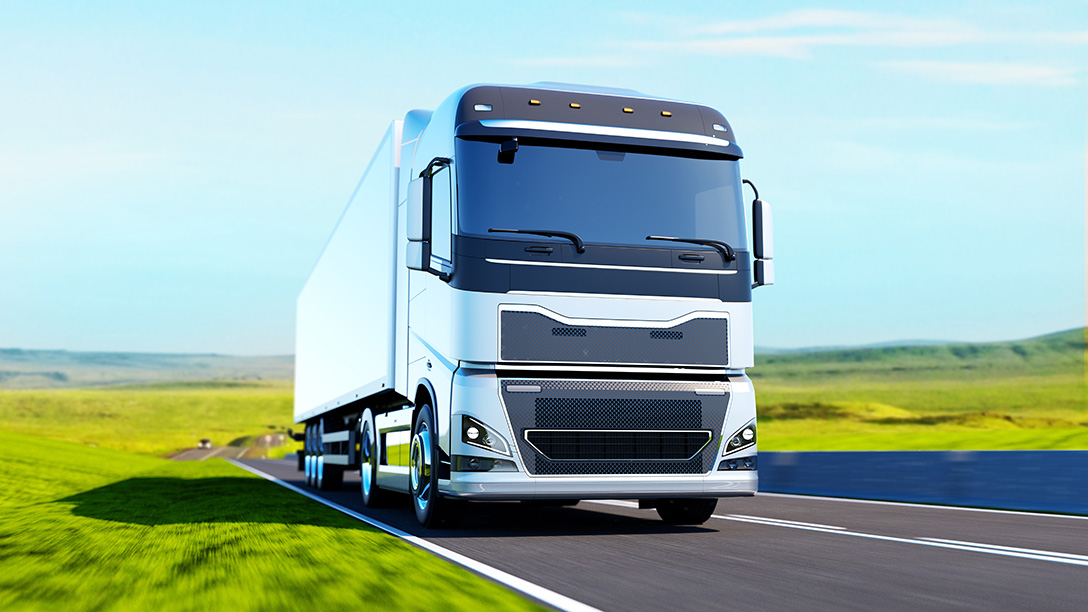 Flexible and cost competitive strategies for European heavy goods fleets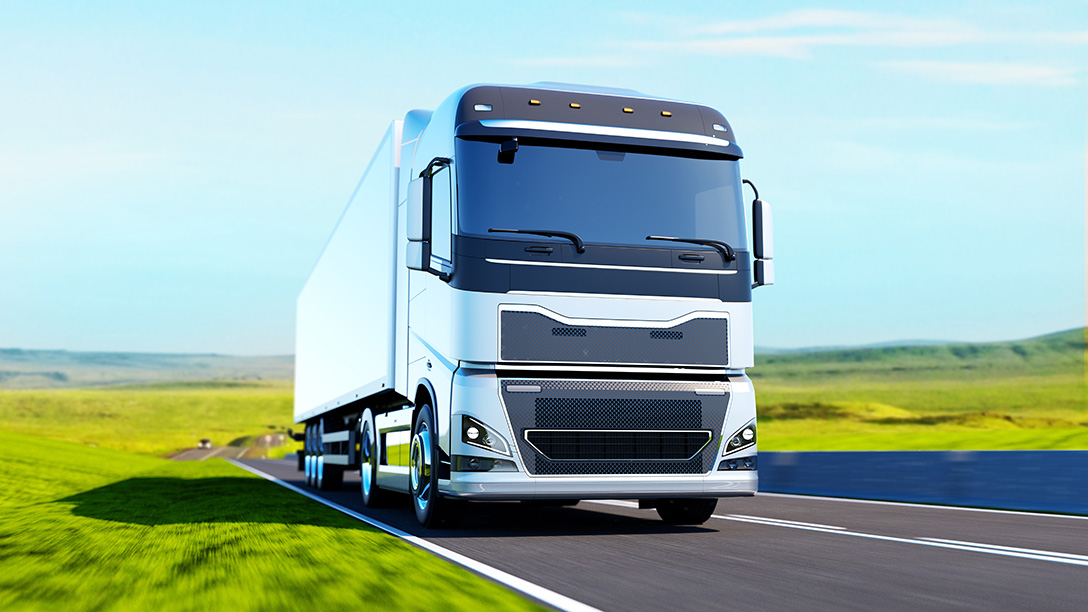 Challenges facing modern fleets
Data is the lifeline for fleets that have moved far beyond the times of emission testing, maintenance and repair diagnosis and traditional fleet management. The evolution of data-driven telematics has resulted in a new wave of fleet management tools to meet demands. These include driving behaviour, productivity, vehicle safety, compliance, and others that are paramount for effective fleet management.
As a world leader in telematics, Geotab has a wide range of case studies that showcase how fleets have successfully applied Geotab to address day-to-day fleet management challenges.
Fleets operate on narrow margins and profitability is a constant challenge. The need to serve customers effectively while keeping costs low is a necessity. Vehicle data analytics enables full visibility of fleet operations, helps identify bottlenecks and provides the ability to plan ahead of time. These valuable insights allow fleets to make informed decisions for the benefit of day-to-day operations.
For any fleet vehicle over 3.5 tonnes, driving hour regulations enforced by the European Commission require drivers to record and report on working hours, breaks and rest periods. This creates an extra administration burden on fleets, and without the right tools staying compliant will be a significant challenge.
Did you know?
Tachograph infringements are severely fined. For example, in the United Kingdom, drivers can be fined up to £2,500 for a failure to observe driving hours and rest period rules.
Failure to prepare and keep adequate records could result in fines of thousands of pounds. The extent of the punishment and in some cases imprisonment is determined by the severity of the infringement.
EU driving hour regulations
Driving time regulations are in place to minimise and prevent danger to public traffic by protecting truck drivers from working excessive hours.
These rules establish that:
Daily driving period shall not exceed 9 hours, with an exemption of twice a week when it can be extended to 10 hours.
Total weekly driving time may not exceed 56 hours and the total fortnightly driving time may not exceed 90 hours.
Daily rest period shall be at least 11 hours, with an exception of going down to 9 hours maximum three times a week. Daily rest can be split into 3 hours rest followed by 9 hour rest to make a total of 12 hours daily rest.
Weekly rest is 45 continuous hours, which can be reduced every second week to 24 hours. Compensation arrangements apply for reduced weekly rest periods. Weekly rest is to be taken after six days of working, except for coach drivers engaged in a single occasional service of international transport of passengers who may postpone their weekly rest period after 12 days in order to facilitate coach holidays.
Breaks of at least 45 minutes (separable into 15 minutes followed by 30 minutes) should be taken after 4 ½ hours at the latest.
For a full summary of the regulations visit: https://ec.europa.eu/transport/modes/road/social_provisions/driving_time_en
The new EU regulations on smart tachograph are mandatory from June 15, 2019 and require fleets to digitalise the recording and reporting of driving hours, break and rest periods and send this information remotely to the authorities. This step will help combat fraud and provide efficiency. It will also bring about an array of new features such as short-range communications including, smart parking or pay-as-you-go applications.
The new wave of digitalisation is forcing fleets to rethink fleet management practices. Therefore, being data-driven is vital for survival telematics is the ultimate gateway for fleet enablement.
Survival of the adaptable
To survive, you have to be able to adapt. Fleets must be able to adapt quickly to market conditions, respond to customer demands and stay ahead of the competition.
The first six months of 2020 have been one of the most challenging times for fleet operators. While some fleets have seen a surge in demand, particularly delivery services, the majority of fleets have scaled back and in some cases remained idle. These times have heightened the need to be efficient and reduce costs where possible.
Did you know?
According to the Global Fleet Survey 2020, in the next three years, 80 percent of fleets will adopt telematics.
Telematics is the cornerstone of fleet efficiency and by adopting an intelligent fleet management platform and embracing connectivity, it opens the door to not only data but valuable insights into fleet operations as well. Because of this, telematics can help fleets where it counts. Improving productivity and vehicle efficiency, reducing fuel costs and improving safety. All of which helps improve business performance and profitability.
Why do fleets invest in telematics?
Improve profitability with full fleet visibility
Reduce fuel consumption with less idling and driver behaviour best practice
Increase productivity by optimising and keeping vehicles on the road
Keep compliant with local rules and regulations, minimising the risk of infringement
View of engine faults and take proactive measures to reduce maintenance costs
Schedule and route plan for efficiency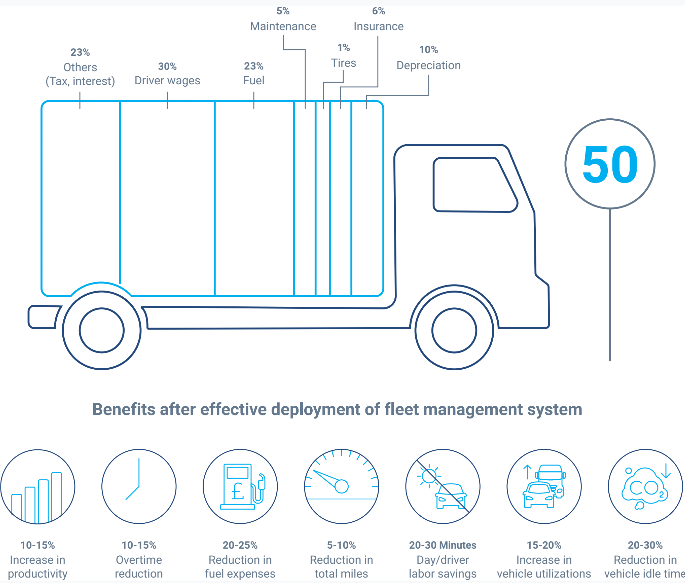 How telematics can help drive down the fleet total cost of ownership. Source: Frost and Sullivan
To reduce a fleet's total cost of ownership (TCO) you have to be able to identify where the majority of the costs are and identify plus implement saving measures. Driver wages make up the largest proportion of running costs at around 30 percent and the deployment of telematics can reduce driver overtime by 15 percent. Similarly, fuel costs make up for more than 20 percent, while driver behaviour coaching and effective fuel management can reduce fuel expenses when you engage with telematics.
Furthermore, telematics has the ability to increase productivity, improve vehicle utilisation and idle times. It's entirely up to you as a fleet operator to the level of engagement with telematics and fleet management metrics.
Characteristics of a modern agile telematics platform
How we monitor our fleets will continue to evolve in the coming years. Therefore, it is crucially important to implement a platform that is expandible and can adapt to the changing environment. Geotab's open platform provides a unique opportunity to build upon the way you operate your fleet for now and in the future.
Installing the GO device (telematics hardware) enables you to quickly and efficiently begin feeding data into the MyGeotab platform for analysis and insight generation. With IOX expandability, it provides the opportunity to increase functionality such as providing driver feedback. This highly customisable approach allows you as a fleet operator to stay agile with minimal effort that is compatible with all vehicle types including petrol, diesel and electric.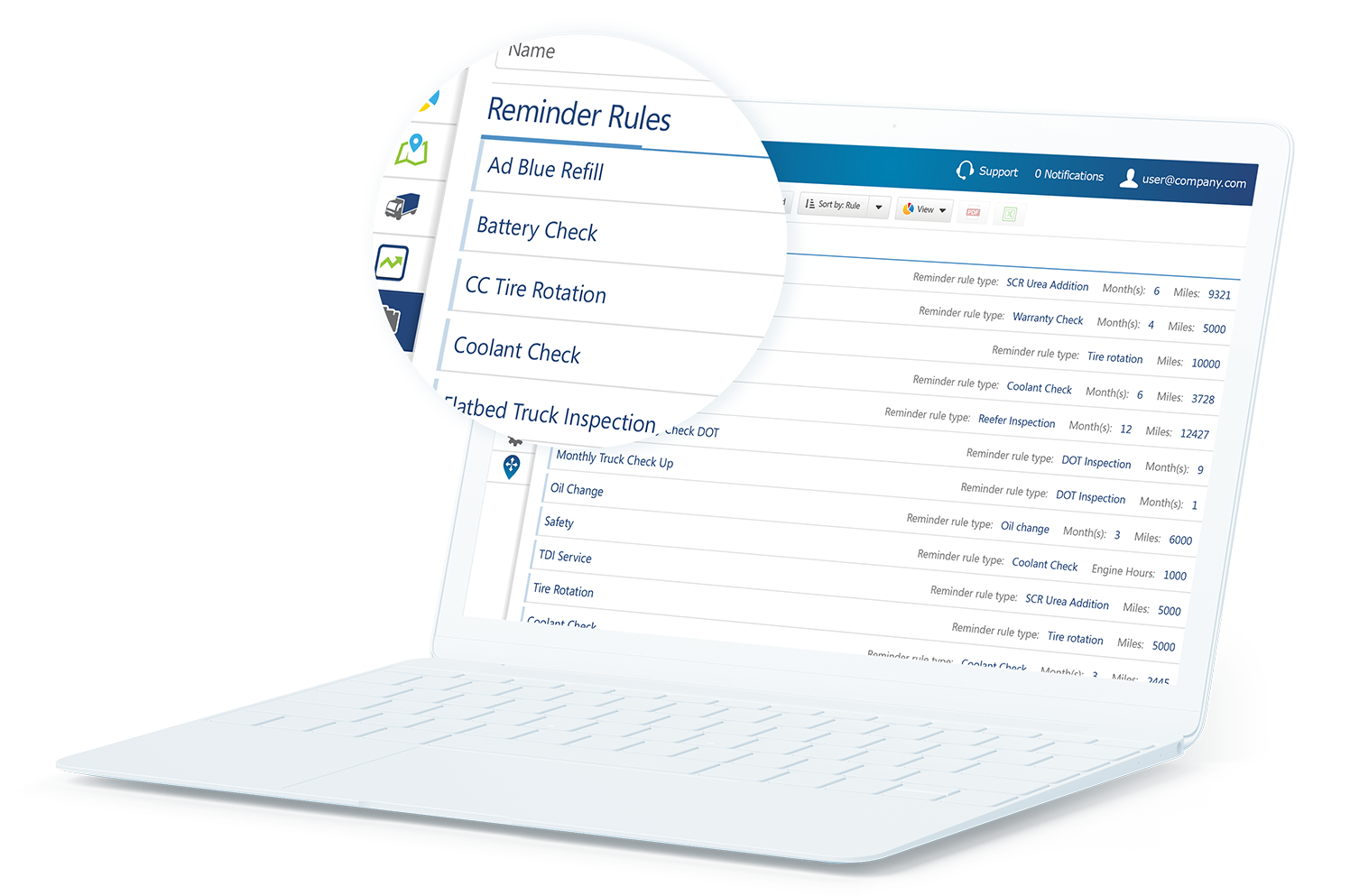 Open platform with accurate fleet visibility and simplified compliance
Customisable dashboards and reporting
Add new features as your business needs expand
Hardware and software agnostic, use with any device and integrate with third-party telematics
40+ integrations available such as camera solutions and asset trackers
Similarly, Geotab's Marketplace allows you as a fleet operator to connect the things that matter to your business through an extensive ecosystem of products, similar to your mobile phone app store, ranging from camera solutions to route planners, asset trackers and much more. Geotab's open platform seamlessly integrates these products into the portal. Furthermore, the open platform allows for greater customisation through open API protocols, and the Geotab Software Development Kit (SDK) needed to develop applications, build and integrate add-ins and use MyGeotab with third-party systems and hardware.
Geotab Tachograph makes compliance* easier by offering driver identification, real-time tacho status, remote download and analysis. With automatic remote downloading, all information is updated in real-time, eliminating manual management of driver and vehicle information. Set email notifications alerting to expiring company cards and driver's cards, the expiration of legal downloading periods and more.
Our service plans help you stay compliant and meet the growing demands of fleet operations, focusing on the areas that matter to you.
Plans overview
Depending on your fleet requirements, you can pick all the right solutions from basic compliance insights to engine data and diagnostic reporting.
Strategies for an adaptable fleet
As fleet operators strategise towards recovery and prepare for the future, uncertainty is all around us. However, what is more certain is that reducing costs is and will continue to be the main priority for fleets. Furthermore, a telematic solution that is agile, secure and adaptable will be a requirement as the industry anticipates change. Here are a few strategies that will help fleets become more efficient and reduce operational costs.
Keeping vehicles on the road
No matter what fleet management platform you implement, keeping your vehicles on the road is critical to financial longevity. Therefore, with visibility of how your fleet is implementing preventative measures can be put in place to increase driver uptime and profitability. Remotely diagnose and monitor engine faults codes, categorise faults and predetermine necessary action for mitigation. Similarly, the visibility of non-fault data such as coolant and oil levels will ensure your fleet's vehicles health is front and centre.
Improve driver behaviour with intelligent scorecards
Drivers are the core of any fleets operators business. Understanding speeding events, harsh braking or acceleration, the amount of time spent idling and having visibility of your driver's overall behaviour in the vehicle is vital. Telematics can gain insight into how your drivers are performing on the road. Encourage friendly competition through scorecards, understand real-time trends in behaviour across the fleets, deliver in-cab driver coaching and identify any bottlenecks before they become a real issue.
Monitor fuel consumption to reduce costs
For fleets, fuel is one of the largest costs in fleet operations. Managing fuel costs is never easy, and depends on a number of factors including, driving behaviour and fuel prices. According to the Energy Saving Trust, fuel economy can be improved by over 25 percent when fuel-efficient techniques such as smoother driving, reducing the amount of idling and avoiding excessive speeding events are adopted. Therefore, the visibility of these metrics would go a long way in developing mitigation strategies to improve fuel efficiency.
We recognise the challenges faced by fleets of all sizes, and the technology and insights required to help overcome those challenges. There is no one size fits all solution, however, a telematics provider that is 'open' and fully customisable goes a long way in identifying and implementing the solutions that you require to effectively manage your fleet. You know your business best, and where best to optimise.
Conclusion
The COVID-19 pandemic has led to a significant drop in demand across a number of sectors. Many fleets have reduced their weekly schedules and in some cases, taken vehicles off the road.
The trucking industry is no exception, however, fleets are now turning to technology and specifically telematics to not only stay compliant, but to provide deep insights into productivity, safety, fuel efficiency and much more - staying focused on revenue and profitability.
It is important to fully understand the needs of your fleet and apply a solution that matches to those requirements. Data alone is not the answer, it is the ability to analyse the insights that is essential for effective operation. Keep in mind, it is also important for the solution to be tailored to meet the growing demands of your fleet.
Telematics is a case of business survival that will help advance fleets towards recovery and accelerate connectivity and productivity, unleashing the potential for cost and efficiency savings.
Today will not be the same as tomorrow, which is why the need for a flexible and agile solution is very important. Telematics is much more than just a tachograph solution — understanding where data analytics can add value and will provide you with a competitive edge.
The electrification of refuse and city distribution is already taking place, and with technological advancements in battery range and the infrastructure environment, the expansion into regional haul and longer distance distribution will eventually become a reality. Therefore, when the time is right, a telematics platform that is knowledgeable and supports electrification will be key.
The operational needs for business and fleets continue to evolve. Recognising that data and telematics are the lifeline of fleet operations is a crucial step — the move towards connectivity will only increase in the coming years, don't be left behind.
To learn more about Geotab's heavy goods fleet solution please visit: https://www.geotab.com/uk/industries/transport-logistics/
*Geotab's Digital Tachograph solution assists with compliance with European Union (EU) drivers' hours rules. Furthermore, solutions offered by select Geotab Marketplace partners support compliance with local working time rules as enforced by regional authorities.
Post Tags
---
About Geotab
Geotab is a global leader in connected transportation solutions. We provide telematics — vehicle and asset tracking — solutions to over 50,000 customers in 160 countries. For more than 20 years, we have invested in ground-breaking data research and innovation to enable partners and customers, including Fortune 500 and public sector organizations, to transform their fleets and operations. With over 4 million subscriptions and processing more than 75 billion data points a day, we help customers make better decisions, increase productivity, have safer fleets, and achieve their sustainability goals. Geotab's open platform and Marketplace, offers hundreds of third-party solution options. Backed by a team of industry leading data scientists and AI experts, Geotab is unlocking the power of data to understand real-time and predictive analytics — solving for today's challenges and tomorrow's world. To learn more, visit www.geotab.com/uk, follow @GEOTAB on Twitter and LinkedIn or visit the Geotab Blog.
---
© 2023 Geotab Inc.All Rights Reserved.
This white paper is intended to provide information and encourage discussion on topics of interest to the telematics community. Geotab is not providing technical, professional or legal advice through this white paper. While every effort has been made to ensure that the information in this white paper is timely and accurate, errors and omissions may occur, and the information presented here may become out-of-date with the passage of time.