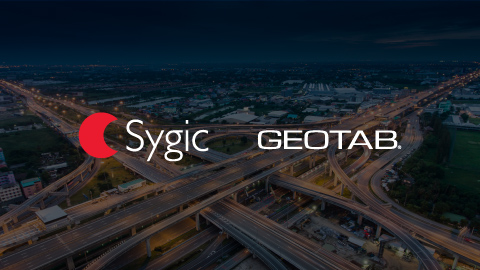 Sygic launches Professional GPS Navigation on Geotab's Marketplace for Efficient Route Planning
Published on December 10, 2021
---
Sygic joins Geotab Marketplace to offer professional GPS navigation system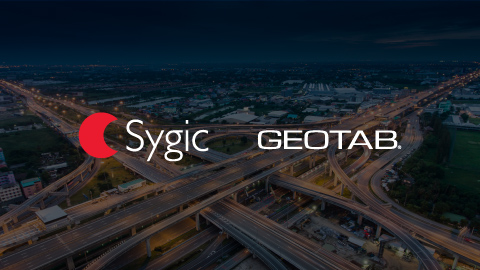 Sygic Launches Professional GPS Navigation on Geotab's Marketplace for Efficient Route Planning
London, December 10, 2021: Geotab Inc., a global leader in IoT and connected transportation, has announced a partnership with Sygic, a global leader in GPS navigation solutions, to provide customers with offline GPS navigation and route planning for trucks and light commercial vehicles.
Sygic Professional Navigation takes vehicle attributes into account and chooses routes that are compliant with the fleet's vehicle types and cargo. Along with routing based on factors like height, weight, the number of axles, and other truck parameters, Sygic Professional Navigation also respects emission zones and HAZMAT restrictions. Additional features, such as lane assistant, night mode, disabled left turns and others, helps protect drivers on the road and avoid risky situations.
The navigation currently guides more than 2,000 fleets and more than 3 million professional drivers worldwide from logistics, emergency, construction, oil & mining, municipal services, and other sectors.
"Always finding the right route, working with a correct estimated time of arrival (ETA), and maintaining safety are vital components to logistics success. By giving drivers the correct tools to do their work more autonomously, fleets can minimise mistakes, remove communication bottlenecks and relieve fleet managers, which ultimately translates into improving overall operations," said Miroslav Remecky, Chief Commercial Officer at Sygic.
"We are excited and proud to be recognised as a valued addition to the Geotab Marketplace. We play well with others, and our navigation truly shines when it can be leveraged as a part of larger fleet management and telematics systems. Our inclusion on the Marketplace will enable us to support more fleets in optimising their workflows," added Remecky.
The Geotab Marketplace offers an extensive ecosystem of business-focused applications and add-ons. With the addition of Sygic Professional Navigation on the Geotab Marketplace, over 40,000 Geotab customers worldwide will have access to a solution that offers GPS navigation designed specifically with fleets in mind and respecting their case-by-case requirements.
Stefano Peduzzi, Vice President, Technology Solutions & Operations, Europe at Geotab says: "We are always looking for technology partners that increase the value of our core products and Sygic provides an offline GPS solution that is perfectly suited for fleets managing trucks and other large commercial vehicles. This is another step forward in our strategy to provide the best platform and ecosystem in the logistics and transportation vertical in Europe: offline GPS navigation with routing based on vehicle attributes adds another tool for the fleet manager to effectively manage and plan their resources and increases the safety of drivers and vehicles. We are pleased that we can offer this additional resource on our Geotab Marketplace portal."
Sygic Professional Navigation is currently available on the Geotab Marketplace at: https://marketplace.geotab.com/solutions/sygic/
About Sygic
Founded in Bratislava, Slovakia, in 2004, Sygic is a Deloitte Fast 50 Company and in 2012 was added to Deloitte's Fast 500 EMEA listing. In 2009 Sygic produced the first-ever turn-by-turn navigation app for the iPhone. Six years later, the popular fuel consumption tracking app Fuelio became a part of Sygic's portfolio. In 2018 the company was the first offline navigation vendor supporting Apple CarPlay Connectivity; three years later, Sygic GPS Navigation became available on Google's Android Auto as one of the first 3rd party navigation apps. In 2020 an electric vehicle mode with integrated payment for charging was implemented into Sygic GPS Navigation. The company also became a member of the CharIN Association advocating for one universal charging standard – Combined Charging System (CCS) – and the leader in the electric mobility segment. The real-time Traffic Lights add-on for Sygic GPS Navigation has been awarded by the jury of leading technology experts as a top CES 2020 innovation.
Sygic's solutions are navigating more than three million professional drivers and two thousand fleets globally. The majority shareholder of Sygic is W. A. G. Payment solutions (known as Eurowag), one of the fastest-growing, integrated mobility FinTech companies in Europe.
---
Media Contact
Tony Brown
Geotab
Communications Manager - Europe
pr@geotab.com
About Geotab
Geotab is advancing security, connecting commercial vehicles to the cloud and providing data-driven analytics to help customers better manage their fleets. Geotab's open platform and Marketplace, offering hundreds of third-party solution options, allows both small and large businesses to automate operations by integrating vehicle data with their other data assets. As an IoT hub, the in-vehicle device provides additional functionality through IOX Add-Ons. Processing billions of data points a day, Geotab leverages data analytics and machine learning to help customers improve productivity, optimize fleets through the reduction of fuel consumption, enhance driver safety, and achieve strong compliance to regulatory changes. Geotab's products are represented and sold worldwide through Authorized Geotab Resellers. To learn more, please visit www.geotab.com and follow us @GEOTAB and onLinkedIn.