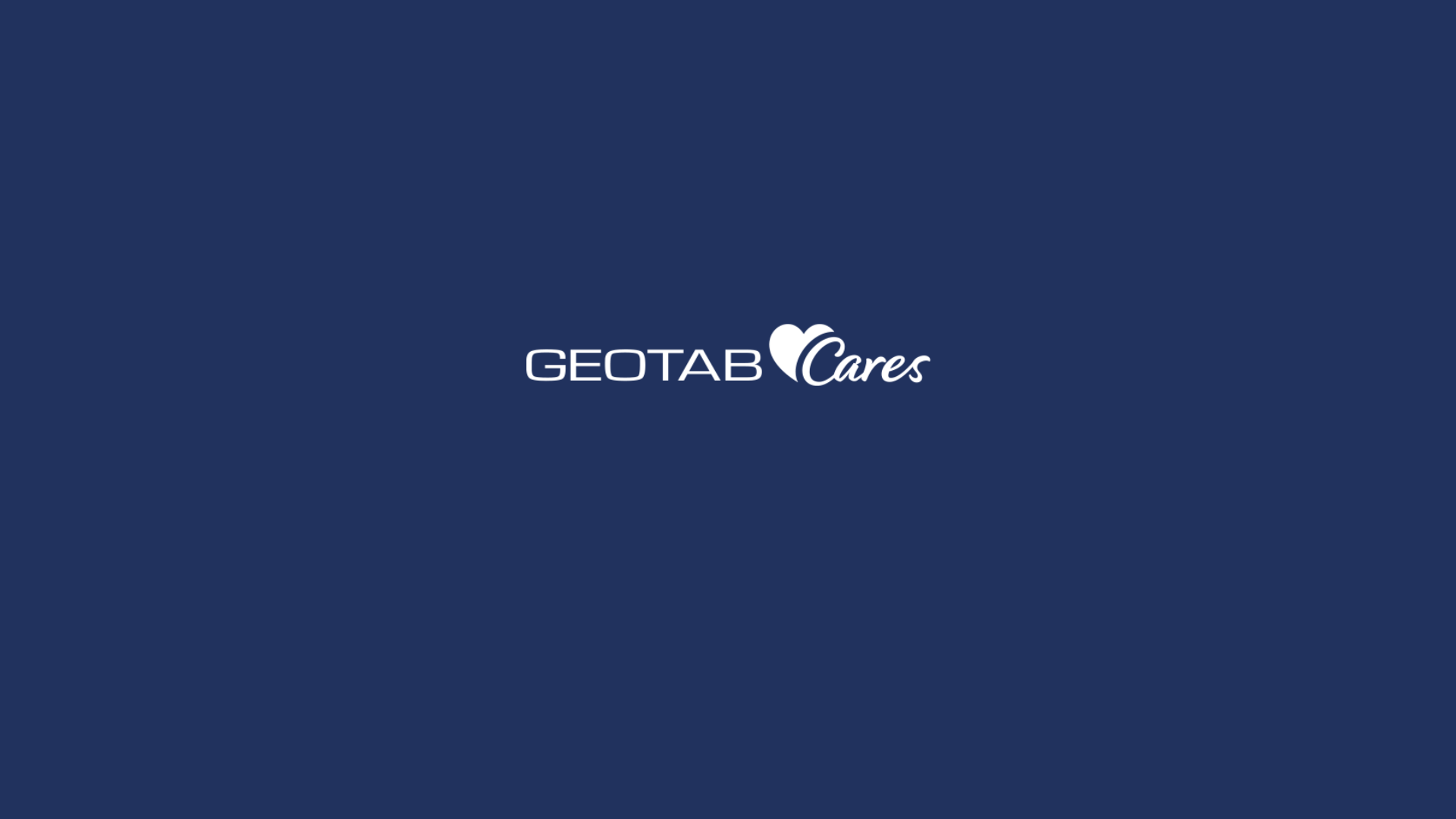 Care from the heart
---
Learn about the great local and international causes supported through Geotab Cares.
At the heart of Geotab's Corporate Social Responsibility program, Geotab Cares, is our commitment to supporting organizations local to Geotab offices, as well as global initiatives — a direct reflection of the diverse causes important to Geotab employees.

Over the first quarter of 2023, Geotab and its employees donated more than $28,000 to organizations that exemplify action in four social pillars: STEM education, community, safety and the environment. These include: IndigeSTEAM as part of Geotab's International Women's Day celebration; UNICEF and the International Federation of Red Cross and Red Crescent Societies in response to the humanitarian relief efforts in Turkey and Syria following earthquake devastation; and One4Another International, which provides surgical needs to children in Uganda.
Local giving, global impact
In February, Geotab's IT department mobilized plans to auction used equipment and donate funds raised to give back. More than 70 Geotabbers at company headquarters in Oakville, Ontario, gathered to bid on laptops, desktops and mobile devices. Proceeds were subsequently donated to One4Another International as well as Kerr Street Mission, which provides services and care for low-income and at-risk families in Oakville.

One4Another International Executive Director, Glenn Pascoe, shared with Geotab how the life-changing results of how donations are used. Nine-year-old Peace has Blount's disease, a condition that affects growth plates in the knee and causes bowing of the legs. Through the One4Another team and Geotab's donation, Peace was able to receive the necessary surgery to align her legs and is now healing.

"All her life she has struggled to participate in activities with other kids because of her legs," shared Pascoe. "They have been a constant source of negative attention. Her mom has always wanted to get her treatment but has not had the money. Now Peace has just come through an osteotomy on both tibias and is doing great."
Peace's mother shared the following with One4Another International: "I had lost hope, but then I was referred to your hospital. Now I'm grateful beyond words that my daughter will be able to walk like others. Thank you to God, the hospital and the people who made it possible to restore my daughter's hope."

Within Geotab's "do the right thing" core value, Geotabbers are asked to seek opportunities to support those around them to build a better community. Geotab Desktop Support Team Lead Francesco Russo noted full-circle community impact stories like Peace's are what separate Geotab apart.

"I've never worked for a company like Geotab before," he said, adding that the auction was more successful than he could have imagined. "They are so giving, care about their community and are selfless. It makes me feel really good about working here."
Continued investments
In the second quarter of the year, Geotab will award multiple scholarships to students pursuing post-secondary education.

Applications to The Brandon Walli "Phones Down, Eyes Up" Memorial Scholarship are open through April 28, 2023. Three $2,500 scholarships will be awarded to Canadian high school students who are graduating this year and pursuing post-secondary studies in the arts, creative arts or music. Each year, Geotab proudly hosts this scholarship in honor of Brandon Walli, son of Geotab Principal Automotive Specialist Tom Walli, and their shared passion for music. Brandon tragically lost his life at the age of 23 while crossing the road in 2016. Geotab continues to advance technology solutions that improve road safety on both sides of the wheel.

Geotab recently launched its Diversity, Equity and Inclusion Engineering Scholarship, which will be presented to two Black and/or Indigenous students who are pursuing a post-secondary education in STEM. Open to Canadian students through June 30, 2023, the scholarship provides two $3,000 awards as part of Geotab's investments in supporting underrepresented students.

If you know a student who may be interested in Geotab's scholarship opportunities, please share within your networks. Look for updates about Geotab's Corporate Social Responsibility commitments on Instagram, Twitter and Facebook, and find open positions on our Careers site.
---
If you liked this post, let us know!
---
Disclaimer
Geotab's blog posts are intended to provide information and encourage discussion on topics of interest to the telematics community at large. Geotab is not providing technical, professional or legal advice through these blog posts. While every effort has been made to ensure the information in this blog post is timely and accurate, errors and omissions may occur, and the information presented here may become out-of-date with the passage of time.
Get industry tips and insights
Sign up for monthly news and tips from our award-winning fleet management blog. You can unsubscribe at any time.
Republish this article for free
Other posts you might like