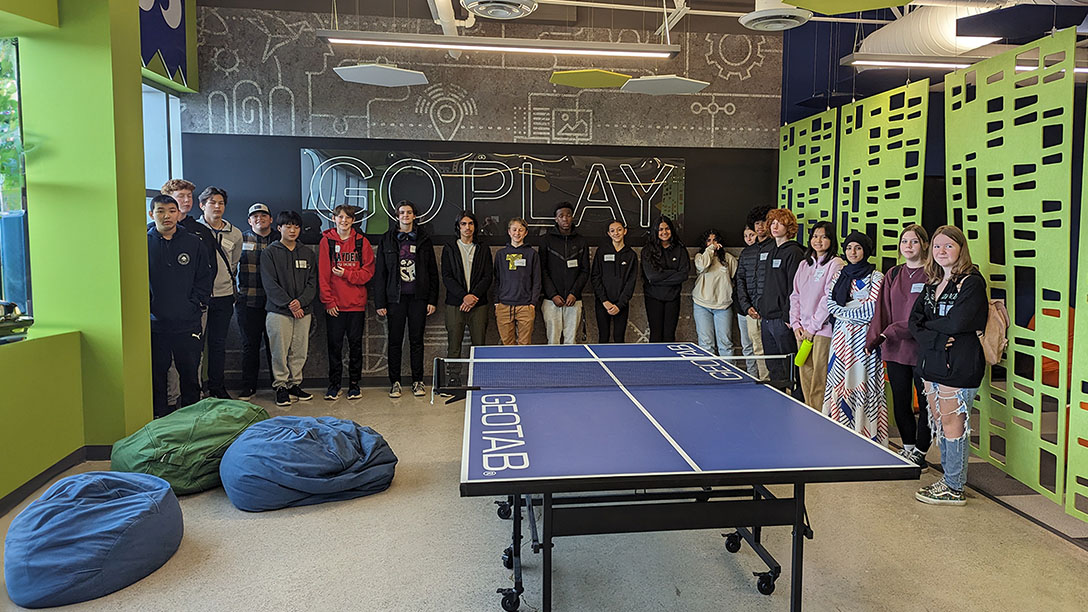 A Geotab experience: Take Our Kids to Work Day 2023
---
Grade 9 students from Ontario had the opportunity to visit Geotab offices for Take Our Kids To Work Day. They had a great Geotab experience and the opportunity to network with Geotabbers with different careers.
On November 1, twenty six Grade 9 students visited the Geotab offices in Oakville and Waterloo as part of the province's Take Our Kids to Work Day (TOKTWD) event. This represents the largest turnout Geotab has ever hosted for this event.
TOKTWD, originally founded in 1994 by the Learning Partnership, provides parents with a chance to show their children the jobs that they do and spark curiosity in the students' view of work and in their own possible future career options. For Geotab, it was also a great opportunity for some of our staff to share insights, experiences, and advice related to education, career options, and the essential skills needed in the modern workplace, particularly in the telematics industry. It is always a much anticipated day for our employees if they have children in Grade 9, and Geotab is proud to organize and host the event with a robust lineup of activities as part of our commitment to supporting employees and their families.
Mini Geotabbers were treated to a half day of guest speakers, hands-on demonstrations of Geotab devices being produced as well as a tour of an electric vehicle, plus an opportunity to socialize in the games room and have lunch together with fellow participants and hosts, before shadowing their parents or guardians for the rest of the day. Students were also invited to meet up with volunteer Geotabbers in informal "coffee chats" to discuss other job functions and roles at Geotab, such as human resources, marketing, finance and more.
Feedback from the students and parents alike was very positive. We look forward to hosting the next event in 2024!
---
If you liked this post, let us know!
---
Disclaimer
Geotab's blog posts are intended to provide information and encourage discussion on topics of interest to the telematics community at large. Geotab is not providing technical, professional or legal advice through these blog posts. While every effort has been made to ensure the information in this blog post is timely and accurate, errors and omissions may occur, and the information presented here may become out-of-date with the passage of time.
Get industry tips and insights
Sign up for monthly news and tips from our award-winning fleet management blog. You can unsubscribe at any time.
Other posts you might like