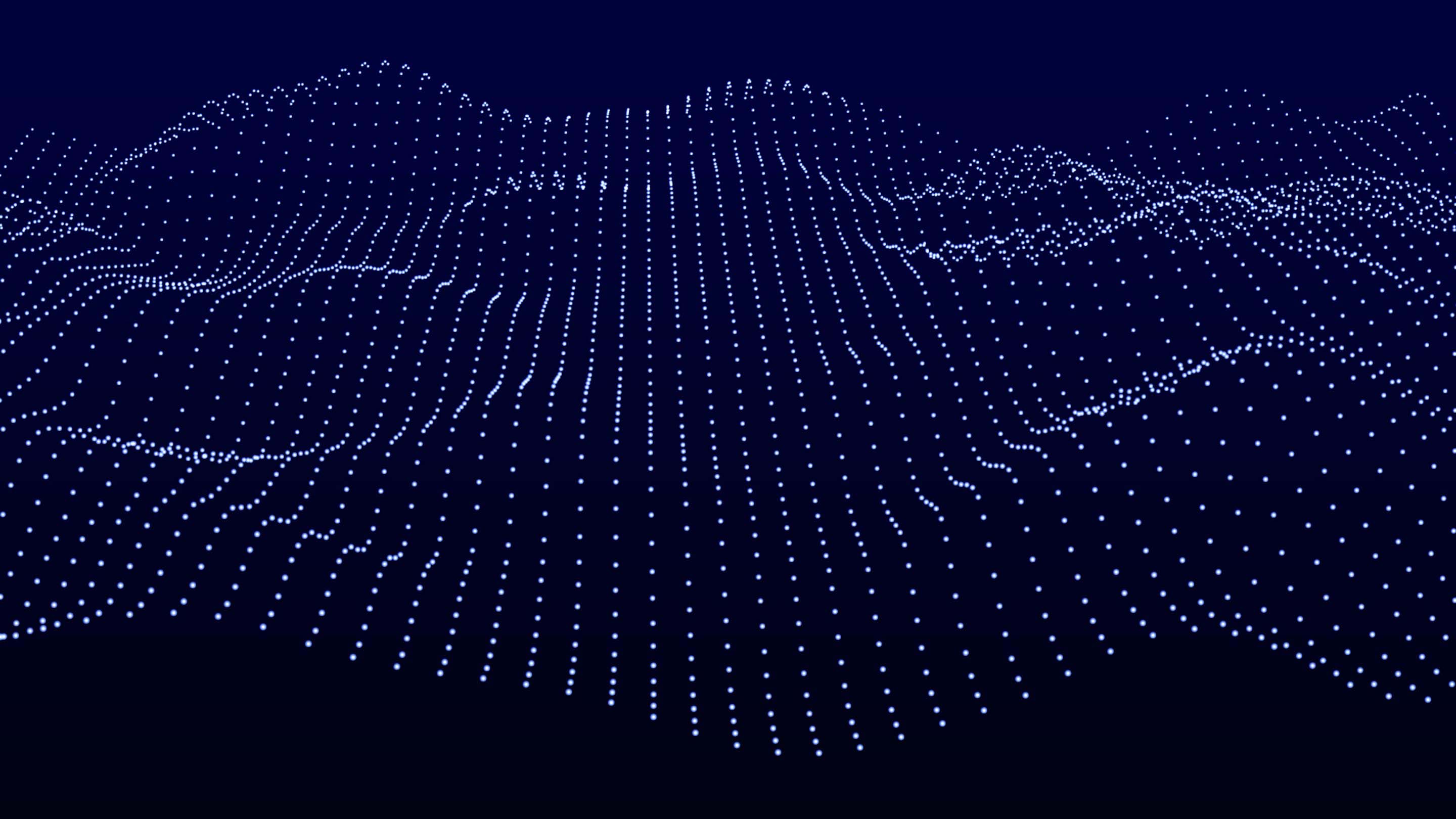 Geotab updates preview (November 2015)
---
Learn about enhancements to Active Tracking and Hours of Service.
Read the Geotab updates preview for software and firmware, for November 2015. Check your build number to verify whether the changes are reflected in your system by going to Administration/About. The build number shows the month of release, for example: 5.7.1511.xxx release/2015-11.
Don't miss out! Please subscribe to receive regular updates on Geotab features and improvements.
In this edition:
Active Tracking Enhancements
Hours of Service Availability Enhancement
Marketplace Configurations
New Google Zone Import
Group Management Enhancement
Internationalization
New Addition to Security Clearances
Minor Interface Enhancements
Active Tracking Enhancements
Geotab's Active Tracking feature for MyGeotab, which provides near-live vehicle animations on a map, is a critical tool for first responders, taxi companies, fleet owners, and other dispatchers who need to closely monitor the live position of their vehicles.
Previously, Active Tracking was enabled vehicle by vehicle. However, to accommodate managers of larger fleets, a new enhancement makes it possible to enable Active Tracking for an entire group of vehicles at once.
To make a bulk edit, follow the steps below:
Navigate to the Vehicles page and select the vehicles you would like to bulk edit. You can do this by selecting the drop-down above the vehicle list and selecting the visible vehicles in the list, individual or all in the group filter you have selected.
Select the Edit selected devices button to bring you to the device edit screen.
You will now have the option to turn on Active Tracking from the edit screen.


Bulk vehicle edit.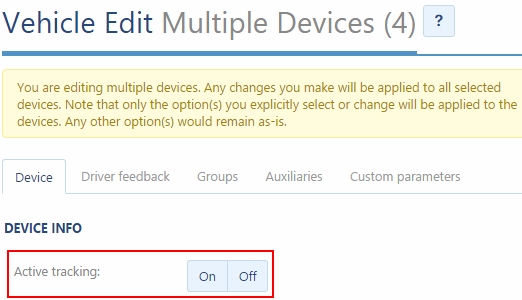 Active Tracking toggle in bulk edit.
Hours of Service Availability Enhancement
Fleet managers have a faster way to view the HOS availability of all their drivers. The Availability report will now load all drivers by default, instead of requiring the user to select each driver first. In the default setting, "All" drivers are selected. Click the Apply button to accept. When viewing HOS Availability, all drivers within the group filter should be displayed when first viewing the page.
Having faster access to HOS information enables fleet managers to identify which drivers are coming up to the end of their daily or weekly hours, and helps them avoid potential HOS violations.
Marketplace Configurations
In MyGeotab, the default setting has been updated so that users will see all available Marketplace applications. This includes both free and paid applications, including applications developed by third-party vendors.
Administrators have the ability to customize the types of applications visible to users through a toggle option. For example, the Marketplace view can be configured to display only free applications. To change this setting, navigate to Administration/System Settings. On the Marketplace tab, select the Off for "Display third-party apps."


System Settings Marketplace option for setting application visibility.
New Google Zone Import
To streamline the creation of zones, which are a critical component in analyzing fleet behaviour, Geotab has made it possible to create zones from Google Keyhole Markup Language (KML) files using the Import KML Zones Add-In.
Geotab has developed a number of Add-In products which can be easily integrated into your MyGeotab UI. More information is available on the MyGeotab Software Development Kit (SDK) portal.


Import KML Zones add-in.
Group Management Enhancement
Quick edit functionality has been added to the Vehicle Edit section. When a vehicle is assigned to multiple groups, you can click the "x" to remove it from the group, while leaving the other assignments in place.


Management of Groups in Vehicle Edit.
Internationalization
Multi-language support has been extended to users. Report headings for default reports will be translated into the language currently set by the user. Users can also make use of this functionality for custom reports in any supported language.
To add multi-language support for a new custom report template, follow the appropriate method below.
From a default template:
1. Export the base report you want to build your custom from by going to Administration>Reports>Report Views, selecting the report, and clicking on the Export button.
2. Un-hide the Languages tab.
The Languages tab has English as its first column and subsequent columns contain French, Spanish, German, and Japanese. The column titles must be shown in English.
The other languages can be in any order.
Custom reports do not need to support all languages, a subset is acceptable.
3. If you add new header text in the report or summary tabs, you will need to add two asterisks before the heading (for example, "Date" would be "**Date"). Without the asterisks, the translations will not work.
From live data:
1. Navigate to the section you want to build your custom report from and run the report (for example, Activity>Risk Management>View>Advanced).
2. Un-hide the Languages tab.
The Languages tab has English as its first column and subsequent columns contain French, Spanish, German and Japanese. The column titles must be shown in English.
The other languages can be in any order.
Custom reports do not need to support all languages – a subset is acceptable.
3. For each tab, whether a sheet or a pivot table, at the English heading you wish to translate, type the prefix of two asterisks (for example, change "Date" to "**Date"). Without these the translations will not work.
4. If you create new columns, you will need to add them to the translations table, one per line.
Translating existing custom reports:
If you have existing custom reports that you wish to translate, please follow the above steps for creating a report template from live data. You will need to create a new tab with the exact title "Languages" which can be hidden later if desired.
Noto Sans Japanese font
The default system font for the Japanese language user interface in MyGeotab has been changed to Noto Sans Japanese for improved Japanese language legibility. The Noto font family is being developed by Google as a means of supporting all languages with a font that is high-quality and reader-friendly.


Sample of Noto Sans Japanese font.
New Addition to Security Clearances
An additional security clearance for "Administer devices delete/unplug/replace" has been created for configuring user-level security. A user will now need this particular clearance to makes changes on individual vehicles. To add or change security clearances in MyGeotab, go to Administration/Users and click on the Clearances button.
Minor Interface Enhancements
Vehicles are identified as "historical", rather than "historic." This change does not affect functionality.
A cancel button was added to the rule edit page.
The placeholder text for input fields and button tool-tips supports multiple languages.
Route and Route plan changes include: numbering route stops; adding a drag icon to routes on a list; warning that if a trip is optimized it may change the stop order; clarification that optimization is based on shortest distance.
Questions or Comments?
If you have a question or comment about any of the items mentioned in the What's New bulletin, please email: salesteam@geotab.com.
For more information on Geotab devices and software, please refer to the Product Guide, available at https://www.geotab.com/product-guide/
If you have questions about software, please consult the Geotab Community on the Software Forum.
We value your input. Please leave a comment below to let us know how we can make these communications better.
---
If you liked this post, let us know!
---
Disclaimer
Geotab's blog posts are intended to provide information and encourage discussion on topics of interest to the telematics community at large. Geotab is not providing technical, professional or legal advice through these blog posts. While every effort has been made to ensure the information in this blog post is timely and accurate, errors and omissions may occur, and the information presented here may become out-of-date with the passage of time.
Subscribe to the Geotab Blog
Sign up for monthly news and tips from our award-winning fleet management blog. You can unsubscribe at any time.
Republish this article for free
Other posts you might like