One integrated solution for your expanding fleet of Ford Vehicles
Geotab, in collaboration with Ford Pro, offers an expandable open platform for fleet telematics to reduce costs, increase productivity and efficiency, improve safety and strengthen compliance. Geotab integration makes it easier for Ford vehicles* with factory-fitted telematics hardware to collect and monitor rich, OEM grade vehicle data and driving behavior information. Create activity reports, access risk and safety reports, increase fuel efficiency, monitor driver behavior, schedule vehicle maintenance and much more, to make quicker and better-informed decisions.
---
Factory-fitted telematics hardware
Factory-fitted modems on Ford Vehicles mean there is no hardware to purchase and no installation required.Activation is remote, quick and easy, and doesn't require any special tools or visit to a professional installer. Email us your vehicle VIN list, Company name and FIN (Fleet Identification Number) for validation.
Contact us
Manage your fleet from one consolidated platform
Enrolled Ford Vehicles data is transferred from Ford to Geotab's fleet management software, MyGeotab. See all your vehicle and driver-behavior related information in one place, MyGeotab. Understand your fleet data with custom reporting tools in MyGeotab. Improve productivity, efficiency, safety and more with valuable insights to make better-informed, data-driven decisions.
Powerful fleet management tools
Activity reports, collision notifications, driver behavior monitoring, fuel consumption reports, risk and safety reports, and additional high-value fleet management tools help you measure performance in six core areas: productivity, safety, fleet optimization, compliance, sustainability and expandability.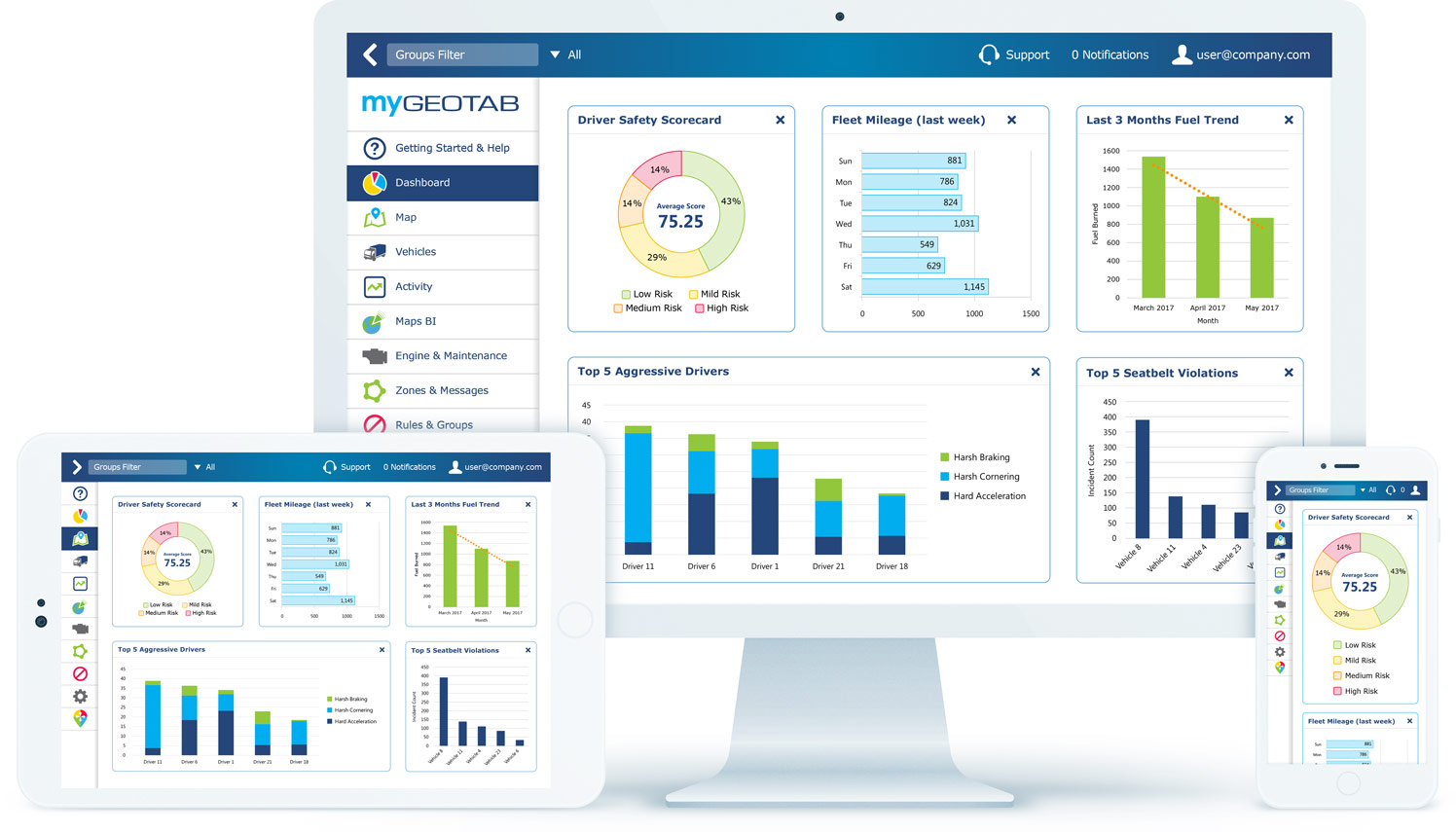 Access to rich data from Ford Vehicles
Access deep, rich data and diagnostics from Ford's factory-fitted modem and sensors. Take advantage of Geotab's industry-leading rules engine and customizable alerts - get the required insights for your business needs and for the regulatory driver compliance.
Expandability and IoT connectivity
Expand the capability of this integrated solution with Geotab Marketplace, an ecosystem of third-party Mobile Apps, software Add-Ins, and hardware Add-Ons. From sensors and cameras to custom reports and Mobile Apps, our extensive ecosystem is built to help your business thrive. You can also leverage the APIs from Geotab SDK (Software Development Kit) to create your own custom reports.
ELD and driver compliance
Geotab's ELD app, Geotab Drive*, comes integrated with this solution. Streamline HOS (Hours of Service), DVIR (Driver Vehicle Inspection Reporting), IFTA (International Fuel Tax Agreement) reporting and driver identification, helping save time and money. Stay up-to-date on fleet compliance with real-time access to information in MyGeotab including violation alerts, detailed reports on driver logs, remaining hours and much more.

---
Key features
Productivity
Reduce set-up time and costs. No hardware installation required.

Improve productivity with real-time tracking, dispatch reports, Driver ID and asset management.
Safety
Keep safety at the forefront with key fleet metrics: know your drivers, their driving habits, safety reports and alerts, and more.

Monitor fleet safety and deliver in-vehicle driver coaching to promote good driving habits.

Stay up-to-date on fleet compliance with Geotab's ELD* app, Geotab Drive compatible for iOS and Android-based smartphones and tablet devices.

*ELD is certified by FMCSA and now available in the U.S.

Sustainability
The fuel efficiency reports allow you to compare drivers or vehicles to help you identify areas for improvement. Our fuel management solution can also be used to help reduce emissions.

MyGeotab can assist in identifying vehicles requiring maintenance. Minimize parts required, labour costs, and the overall costs of maintenance.
Optimization
Set rules and alerts to improve routing, manage speeding, fuel consumption and idling time.

Turn your data into a business advantage and deliver measurable results for better fleet maintenance and use our fleet benchmarking tools.
Compliance
Vehicle inspections play an important part in improving road safety as well as ensuring fleet compliance. Learn more about compliance features from the brochure to minimize violations.
Expandability
Extend platform functionality with Geotab's Software Development Kit (SDK). Create phone and tablet apps, integrate third-party software, create MyGeotab Add-Ins, complex custom reports and more with Geotab's SDK.
*Refer to brochure for the list of compatible Ford models. This solution is available in the U.S., Canada and select markets in Europe.

Optimize your fleet today