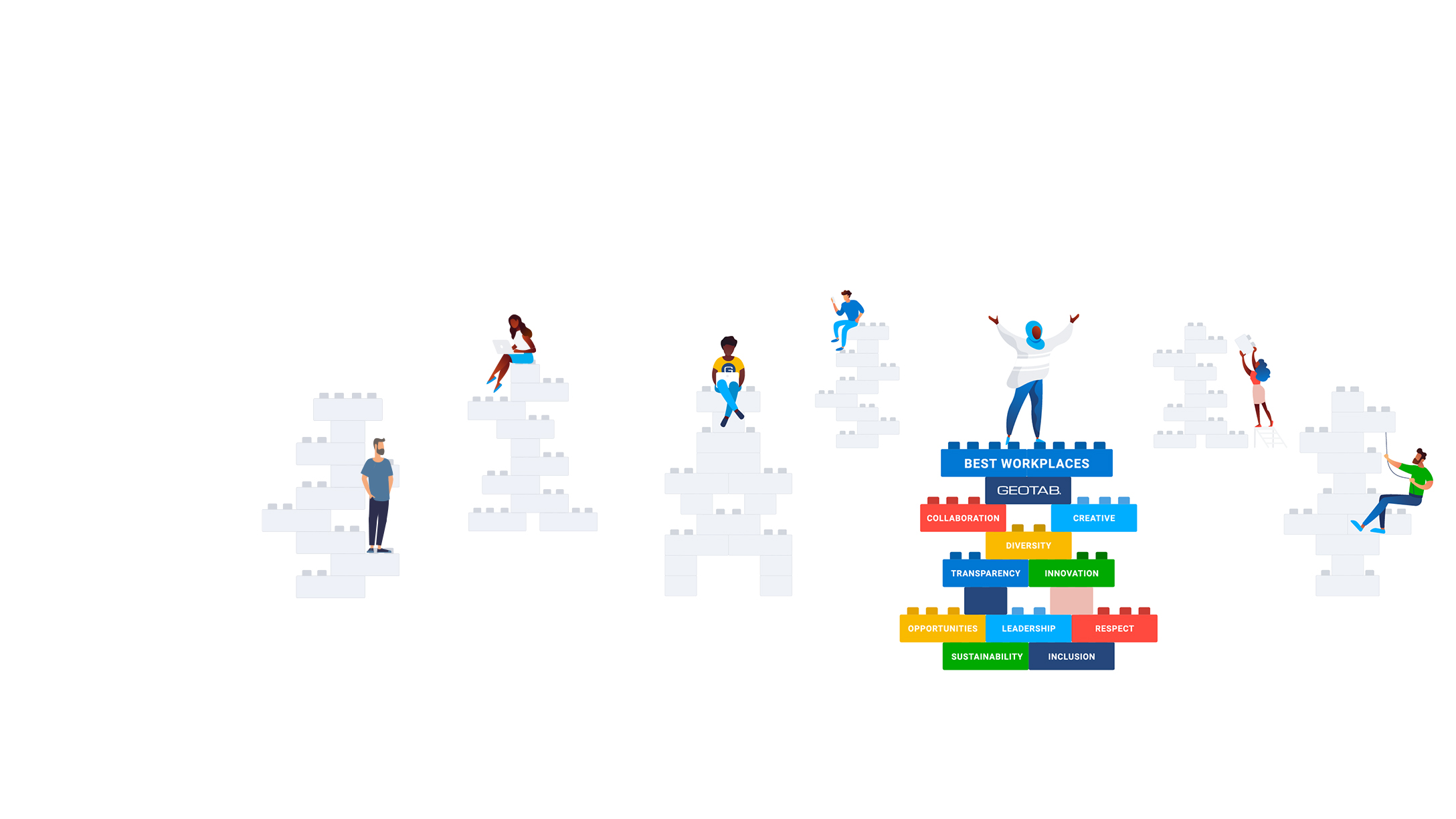 5 reasons Geotab is one of the best workplaces in technology
---
Find out why Geotab is one of the best tech companies to work for in Canada.
Geotab was recently named one of Great Place to Work® Canada's Best Workplaces in Technology for 2021 for the second consecutive year. To be eligible for this award, Geotab had to be Great Place to Work™-certified within the past year and operate within the technology industry. We have been awarded based on employee feedback that was calculated using the Great Place to Work® Trust Model.
Geotab has been ranked as one of the Best Workplaces in Technology by Great Place to Work® Canada in 2021.
Geotab is a great place to dive into the world of technology, whether you're interested in hardware, software, electric vehicles, embedded systems, mobile apps, big data or artificial intelligence (AI). To get a better understanding of why this award matters, here are the top reasons Geotab is one of the best technology companies to work for in Canada.
#1: Our proprietary software
The MyGeotab software is a cloud-based software that allows fleet managers to monitor their entire fleet from a computer, smartphone or tablet. It helps take the complexity out of data and turns it into useful information that our customers can then act on.
Geotab uses a technology-agnostic approach to hardware and software, which means our technology can be integrated with any tools customers may use, including embedded OEM telematics. This gives fleets endless choices to customize our solutions to their needs. It also has the added benefit of creating unique use cases for our technical teams who work to build out these integrations.
A sample page from MyGeotab software in desktop view.
In addition to the MyGeotab software, we also have data.geotab.com. This solution works to analyze data from a global network of connected vehicles and turn it into rich, scalable and actionable experiments and insights.
At Geotab, there are technical teams that focus on data and analytics, development, automotive and beyond. Geotabbers also have the opportunity to work with tech stacks including:
C#
.NET
Postgres
Docker
SQL
Google Bigquery
Google Cloud
Typescript
Kafka
Kubernetes
.Net Core
NodeJS
Python
Colab notebooks
GBQ
JavaScript
React
Microsoft Azure
And more
From an employee perspective, these are amazing tools to work with that include endless possibilities for optimization and data processing.
#2: Our hardware devices
Our Geotab GO and GO RUGGED devices provide an innovative and exciting opportunity for our employees to work directly with telematics hardware. These two devices provide solutions for thousands of vehicle types ranging from commercial cars to tractor trailers, electric vehicles to off-road construction equipment.
The included port for IOX Add-Ons also offers our employees the excitement of configuring devices to connect with third-party features like dashboard cameras and Geotab's own GO TALK, a verbal driver coaching system.
Each iteration of these devices has been an improvement on the last and offers employees the opportunity to create hardware that meets the unique business needs of our customers.
Images showcasing the Geotab GO9+ device (top), the GO9 RUGGED device (middle) and the Geotab GO TALK (bottom).
#3: Our one-stop-shop telematics Marketplace
The Geotab Marketplace allows fleets to integrate hardware and software solutions that are important to their business into the Geotab platform. Geotab partners with other telematics industry leaders across a variety of product categories including video, routing, maintenance and more. With over 200 solutions, we offer our customers the power of choice to customize the Geotab solution to fit their fleet's needs. Customers can seamlessly add different solutions into their MyGeotab platform that utilize the data collected from Geotab's GO device.
This diverse portfolio of connected integrations is a huge part of what makes Geotab such a great technology company. As Geotabbers, we get to work with external partners to integrate their services with our own technology. What is more, we also get to work with customers to help them find the solutions that work best for them and implement those solutions in their fleets.
A laptop displaying a selection of products available on the Geotab Marketplace.
#4: Our growing support for electric vehicles
In the past decade, the world has seen a rise in demand for an alternative to vehicles powered by fossil fuels. At Geotab, we support the widest range of electric vehicles (EVs) in the industry—approaching 200 makes and models—to allow fleets to monitor and optimize the performance of their EVs. We also provide unique tools that help customers start electrifying their fleet with confidence by determining if EVs can benefit their businesses financially, operationally, and environmentally.
For Geotabbers, the chance to work with new and exciting technology in the EV space is a big plus. EVs report data differently than your typical internal combustion engine (ICE) vehicle. EV manufacturers don't have to follow the same rules or regulations surrounding what data is available or how it is accessed. This means our team needs to creatively find ways to collect, process and present standardized data. With new electric vehicles being added to the market on a steady basis, our employees learn something new almost every day.
In addition, Geotab encourages its employees to purchase or lease an electric vehicle, motorcycle or motorbike with our EV incentive program. This allows Geotabbers to get first-hand experience with electric vehicle technology, which can then be applied to Geotab's solutions.
A desktop computer showing a sample Electric Vehicle Suitability Assessment (EVSA) recommendation page.
#5: Our commitment to sustainable innovation
In November 2021, Geotab released our first-ever Sustainability Report. This report defines our goal as a global organization to help move the world towards a more sustainable future. In it, we outline our commitment to:
Safeguarding the environment
Sustainably sourcing our materials
Building a better platform for sustainability through our products
Creating positive impacts in our communities
As a company with a global presence, Geotab is committed to improving our business practices to align with the UN Sustainable Development Goals (SDGs). This is an amazing opportunity for all of our employees to use our technology to better the world and help combat climate change.
Watch this video to learn more about Geotab's commitment to sustainability and how we plan to take action:
Come work with us!
Geotab is a growing company that offers a flexible hybrid work model that allows employees to visit their local office as frequently as they'd like or work remotely when necessary. We also connect to our Geotabbers through our unique set of core values, which you can learn more about in our Culture Book.
If you want to be a part of a company that is shaping the future of technology, look no further than Geotab. Check out our open positions on our Careers site and discover why Geotab is one of the best workplaces in technology. For the latest Geotab news, photos and career updates, follow @InsideGeotab on Twitter, Facebook and Instagram.
---
If you liked this post, let us know!
---
Disclaimer
Geotab's blog posts are intended to provide information and encourage discussion on topics of interest to the telematics community at large. Geotab is not providing technical, professional or legal advice through these blog posts. While every effort has been made to ensure the information in this blog post is timely and accurate, errors and omissions may occur, and the information presented here may become out-of-date with the passage of time.
Get industry tips and insights
Sign up for monthly news and tips from our award-winning fleet management blog. You can unsubscribe at any time.
Republish this article for free
Other posts you might like