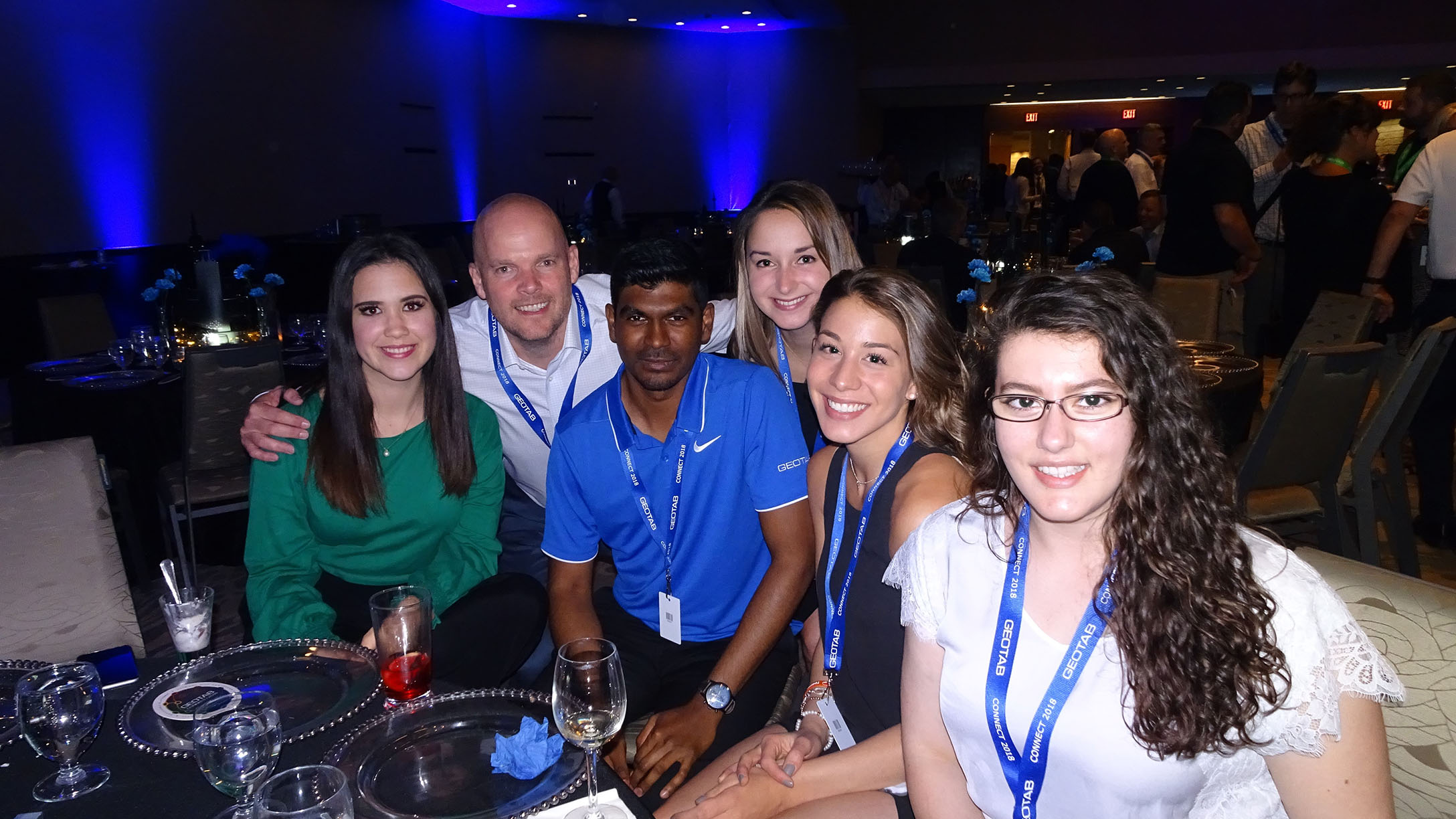 Geotab's approach to diversity, inclusion and belonging
---
Learn more about Geotab's diversity, inclusion and belonging employee resource groups.
Being a global company that employs individuals from all walks of life, Geotab is committed to providing a safe, inclusive and accepting environment for all Geotabbers.
At Geotab, Diversity, Inclusion, and Belonging (DIB) initiatives help us to use data to develop educated, decision-making protocols that support employee representation and belonging across the business. Our ultimate goal is to create an environment that welcomes and creates a sense of belonging and purpose for all Geotabbers. We are committed to championing a globally diverse, equitable and inclusive culture where differences drive innovative solutions.
To help facilitate this, Geotab has organized diverse Employee Resource Groups (ERGs) to focus on awareness, research and community partnerships and coordinate internal DIB related events to foster a more connected organization.
What are Employee Resource Groups?
Employee Resource Groups, or ERGs, are comparable to brain trusts, think tanks and research groups, but with a specific focus on DIB initiatives.
All employee resource groups operate on the same basic principles, including:
Building initiatives that foster a diverse and inclusive environment for all
Using research to better understand barriers and needs
Creating partnerships with community-based or professional organizations and schools to support diversity
Geotab's ERGs are open to employees who identify as or are passionate about key diversity and inclusion topic areas. These groups give a voice to those who have firsthand experience of exclusion or bias based on their identity and allow them the opportunity to shape internal policies to improve and maintain how our company operates.
What ERGs does Geotab have?
Geotab currently has five unique ERGs focused on key areas in diversity and inclusion:
BIPOC+
Women@Geotab
LGBTQ+ and Allies
Advocates for Disability Awareness
Generations@Geotab
BIPOC+
The objective of the BIPOC+ (Black Indigenous and All People of Color) resource group is to advance the cause of BIPOC+ in STEM (science, technology, engineering and math). This means developing and maintaining an inclusive work environment for people of all backgrounds and ethnic groups at Geotab through recruitment and employee programs. The mission of the BIPOC+ group is to understand where the gaps are and use that research to engage in community partnerships and awareness initiatives.
So far, we have established an expectation across the company that racially insensitive terms be replaced in our lexicon, whether it is discovered or used within documentation or our code. We have taken steps to research the availability of various recruiting avenues that help us to focus and support People of Color in STEM, whether it be through bursaries that will incentivize greater participation in STEM by people of color or leveraging those groups to recruit successful candidates. We have also offered additional training and resources for our recruitment team and leaders, such as Unconscious Bias Training.
Geotab's progressive BIPOC+ ERG Group also offers monthly roundtable meetings which provide support and assist to resolve issues faced by these individuals in the work environment.
Next steps include shifting attention towards doing similar research in support of leveling the playing field for additional underrepresented BIPOC+ ethnicities in tech.
Women@Geotab
The mission of Women@Geotab is to empower women to attain their full potential. Our core objective is to increase diversity and inclusivity in the workplace by empowering women through education, programs, partnerships, mentorship and research-based recommendations. We also:
Strive to provide all Geotab women with the programs and resources they need to thrive in the workplace
Implement positive cultural changes by identifying and challenging barriers — such as unconscious bias — including resources for people managers
Partner with external groups to strengthen solution-based programs that address the underrepresentation of women in STEM and strengthen the recruitment pipeline
Increase the representation of women leaders by empowering women through mentorships and resources
Hold bi-weekly meetings to discuss the issues women face in the workplace and the world
So far, we have engaged in various campus programs and identified some key organizations that enable us to sponsor, participate and recruit from events and programs dedicated to the advancement and celebration of women in STEM fields. We have also undertaken the effort to pull reporting to give us insight into what the gender and racial parity is across departments and functional responsibilities.
Next steps include performing research in support of leveling the playing field for women and non-binary people in the ranks of leadership roles within Geotab.
LGBTQ+ and Allies
The LGBTQ+ and Allies group's primary focus is to ensure every Geotabber has a sense of belonging in the work environment and can be their true selves, regardless of how they identify. We want to bring awareness and educate Geotabbers on the issues facing LGBTQ+ groups in the workplace, assist in creating events related to the LGBTQ+ community and research possible barriers to make advancements in the mission.
So far, Geotab has hosted internal webinar series on LGBTQ+ topics including:
Understanding gender identity
Accepting who you are
Feeling confident in your gender identity
Creating meaningful and genuine relationships
Ensuring each person at Geotab has a sense of belonging
We have also integrated a preferred pronoun feature in our email signatures and held discussions on educating employees on the proper phrases to use when discussing the LGBTQ+ community. Both of these efforts have helped to better communicate language and terminology from the LGBTQ+ community into the professional world.
Next steps include building a community of internal volunteers to help bring awareness, facilitate research and assist with reaching out to the external LGBTQ+ community to form partnerships.
Advocates for Disability Awareness
The Advocates for Disability Awareness group focuses on changing the perception of people with disabilities in the workplace. Since disabilities can be both visible and invisible, physical and mental, those who become disability advocates participate in educating and understanding these elements to best support all employees with disabilities.
So far, the group has worked to identify key areas of focus, including:
Supporting individuals at Geotab that have various different abilities
Providing better understanding around disability awareness at Geotab
Geotab has also implemented closed captioning on all our videos, text descriptions on all of our images and updated our documents so that screen readers can easily transcribe what is written.
Next steps are to research and develop internal and external programs that will benefit all persons with disabilities, whether they are physical, mental, educational, etc. They will also work to help all Geotabbers with disabilities be included and represented throughout the company.
Generations@Geotab
The Generations@Geotab group works to celebrate the inclusion of all Geotabbers regardless of their generation. This group aims to focus on how all generations communicate, collaborate and share resources to maintain an inclusive work environment. The group is focused on bridging the gap between generations and creating an environment where Geotabbers of all ages are welcome and represented.
With Geotabbers spanning multiple generations, we are working to maintain a culture where our benefits, communications practices, and internal technology aligns with the needs of all generations.
So far, the group has hosted several roundtable meetings which offer to support all generations. The group hosts internal trivia nights,themes included general trivia of differences between all generations and a music trivia event.
Next steps are to continue hosting internal events to foster relationships and camaraderie across generations both internally and externally.
Geotab's commitment to diversity, inclusion and belonging
At Geotab, we believe diversity is fundamental to our future growth and is an integral part of our business. We believe that success happens where new ideas can flourish – in an environment that is rich in diversity and a place where people from various backgrounds can collaborate.
We know that an environment that fosters diversity is the kind of environment that brings out the untapped potential that lies in our workforce, stimulates innovation and company growth. As an organization, we are committed to sustaining a globally diverse, equitable and inclusive culture where differences drive innovative solutions.
Do you want to be a part of an organization that puts diversity at the forefront? Check out our open positions on our Careers site to find a role that fits your skills.
For the latest Geotab news, photos and career updates, follow @InsideGeotab on Twitter, Facebook and Instagram.
---
If you liked this post, let us know!
---
Disclaimer
Geotab's blog posts are intended to provide information and encourage discussion on topics of interest to the telematics community at large. Geotab is not providing technical, professional or legal advice through these blog posts. While every effort has been made to ensure the information in this blog post is timely and accurate, errors and omissions may occur, and the information presented here may become out-of-date with the passage of time.
Get industry tips and insights
Sign up for monthly news and tips from our award-winning fleet management blog. You can unsubscribe at any time.
Republish this article for free
Other posts you might like