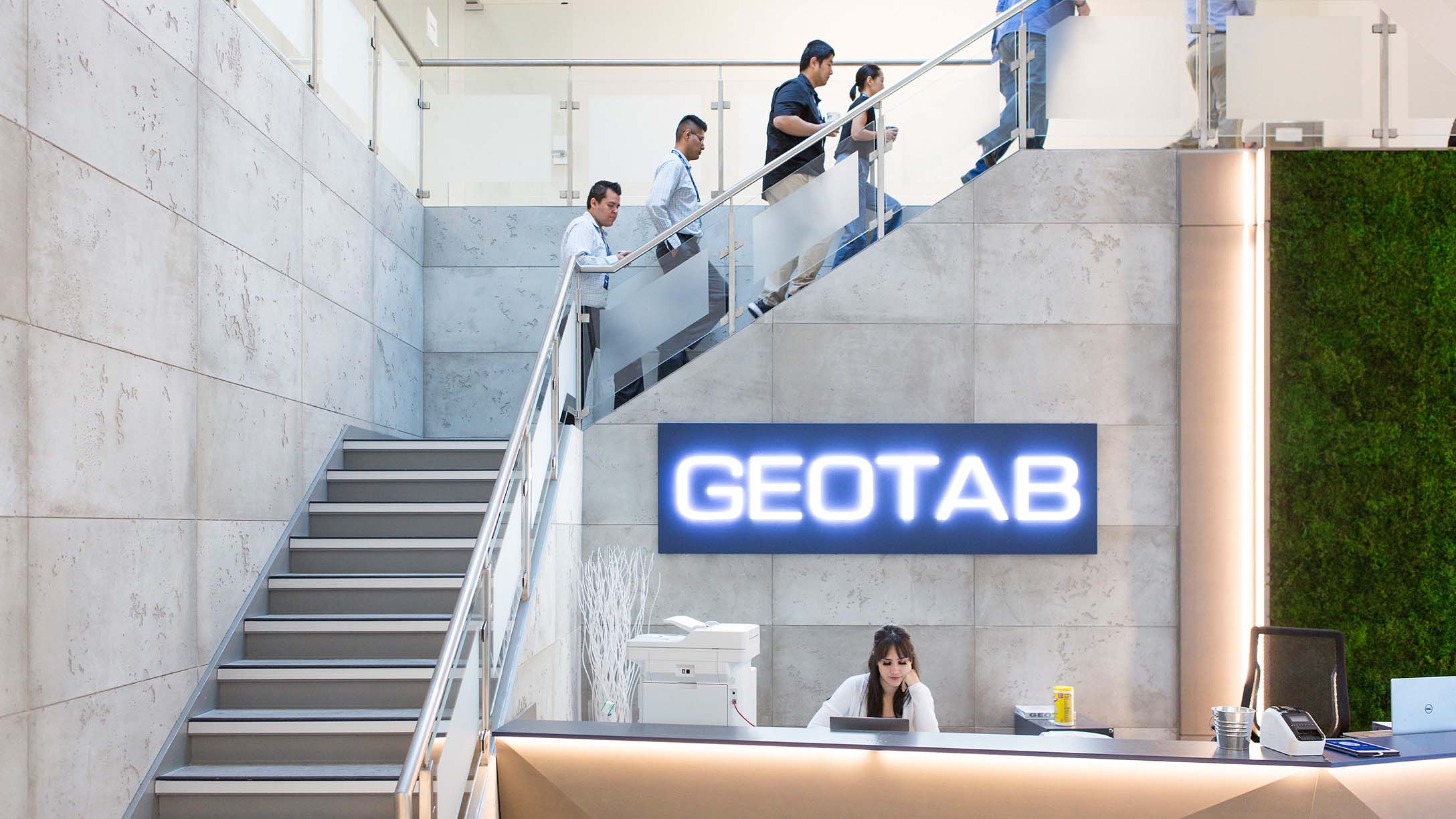 My first six months as a Geotabber
---
Take a walk in the shoes of a new Geotabber as he experiences the first six months on the job.
At the beginning of 2020, I transitioned from the field of teaching and education to adult training and accepted the role of HR Training Specialist at Geotab. I was attracted to Geotab's culture and core values and it felt like a good fit for my personal career development. In these last six months as a Geotabber, I've come to discover that Geotab is so much more than just a good career fit. It's a place where I feel supported, positively challenged and connected into the wonderful and hardworking community.
How I joined Geotab
When I first applied to Geotab, I was very excited at the prospect of working for a technology and engineering company. My teaching background led me to jobs as a high school teacher, adult literacy teacher, curriculum developer and science programs manager. I also had some experience working for start-ups and small businesses, where I realized I liked working for fast-paced, growing organizations. But I had never worked for a tech company.
I wanted to move from teaching into corporate training and the role of HR Training Specialist was calling out to me. I hoped that my experience and background could get me in the door. When I got to the in-person interview at the HQ office in Oakville, I knew this was the place for me. The culture, the space, the openness appealed to me. The ice cream fridges were also tempting. I quickly saw that Geotab's core values and culture aligned very well with my own, and my experiences made me a great fit for the position!
See also: How to ace your next virtual interview.
My first week as a Geotabber
The first week of Geotab is referred to as the GEO (Geotab Employee Onboarding) Launch. It's a full week of learning about the company, core values, culture, product and the different departments at Geotab. As a trainer who would eventually be leading GEO Launches, I soaked in as much knowledge and content as I could.
What I remember most about the first week was not the information about the company but the feeling I got. Geotab is a place where you can grow and develop, collaborate with others (even if they aren't in the same department) and be proud of the work you do. I especially connected with two of Geotab's core values: "Go Above & Beyond" and "Collaborate & Strive for Transparency." I was excited to work hard and go the extra mile, while working with others to continue to grow Geotab and myself.
See also: Why Geotab is a great place to work.
Adapting on the fly during COVID-19
My role as a HR Training Specialist involves giving other new Geotabbers the same feeling I got when I first started. I had the opportunity to work with a wonderful team of trainers in the Learning and Development (L&D) department.
However, in the middle of March, the COVID-19 pandemic struck and our team was tasked with quickly adapting onboarding from the in-person week-long session to a completely virtual, work-from-home session. As a team, we had to brainstorm and work together on how we could ensure that new Geotabbers experienced the core values and culture of Geotab, without ever stepping foot in an office! It was a tall order, but we were up to the challenge.
As we transitioned from in-person to virtual training, we also adapted onboarding. Having a strong team to work with meant we could meet the challenge head-on, and grow together in the process. I particularly enjoyed the challenge because I learned how to use new software and technology quickly, while adapting my teaching, facilitation and team building skills to a virtual setting. I also had to invent a few new activities and games for ones that work better in a virtual setting!
Today, we still onboard new hires virtually and are learning to adapt and keep improving. One of Geotab's core values is to Embrace Change, and this experience has taught me that there is a strong supportive culture at Geotab to help its employees feel challenged and to take on any change!
So many opportunities to learn and grow
Beyond onboarding, I've had the opportunity to expand my skills by creating content for internal professional development including manager training, knowledge sharing through Lunch & Learns and responding to internal training requests. There is always something to do, which has helped me develop professionally and grow in my career.
Why I love being a Geotabber
What I enjoy most about Geotab is the culture and core values. Geotab strives for development and innovation, and it isn't simply in the realm of technology, engineering or big data. Geotab also aims to push the boundaries when it comes to Human Resources and Learning & Development. We want to manage what we measure, and that includes professional development internally.
From the moment I stepped into the HQ office for my interview, I knew that I wanted to be a Geotabber. Little did I know that becoming a Geotabber would exceed my expectations. I saw that the culture and core values were very aligned with my own, but I did not expect the level of support and development that I would have in my first year. Every day I feel challenged and valued for my role, and I know that I can continue to develop and grow. I love my team, I love my role and I love what I do!
Did you know Geotab is hiring? Check out our open positions on our Careers site. For the latest Geotab news, photos and careers updates, follow @InsideGeotab on Twitter, Facebook and Instagram today!
---
If you liked this post, let us know!
---
Disclaimer
Geotab's blog posts are intended to provide information and encourage discussion on topics of interest to the telematics community at large. Geotab is not providing technical, professional or legal advice through these blog posts. While every effort has been made to ensure the information in this blog post is timely and accurate, errors and omissions may occur, and the information presented here may become out-of-date with the passage of time.
Get industry tips and insights
Sign up for monthly news and tips from our award-winning fleet management blog. You can unsubscribe at any time.
Republish this article for free
Other posts you might like