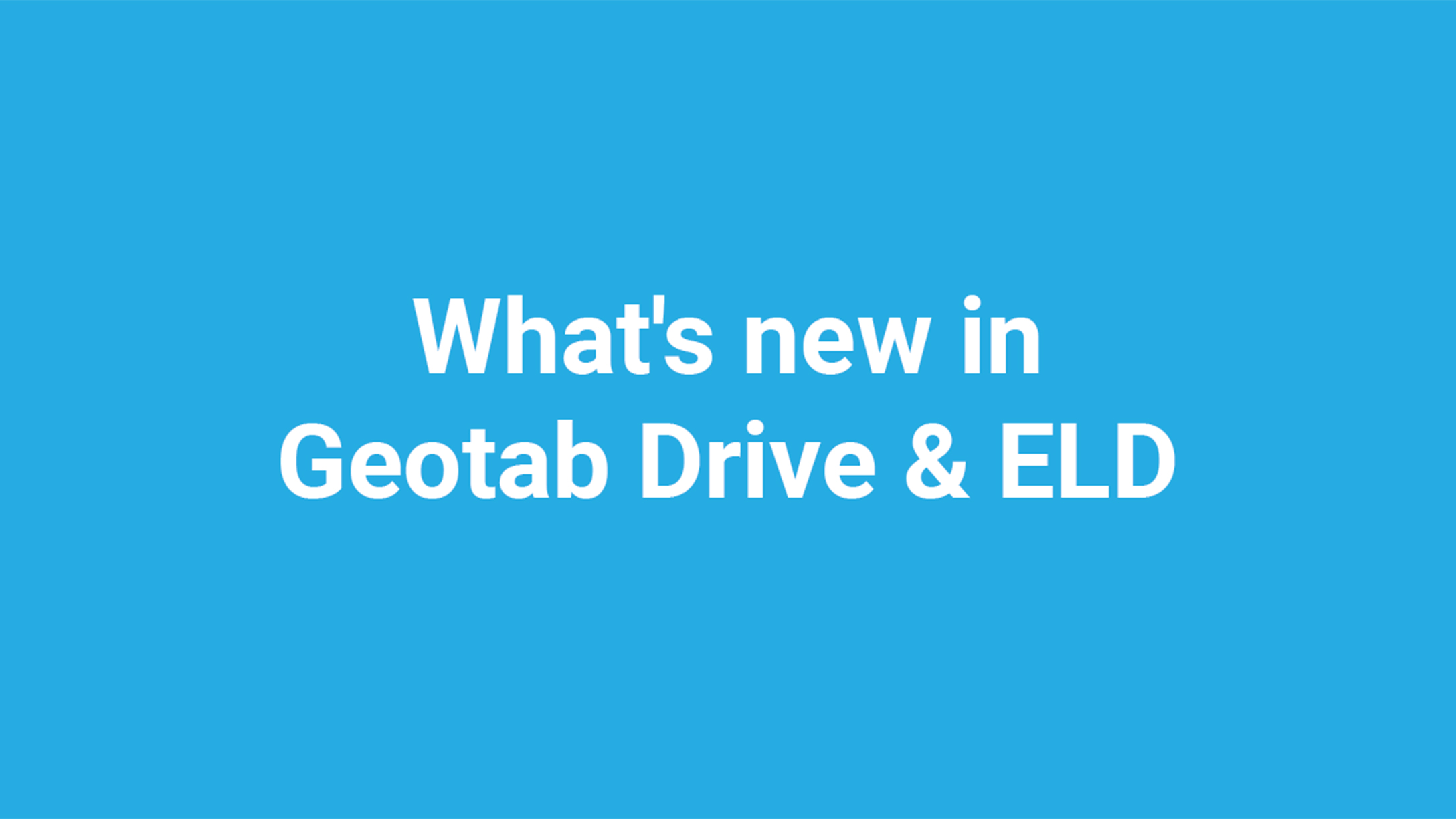 What's new in Geotab Drive — Version 1903
---
Read the latest summary of updates in Geotab Drive.
Welcome to our latest summary of updates in Geotab Drive and Geotab ELD.
Geotab Users: To verify your version: go to MyGeotab > Administration > About, and check the build number, (e.g. 5.7.1903.xxx release).
Resellers: Review this post for important changes affecting your customers and note any recommendations. If you have suggestions for improvement, please leave a comment below.
Sign up for Geotab news
Stay up to date on what's new. Please subscribe to the Geotab newsletter to get these update posts emailed to you.
General updates
HOS setting will only record future trip data
When the HOS setting for a vehicle is toggled ON, Duty Status Logs will only be created for future trips. Without this new feature enabled, when you toggle the HOS setting ON, the Drive App will create logs for some previous trips as well. This reprocessed historical data is useful if you want to record recent vehicle activity; however, if this data is not necessary, you can use the new feature.
Please reach out to eld@geotab.com to enable this feature on your database after your server is upgraded in the future to 1903.
Perform Logout tasks without leaving the Geotab Drive App (Feature Preview)
Geotab Drive App users can now complete the Logout workflow without leaving the app. This feature is useful when the server is offline. Drivers must still complete their standard end-of-day tasks (perform a DVIR, verify logs, detach assets, and set the last log of the day).
Please reach out to eld@geotab.com to enable this feature on your test database after your server is upgraded in the future to 1903 and get some more details. We would love your feedback!
Hours of Service (HOS) updates
Ruleset updates
The following rulesets have been added to Geotab Drive:
California Farm Product with Rest Requirement
California Flammable Liquid with Rest Requirement
California School Pupil with Rest Requirement
California Property Intrastate available with Oil Well Wait time and 24-hour restart
California Property Intrastate with Rest Requirement available with Oil Well Wait time and 24-hour restart
USA Property Short-haul 60-hour/7-day 14-hour Workday (with 24-hour restart option available)
USA Property Short-haul 70-hour/8-day 14-hour Workday (with 24-hour restart option available)
USA Salesperson Non-CDL Short Haul
The following rulesets have been renamed:
USA Property Short-Haul 60-hour/7-day is now: USA Property Short-haul 60-hour/7-day 12-hour Workday (with 24-hour restart option available)
USA Property Short-haul 70-hour/8-day is now: USA Property Short-Haul 70-hour/8-day 12-hour Workday (with 24-hour restart option available)
Rulesets UI improvement
Rulesets now appear in alphabetical order in MyGeotab. This new configuration allows certain rulesets to be grouped together based on their jurisdiction, and will make it easier for users to find rulesets.
Add an annotation for Adverse driving exemptions
When you apply the Adverse driving conditions exemption, Geotab Drive will prompt you to enter an annotation with a minimum of four characters. Annotations are optional, but they provide helpful context when Drivers and Administrators review the HOS logs.
PIN for Inspection Mode (Feature Preview)
During a roadside inspection, you now have the option to set a 4-digit PIN for one-time use as confirmation when exiting Inspection Mode.
After the inspection is over, the App will prompt you to enter the same 4-digit PIN that you selected. If you have forgotten your PIN, you can log out to exit Inspection Mode.
Additional aspects of the PIN feature:
You can set a new PIN each time you enter Inspection Mode.
Since the PIN is stored locally on the device, even if you do not have a network connection, you will still be able to enter or exit Inspection mode using a PIN.
If Geotab Drive is closed during the inspection, re-opening it will bring you back to Inspection Mode, where you will have to enter the PIN in order to exit.
In a co-driver situation, if one of the drivers logs out while in Inspection Mode, the second driver will be shown on the Dashboard.
If you begin to drive the vehicle while in Inspection Mode, the PIN will be cleared and you will see the lock screen. You will still have to exit Inspection Mode manually, but the PIN will no longer be required.
Logs
Improvements to the Duty Status Logs page
The Duty Status Logs page in MyGeotab now has a cleaner appearance, with the following updates that allow Administrators to gather more information at-a-glance:
By default, the graph displays and the logs list is hidden. You can click View Logs to display the entire list.
The Duty Status Logs graph legend only displays at the top of the page, instead of with each individual graph. The Qualifying Break colour appears under off-duty hours for Canadian Rulesets only, and identifies logs that meet the break requirements.
Each graph displays duration and distance information for Yard Movement and Personal Conveyance. As well, graphs will display summarized information about violations, ruleset changes, authority changes, attached and detached shipments, trailer information, and malfunctions. You can click any bar on the graph to view the relevant log on the logs list.
Combined Graph and Logs view
The Graph and Logs information are both displayed under the Logs tab, eliminating the need to flip back and forth between tabs. Additionally, the following updates to the Logs page allow Drivers to view their logs more easily:
The Logs page displays logs one day at a time. You can navigate to different days using the arrows at the top of the page, or click the date button to select a date from the calendar. The Logs page displays the starting and ending odometer information for each vehicle.
If a log requires attention (e.g. verification, requested edits, missing location, etc.), a notification banner display at the top of the Logs page. Tap the banner, then select a date in the pop-up window to go to that specific log and make the required changes.
Driver Vehicle Inspection Reporting (DVIR)
Update to Other defect option
In the defect lists in MyGeotab, the defect selection All in Part has been changed to Other to match how it displays in the Drive App. When the defect is not listed, you can select Other and add a remark to provide more detail about the defect. When you select Other, the system selects the whole part. This option is consistent between MyGeotab and the Drive App.
Update to DVIR out of scope message
When viewing a DVIR Log which has defect lists that are no longer available to you, the following prompt will display in the Geotab Drive app. Defects and defect lists may no longer be available to you if they are out of scope. If you are using the app and receive this message, please contact your Administrator for further instructions.
DVIR Repair workflow improvement
The DVIR Repair workflow has been improved to signal more clearly that users must resolve each individual defect before clicking Save. In DVIRs with less than five defects, they will open automatically, with the Repaired and Not Necessary options visible.
Notify Driver of Administrator's edits to a DVIR
When an Administrator edits a DVIR in MyGeotab at the same time that a Geotab Drive app user is editing it, the user will receive a notification of the Administrator's changes, and will prompt them to refresh the app. The user can tap the prompt to view the updates before making any further changes.
Messaging
Open hyperlinks from Messages
From Drive App Messages, Drivers can now open hyperlinks in messages they receive from their Administrator. This will make it easier to share information and resources within teams.
Geotab Drive SDK updates
GetLastDVIRLog method removed
You can now find the latest DVIR log by performing a "Get DVIRLog" search and including the following parameters in your search:
FromDate : utcnow, includeBoundaryLogs: true and resultslimit : 1
Shipment updates
In 1903, shipments added or updated through the SDK will be immediately visible on the Shipments page in the Drive App. Previously, Shipments added or updated through the SDK would take up to 15 minutes to display on the page.
Previous update
Looking for the last update summary? Read: What's new in Geotab Drive & ELD – Version 1902.
Learning resources
For more info on SDK updates, please visit the MyGeotab SDK What's New page.
For more information, please consult the Geotab Drive page on the Geotab Marketplace for the Driver manual and Compliance and Implementation Guide. Download Geotab Drive from the Google Play Store or Apple App Store.
Contributors:
Mehant Parkash, Product Engineer
Melanie Serr, Senior Content Editor
Vik Sridhar, Product Engineering Manager, MyGeotab
Julianna Suderman, Technical Writer
---
If you liked this post, let us know!
---
Disclaimer
Geotab's blog posts are intended to provide information and encourage discussion on topics of interest to the telematics community at large. Geotab is not providing technical, professional or legal advice through these blog posts. While every effort has been made to ensure the information in this blog post is timely and accurate, errors and omissions may occur, and the information presented here may become out-of-date with the passage of time.
Get industry tips and insights
Sign up for monthly news and tips from our award-winning fleet management blog. You can unsubscribe at any time.
Republish this article for free
Other posts you might like