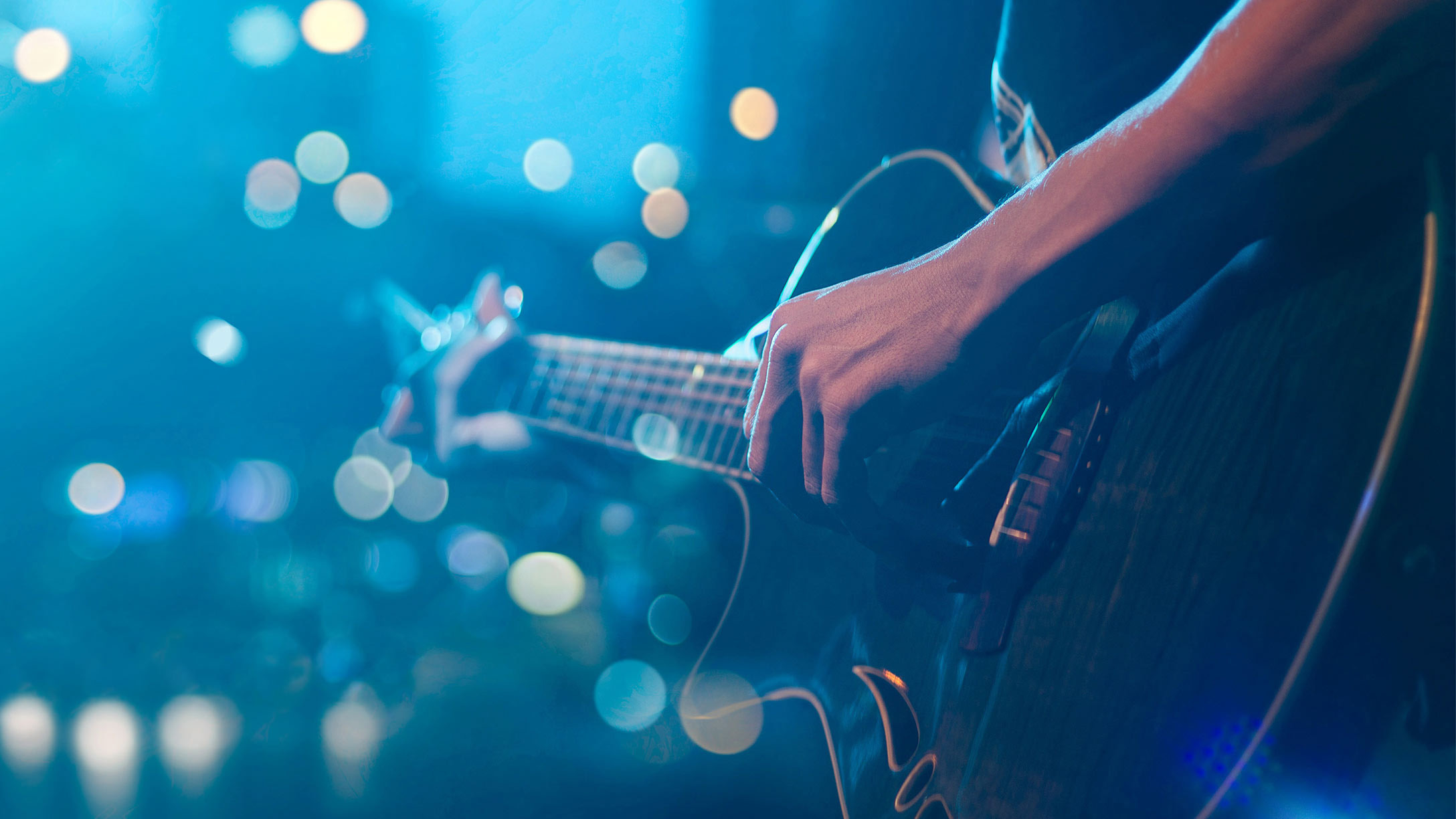 Phones Down, Eyes Up Benefit Concert
Published on November 25, 2020 in Driver Safety by Geotab Team |  3 minute read
---
The third annual Phones Down, Eyes Up Benefit Concert was broadcast online for the first time.
At Geotab, we strongly believe in the power that technology has to create positive change, especially in the areas of fleet optimization and driver safety. That's why we are raising awareness around the dangers of distracted driving and walking. Eliminating distractions is a critical step towards creating a safe environment for all road users.
Phones Down, Eyes Up: A live virtual concert in honor of Brandon Walli
On Thursday, December 10, Geotab hosted a live concert, bringing together viewers from around the world for a fun-filled evening featuring live music performances from some of Geotab's talented employees.
The event was held in honor of Brandon Walli, who lost his life at the age of 23 while crossing the road on October 8, 2016. It was thought that he had been texting and walking when the incident occurred. For every person that tuned in, Geotab donated $5 to Brake, a registered charity whose initiatives promote road safety and sustainable transport around the world; they also support victims of road crashes.
Watch the concert
The concert was streamed live to Geotabbers around the world. Between performances viewers also got a chance to hear from road safety experts like Shane Hickingbottom, Crown Attorney for Norfolk, Ontario.
"Distracted driving is the cause of a lot of accidents," said Hickingbottom. "A lot of them are fatal. It is always disheartening because it is something that is very preventable. There is no need to use your phone while you're in the car, there is no need to be looking at your phone while you're walking down the sidewalk or crossing the street. A few minutes wait may save somebody's life, maybe your own."
Zvonko Horvat, Chief of Police of the Aylmer Police Service, Ontario, reconfirmed the need to stay alert. Horvat said, "Collisions caused by distracted driving have doubled since 2000. Distracted driving has become the number one contributor to collisions on our roadways. In addition, distracted walking incidents are on the rise and everyone with a cell phone in their hands is at risk...Distracted driving or walking deaths are totally preventable"
The event was recorded and can be viewed here on YouTube.
Responsibility on both sides of the wheel
At a past event, Burlington's local Member of Provincial Parliament Jane McKenna and Constable Erin McMillan of the OPP have provided insights into the issue of distracted driving. Citing distracted driving as the number one cause of fatalities on the road, both McKenna and McMillan stressed that these incidents are completely avoidable:
"Our phones have become a type of addiction that is not only affecting our youth, but adults as well," stated McKenna. "We must all band together to ensure we are continuing to have fluid conversations about the importance of staying alert and help create a safer environment for all moving forward."
Through this event, Geotab hopes to spread the message of shared responsibility — on both sides of the wheel — to create safer roads for everyone.
Learn more at the Phones Down, Eyes Up event page.
What is distracted driving and distracted walking?
According to the National Highway Traffic Association, 3,166 traffic deaths in the U.S., in 2017 alone, were the result of distracted driving. Despite these shocking statistics, one study found that almost half of young drivers reported texting or emailing while driving in the previous 30 days.
You are considered a distracted driver, and liable for harsh penalties, if you do any of the following while driving:
Drinking coffee or eating
Talk with people in the car, or on a hands-free cell phone
Text, scroll or search on your phone
Play with the in-car entertainment system (radio, map)
Smoking or vaping
Reaching for things on the floor
Distracted walking is also a serious health concern. According to the Governor's Highway Safety Association, around 6,000 pedestrians were killed in 2017. While there is little conclusive data that reports on how many of these tragedies were the result of distracted walking, two recent trends may offer insight. The GHSA notes that there was a 236% increase in smartphones used in the U.S. between 2010 and 2016. Meanwhile, U.S. states that legalized marijuana between 2012 and 2016 saw a collective 16.4% increase in pedestrian fatalities in the first half of 2017. Because of these distractions it has become more important than ever to remind people to stay aware of their surroundings, especially near roadways.
The National Safety Council recommends these tips for pedestrians:
Eliminate cell phone use, including wearing earbuds, while walking
Avoid substance impairment when walking
Cross streets only at crosswalks
Walk on the sidewalk wherever possible; walk facing traffic as a last resort
Look left, right, and left again before crossing any street
Wear reflective clothing and a flashlight at night
Look out for cars backing up out of driveways and parking spaces
While technology continues to make our lives easier in new and innovative ways, it is important that we remain aware of our surroundings. As a society, company and as individuals we need to do our part to promote road safety — both as pedestrians and drivers — and encourage responsibility on both sides of the wheel.
Find more prevention tips in this blog post: Distracted driving facts: Common causes and solutions
Show your support
Continue the conversation by using the hashtag #PhoneDownEyesUp on social media and sharing your stories with friends. Remind those you love to put their phones down and keep their eyes up. Because at the end of the day, road safety is all of our responsibility.
---
If you liked this post, let us know!
Post Tags

Geotab Team
The Geotab Team write about company news.
---
Disclaimer
Geotab's blog posts are intended to provide information and encourage discussion on topics of interest to the telematics community at large. Geotab is not providing technical, professional or legal advice through these blog posts. While every effort has been made to ensure the information in this blog post is timely and accurate, errors and omissions may occur, and the information presented here may become out-of-date with the passage of time.
Get industry tips and insights
Sign up for monthly news and tips from our award-winning fleet management blog. You can unsubscribe at any time.
Republish this article for free
Other posts you might like