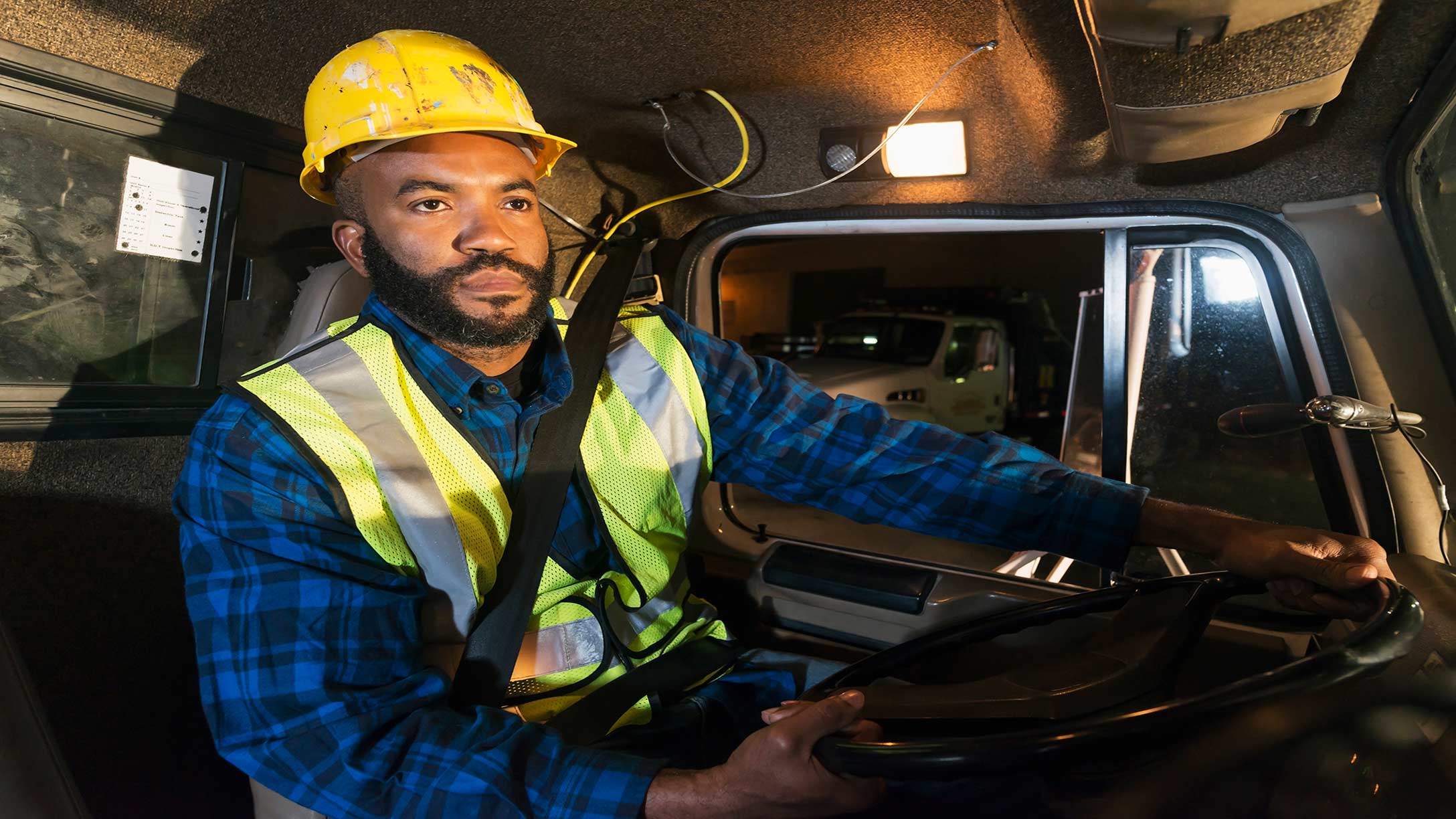 How to put driver safety first this winter
---
Learn how to prepare your drivers for the compromised road conditions and limited daylight hours in winter.
Winter preparedness has become increasingly difficult as weather becomes more unpredictable. Vehicles aren't the only piece of the puzzle. Drivers need to be kept safe too. To help you and your drivers prepare for the winter ahead, we've pulled together a collection of tips to help you put your drivers first as you head into the winter season.
Create driver emergency kits
Breakdowns and collisions are an unfortunate part of fleet operations. Winter driving conditions can not only make them more common, but also add a level of danger for drivers that are involved in collisions and may have to wait whoo get stuck in the cold. Unfortunately, emergency services may take time to reach drivers, especially if hazardous road conditions are what led your drivers to be stranded in the first place. In situations like these, cold weather kits may save their lives.
To do what you can to keep your drivers prepared, follow the below tips:
Ask drivers to store warm boots, jackets, gloves, hats, a solar or battery powered heated blanket or insulated layers in the cab.
Pack non-perishable food, water and any medications required to prepare your drivers for worst case scenarios.
Make available safety provisions, such as first-aid kits, fire extinguishers, road flares, reflective triangles, jumper cables, chains, extra windshield washer fluid and salt or sand.
See also: The 10 point winter fleet preparation checklist
Install carbon monoxide detectors in your fleet vehicles
Carbon monoxide is an odorless, tasteless and colourless gas that is produced by engines. High levels of carbon monoxide inhalation can cause loss of consciousness and even death within minutes. Persistent low levels of the gas can cause debilitating symptoms that persist for an extended period of time as well.
Though most people tend to think of carbon monoxide detectors as household items, they can actually come in extremely handy for vehicles as well — especially those with sleeper berths. To help prevent any incidents, consider getting a carbon monoxide detector installed in your vehicle's cabs.
Discuss winter driver safety in company meetings
The best way to both educate drivers — and show them you care — is to make their safety a top priority in company meetings. As cold weather approaches, remind your drivers in meetings about the steps they can take to stay safer on winter roads, including:
Removing snow and ice from the roof
Giving 20 feet of additional stopping distance
Avoiding sudden braking
Always buckling up
Monitoring dashboard lights for maintenance issues
Wearing sunglasses and using sun sleeves or window covers to avoid winter glare
Using snow to check for fluid leaks after parking for an extended period
Regularly topping up windshield washer fluid
Monitoring antifreeze levels
Watching for steam emitting from the wheels; this could be a sign of overheated in the wheel bearings
Getting help when needed; remind them never to put themselves in harms way
See also: Let it snow: Safe winter driving
Conclusion
Drivers are the key to success for many fleets, which is why their value can never be underlooked. This winter, make your drivers a top priority by preparing them for winter conditions in advance.
Visit the Geotab Community to ask questions or post your own success tips or stories to help others.
---
If you liked this post, let us know!
---
Disclaimer
Geotab's blog posts are intended to provide information and encourage discussion on topics of interest to the telematics community at large. Geotab is not providing technical, professional or legal advice through these blog posts. While every effort has been made to ensure the information in this blog post is timely and accurate, errors and omissions may occur, and the information presented here may become out-of-date with the passage of time.
Get industry tips and insights
Sign up for monthly news and tips from our award-winning fleet management blog. You can unsubscribe at any time.
Republish this article for free
Other posts you might like