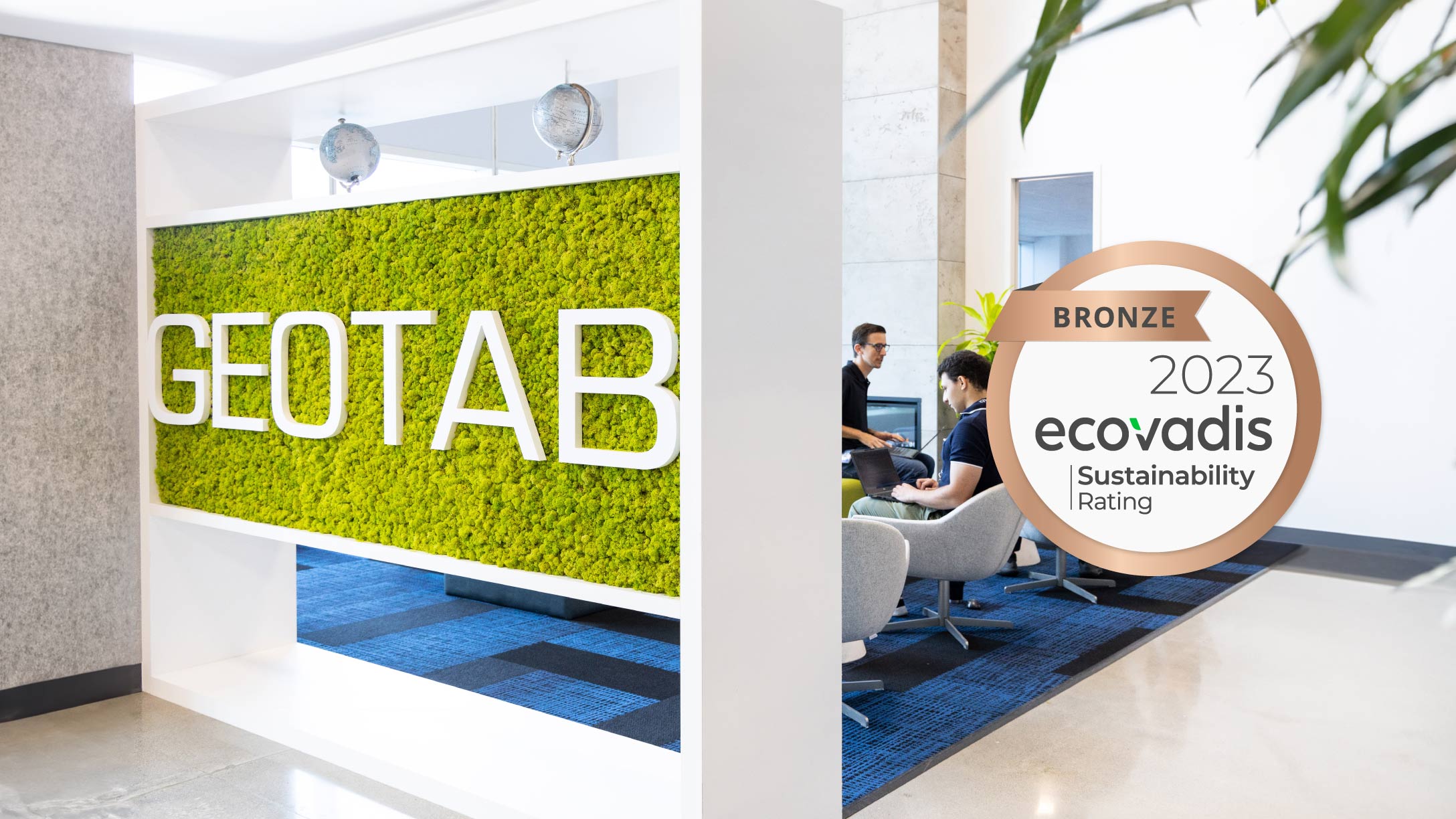 Geotab® Earns Bronze Medal from EcoVadis for Sustainability Performance
Published on August 22, 2023
---
EcoVadis Rating validates Geotab's improvements in business sustainability commitments and performance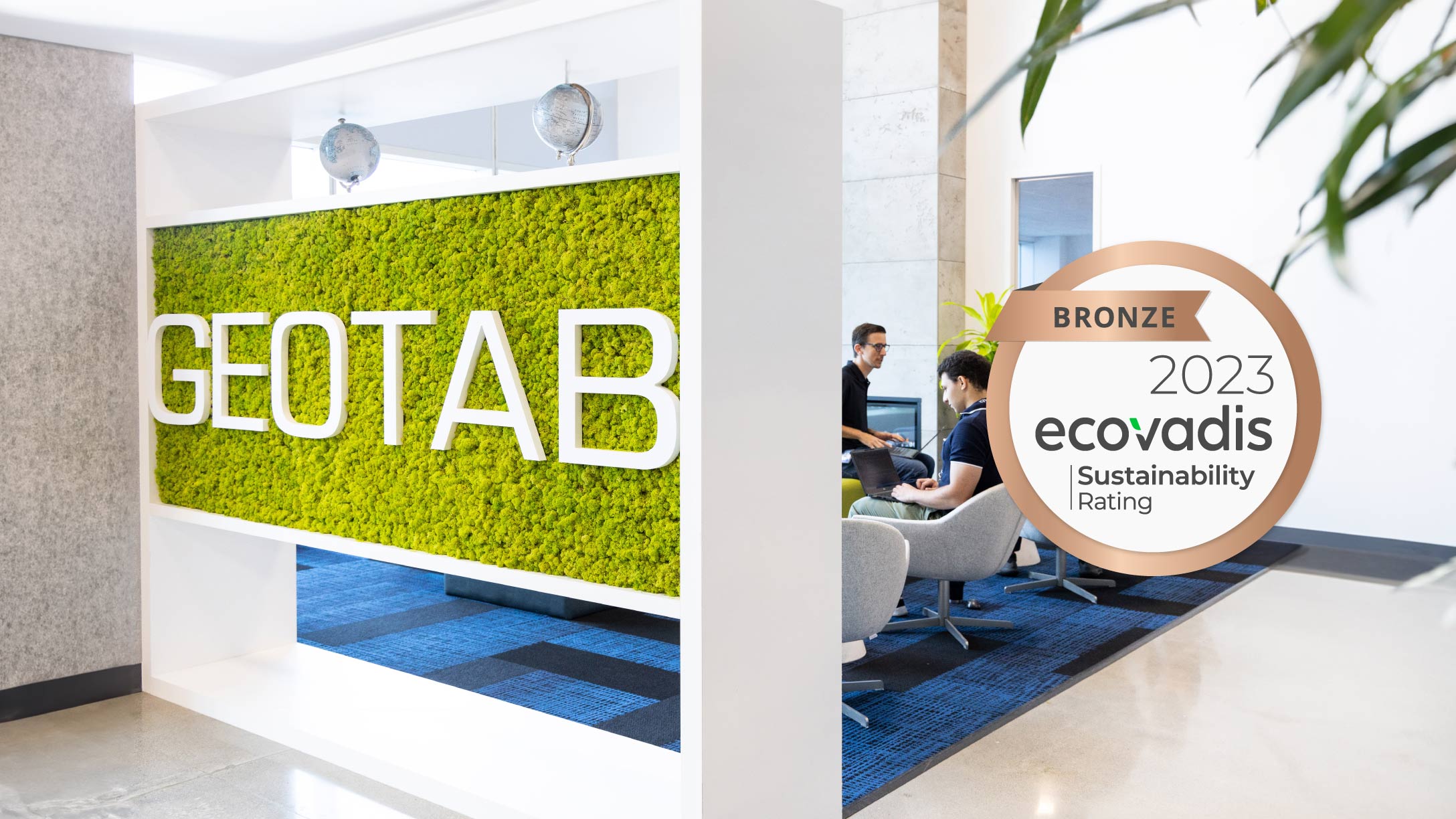 Toronto, Ontario (August 22, 2023) - Geotab Inc. ("Geotab"), a global leader in connected transportation solutions, announced today that it has achieved a Bronze Medal from EcoVadis, the world's most trusted provider of business sustainability ratings. Geotab achieved a higher overall score than the previous year, with a 66th percentile ranking, and has improved in all four categories: Environment, Labor & Human Rights, Ethics and Sustainable Procurement.
EcoVadis is the global standard for business sustainability ratings and has rated more than 100,000 companies globally.
"Measuring our sustainability performance is one of the ways that Geotab ensures we operate ethically, responsibly and with integrity. This EcoVadis Rating validates Geotab's commitment to continuously improving our sustainability practices and reporting transparently on our progress," said Chuck Van Kempen, Associate Vice President, Corporate Sustainability.
EcoVadis' business sustainability ratings are based on international sustainability standards such as the Ten Principles of the UN Global Compact, the International Labour Organization (ILO) conventions, the Global Reporting Initiative (GRI) standards and the ISO 26000 standard. The ratings provide an evidenced-based analysis of performance and an actionable roadmap for continuous improvement.
Sustainability action on the road to net zero
This year, Geotab joined the United Nations Global Compact initiative (UN Global Compact), a voluntary leadership platform for the development, implementation and disclosure of responsible human rights, labor, environmental and anti-corruption business practices.
With a goal to achieve net zero emissions across Scope 1, 2 and 3 by 2040, Geotab is working with its supply chain on greenhouse gas emissions (GHG) reduction. Geotab aims to have its top 10 suppliers (by spend) make public commitments to GHG reduction. As of the end of 2022, we are halfway to that target — with 50% of those top 10 suppliers already reporting to CDP.
Geotab is tackling its greenhouse gas emissions through innovative programs to reduce employee commuting and travel, including the Electric Vehicle Incentive Program and Public Transportation Reimbursement and a flexible hybrid work policy.
Significant impact
Geotab's biggest sustainability impact is being made through data-driven tools and insights supporting fleets across the globe. The transport sector is one of the largest contributors to greenhouse gas emissions, representing 28% of emissions in the U.S. and 15% globally. With global transport activity expected to more than double by 2050, this figure could continue to rise without ambitious action. Commercial transportation has a unique opportunity to make a significant impact in the effort to reduce emissions than other sectors because of its shorter life cycle for vehicle replacement. As the world-leading commercial telematics platform, connecting to 3.7 million vehicles, Geotab is helping accelerate and scale decarbonization in the transportation industry by providing insights to help fleets assess their environmental impact and adopt sustainable fleet practices, reduce emissions, streamline electrification and optimize EV operations, and make progress on their sustainability journey.
To learn about Geotab's work to support a decarbonized and thriving future, read the Geotab 2022 Sustainability and Impact Report at https://www.geotab.com/about/corporate-sustainability/
Post Tags
---
Media Contact
Hanna Corrente
Manager, Strategic Communications & Public Affairs
pr@geotab.com
About Geotab
Geotab is a global leader in connected transportation solutions. We provide telematics — vehicle and asset tracking — solutions to over 47,000 customers in 150 countries. For more than 20 years, we have invested in ground-breaking data research and innovation to enable partners and customers, including Fortune 500 and public sector organizations, to transform their fleets and operations. We connect to over 3.8 million vehicles and process more than 55 billion data points a day so that customers can make better decisions, increase productivity, have safer fleets, and achieve their sustainability goals. Geotab's open platform and Marketplace, offers hundreds of third-party solution options. Backed by a team of industry leading data scientists and AI experts, Geotab is unlocking the power of data to understand real-time and predictive analytics — solving for today's challenges and tomorrow's world. To learn more, visit www.geotab.com, follow @GEOTAB on Twitter and LinkedIn or visit the Geotab Blog.