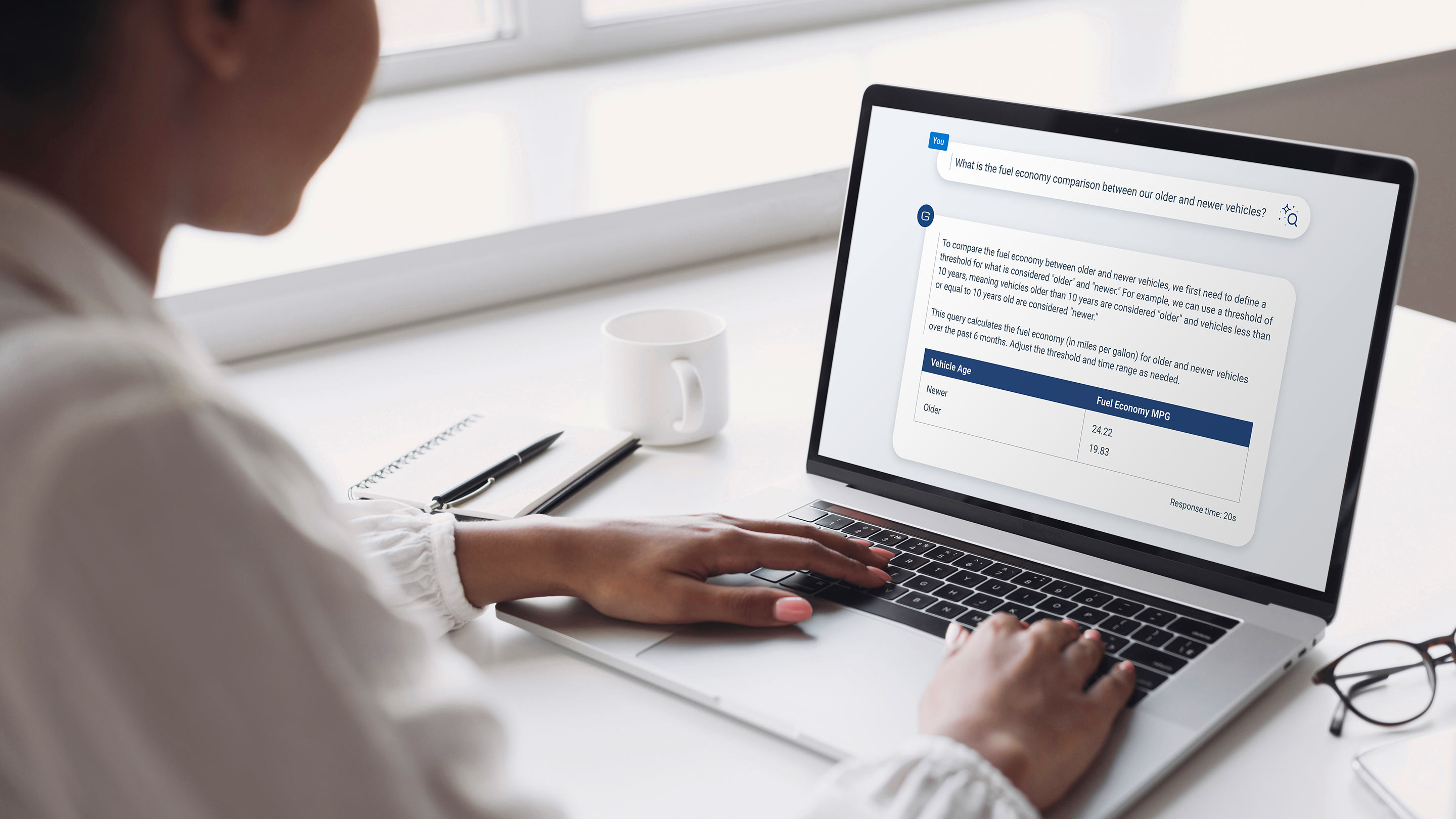 Experience the future of fleet analytics with Project G
Harnessing the power of generative AI, data interactions are transformed with your very own analytics digital assistant.
Join the waitlist
See it in action
Geotab is ushering in a new era in data analytics with the beta launch of Project G: the next leap in connected transportation solutions – coming soon. Reduce time-to-insight on vehicle performance, efficiency, and productivity. Your fleet information remains confidential within Geotab's secure environment, providing you with peace of mind as you explore the potential of generative AI.
On-demand insights through generative AI
Project G will redefine how you interact with your data. Effortlessly access insights to elevate efficiency and decision-making.
Simply ask your question and let your analytics digital assistant do the mining for you. With a user-friendly interface linked to Geotab Data Connector, you can pose questions and receive data-driven answers to optimize your fleet performance.
---
Video
Data Decoded - Episode 2: Brushstrokes of Insight – Fueling the Generative AI Canvas
Step into a captivating world where art meets artificial intelligence in our second episode of "Data Decoded", with Mike Branch, Geotab VP of Data & Analytics. Join Mike as he takes you on an artistic adventure, using the analogy of an artist's brushstrokes to paint a vivid picture of the importance of accurate AI inputs to fuel powerful data insights.
Watch video
Getting smarter by the mile: Powering actionable insights with our extensive network of connected vehicles and unparalleled expertise.
Our vast data repository provides us with unparalleled insights and a deep understanding of fleet operations.
3.6 million +
connected vehicles
With our worldwide network, we have access to a wealth of real-time data, enabling us to deliver accurate and actionable intelligence.
We've always invested in groundbreaking data research with our industry-leading team focused on data and AI, continuously advancing our capabilities.
---
Project G: Generative AI, available via Geotab Data Connector
---
Empower your data journey with natural language data interaction
Chat interface
Ask specific questions, get precise answers. Engage in conversation for tailored insights.
Deeper insights
Explore and redefine with natural language. Uncover hidden patterns, outliers, and trends.
Simplified data analysis
Get faster answers, no complex systems or lengthy queries. Streamline your analysis.
Long term analysis
Access historical data from January 2021 to the day before. Analyze trends, make informed decisions.
Learning and feedback
Beta program for continuous improvement. Contribute to enhancing the system.
Security and privacy
Trust in the secure handling of your data. Your fleet data remains within the Geotab environment, only the question is shared.
Blog post
Ready to revolutionize your fleet management with powerful data insights?
Discover how Geotab Data Intelligence transforms fleet management, turning vehicle data into actionable insights via advanced analytics and AI.
Read the blog
---
Commonly asked questions
What is Project G, and how does it use generative AI and natural language?
Project G is an innovative beta solution by Geotab that harnesses the power of generative AI and natural language to transform how Geotab Data Connector customers interact with vehicle data. It lets you ask questions in plain language and receive instant, data-driven insights. By leveraging natural language models, Project G simplifies data analysis and provides a user-friendly experience, empowering you to make informed decisions and gather valuable insights from your fleet operations.
Do I need to be a data expert?
No, one of main benefits of using natural language models is it allows individuals with zero SQL expertise to begin and analyze data through simple questions.
What is a simple vs. intermediate vs. complex question?
A simple question would be:
How much did my fleet idle last month?
An intermediate question would be:
How does the average idling time compare across different vehicle groups in our fleet?
A complex question would be:
How does the fuel economy of our older vehicles (based on the year of manufacture) compare to our newer vehicles?
Is Project G available globally, and to non-Geotab customers?
Project G is available globally and exclusively accessible to Geotab customers who subscribe to Geotab Data Connector. While initially tested in English, it may work with other language prompts, but there is no guarantee.
Are you sending data to Azure OpenAI?
The content of your question will be sent to the Azure OpenAI service but not your underlying fleet data. Your fleet data will not leave the existing Geotab data warehousing environment.
How is Geotab ensuring responsible use of the AI Models?
In partnering with Microsoft, we leverage the advanced capabilities of Azure OpenAI services, backed by Microsoft's robust security and privacy framework to prioritize the protection and confidentiality of your data.
Learn more about Geotab Data Connector and Project G
Click to join the waitlist if you are a Geotab customer.