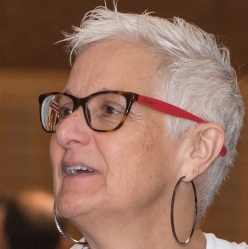 Denise Rondini
Denise Rondini is the president of Rondini Communications and is a highly experienced contributor to various transportation industry media. She has been writing about the trucking industry since 1982, is a former editor of Successful Dealer and Truck Parts & Service magazines and is currently the Communications Director for the North American Council for Freight Efficiency (NACFE) which organizes the Run on Less. Denise's work has been widely published in trucking and fleet industry publications. She writes with in-depth knowledge about fleets, truck dealers, parts distributors, independent repair garages, truck manufacturers, component suppliers, and others associated with the trucking industry.
About Denise Rondini
Current role
President, Rondini Communications
Expertise
Fleet Management
Electronic Logging
Supply Chain Management
Transportation & Logistics
Trucking Efficiency
Truck Parts and Service
Women in Trucking
Accomplishments
Denise Rondini is the recipient of the 2019 SAE Environment Excellence in Transportation Award.
Education
University of Dayton, Bachelor of Communications
Kellogg Management Institute, Executive MBA
Publications
Get industry tips and insights
Sign up for monthly news and tips from our award-winning fleet management blog. You can unsubscribe at any time.