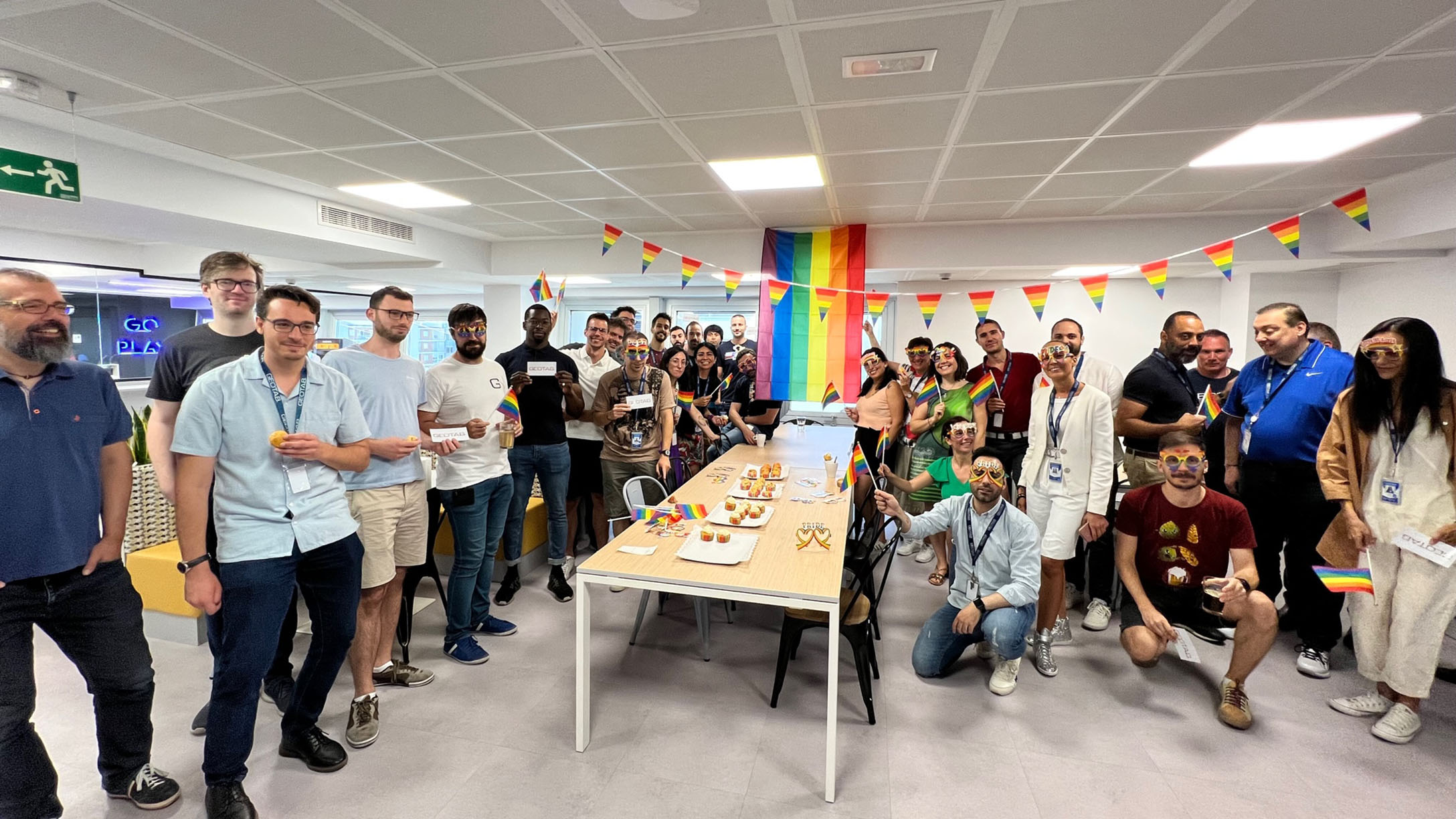 Unity through diversity: Geotab celebrates Pride
---
Find out why Pride celebrations are so important to Geotab's culture.
Every June marks an international celebration of Pride Month and in 2022, it also marks the two-year anniversary of Geotab's Diversity, Inclusion and Belonging (DIB) Employee Resource Group (ERG) programs, including:
LGBTQ+ and Allies
Advocates for Disability Awareness
Generations@Geotab
Since their inception, Geotab's ERGs have grown to become a fundamental aspect of how Geotabbers connect with one another and with their communities.
Geotab's commitment to the LGBTQ+ community
Geotab is home to more than 2,000 employees in offices throughout Canada, the United States, the United Kingdom, Spain, France, Italy, Germany, Australia, Mexico, Singapore and China with remote employees in even more locations. ERG members and allies promote Geotab's employee-led advocacy of human rights and social activism on a global scale.
With more than 800 employees joining the company since the LGBTQ+ and Allies ERG was founded, team members look forward to growing Geotab's diversity presence throughout the expanding locations in which Geotabbers live.
With diversity key to its business and growth, Geotab takes pride in creating an inclusive environment where diverse perspectives and unique experiences are applied across all levels and regions of the organization.
What the LGBTQ+ and Allies ERG does
DIB co-chairs are working to align ERG initiatives with strategic, community-based activities in Geotabbers' home cities to further shine a light on the company's collaborative and inclusive culture for future candidates.
The LGBTQ+ and Allies ERG features regular roundtable discussions to foster communal discussions and learning opportunities. This is also a way for Geotab to partner with organizations that align with company values.
For example, in 2021, Geotab began a partnership with Coming Out Happy, an organization that provides staff coaching and educational resources to support individual authenticity — especially in the workplace — to promote team performance.
Geotabbers thoughts on Pride at work
"I celebrate Pride as I live my truth and am open with others about who I am as an individual and professional. Geotab is supporting diversity, inclusion and belonging by partaking in Pride in the first place — that speaks volumes. Not a lot of companies are willing to do that. It's not just about making me and other Geotabbers feel seen, it's also about allowing us the space to share with Geotabbers who are parents or family members of LGBTQ+ youth and want to learn how to support their children. Geotab supports us as we stand in the gap for the most vulnerable in our community at large like trans youth." — Rossana Quintana, Training Specialist, Reseller Certification
"Visibility in the gay community is incredibly important. It sends a signal to the community that if you're willing to invest as a corporate organization, your company is a safe space to be and work. It's also a tremendous benefit to existing employees, members and allies. Offering experiences that support unity lets you know you're not alone in the workforce, and finding out there are more people in my community who you can talk to is so impactful for inclusion. A lot of people out there are scared of something they don't understand. If they could get their questions answered in a kind manner, they are a lot more receptive. We teach people about the community, answer questions in an open environment and provide a safe space to talk about certain topics. Roundtables are forums created to help people. This is a great place to work because you are going to be accepted no matter what." — Shea Green, Channel Engagement Manager, Marketplace and co-chair of the LGBTQ+ and Allies ERG"
"I want every employee to be able to find some type of diversity event to relate to. Through more diversity training and making more people part of our diversity community, together we can improve employees' diversity lenses." — Nicole Calix Coy, Compliance & Diversity Program Manager
"Prospective employees should consider something that is founded in the tenets of our values — transparency and collaboration. We want all employees to be vocal and share their best practices from prior experiences. Sharing perspectives is always encouraged in diversity and inclusion to ensure people have space to voice their opinion. At Geotab we live by our values, and one is to share ideas. We want to share that goodness with everyone!" — Tawny Deckard, Partner Certification Training, Team Lead and co-chair of the LGBTQ+ and Allies ERG
Take pride in your work
Geotab offers an inclusive and diverse workplace where people from all walks of life are accepted and encouraged to be themselves. Our LGBTQ+ and Allies ERG helps to foster a compassionate environment and works to reduce and address stigmas or biases associated with LGBTQ+ identification. Geotab wholeheartedly supports both current and future employees that identify as a part of the LGBTQ+ community and this will never change.
Are you ready to join the Geotab community? Find open positions on our careers site, and follow @InsideGeotab on Instagram, Facebook and Twitter for the latest Geotab company and career updates.
---
If you liked this post, let us know!
---
Disclaimer
Geotab's blog posts are intended to provide information and encourage discussion on topics of interest to the telematics community at large. Geotab is not providing technical, professional or legal advice through these blog posts. While every effort has been made to ensure the information in this blog post is timely and accurate, errors and omissions may occur, and the information presented here may become out-of-date with the passage of time.
Get industry tips and insights
Sign up for monthly news and tips from our award-winning fleet management blog. You can unsubscribe at any time.
Republish this article for free
Other posts you might like