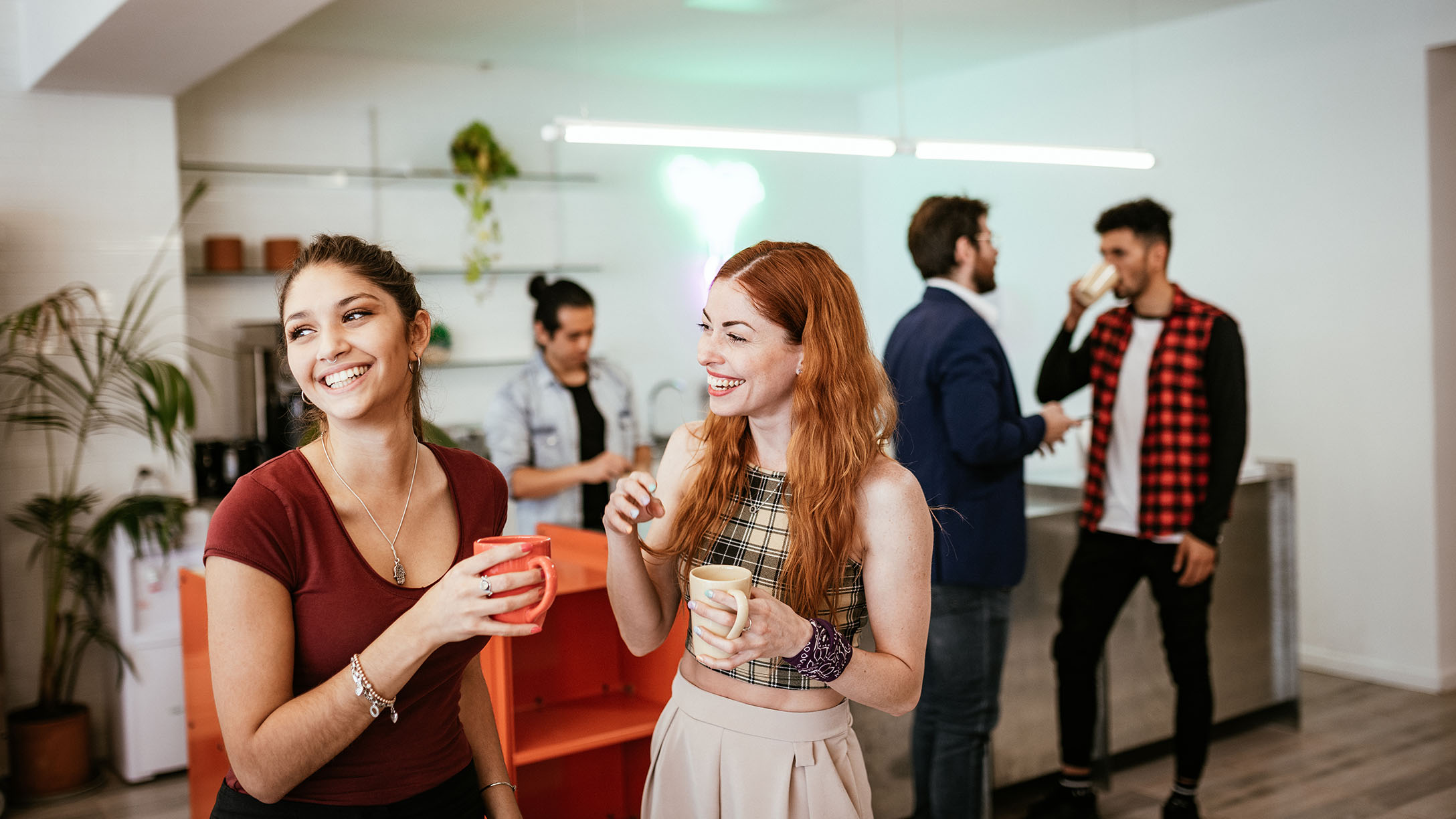 5 steps to build a great company culture
---
Discover key methods to creating an empowering company culture.
Company culture is a fundamental part of every business. The environment where employees work affects every aspect of the organization.
Over the past two decades, Geotab has grown from a small business to one of the largest global commercial telematics companies in the world. No matter how big we get, we still embrace our differences and find common ground in our core values. Together we can achieve more!
See also: Creating effective health and wellness programs
What is company culture?
Company culture is made up of the values and practices that engage employees and support success and growth. It makes the difference between employees wanting to come to work each day or dragging their feet. It showcases a set of shared core values and behaviors to be practiced when interacting with employees, customers and partners.
Culture has the ability to positively impact employee loyalty, job satisfaction, collaboration and work performance. In fact, according to a 2021 global culture survey by PricewaterhouseCoopers (PwC), 80% of companies will see an increase in employee satisfaction if they have a distinctive company culture. With facts like these, it's easy to see the importance of great company culture.
Our culture
Geotab's culture focuses on connecting employees with like-minded individuals through creativity, innovation and technology. Using a hybrid work model, Geotabbers have the opportunity to collaborate with team members remotely or in-person.
Our mission is to be a sustainability leader in our operations, value chain and culture. We align with the United Nations Sustainable Development Goals (SDGs), which is the blueprint for greater peace, equality, inclusiveness, well-being and sustainability around the world.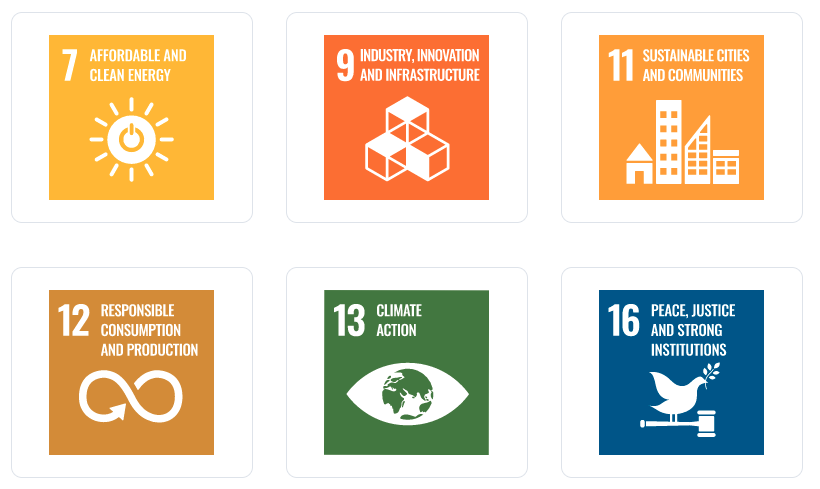 How to build a company culture
A company's list of core values is the framework the entire organization relies on — serious time should be spent developing them. These guiding principles should be actionable, observable and measurable. To understand how to build, implement and maintain your company's culture, read on to see our five-step process.
Step 1: Define your core values
When developing core values, there are three key questions you need to ask:
Why does your company exist?
What values do you believe in?
Where do you want to go with the company?
For an example, below are Geotab's core values that represent who we are as a company and as a group of individuals working towards a shared purpose:
Keep it simple
Innovate and develop for the future
Do the right thing
Embrace change
Collaborate and strive for transparency
Work hard, your way
To learn more about our core values, read the Geotab Culture Book.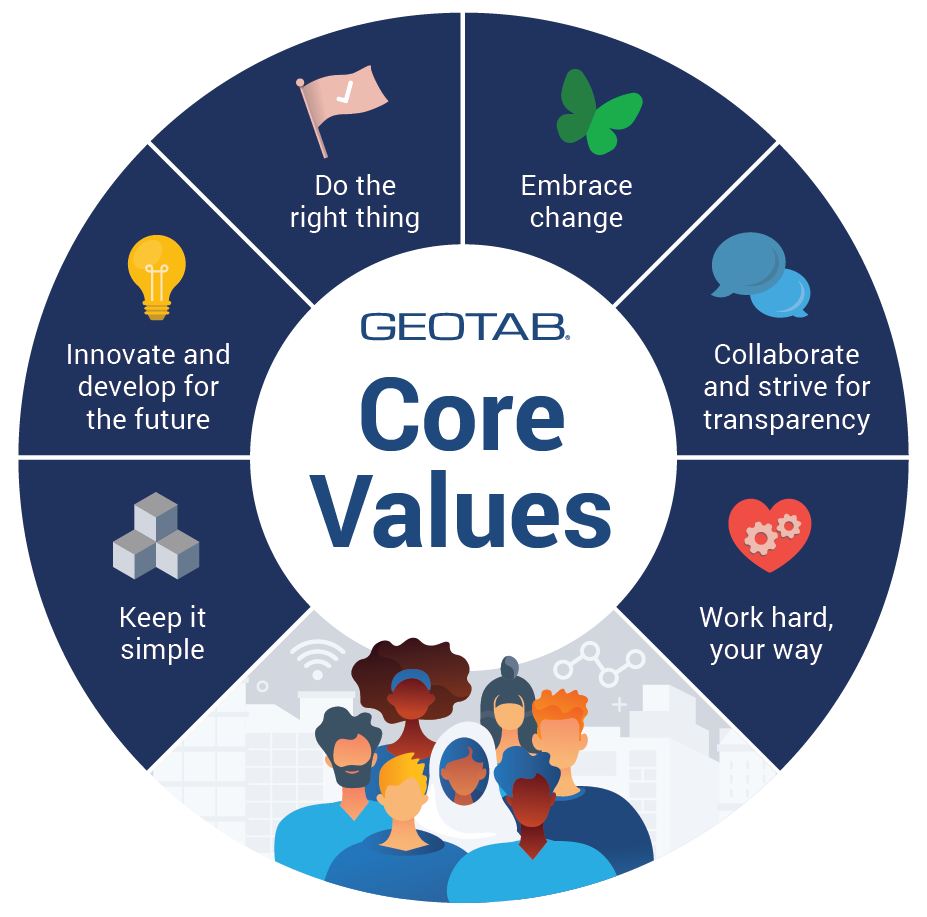 Step 2: Hire based on your core values
It's no surprise the people you hire directly impact your business and company culture. It's important to see the full picture rather than focusing solely on skill and role requirements. Time must be spent in the hiring process to find employees that fit your culture and embrace your core values. Here are some tips:
Ask behavioral questions to determine if a potential employee fits your values and goals.
Create a diversified culture with employees who think differently.
Focus on long-term success by hiring employees that are excited to learn and grow.
Step 3: Reinforce your core values on a daily basis
Put initiatives in place to regularly reinforce your company's core values. This may look like a monthly award given to employees who have best represented the values of the company or a rewards program to show employees you value all of their achievements, big and small.

For example, Geotab has an internal program called Kudos that allows Geotabbers to submit an acknowledgment for a fellow coworker who they feel is doing a great job. In 2020, Geotabbers submitted over 800 kudos. We appreciate all our employees who go above and beyond and live the Geotab values each and every day.
Step 4: Implement company culture training and wellness programs
Encouraging employees to practice company values through a learning and development approach is a great way to showcase your company's interest in employee growth and development both personally and professionally.
At Geotab, we have put in place many programs that positively impact our communities. As an example, the internship program brings in approximately 200 students each year and partners them with senior Geotab mentors to develop their careers. We also offer full-time Geotabbers the opportunity to work with their managers to build individual development plans (IDPs) to help grow their careers and skills within Geotab by offering education compensation.
Outside of the office, we work with the community to encourage women to pursue an education and career in STEM. We also work to sponsor and attend events that pertain to youth in STEM to encourage more young people to pursue a career in this field.
Step 5: Monitor success of your programs
Regularly reviewing your company's programs is critical to making ongoing progress and improvements.
To provide an example, Geotab has a feedback program that allows Geotabbers to submit anonymous feedback and suggestions on improvements at the company.
Based on that feedback program, we learned that Geotabbers are very interested in helping our local communities. Out of this, our corporate social responsibility program, Geotab Cares, was created. This program is about building a community by giving back to the places our company is connected to. Every Geotabber has the opportunity to contribute to social change through volunteering programs, community outreach and local event participation.
Conclusion
Company culture is key to success, both for employers and employees. Having productive and happy staff will lead them to work towards a company's values and goals.
Lindy Theron, VP of Human Resources, at Geotab explained, "Company culture is the foundation of our success. The way we connect with each other matters." This foundation helps build relationships and impact the triple bottom line.
Did you know that Geotab is hiring? Check out our open positions on our Careers site. For the latest Geotab news, photos and career updates, follow @InsideGeotab on Twitter, Facebook and Instagram.
---
If you liked this post, let us know!

Geotab Team
The Geotab Team write about company news.
---
Disclaimer
Geotab's blog posts are intended to provide information and encourage discussion on topics of interest to the telematics community at large. Geotab is not providing technical, professional or legal advice through these blog posts. While every effort has been made to ensure the information in this blog post is timely and accurate, errors and omissions may occur, and the information presented here may become out-of-date with the passage of time.
Get industry tips and insights
Sign up for monthly news and tips from our award-winning fleet management blog. You can unsubscribe at any time.
Republish this article for free
Other posts you might like