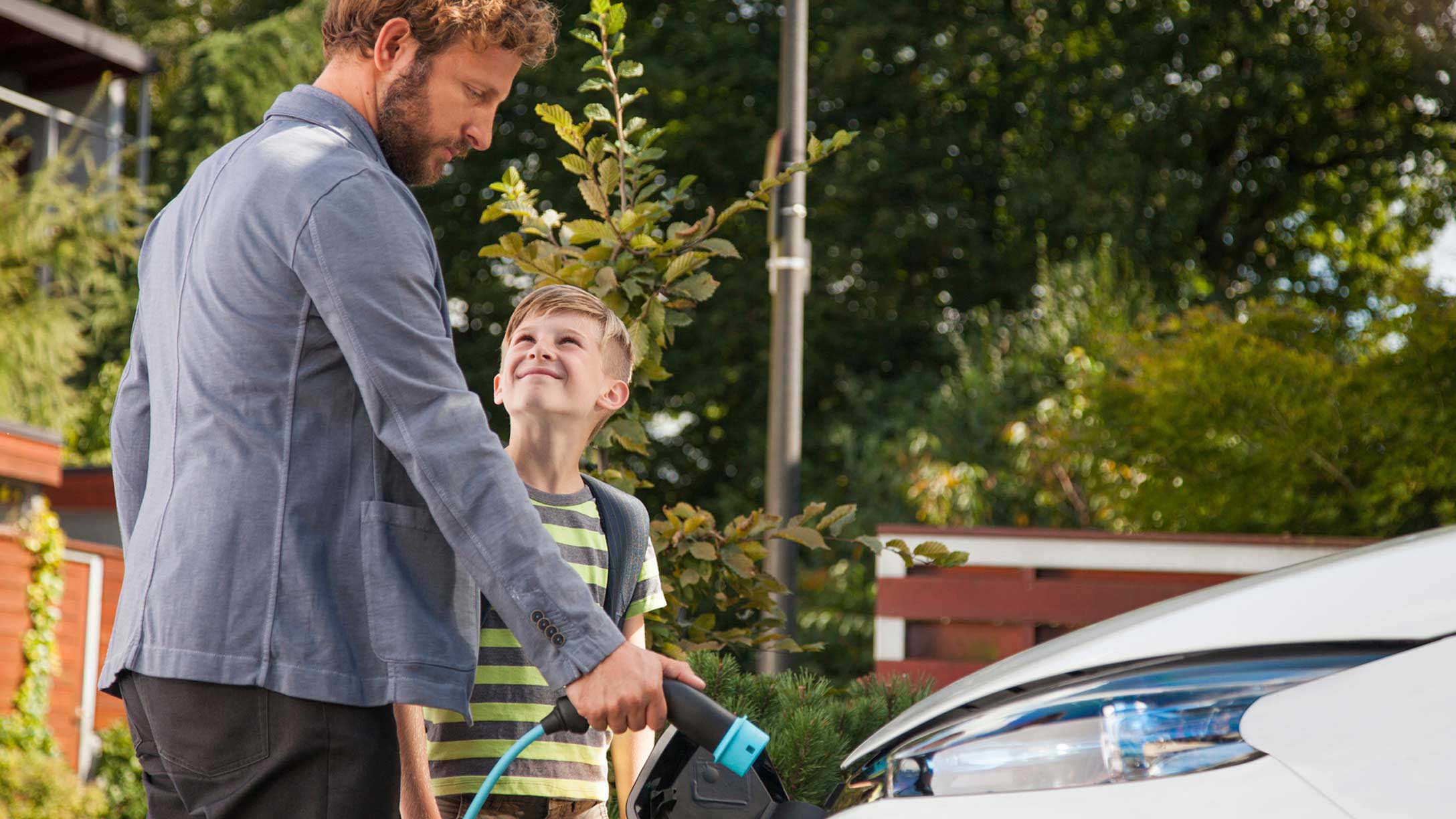 Electric utilities and the truth about EV range anxiety
Published on March 4, 2020 in Smart Charging by Scott Lepold
---
Discover the impact utility companies can make in helping customers overcome EV range anxiety.
EV range anxiety is a common concern among drivers of electric vehicles (EV). But just because drivers are worried about it, doesn't mean that utility companies can't help them overcome these fears.
Car commercials often show vehicles driving along rugged roads with views of mountain ranges and lakes, the reality turns out to be a lot more mundane. The same can be said for a driver's use of EVs.
Rather than roaming the open road, cars spend most of their time cruising city streets driving people to work, running errands, travelling to gatherings and acting as chauffeurs for their kids. Drivers of EVs are also much more likely to follow these routines as well, keeping their vehicle well within its battery range.
See also: The realities of owning an electric vehicle
How far do Americans really drive?
Typically, the average American drives no more than 30 miles a day. Federal studies conducted over the last several years have shown half of auto travel consists of trips with a distance of 10 miles or less. Even with several trips a day, the total mileage driven each day is not much farther than a marathon.
For the majority of drivers in America, an EV is more than capable of meeting their daily short-range travel needs. With the growth of public charging and increased battery capacities, they are able to handle longer trips as well.
Figure 1: This chart shows the disconnect between the range drivers think they need and what is actually needed. (Source: 2020 Deloitte Global Automotive Consumer Study)
EV range anxiety and utilities
Fear of running out of charge scares off many potential EV drivers. Range anxiety instills the notion that they will wind up stranded on the side of the road or in a neighborhood where chargers do not exist. The last thing people want is to have to wait for a tow truck to rescue them.
As a trusted service provider, utility companies can play a crucial role in helping consumers understand the advantages of EVs and how battery technology works. They can highlight solutions that directly address charger issues, promote the benefits of EV ownership and support government programs to encourage their adoption.
After all, utility companies have a vested interest in vehicle electrification as it represents one of the few surefire growth areas available to them. Once drivers are acquainted with EVs, their comfort level and desire to buy one is likely to escalate.
Overcoming battery concerns
Questions about the durability of the lithium-ion batteries that power EVs has been a concern for consumers since the introduction of EVs into the market. Typically, car manufacturers guarantee eight years or 100,000 miles. To help understand how long an EV battery will last, Geotab has created a battery degradation tool that allows anyone to predict the battery life of various EVs.
Using data from over 6,000 EVs, we found battery life only declines 2.3% annually on average. This means that an EV with a range of 150-miles will lose roughly 17 miles of range after five years — a prospect unlikely to impact the average person's daily driving needs.
Figure 2: This tool compares battery degradation over time for a Chevrolet Volt against an average of all vehicles. (Source: Geotab)
Most of the batteries studied had excellent health. In fact, findings showed that as long as degradation rates are maintained, most batteries will outlast the lifespan of the vehicle itself. This helps put minds at ease, knowing that batteries do not degrade by sitting in a garage or on the street.
Degradation does however occur more rapidly when using direct current fast chargers (DCFC) more than three times a month as these chargers add stress to batteries that eventually leads to lower performance.
That being said, once a battery does degrade to the point when it is no longer viable it can also be repurposed. Researchers at the University of California are utilizing old EV batteries to create a cheaper home storage solution, which could be used alongside solar panels. This kind of data, and the reality of how EV charging occurs, should help overcome sales objections for people looking to buy or lease a new vehicle.
How utility companies can prepare for transportation electrification
Utility companies should realize that whatever the perceived drawbacks of EVs, consumers have already been buying EVs at record rates. According to Boston Consulting Group, by 2030 more than half of all cars sold will be electrified vehicles (made up of both EVs and hybrids).
Figure 3: Multiple industry reports show a rise in the total number of estimated EVs as well as the speed of EV adoption. (Source: Bloomberg NEF)
Car companies are doing their best to ease EV range anxiety with new vehicles that have battery capacities similar to that of a tank of gasoline. Many models have a range of more than 200 miles per charge. Even older EVs usually have ranges well beyond 100 miles a charge, enough for the majority of drivers daily range needs without plugging in throughout the day.
Public fast charging stations, while important, may be less of an issue than originally predicted. Most charging occurs at home — more often at night after people return from work — leaving public charging mainly to travelers passing through.
During one of our recent studies, it was found that 72% of charging occurs at home, a figure that has declined over the years but for an interesting reason: workplace charging, usually free, has increased.
Between charging at home and work, most EV drivers have options that reduce their need for public chargers. This is a clear benefit over internal combustion engine (ICE) vehicles that need to be refueled at gas stations. Think of a garage charging plug like having a gas pump available at all times, but without the line-ups and ever-changing prices.
The impact of EV adoption on utility companies
Boston Consulting Group also predicted in their report that utility companies would see new value if they prepared for transportation electrification by:
Improving transmission and distribution systems
Supporting government EV policies
Entering markets where they can own and manage charging infrastructure
While EVs may not significantly impact generation needs, they will create high levels of demand in specific locations, which could increase infrastructure costs for utility companies.
"Assuming that the market share for battery EVs ramps up from 1% to 15% from 2019 to 2030, we project that the required transmission and distribution upgrades will range from $1,700 to $5,800 for each electric vehicle that comes online, depending on when and where people charge," the report said. The report also suggests that new products, services and charging revenue can recoup that investment.
Figure 4: EV charging load represents a large investment if it is not integrated properly. (Source: Boston Consulting Group)
To capitalize on transportation electrification, utility companies will require crucial insights into EV charging load. This means they need to profile the EV charging load in their service territory, pinpoint areas of higher consumption or "clustering" on the grid and translate that data into understandable summaries. This can help to accurately forecast EV charging loads, allowing them to launch programs that could help shift charging to off-peak hours. Doing this can help customers save money while improving grid reliability — a win-win for everyone.
Many utility companies have been making decisions based on older reports that fail to take into account changes in vehicle performance and the nuances of their service territory. For example, suburban areas may have a higher penetration of long-range BEVs, which have a greater impact on the grid.
Rural communities, on the other hand, will face different challenges. They will have to take into account not just their customer base, but the potential for weekend vacationers and visitors arriving from larger urban areas in search of a charge before reaching their destinations.
Educating prospective EV owners
The road to EV adoption still faces hurdles. A 2020 Deloitte Global Automotive study showed 59% of Americans want their next vehicle to be an ICE. On the other hand, more than half of the consumers in every other country in the survey – including Germany, Japan, India, China and South Korea – want a gas-electric hybrid or full EV as their next vehicle.
The same study revealed that consumers consider hybrids and EVs based on the opportunity for reduced greenhouse gas emissions and lower operating costs. Those two features possess an overwhelming draw compared to rebates, social status or vehicle brands.
Figure 5: Although the U.S. appears to have the least amount of interest in moving away from ICE vehicles, they have one of the biggest year-over-year changes in opinion. (Source: 2020 Deloitte Global Automotive Consumer Study)
To help encourage EV adoption, utility companies should incorporate these findings into their marketing efforts. If clients care about air pollution, the environment and leaving the planet in better shape for future generations, traveling by EV becomes a necessary strategy for rapid decarbonization. As renewable energy becomes a more significant portion of a utility's generation, the argument for EVs becomes even more appealing.
For consumers not fully convinced by the environmental benefits of EVs, a different tactic might work: EVs are much cheaper to drive. The equivalent charge of a gallon of gas costs less than $1, depending on local electricity rates. There are fewer maintenance costs as well, as standard procedures like oil changes and other engine-related replacements or repairs are no longer required.
Conclusion
Utility companies have an essential role in advancing the adoption of EVs by serving as a dependable voice that can debunk myths and speak to broad benefits of transportation electrification. As consumers see the clear advantages to EVs, both for their wallets and the environment, the market will only continue to grow. To ensure this growth is integrated efficiently and in a cost-effective manner, utility companies need to take the lead.
Learn how to profile and manage EV charging load with solutions for electric utilities by Geotab Energy.
---
If you liked this post, let us know!
---
Disclaimer
Geotab's blog posts are intended to provide information and encourage discussion on topics of interest to the telematics community at large. Geotab is not providing technical, professional or legal advice through these blog posts. While every effort has been made to ensure the information in this blog post is timely and accurate, errors and omissions may occur, and the information presented here may become out-of-date with the passage of time.
Subscribe to the Geotab Blog
Sign up for monthly news and tips from our award-winning fleet management blog. You can unsubscribe at any time.
Republish this article for free
Other posts you might like