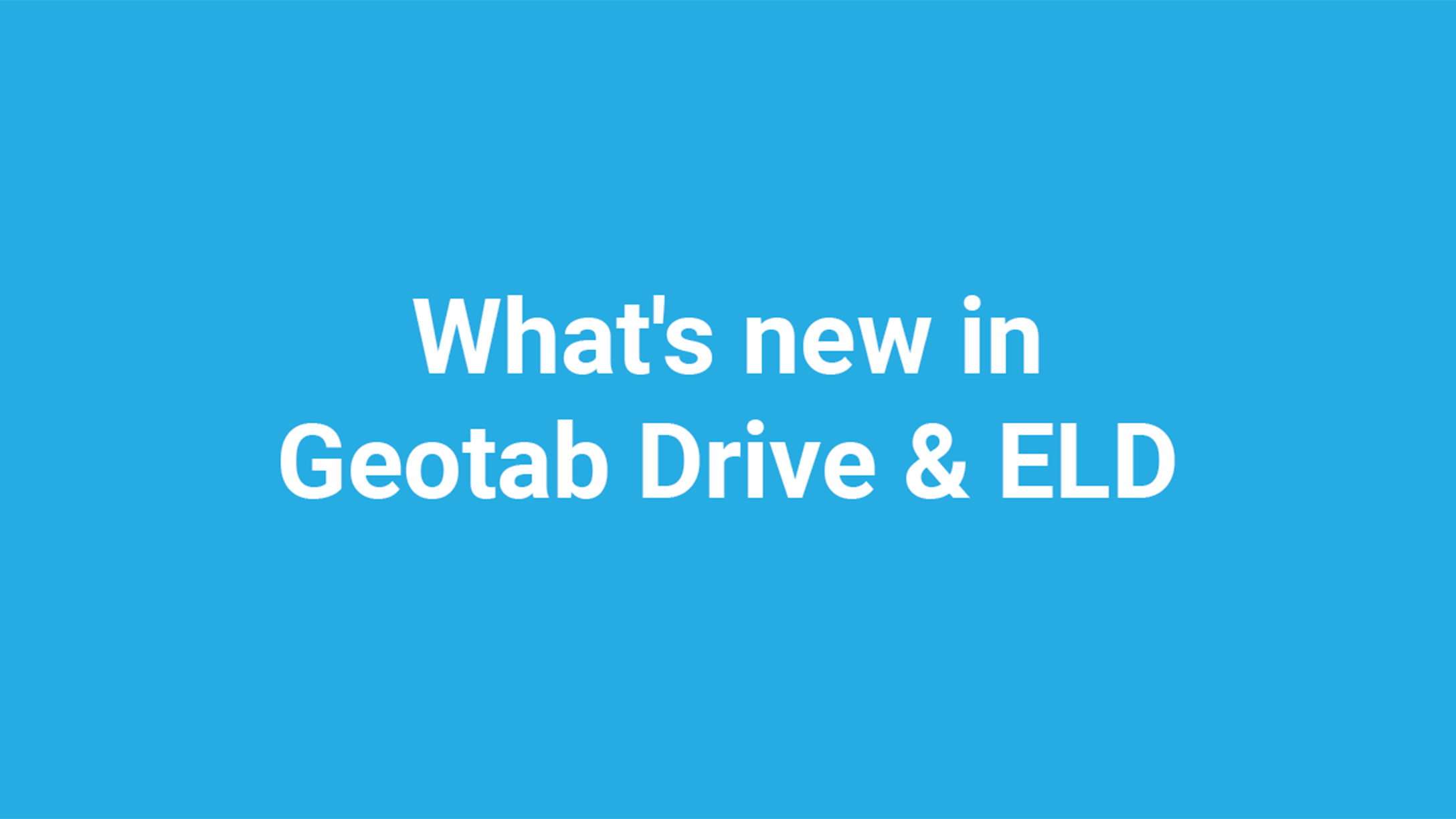 What's new in Geotab Drive — Version 1904
---
The latest summary of updates in Geotab Drive and Geotab ELD
Welcome to our latest summary of updates in Geotab Drive and Geotab ELD. Please subscribe to the Geotab newsletter to get these update posts emailed to you.
Geotab Users: To verify your version: go to MyGeotab > Administration > About, and check the build number, (e.g. 5.7.1904.xxx release).
Resellers: Review this post for important changes affecting your customers and note any recommendations. If you have suggestions for improvement, please leave a comment below.
Note on Feature Previews
All items marked Feature Preview are in Feature Preview and may change or disappear at any time. We do not recommend using these features in a production setting. To use items in Feature Preview, you must toggle Feature Preview to ON by navigating to Administration > Users from the main menu. If you decide to preview any of these features, we welcome your feedback on any of our Geotab Community forums.
General improvements
Show Password feature is now available at Log in
To improve usability on small screens, users now have the option to view their typed password. From the Login screen on the Drive App, just click or tap the eye symbol in the Password field.
Note: This update may appear later than other feature updates, in accordance with the structured rollout of the 1904 release.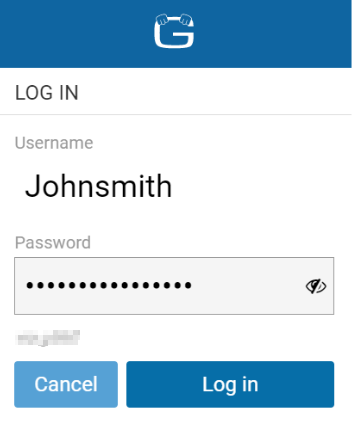 New limit on trailer attachments
The number of trailers that can be attached in the Drive App has been limited to four (4). If a Geotab Drive user tries to add more than four trailers, an error message displays. This measure will support trailer management and accuracy. If you have more than four trailers attached, you will have to remove the surplus attachments before adding more.
Adverse Driving Conditions Symbol updated to "ADC"
The abbreviation for Adverse Driving Conditions has been changed from "AW" to "ADC" on the Duty Status Logs page for MyGeotab. Adverse Weather (AW) is just one of several Adverse Driving Conditions (ADC). More information on Adverse Driving Conditions (U.S. and Canada) can be found in the Hours of Service Ruleset Matrix.
Update to Diagnostics and Malfunctions logs in MyGeotab
To better align with FMCSA standards requiring an "Unidentified driver" to be assigned to Diagnostics and Malfunctions logs, both the Driver and Co-Driver fields have been removed from Geotab Drive logs. An alert has also been added reminding users that "Diagnostic and malfunction logs cannot be reassigned.''
Administrator enhancements
Changes made to Duty Status Logs page for unassigned drivers in MyGeotab
Updates made to the Duty Status Logs page in the 1903 release have been rolled back for unassigned drivers. Instead of clicking the View Logs button, logs for unassigned drivers are now displayed in list view by default. These changes have also been implemented in the 1903 release.
Daily and Driving Violations combined in Graph view
For drivers using Canadian Rulesets, daily and driving violations have been combined into one compact view on the Duty Status Logs Graph in the Drive app. Previously, alerts displayed separately across the top and bottom of the screen, depending on whether they were daily or driving violations.
Use the "Get<DriverRegulation>" API to calculate violations
To align with the method in which HOS violations are calculated in reports, the Get<DriverRegulation> API will be used to calculate HOS violations in the user interface.

Configurable option to add or remove Sleeper Berth from the Vehicle Edit page
An option to add or remove Sleeper Berth has been added to the Vehicle Edit > Detailed Device Info page. This is helpful for fleets with vehicles that are not equipped with a sleeper berth.
New rulesets
New Rulesets added for Canadian team drivers
Two new rulesets have been added to Geotab Drive for Canadian team drivers:
Canada 7-Day Cycle 1 Team; and
Canada 14-Day Cycle 2 Team.
Salesperson rulesets improvements
Geotab now supports the following standard for the USA Salesperson and USA Salesperson Non-CDL Short Haul rulesets:
"No more than half (50%) of your on-duty hours are spent driving on a weekly basis."
Hours of Service (HOS) improvements
Improved flexibility for adding manual HOS logs
The number of days in which manual logs can be added to the Drive App has increased from 10 days to 14 days. Since drivers can view logs for up to twice their cycle period, drivers on a 60 hours/7 Day ruleset are no longer limited to viewing logs for the past 10 days. They can now view their logs for the past two cycles, for a total of 14 days. For Canadian rulesets, the number of days is 28.
Canadian HOS start of day workflow update
For better usability, Canadian drivers are now prompted to choose a new start of day time after resetting their cycle. The time set by default is the current start of day.

New HOS enabled/disabled feature in MyGeotab
Administrators can now identify vehicles as HOS disabled or HOS enabled in MyGeotab. This feature is useful for Administrators who want to control when automatic Duty Status logs are created, and when they are not. Drivers can also use this feature to compare how long a vehicle is used before an automatic Duty Status log is created, and how long it was used without creating an automatic Duty Status log.
For example:
By setting the device to HOS enabled with the desired date/time, automatic Duty Status logs are created, independent of the AutoHOS flag.
By setting the device to HOS disabled with the desired date/time, automatic Duty Status logs are not created (even when a reprocess is triggered).
Vehicle inspection (DVIR) improvements
Defects symbol improvements in MyGeotab
For improved clarity when reviewing vehicle inspections, we have updated the color coding of the Defects status graphic (wrench symbol) in the MyGeotab DVIR log.
No wrench: If there are no DVIR defects, the Defects symbol (wrench) is not displayed on the log.
Gray wrench: If there are defects that require action, and the defect(s) are unregulated, the Defects symbol (wrench) displays in gray.
By hovering your mouse over a DVIR log that required action, a Needs repair tool tip displays.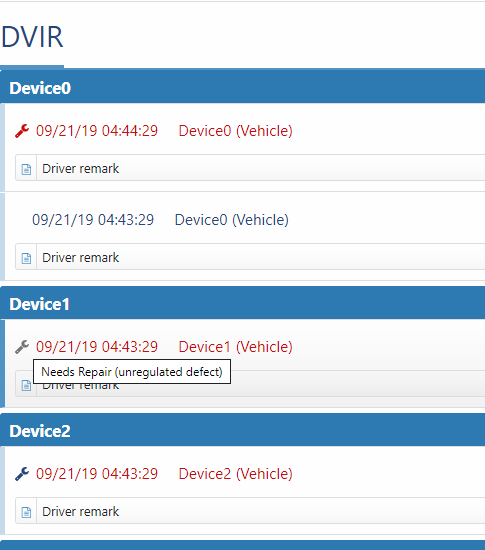 The Defect Lists has been updated to match National Safety Code (NSC) standards
The built-in Defect List DVIR Schedule 1 – Truck, Tractor & Trailer has been updated to align with NSC standards.
Repair remarks update in MyGeotab
To better distinguish between repair remarks that have occurred in the past, and those completed during the current DVIR, the Inspector remark now displays with Repair remark under on the DVIR Edit page, while Legacy repair remark (a remark added in the 1901 release) displays at the top of the page.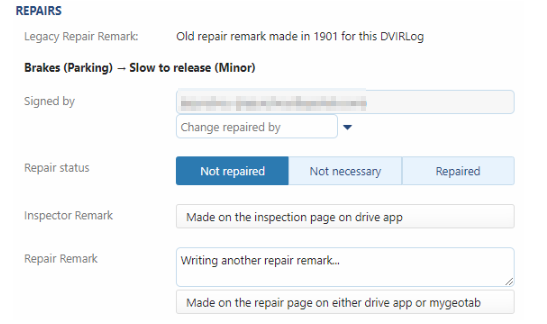 Updated legal attestations for Canadian DVIRs
The legal attestations for Canadian DVIRs have been updated to correspond to their respective provinces. For drivers in Canadian Provinces, the following legal attestations must be acknowledged when signing current DVIRs, as well as reviewing previous DVIRs. The location on the DVIR log is used to determine which Provincial attestation to display on the DVIR.:
Alberta: "I declare that the vehicle shown above has been inspected in accordance with the requirements set forth in the Alberta Regulation 121/2009"
Manitoba: "I declare that the vehicle shown above has been inspected in accordance with the applicable requirements of XXX" where XXX is the schedule of defects used or the name of the defects list.
Quebec, Newfoundland and Labrador, Prince Edward Island, Saskatchewan: "I declare that the vehicle shown above has been inspected in accordance with applicable requirements"
Nova Scotia, New Brunswick, British Columbia: "I declare that the vehicle shown above has been inspected in accordance with the requirements set forth in the Canadian Federal NSC Standard 13"
When no defects are logged on a DVIR in Canada, the screen displays the following confirmation: "No Major or Minor defects found".
Reports
Archived (formerly Historical) users are excluded from the HOS Report
Archived (Historical) users will no longer be displayed in the HOS reports. This feature has been implemented in both 1902 and 1903 releases.
Updates made to the DVIR template
To ensure consistency, six (6) new columns have been added to the DVIR template to align with changes made to the DVIR Object in the previous releases. The new columns replace four (4) columns from the previous template:
New Columns
DVIRDetailDefectName
DVIRDetailDefectSeverityLevel
DVIRDetailDefectRepairStatus
DVIRDefect.RepairUser.UserName
DVIRDefectRepairDateTime
DVIRDetailDefectRemark
Old Columns
DVIRDetailDefects
UnregulatedDetailedDefects (also implemented in 1903)
NormalDetailedDefects
CriticalDetailedDefects
We understand that some custom reports may be using an older template; so to ensure a smooth transition, the system will continue using the existing template if it detects "DVIRDetailDefects" column in report template's data sheet. If this occurs, the six (6) new columns introduced in this release will not be populated in the report.
Previous update
Looking for the last update summary? Read: What's new in Geotab Drive – Version 1903.
Learning resources
For more info on SDK updates, please visit the MyGeotab SDK What's New page.
For more information, please consult the Geotab Drive page on the Geotab Marketplace for the Driver manual and Compliance and Implementation Guide. Download Geotab Drive from the Google Play Store or Apple App Store.
Contributors:
Mehant Parkash, Product Engineer
Melanie Serr, Senior Content Editor
Warisha Khan, Heather Holmes, Technical Writers
---
If you liked this post, let us know!
---
Disclaimer
Geotab's blog posts are intended to provide information and encourage discussion on topics of interest to the telematics community at large. Geotab is not providing technical, professional or legal advice through these blog posts. While every effort has been made to ensure the information in this blog post is timely and accurate, errors and omissions may occur, and the information presented here may become out-of-date with the passage of time.
Get industry tips and insights
Sign up for monthly news and tips from our award-winning fleet management blog. You can unsubscribe at any time.
Republish this article for free
Other posts you might like