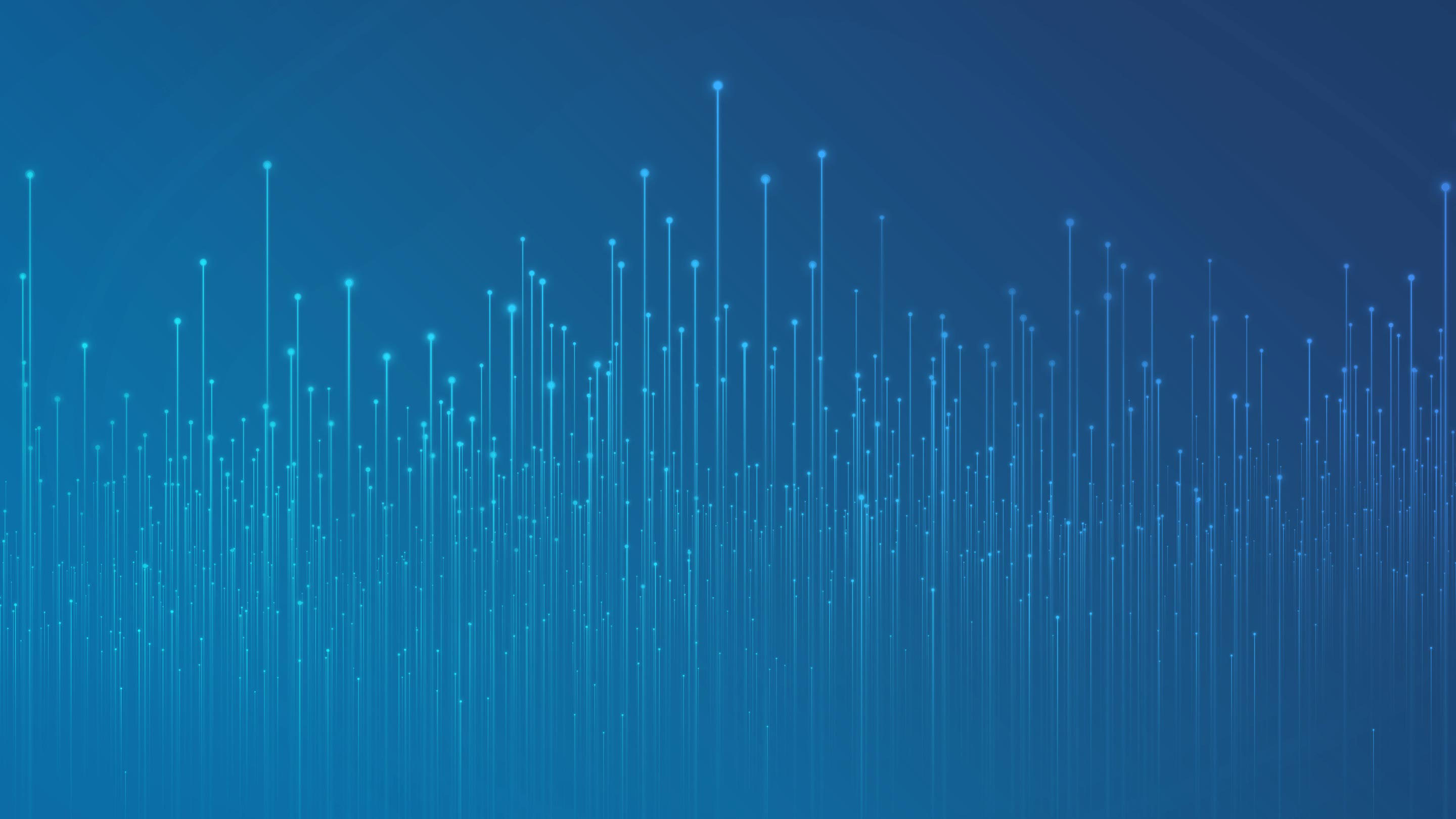 January 2016 software and firmware updates from Geotab
---
Overview of Geotab's software applications and firmware updates. Learn about enhancements to the Fill-ups Report, Maps, HOS/DVIR, SDK, and more.
Read about Geotab's software applications and firmware updates for January 2016. To verify whether changes have been updated in your system, go to Administration > About and check the build number, which indicates the month of release, e.g. 5.7.1601.xxx release/2016-01.
Subscribe now to receive regular updates on Geotab's features and improvements.
In this Edition:
Click on the heading to jump to the section.
Reporting Enhancements
View Unmatched Fuel Transactions in the Fill-ups Report
Imported fuel transactions not matched to a vehicle can now be viewed in the Fill-ups report as a display option. Unmatched transactions will be listed under "Unknown Vehicle." This is useful when importing fuel card transactions into MyGeotab.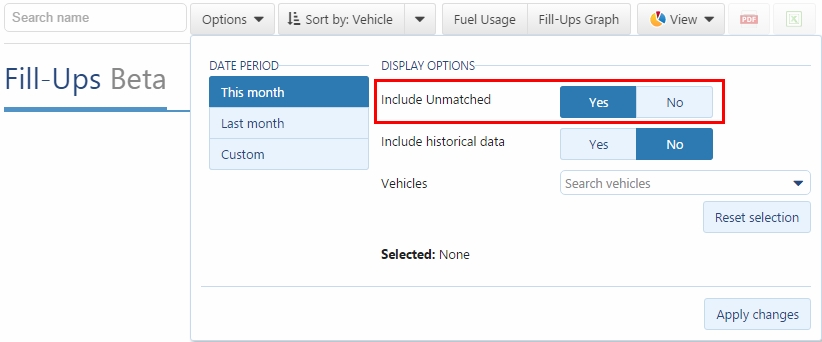 Figure 1: Unmatched transaction toggle in the Fill-Ups report.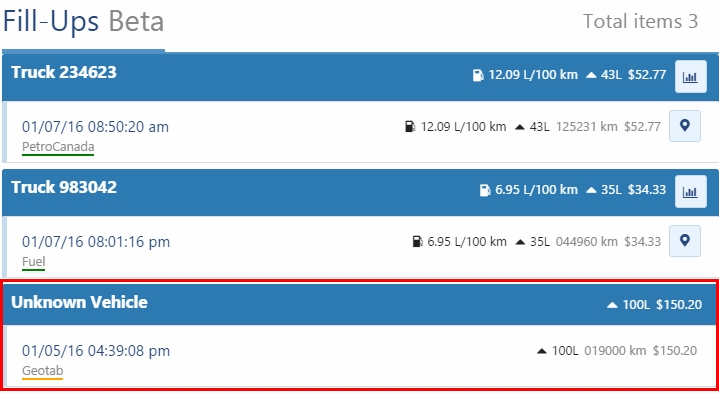 Figure 2: Display of unmatched fuel transaction in MyGeotab.
Map & Vehicle Enhancements
View Lock Option on Live Map
A Lock this view option has been added to the Live Map. Once locked, the screen will stay on a specific view, even when the map refreshes, instead of following the moving vehicles. This new option is beneficial for fleet managers who need to monitor activities in a specific area on the map, such as a work yard.
To enable this option, click Map, then Views, and Lock this view.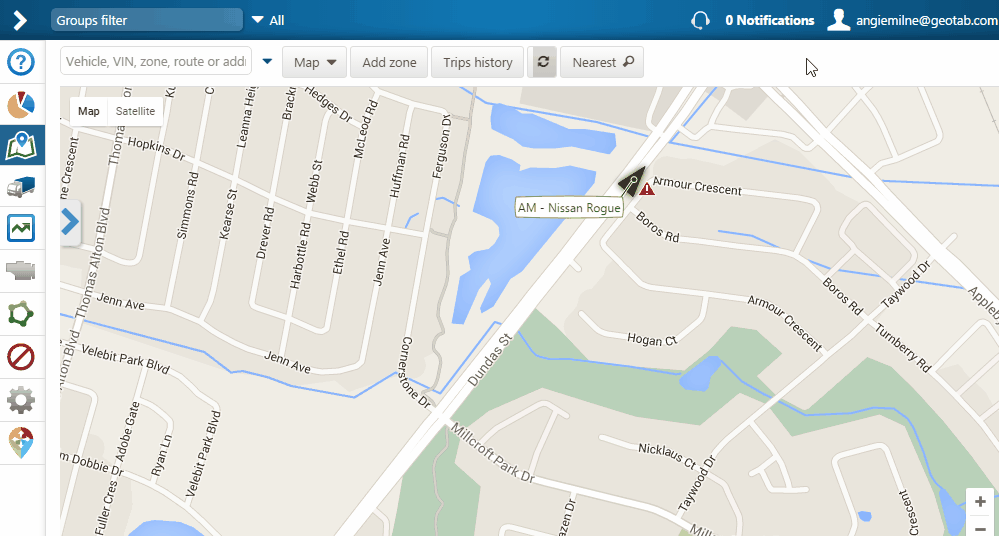 Figure 3: Lock view on live map.
Additional Map Types Available
In MyGeotab, all users have access to Google and OpenStreetMap based maps. OpenStreetMap is maintained by communities all over the world and updated frequently. Users can now select from additional default map types, including HERE Maps and Custom map tiles, which can be selected from Administration > System… > System Settings, under the Maps tab.

Figure 4: Additional map types in MyGeotab.
Pin Device Toggle Renamed
The Pin device toggle on the Vehicle Edit > More Details page, has been renamed to Disable automatic vehicle management for clarification. Clicking the help button displays a detailed description of the option (as shown below).

Figure 5: Disable automatic vehicle management toggle description.
Hours of Service / Driver Vehicle Inspection Report
To align with the new FMCSA regulations, Geotab has made several changes to HOS/DVIR in MyGeotab and the Geotab Drive app. Please note: Version 3.1.22 for Geotab Drive has been released and is available in the Google Play Store. Updated features in Geotab Drive 3.1.22 include:
Improved login/logout process
Mark HOS logs as automatic or manual
Multiple DOT Carrier Support available
Bug fixes
Vehicle/Trailer Confirmation on Login
Upon login, Geotab Drive will ask the driver to select and confirm the vehicle and attached trailer in use, before going to the Dashboard screen.
DVIR Defect List Templates
Setting up a Defect List in MyGeotab is now easier thanks to templates! Customers can use the templates as a starting point and then add or delete defaults to suit their needs. Note: The Default Trailer and Default Vehicle templates are compliant with U.S. DVIR regulations and Schedule 1, 2, and 3 are compliant with Canadian DVIR requirements.
To add a template, go to the Defect Lists page (Engine & Maintenance > DVIR, click the Defects button), open the Add drop down menu, select the desired template, modify the defects if applicable, then click Save.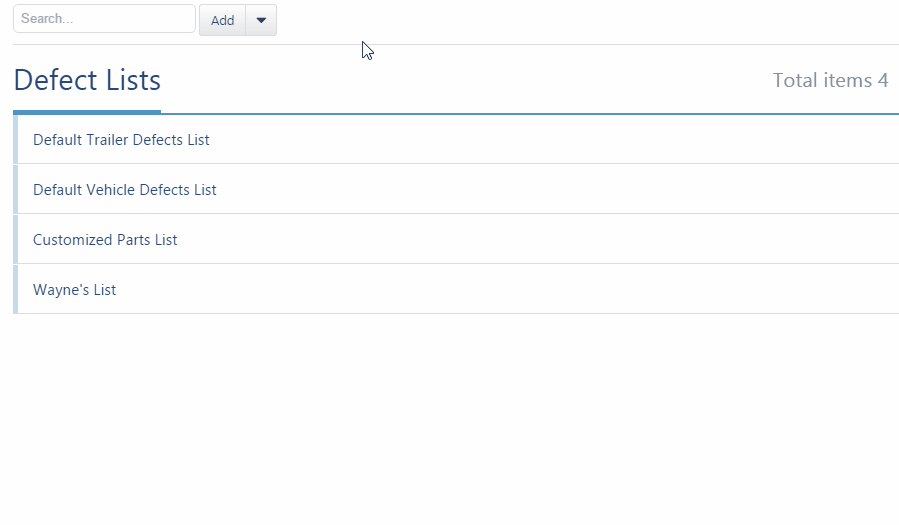 Figure 6: Defect List templates.
Duty Status Logs Comments in Advanced Report
A Comments column has been added to the Data tab on both the default and advanced Duty Status Logs Excel reports. Accessing annotated notes will make it easier to identify and correct log errors.


Figure 7: Defect List templates.
Duty Status Logs Comments in Advanced Report
A Comments column has been added to the Data tab on both the default and advanced Duty Status Logs Excel reports. Accessing annotated notes will make it easier to identify and correct log errors.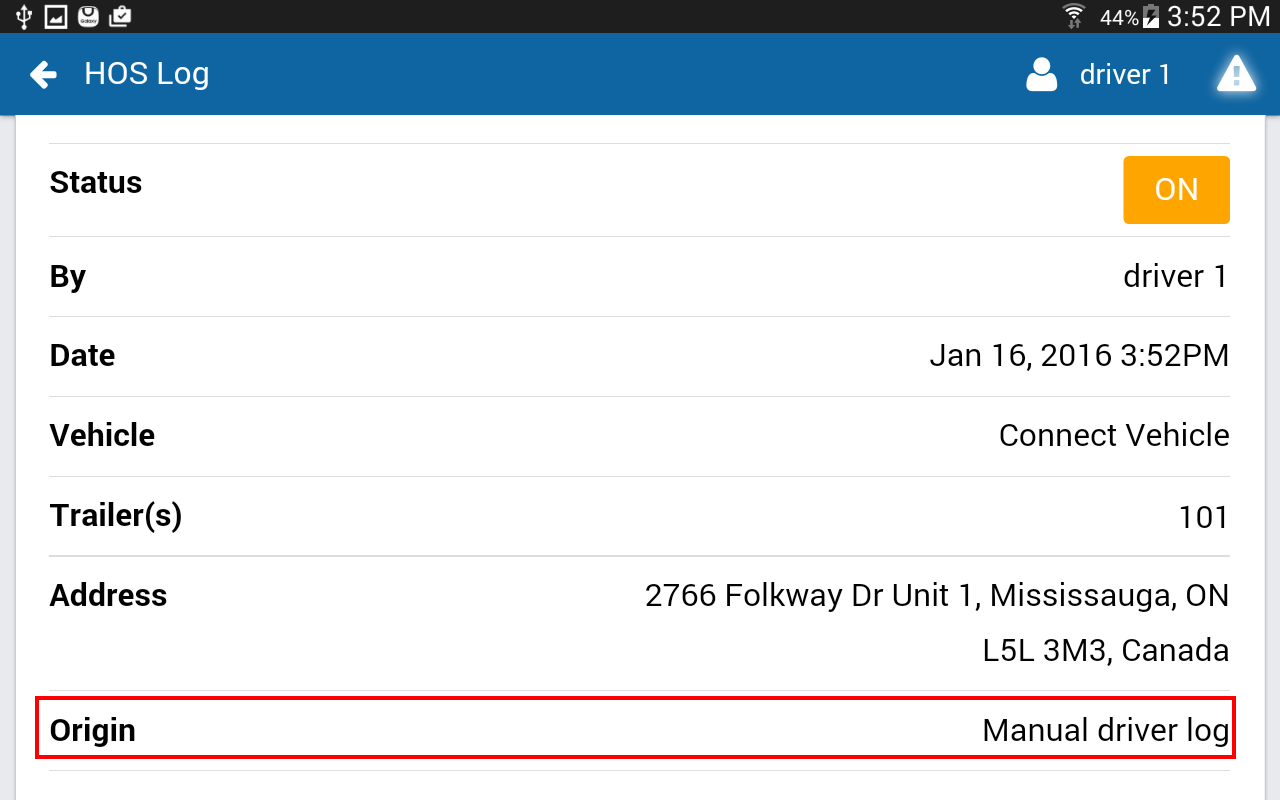 Figure 8: Log Origin in Geotab Drive App.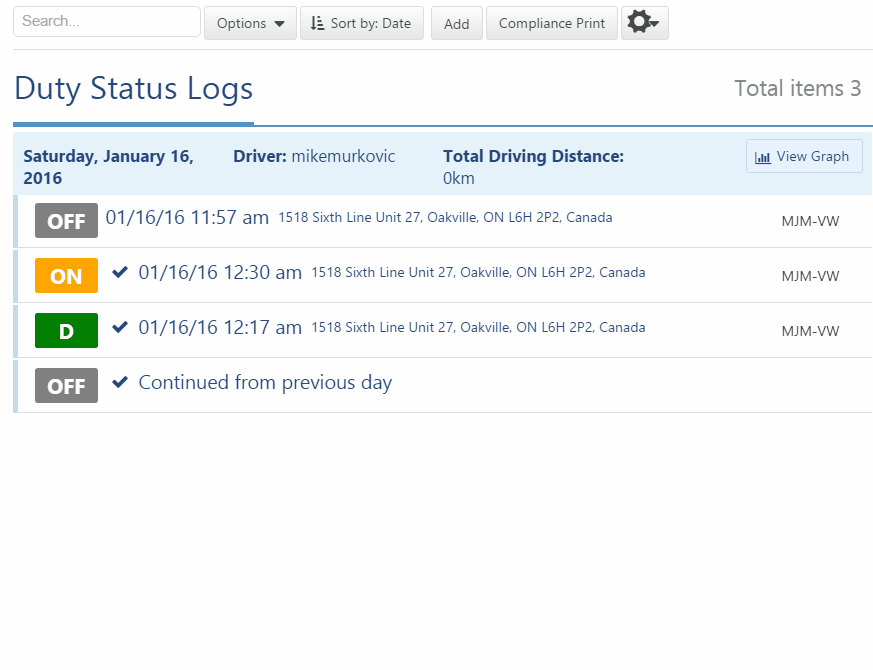 Figure 9: Log origin is shown on each Duty Status Log in MyGeotab.
Multiple DOT Carrier Support
MyGeotab now supports different DOT numbers for drivers residing within the same database. MyGeotab users can designate the Main office address and Carrier number for each driver in the User Options > Hours of Service Settings.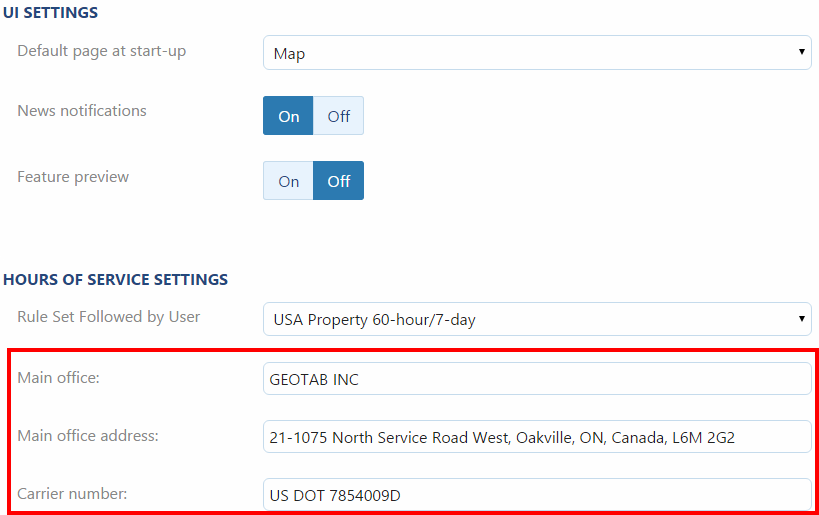 Figure 10: DOT settings in driver options.
Automatic Log Verification on Logout
When logging out of the Geotab Drive app, all unverified logs will be automatically displayed for verification. The driver has the option to skip the verification; however, the best practice is to verify logs at the end of each shift.
Note: Logs are available for verification for 14 days and after this time they are no longer compliant.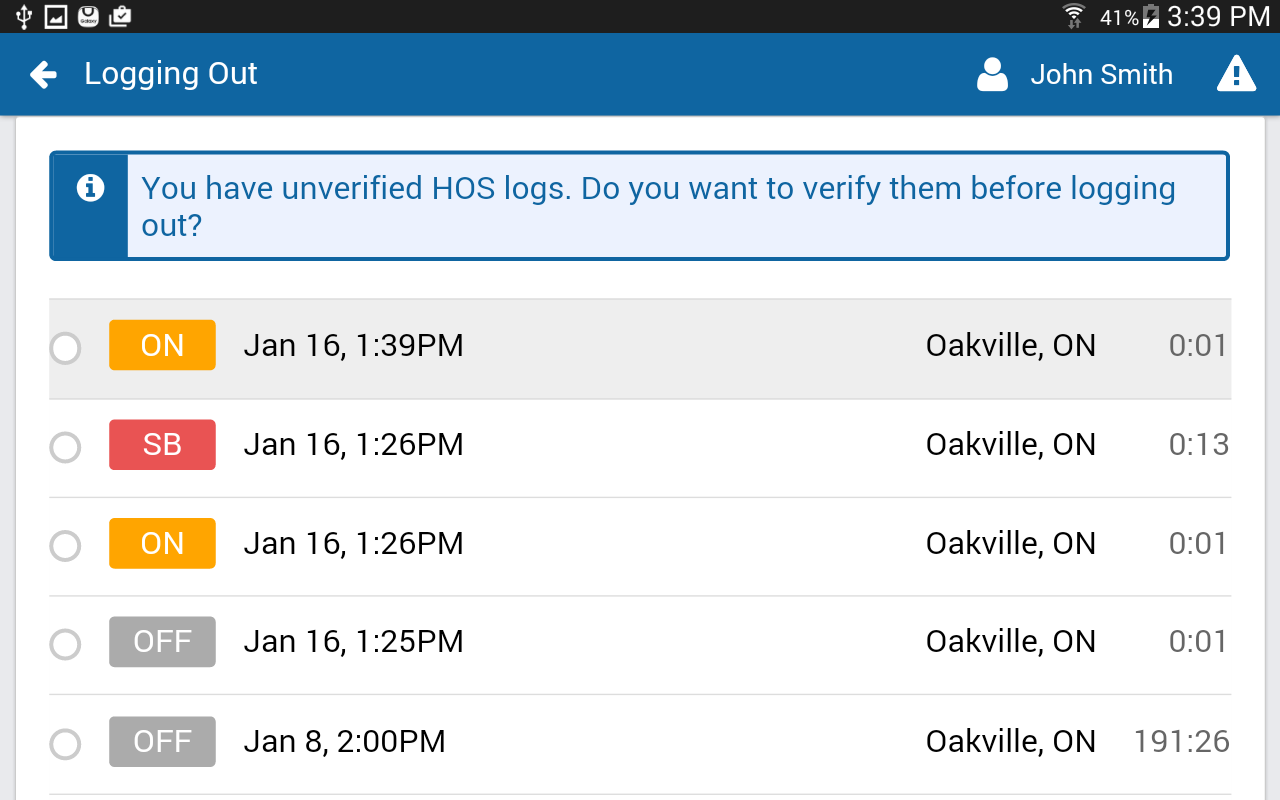 Figure 11: Verification upon logout now automatic.
Status Change on Logout
Geotab Drive now allows drivers to choose a duty status before logging out. Previously, the app would automatically set the status to Off Duty when logging out. Status options include: Off Duty, On Duty, or Sleeper Berth.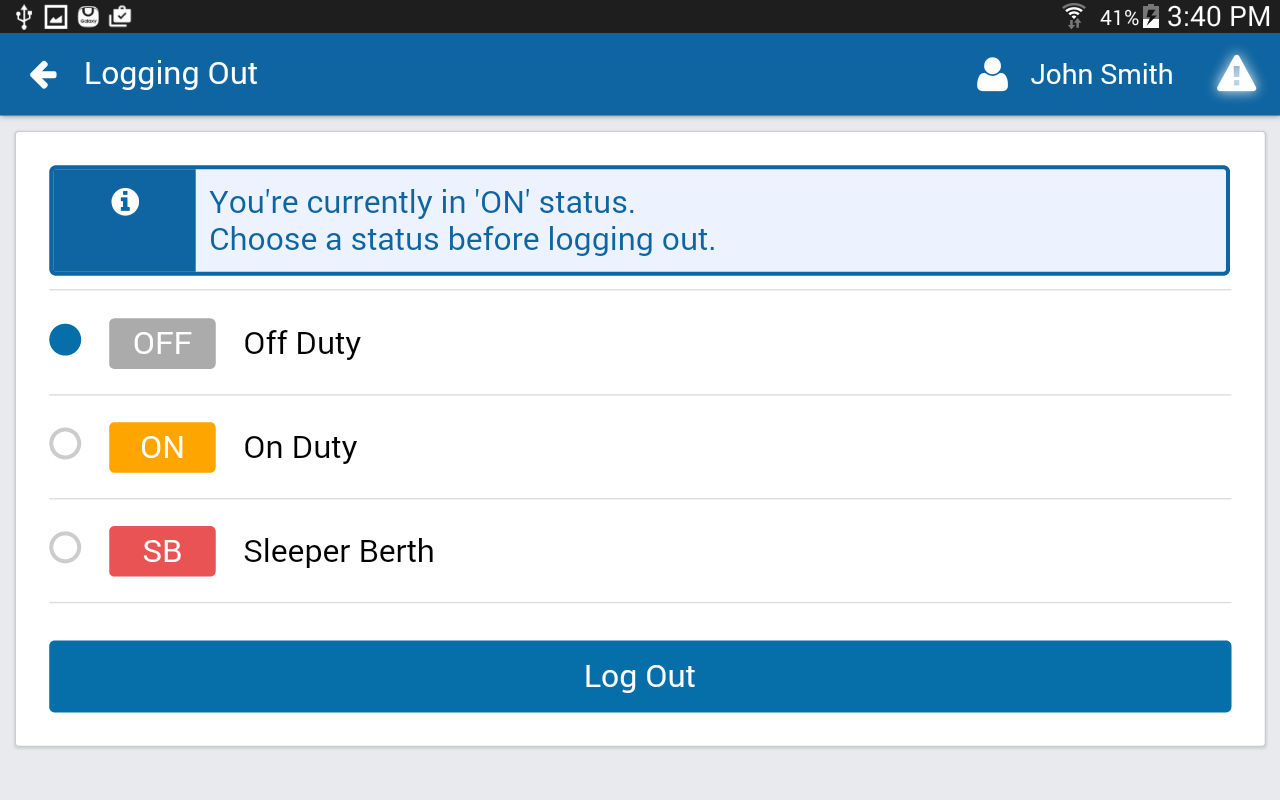 Figure 12: Status change options on log out.
Driver Feedback Changes
Late Notifications
Notifications for server side rules can now be sent to drivers even if the exception has passed. This is relevant in situations where connectivity is poor, or if the device is not on the ProPlus plan. For more information on this update, please read this post.[Post Don't Delay blog post first and then link back to it]
To enable late notifications, go to Exception Rule Edit > Notifications > Add Driver Feedback, click On and select a feedback option.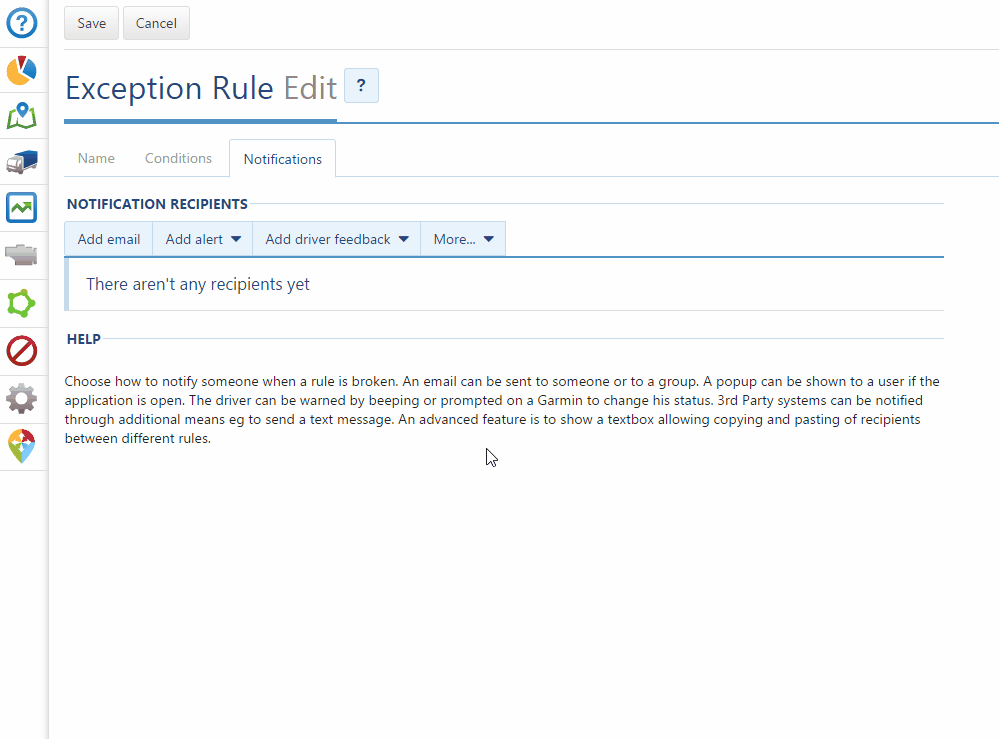 Figure 13: Late Notification option for driver feedback.
SDK
SDK Updates can also be viewed in the What's New section of the MyGeotab SDK.
In relation to the new Driver Feedback settings, the SDK now includes new recipient types to send even if there is a delay in the data:
BeepTenTimesRapidlyAllowDelay
BeepThreeTimesAllowDelay
BeepThreeTimesRapidlyAllowDelay
TextToSpeechAllowDelay

.Net users will require a dll update
Support for third-party messages has been added to the public API. Users can now access third-party data in SDK add-ins.
New Objects:
IoxAddOn
KnownIoxAddOnType
IoxAddOnSearch
IoxOutputContent
SerialIoxContent
GoTalkContent
.Net users will require a dll update

Minor UI Improvements
Updated text for Japanese and Spanish versions.
Edit forms are improved for mobile devices.
The fill-ups and speed profile icons have been changed to a bar chart icon.
For More Information
General Questions or comments:
Please add a comment in the box below.
Geotab Product and Software Information:
Please refer to the Product Guide
Questions about Software, SDK, HOS, Custom Reports, Hardware, or Geotab Marketplace:
Please consult the Geotab Community Forums.
Hardware Support, IOX and Add-On Documentation, and Firmware Release Notes:
Visit the Support Documentation page.

We value your input. Please leave a comment below to let us know how we can make these communications better.
---
If you liked this post, let us know!
---
Disclaimer
Geotab's blog posts are intended to provide information and encourage discussion on topics of interest to the telematics community at large. Geotab is not providing technical, professional or legal advice through these blog posts. While every effort has been made to ensure the information in this blog post is timely and accurate, errors and omissions may occur, and the information presented here may become out-of-date with the passage of time.
Subscribe to the Geotab Blog
Sign up for monthly news and tips from our award-winning fleet management blog. You can unsubscribe at any time.
Republish this article for free
Other posts you might like