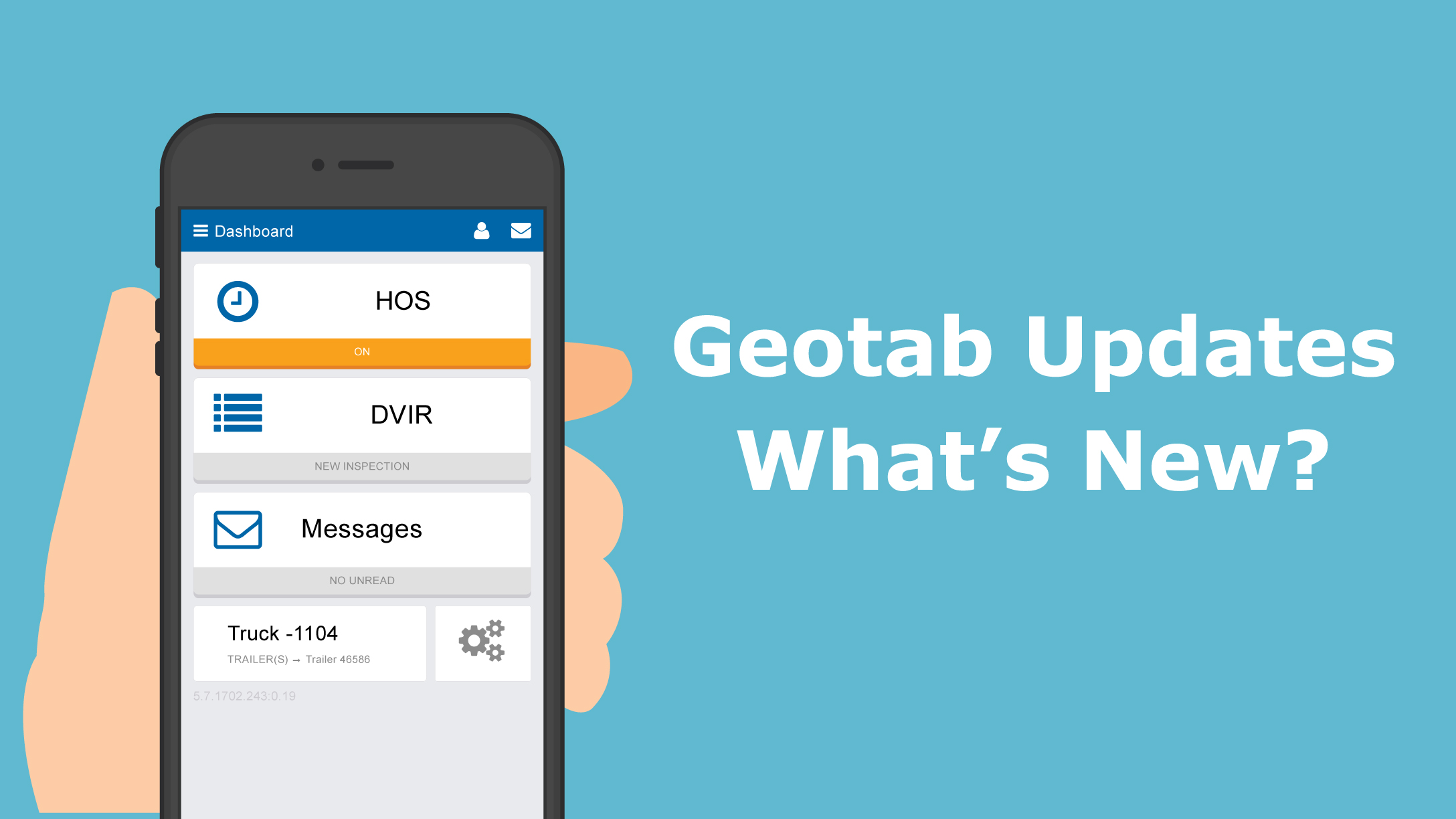 Geotab Drive, ELD & MyGeotab updates (1803)
Published on August 10, 2018 in Updates by Grishma Sawant
---
What's new? Read a summary of the latest Geotab Drive, ELD and MyGeotab updates, as well as database updates and report enhancements
Welcome to What's New — a must-read summary of recent Geotab Drive and MyGeotab updates for Authorized Resellers and Geotab Users.
Resellers: Review this post for important changes affecting your customers and note any recommendation actions. If you have suggestions for improvement, please leave a comment below.
Geotab Users: To verify your version: go to MyGeotab > Administration > About and check the build number, (e.g. 5.7.1803.xxx release/2018-03).
Don't miss out! Please subscribe to the Geotab newsletter to stay informed of updates.
Ruleset Improvements
Read about some new updates to rulesets in Geotab Drive.
New HOS Rule: Non-CDL Driver 150 Air-mile Short-Haul
Geotab has added an Hours of Service (HOS) exception for non-commercial driver's licence (non-CDL) short-haul drivers on 60-hour/7-day and 70-hour/8-day rulesets. Here are the details:
Applies only to drivers operating within a 150 air-mile radius of their normal work location
Driver can drive for 11 hours after 10 hours OFF-duty
No driving after 14 hours of consecutive ON-duty time
No break requirement
34-hour reset available
2 16-hr days available every 7 days
60-hour/7-day (Gives the driver a 60 hours ON-duty time available in a 7-consecutive-day cycle)
70-hour/8-day (Gives 70 hours on-duty time available in a 8-consecutive-day cycle)

No Ruleset with Cycle Limit
A No Ruleset option is now available, supporting a 7-day or 8-day cycle limit. If you have previously selected No Ruleset for a user, the system will automatically default to the updated name, for example: No Ruleset (7-day cycle).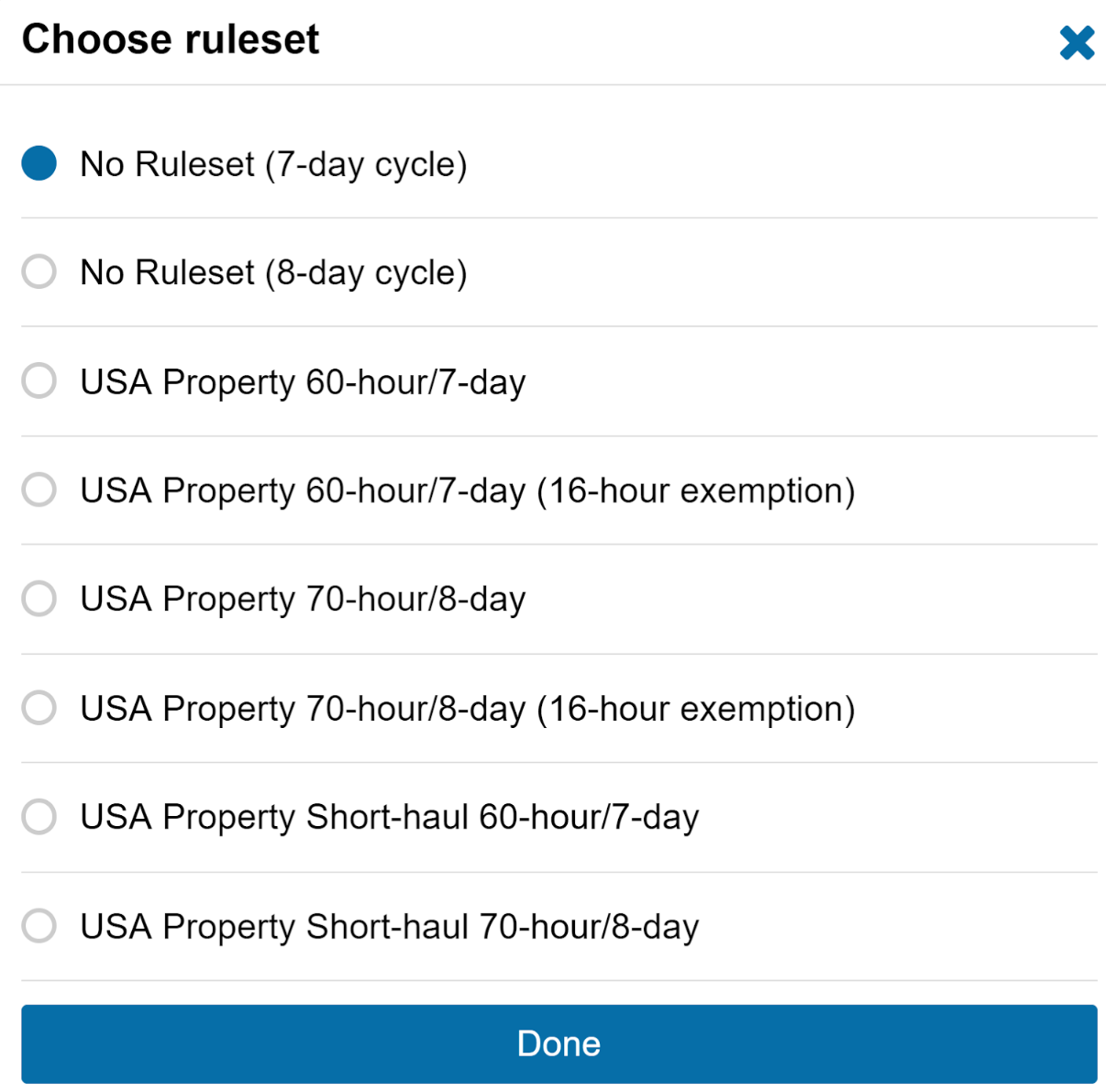 Oil Well Wait Time With No Vehicle
Drivers can now set their status as Oil Well Wait Time without selecting a vehicle.
For more information on supported rulesets and exemptions, please review our Hours of Service Ruleset Matrix.
Hours of Service Made Even Easier
Personal Conveyance, Yard Move and Other Exemptions Moved to HOS Dashboard
We moved the Exemptions section in Geotab Drive for a more streamlined and user-friendly experience. You can now find Adverse driving conditions, Yard move, Personal conveyance, 16-hour Exemption and Oil Well Wait Time on the HOS Dashboard.
From the HOS Dashboard Status Tab, click View Exemptions to expand the full list of exemptions that have been enabled for the driver.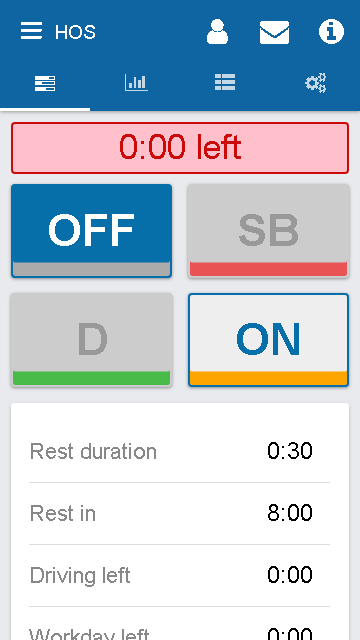 HOS Edits Highlighted for Easy Viewing
When a driver or administrator makes edits to HOS logs, the log will appear as highlighted on the Duty Status Logs page for both the administrator and driver. This serves as a visual cue that an HOS log has been edited and is awaiting an accept or reject response from the driver.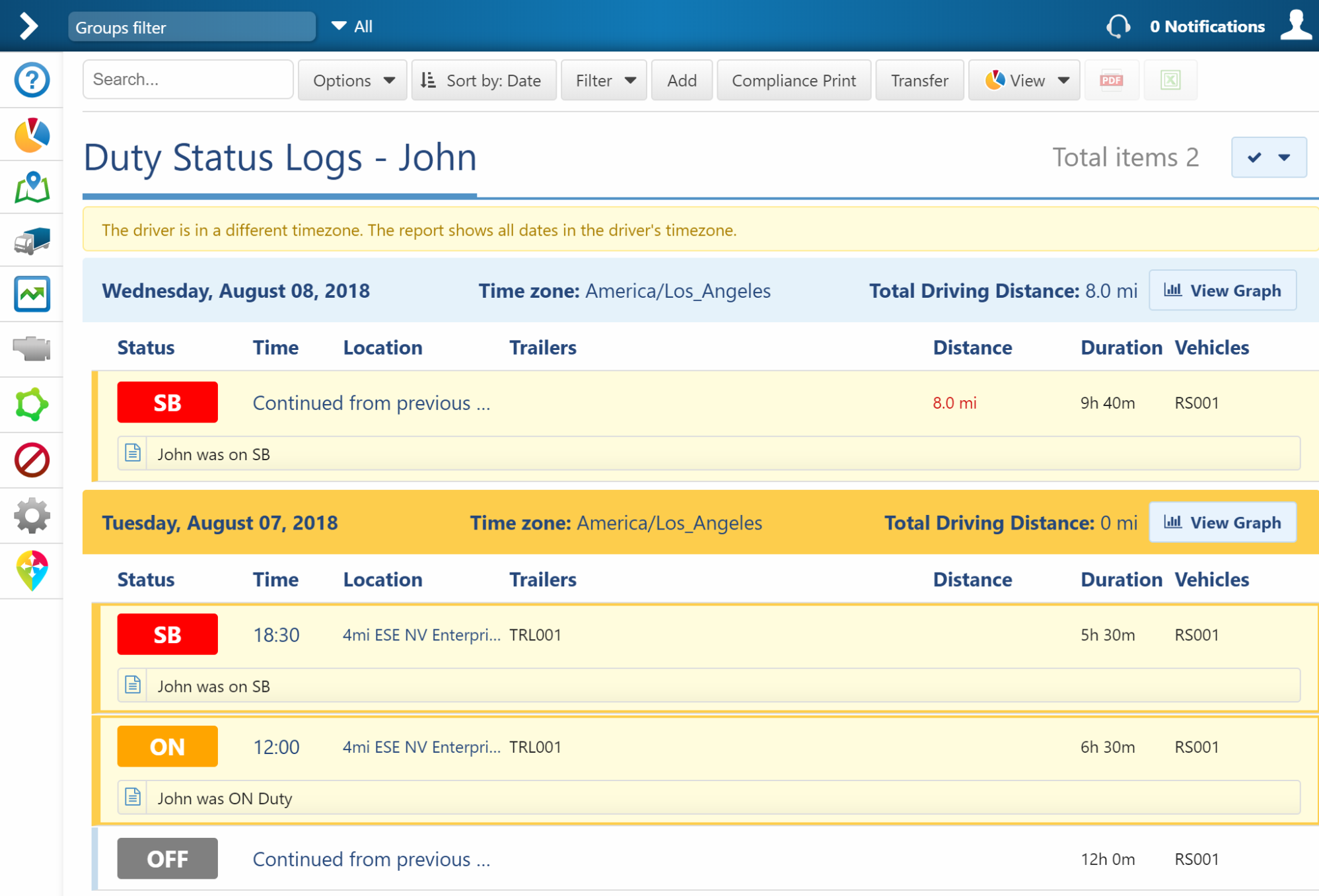 New Option to Display Modified Logs in HOS Reports
When searching Duty Status Logs page in MyGeotab, administrators will now have an option to include modifications. In the Display Options box, toggle Show modifications to Yes and you can view modified logs on HOS reports.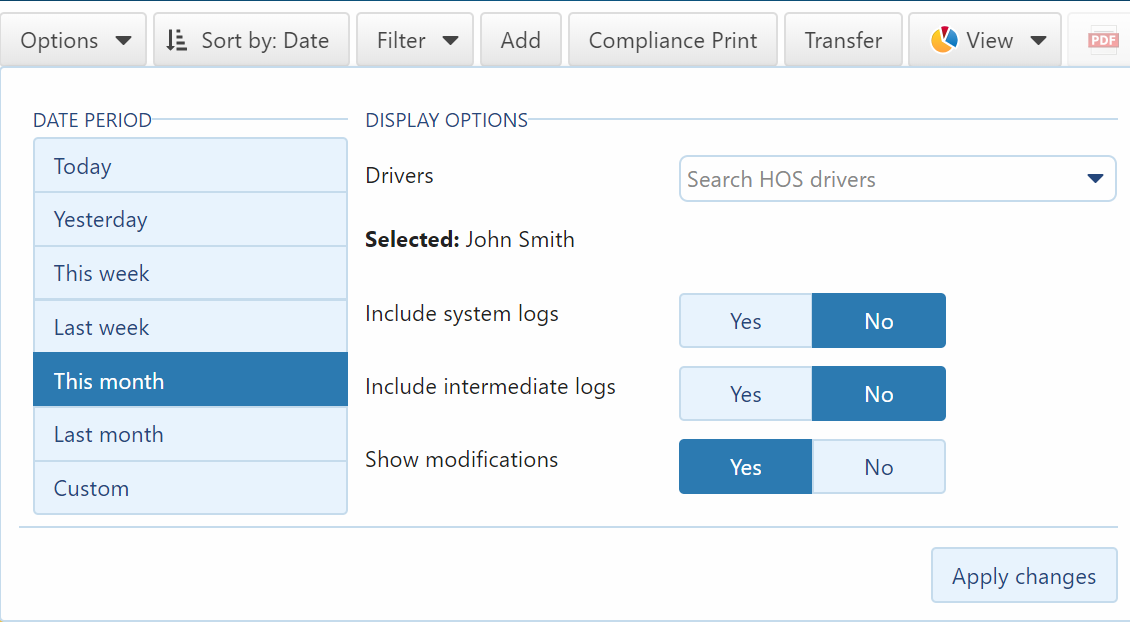 Improved Trailer Workflow
When adding new trailers to Geotab Drive or MyGeotab, if a trailer with the same name already exists, a new one cannot be created. Only unique trailer names can be added to the fleet management system.
Other Geotab Drive Updates
We corrected rule names to restart instead of the previous reset. For example, USA Property 60-hour/7-day without 34-hour reset is now called USA Property 60-hour/7-day without 34-hour restart.
Discrepancies between Compliance Report from Drive App and Compliance Print from UI have been addressed
The HOS Availability report will now only reflect drivers/users with HOS logs by default
Users can accept or reject HOS logs using the Verify workflow.
Learn More: Please consult the Geotab Drive Compliance and Implementation Guide for information on Hours of Service and DVIR, ELD reports, MyGeotab Add-Ins, and access the Driver and Administrator Guides.
Download Geotab Drive from the Google Play Store or Apple App Store.
Report Enhancements
A new column has been added to the User Report, displaying the last date that the user accessed MyGeotab. The column heading is named "UserLastAccessDate."
Other Updates
Default driver is displayed on Vehicle Edit page.
Improved display of timeline on Engine Data Profile chart.
New and revised diagnostic codes have been added. See list of new codes here.
Language — We have made improvements to French language translations and also added Simplified Chinese language support to the UI.
New on the Blog
Google Cloud Next: Geotab at the Forefront of AI for Smart Cities
Don't miss an update! Subscribe to the Geotab monthly newsletter.
Learning Resources
Looking for a previous update? Read the last What's New blog post here.
Read the complete SDK update here.
For more information on Geotab Drive, MyGeotab, and the Geotab GO telematics device, please consult these resources:
---
If you liked this post, let us know!
---
Disclaimer
Geotab's blog posts are intended to provide information and encourage discussion on topics of interest to the telematics community at large. Geotab is not providing technical, professional or legal advice through these blog posts. While every effort has been made to ensure the information in this blog post is timely and accurate, errors and omissions may occur, and the information presented here may become out-of-date with the passage of time.
Subscribe to the Geotab Blog
Sign up for monthly news and tips from our award-winning fleet management blog. You can unsubscribe at any time.
Other posts you might like