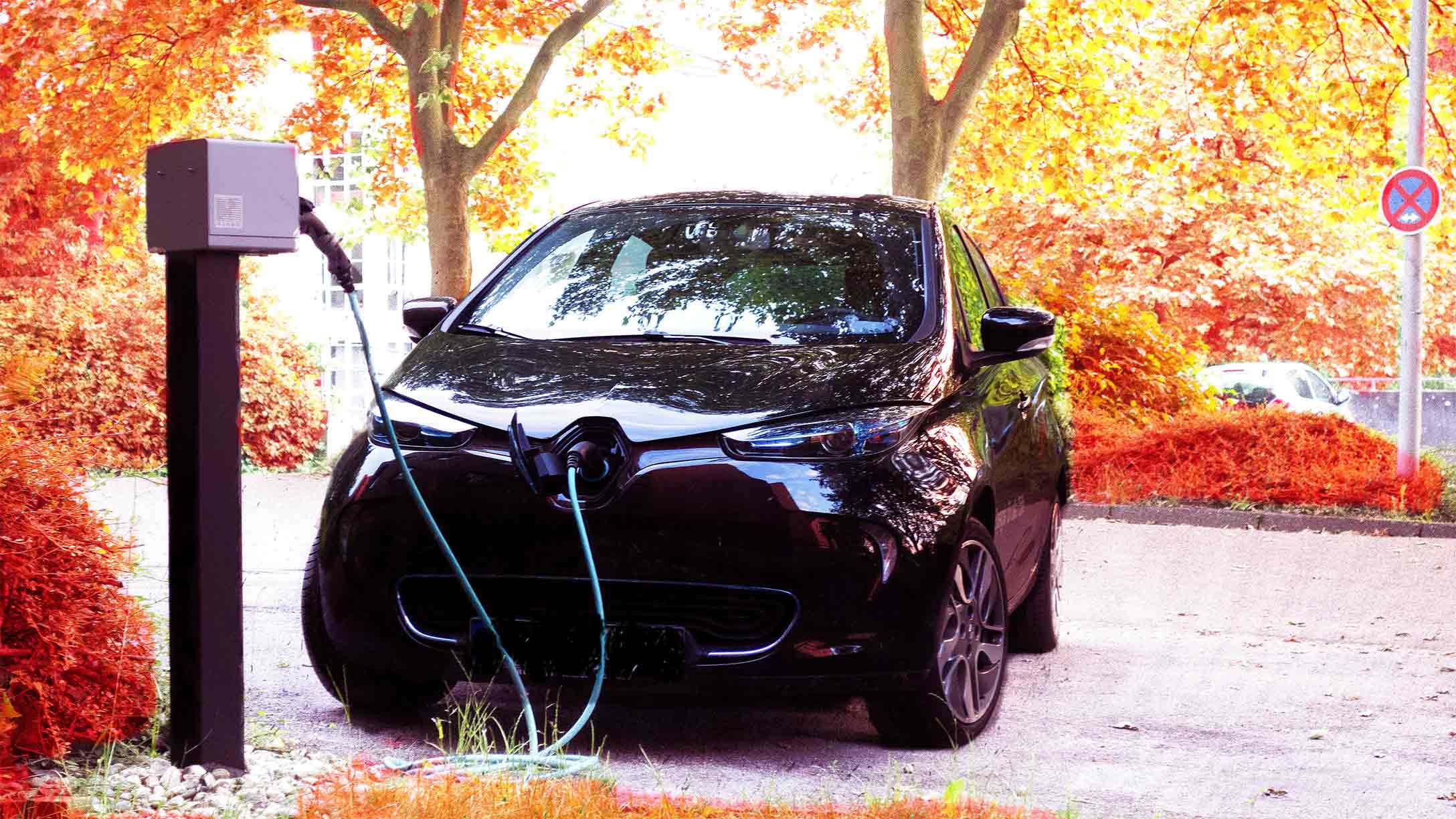 The Geography of EV Charging: How regional climate impacts EV charging and driving
---
Learn more about the findings from the data-driven study, "The Geography of EV Charging."
It is a common notion that temperature, particularly the cold, impacts electric vehicles. In cold weather, more energy is used to maintain a comfortable cabin temperature and there are various forms of built-in battery conditioning. This results in reduced range for electric vehicles in colder climates.
However, studies have shown that higher temperatures also impact the range of an EV for the same reason — driver comfort. In this case, the energy is used for cooling instead of heating.
What utilities need to be aware of is that temperature-related impacts to range greatly change the charging and driving behavior of the EV owner. It can influence when they charge, how often they charge and the overall distance they drive. Utilities can optimize service by considering the climate of a service territory when establishing a load management program.
Comparison of electric vehicle range (real-world versus rated).
See also: In conversation with Eric Mallia of Geotab Energy on EV charging load
Further analysis from the world's largest electric vehicle dataset
In May 2020, Geotab Energy released a groundbreaking data-driven study, "EV Growing Pains." This was one of the largest studies of EV charging load ever conducted and included an analysis of data from over 3,900 electric vehicles from across North America.
About The Geography of EV Charging study:
Report shows the role that temperature and seasonal climate plays in influencing charging and driving behavior.The original dataset, which contained a full year's worth of information (from January 1 to December 31, 2019), has been broken down to reflect the summer and winter months in North America.
Vehicles are sorted by geographic location into a group representing the North and the South.
The study includes 40 EV makes and models, as well as home and away charging from various EV charging stations.
Driving patterns vary by region and season
In general, EVs are driven less during the winter months than in the summer, and this was true for both the North and South group. The EVs in the Southern group drove more on average in both respective months. The difference between the seasons, however, is less extreme than with the Northern group.
When reviewing daily driving data, it is important to note that it includes Plug-in Hybrid Electric Vehicles (PHEV), which operate on gasoline as well as electricity. In fact, during this study it was shown that approximately 60% of the miles driven by PHEVs were powered by electricity and this number drops to 56% in Northern winters.
Average daily driving distances by region and by season.
If you review just long-range battery electric vehicles (BEV), the fastest growing vehicle type which accounted for 66% of new EVs in 2019, you will see an increase in daily driving distances.
Overall, this data reveals that not only do daily driving patterns vary from one area to another, but that they may differ throughout the year depending on the seasonal temperature. Another consideration is that both of these groups consist of multiple service territories and averaged data. A territory that is predominantly suburban will typically have longer daily commutes than those in urban or rural areas. In order to accurately forecast driving distances, territory-specific data should be used.
More miles doesn't necessarily mean more energy (kWh)
One interesting discovery during this study was that the vehicle group that drove the most miles did not use the most charging energy. Although the Northern group in the winter drove the fewest miles, they used the most energy per vehicle.
In fact, both groups drew more energy in the winter months compared to the summer, with the Northern group experiencing the most drastic increase. This is a result of more energy being required to keep the cabin at a comfortable temperature.
This finding is less pronounced for long-range BEVs, where the seasonal difference in energy use was not as drastic between the North and South groups. Per-vehicle averages for BEVs are higher overall. This appears to be the result of PHEVs relying more on gasoline during the colder winter.
Average monthly charging energy (kWh) in winter and summer.
So while it is important to understand how far an EV travels in a territory, it is only one of the factors that will contribute to its charging load. As the temperature changes, so does the amount of energy being used.
Region, season and vehicle type will determine an EV's charging pattern
One of the key takeaways from the "EV Growing Pains" study was that long-range BEVs are game changers for utilities. Their larger battery capacities allow them to charge less frequently while still meeting their daily driving needs. This was proven again in this study as EVs on average did not charge every day regardless of season or location. However, EVs in the North charged less frequently than those in the South.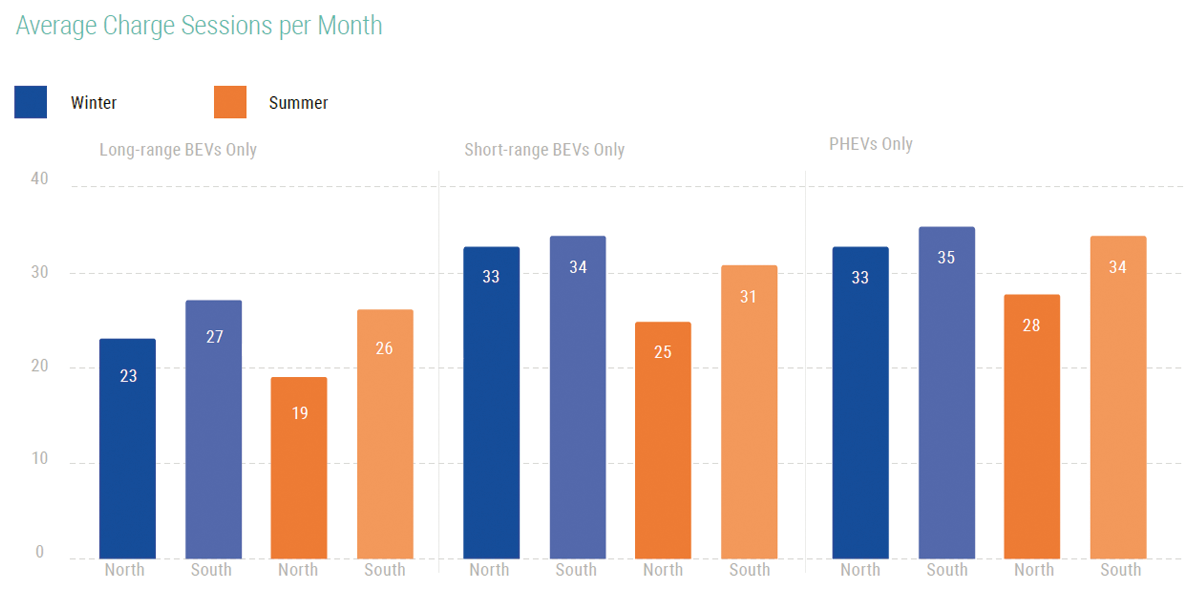 Average EV charge sessions per month: winter and summer.
It is unclear exactly why there is less frequent charging in the North. One theory is that there was an earlier adoption of EVs in the South, as a result of the limited range of earlier EVs and the range reduction caused by cold weather. This would mean that those in the South were conditioned to charge every day, which has carried over even though their capabilities have changed. While this is purely speculative, it is worth noting that even when you compare the charging frequency by individual vehicle type, the results are the same – the Southern group charges more often.
Territory-specific load profiling is critical
If there is one thing to take away from this study, it is that the EV charging load is very nuanced. The vehicles in this report were simply grouped by North or South, and there were significant differences in the averaged data.
Each individual service territory is going to have its own unique factors that will influence how EV owners will charge and drive. Commuting patterns, vehicle-specific market share, and pre-existing load management initiatives, in conjunction with seasonal temperatures, will all contribute to a one-of-a-kind load profile. Before a utility company can come up with the proper solution, they need to fully understand the problem.
Learn how to profile and manage EV charging load with solutions for electric utilities by Geotab Energy
---
If you liked this post, let us know!
---
Disclaimer
Geotab's blog posts are intended to provide information and encourage discussion on topics of interest to the telematics community at large. Geotab is not providing technical, professional or legal advice through these blog posts. While every effort has been made to ensure the information in this blog post is timely and accurate, errors and omissions may occur, and the information presented here may become out-of-date with the passage of time.
Get industry tips and insights
Sign up for monthly news and tips from our award-winning fleet management blog. You can unsubscribe at any time.
Republish this article for free
Other posts you might like