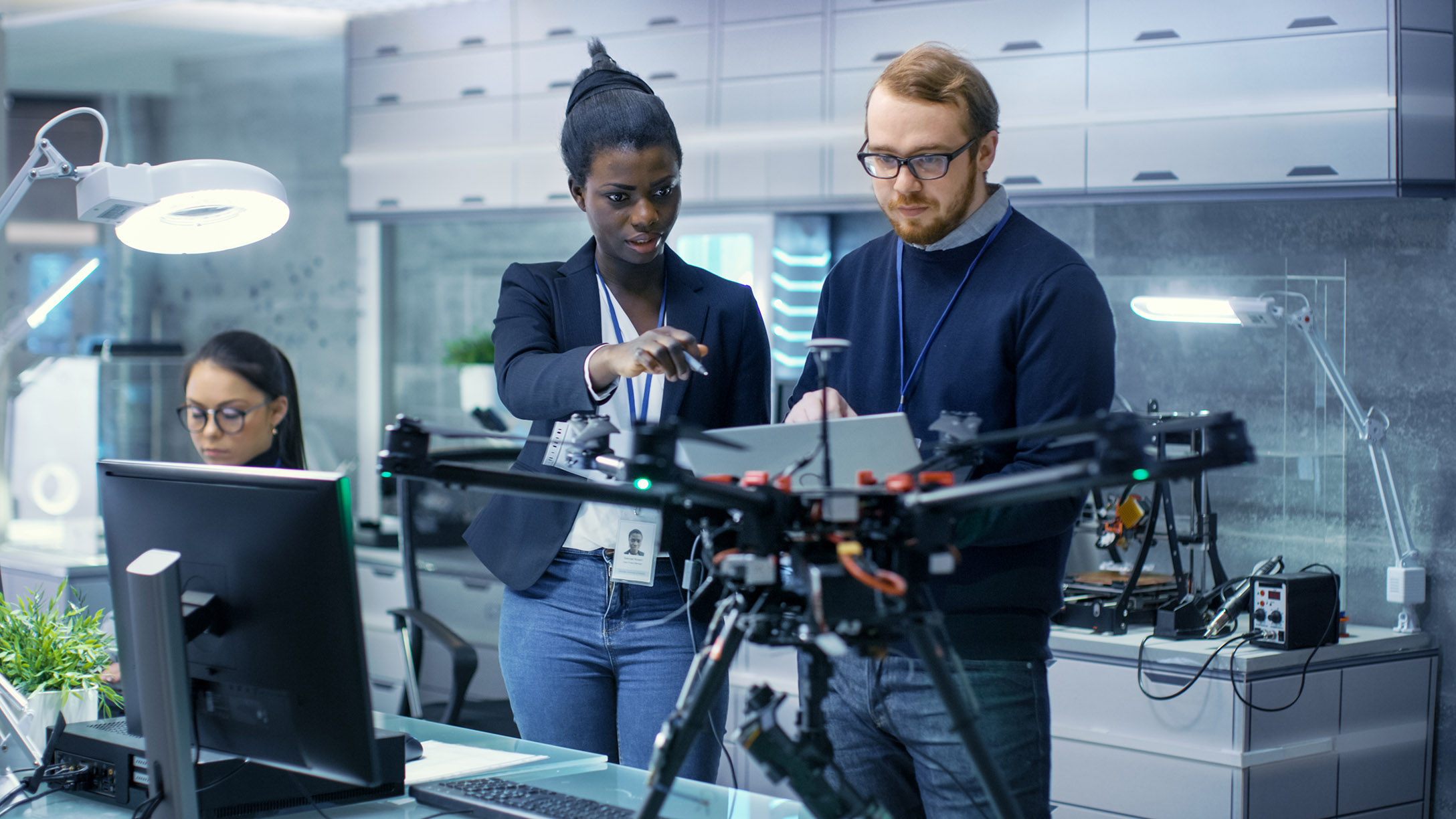 How STEM education drives business innovation
---
Learn about the importance of STEM education and how it relates to business development.
As technology advances, the high demand for innovation by science, technology, engineering and math (STEM) professionals is at an all time high. With new products and resources coming out seemingly every day, a solid understanding of these subjects is key for young professionals to better prepare for their future careers.
What is STEM education?
STEM education focuses on teaching students in four specific areas:
Science
Technology
Engineering
Mathematics
Instead of teaching these four areas separately, STEM integrates these streams into a single, cross-disciplinary program to solve real-world problems.
STEM education takes more of a hands-on, blended approach. For example, the California Institute of Technology (Caltech) teaches Biological Science by combining classroom learning with student participation in their research program. Students play an active role in producing and mastering the university's technology. The approach to education requires a creativity and problem-solving skills as well as technical knowledge for each area.
With that in mind though, it's important to note that getting a math degree isn't equivalent to a STEM education. Without the integration of all four areas and real-world teaching methods, you don't receive the education benefits that make a STEM degree so valuable and a career in STEM so desirable.
The importance of innovation
Innovation is critical to economic growth. STEM education encourages a generation of innovators who have the potential to change the world. Individuals are asked to think outside of the box to solve complex world problems by creating actionable solutions. As productivity increases, more goods and services are produced, which boosts the economy. This new way of thinking can lead to higher productivity, meaning the same input generates a greater output.
Job growth, employment rates, wages and exports are all higher in STEM-based economies. When productivity rises, the wages of workers increase simultaneously. With more money to purchase goods and services, businesses can become more profitable, which allows them to hire more employees and continue the cycle.
STEM in the workplace
By 2029, the STEM workforce is projected to grow by 8%, compared with 3.7% for all occupations. The high demand over the next decade is due to continued growth in the digital economy. Digital technology has become an important driver in innovation and economic growth.
Technologies in the marketplace are expected to change our workplace and lives. This is where different perspectives, outlooks and knowledge becomes an asset.
Diversity in STEM
A diverse workforce provides a competitive advantage. Encouraging individual approaches and skill sets shape the rate and direction of innovation. A fresh set of processes and ideas can help find more effective ways to solve problems.
People of colour and women are underrepresented in STEM jobs. This is attributed to many factors that may include mentorship experience, family and background history and academic mindsets.
Increasing diversity in STEM begins with the educational system. It's important to teach students at a young age to help prepare them for the future.
Encouraging STEM skill building
Here are some tips for both teachers and parents to encourage STEM skills from a young age:
Help children become problem solvers by giving them opportunities to analyze situations from multiple perspectives.
Encourage children to use evidence and reasoning behind their ideas.
Inspire creativity by allowing children to express their thoughts and think about how the world works.
Teach flexibility by giving children opportunities to adapt to changes and maintain a positive attitude.
Geotab's efforts to increase diversity
Geotab's Diversity Inclusion and Belonging program has worked to develop strategies to increase representation of women in STEM. We recognize the importance of providing all women with programs and resources to thrive in the workplace. Mentorship is another great initiative to empower the next generation of women.
To learn more, watch our International Women's Day videos below on how Geotab supports women in STEM:
In addition, our community enablement program, Geotab Cares, is designed to give back to our communities and create a better place for everyone to live with an emphasis on STEM development.
We have also developed an opportunity for university students called the Geotab University R&D program, where undergraduate and graduate students can use Geotab's telematics data to integrate their research. The Geotab GO device will provide researchers with information regarding battery voltage, seat belt use, emission faults, GPS location and much more!
You can apply at any time by completing the Geotab University R&D Program Enrollment form.
Conclusion
Investing in early STEM education is crucial for the development of future leaders and innovators in the field. Young people must be aware of their potential to develop skills, capabilities and knowledge to think outside of the box. Doing so will not only boost innovation, but also the economy as a whole.
Are you interested in a career in STEM? Then you're in luck! Check out our open positions on our Careers site for more details. For the latest Geotab news, photos and career updates, follow @InsideGeotab on Twitter, Facebook and Instagram.
---
If you liked this post, let us know!
---
Disclaimer
Geotab's blog posts are intended to provide information and encourage discussion on topics of interest to the telematics community at large. Geotab is not providing technical, professional or legal advice through these blog posts. While every effort has been made to ensure the information in this blog post is timely and accurate, errors and omissions may occur, and the information presented here may become out-of-date with the passage of time.
Get industry tips and insights
Sign up for monthly news and tips from our award-winning fleet management blog. You can unsubscribe at any time.
Republish this article for free
Other posts you might like