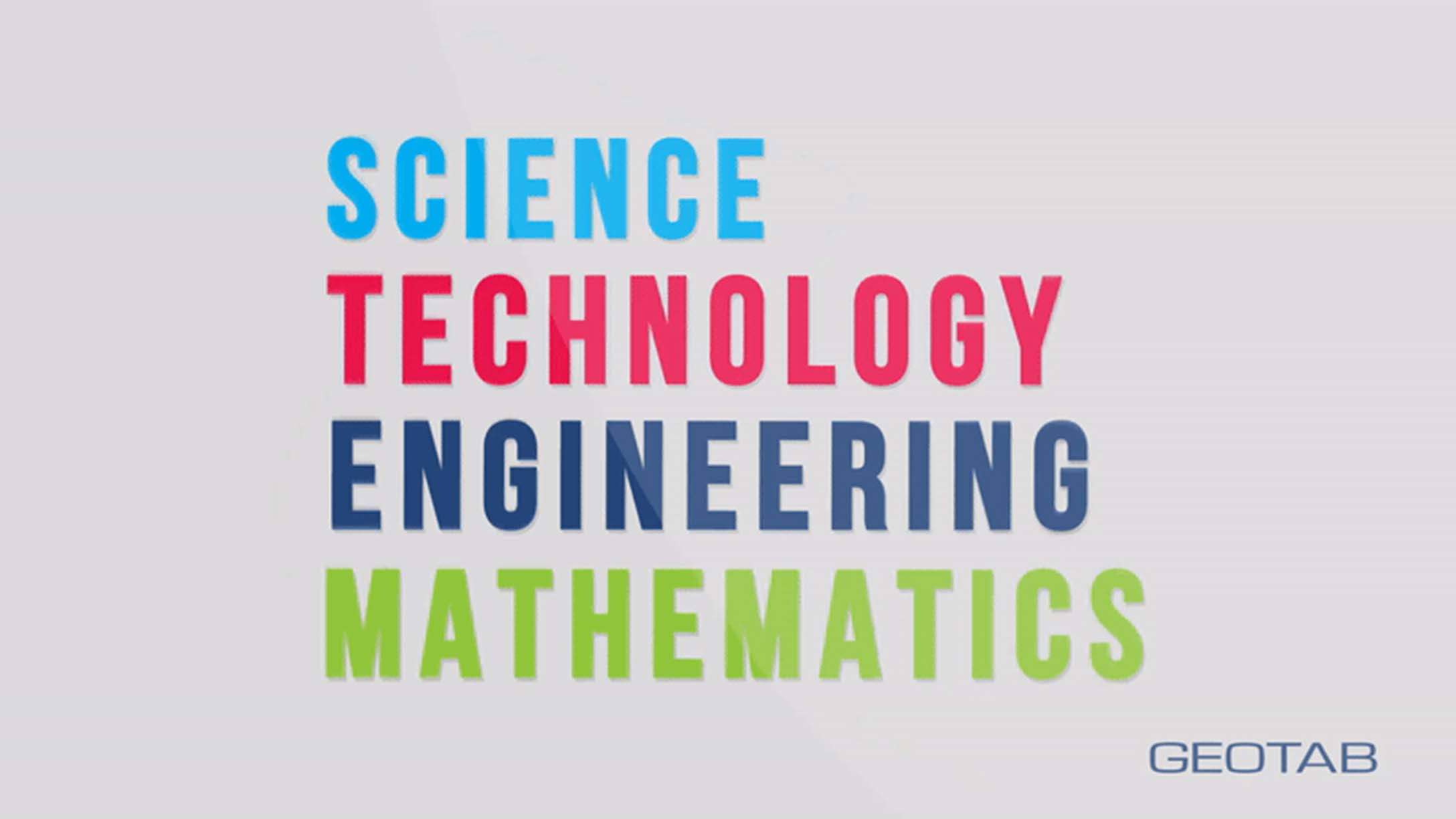 Discover Geotab's STEM programs
Published on February 22, 2019 in Working at Geotab by Hanna Corrente
---
Read about STEM programs at Geotab — equipping future innovators with the tools they need to succeed.
The job market is ripe for STEM talent. In fact, about 2.4 million STEM-related jobs remain unfilled in the U.S., according to the Smithsonian Science Education Center. As well, U.S.-based jobs in Science, Technology, Engineering and Math will grow to 9 million by 2022, based on predictions from the U.S. Bureau of Labor Statistics. That number represents an increase of one million jobs over 10 years.
No longer just the latest buzzword, STEM has earned its spot in the everyday vocabulary of businesses, educational institutions and government. Take Canada, for example, where the federal government unveiled an Innovation and Skills Plan in 2017 to grow the economy, create jobs and provide Canadians with the skills they need to succeed. One key target area outlined in the plan: STEM.
With the percentage of STEM-related jobs in Canada sitting at 34% of total employment as of 2017, the Canadian government outlined its goal to increase the number of professional, science and tech-related jobs to 40% by 2025. The reason: "Canadians need the skills required for the jobs of tomorrow and Canadian businesses need a highly-trained and skilled workforce to be competitive in the new global economy." Since then, a number of STEM-related programs have been launched, targeted to all age levels – from kindergarten-aged youth to adults.
See also: How STEM Education Drives Business Innovation
STEM programs in action
All this signals great things for Geotab, whose roots are deep in this field. Over the past couple years, Geotab has made a concentrated effort to support STEM initiatives, and has extended its reach beyond current STEM professional and university graduate programs to more youth-based initiatives, including high school programs.
Aldershot High School Human Library
One such program was the Aldershot High School Human Library, an event held this past November to give the school's students the opportunity to interact with professionals in the STEM field in order to better understand what the real-world jobs in these disciplines look like.
Geotab sent six of its employees whose titles ranged from data scientist to solutions engineer to talk to students. They answered questions such as:
How did you first get interested in STEM?
What kind of degree do you have?
What do you love about working in STEM?
And, what advice would you give to others interested in pursuing a career in the tech industry?
Campus Recruiting and Events
At the university level, Geotab has been actively recruiting students at campuses throughout Canada and the U.S. through engineering and general career fairs, as well as through its sponsorship of hacker competitions and engineering events such as the Ontario Engineering Competition 2019 (OEC19), held last month at McMaster University. In addition to sponsoring OEC19, Geotab's participation in the annual three-day event included presentations to engineering students, as well as competition judging.
Equipping future innovators
It's initiatives like these that Geotab believes are significant to the company's future workforce.
According to Lindy Theron, vice president of Human Resources at Geotab: "We believe that by equipping future generations with the tools that they need to succeed, we will create a strong, balanced workforce full of equal opportunity. Because of this, we are dedicated to finding programs that highlight collaboration, creative thinking, problem-solving and other like-minded areas. In addition to the programs outside of Geotab, we continue to offer our own internal programs that are dedicated to the development of STEM skills."
These programs include an array of internship opportunities as well as the Geotab University R&D (Research and Development) Program.
Geotab Internship Program
Through its robust Internship Program, Geotab hires summer students for university co-ops and internships, and also hosts graduate degree candidates. Geotab interns have the opportunity to apply their learning, and work alongside full-time Geotab employees on real projects.
Geotab University R&D Program
The Geotab University R&D Program is a free program geared to undergraduate and graduate students as well as university faculty who are looking to integrate telematics data into their research endeavours, design projects, or theses.
Collectively, these STEM-related initiatives underpin Geotab's commitment toward not only growing this important field, but in educating current and future generations – and helping them ready their resumes for a career in STEM.
Geotab is looking for creative minds like yours. See all current job openings at geotab.com/careers.
Related:
Encouraging Career Advice from 9 Women in Tech
---
If you liked this post, let us know!
---
Disclaimer
Geotab's blog posts are intended to provide information and encourage discussion on topics of interest to the telematics community at large. Geotab is not providing technical, professional or legal advice through these blog posts. While every effort has been made to ensure the information in this blog post is timely and accurate, errors and omissions may occur, and the information presented here may become out-of-date with the passage of time.
Subscribe to the Geotab Blog
Sign up for monthly news and tips from our award-winning fleet management blog. You can unsubscribe at any time.
Republish this article for free
Other posts you might like