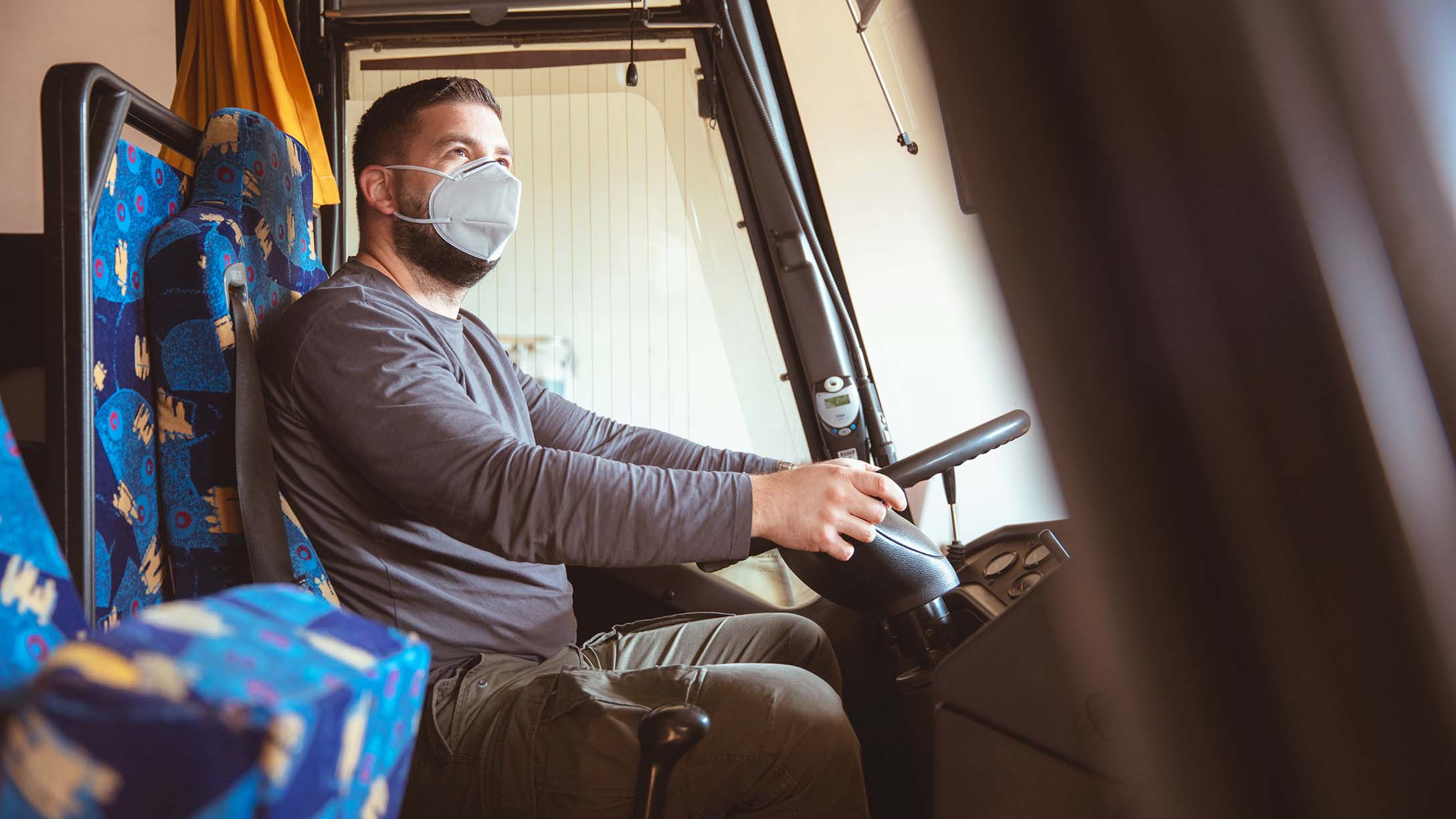 Vehicle sanitization do's and don'ts for fleets
---
Fleets are taking extra precautions to keep their drivers and customers healthy and safe. We listed out a few steps to make vehicle sanitization easier.
Fleets have always been mindful of the condition of their vehicles. Many companies have now increased their attention to this area and are reviewing their existing cleaning protocols in order to make sure they are doing all they can to protect the well-being of their employees and customers.
Even though the CDC has published that the risk of contracting COVID-19 from surfaces is low, high-touch surfaces are the most likely to harbor dirt and germs. Implementing standard practices to keep high touch areas as clean as possible will help keep your drivers healthy. This will prevent them and their families from getting sick, and reduce the amount of time needed off from work. Here are some best practices that fleets can follow to make sure those surfaces are clean and disinfected.
TMC group proposes updates to truck cab cleaning
The Technology & Maintenance Council (TMC) proposed an update to its Recommended Practice 443, In-Cab Cleaning and Deodorizing Guidelines. The members of the TMC S.4 Cab & Control Study group, issued additional guidelines to help further clean and sanitize a truck cab. The update suggested using chlorine dioxide to clean surfaces, and a list of materials needed along with cleaning methods to ensure the cab is sanitized.
The update gives detailed instructions on the vapor cleaning process and a liquid treatment to spot clean high-traffic areas of the cab. The vapor treatment works efficiently for the entire cab and can be used as it is or can be supplemented with the liquid treatment. The liquid treatment is for surfaces and can be used regularly for sanitizing and disinfecting vehicles especially when drivers are changed.
On the other hand, the vapor method eliminates odors and pathogens in the cab and should be used as needed.
Follow trusted guidelines
Look to trusted sources such as the CDC, the Occupational Health And Safety Administration and the World Health Organization as the basis for all your sanitizing efforts.
The CDC has a protocol for cleaning, disinfection and ventilation of public places, many of which can be applied to vehicles. WHO has published Cleaning and Disinfection of Environmental Surfaces in the Context of COVID-19 that make sense from a general cleaning standpoint even as we have learned that the risk of contracting COVID-19 from contaminated surfaces is considered low.
It is a good idea to encourage drivers and customers to regularly wash hands or use hand sanitizer to help prevent the spread of other germs and for general cleanliness. The CDC suggests that you have a plan in place that considers:
the types of surfaces that need to be disinfected
the resources (cleaning staff) you have available and train them accordingly
the equipment (detergents, soaps PPE, gloves, etc) needed to do the job
Create a designated area for cleaning
When cleaning vehicles, try to do so in one designated area, especially if you are washing the vehicle. Make sure proper containment is in place and that waste is disposed of properly.
Put safety first
Before cleaning and sanitizing, instruct drivers to make sure the vehicle is shut off and that the parking brake is set. Also, drivers need to make sure any raised components on the vehicle including dump bodies, boxes, and tailgates are supported with safety stands and/or blocking before they start the cleaning process.
Pay attention to high-touch surfaces
While all areas of the vehicle deserve attention in the cleaning and sanitizing process, extra attention should be paid to high-touch surfaces which include things like key fobs, steering wheels and columns, seat belts, center consoles, door interiors, pockets and both interior and exterior door handles. Other high-touch areas include mirrors, cupholders, and trunk release on cars.
Be sure to read the instructions on the product label of your cleaning products to ensure you are using them correctly, and remind staff members to wash their hands with soap and water for 20 seconds after cleaning.
Use approved disinfectants
Not all disinfectants are created equal. TMC advises fleets to refer to the Environmental Protection Agency's List N, disinfectants for COVID-19. The products on List N are known for their ability to sanitize and disinfect when used according to label directions. They are designed to be used on surfaces and should not sanitize hands. EPA also has a list of tools that can help businesses determine which disinfectant fits their needs perfectly.
Add sanitization to your post-trip inspection checklist
When vehicles are shared among drivers, disinfecting and sanitizing become even more important. Consider adding a section on the post-trip inspection list that covers vehicle clean-up at the end of a trip. Once drivers have completed the inspection, they can hang a "this vehicle has been sanitized" tag in the vehicle so everyone will know that the vehicle is safe for the next driver.
Don't overlook soft surfaces
Different types of services may require different cleaning products or techniques. For soft surfaces such as carpets, rugs and drapes, the CDC suggests using products containing soap, detergent or other types of cleaner appropriate for cleaning soft surfaces. If possible, launder items following the manufacturer's recommendation. For disinfecting, use products on EPA's List N that are approved for soft surfaces.
Consider your environmental footprint
While all the extra washing, cleaning and disinfecting are necessary for safety and health reasons, it also can place an additional burden on the environment. Where possible, choose environmentally friendly cleaning products and use low waste procedures like steam cleaning. Regardless of the type of cleaning products you use, make sure to dispose of all wastewater responsibly and in accordance with local regulations.
Driver safety is a top priority at most fleets, so it is best to implement cleaning and disinfecting protocols and make them a part of your regular operations. There is nothing wrong with erring on the side of being extra safe. That is the best way to ensure the health and safety of your customers and your employees.
Visit the Geotab Community to ask questions, or post your own success tips or stories to help others.
---
If you liked this post, let us know!
---
Disclaimer
Geotab's blog posts are intended to provide information and encourage discussion on topics of interest to the telematics community at large. Geotab is not providing technical, professional or legal advice through these blog posts. While every effort has been made to ensure the information in this blog post is timely and accurate, errors and omissions may occur, and the information presented here may become out-of-date with the passage of time.
Get industry tips and insights
Sign up for monthly news and tips from our award-winning fleet management blog. You can unsubscribe at any time.
Republish this article for free
Other posts you might like