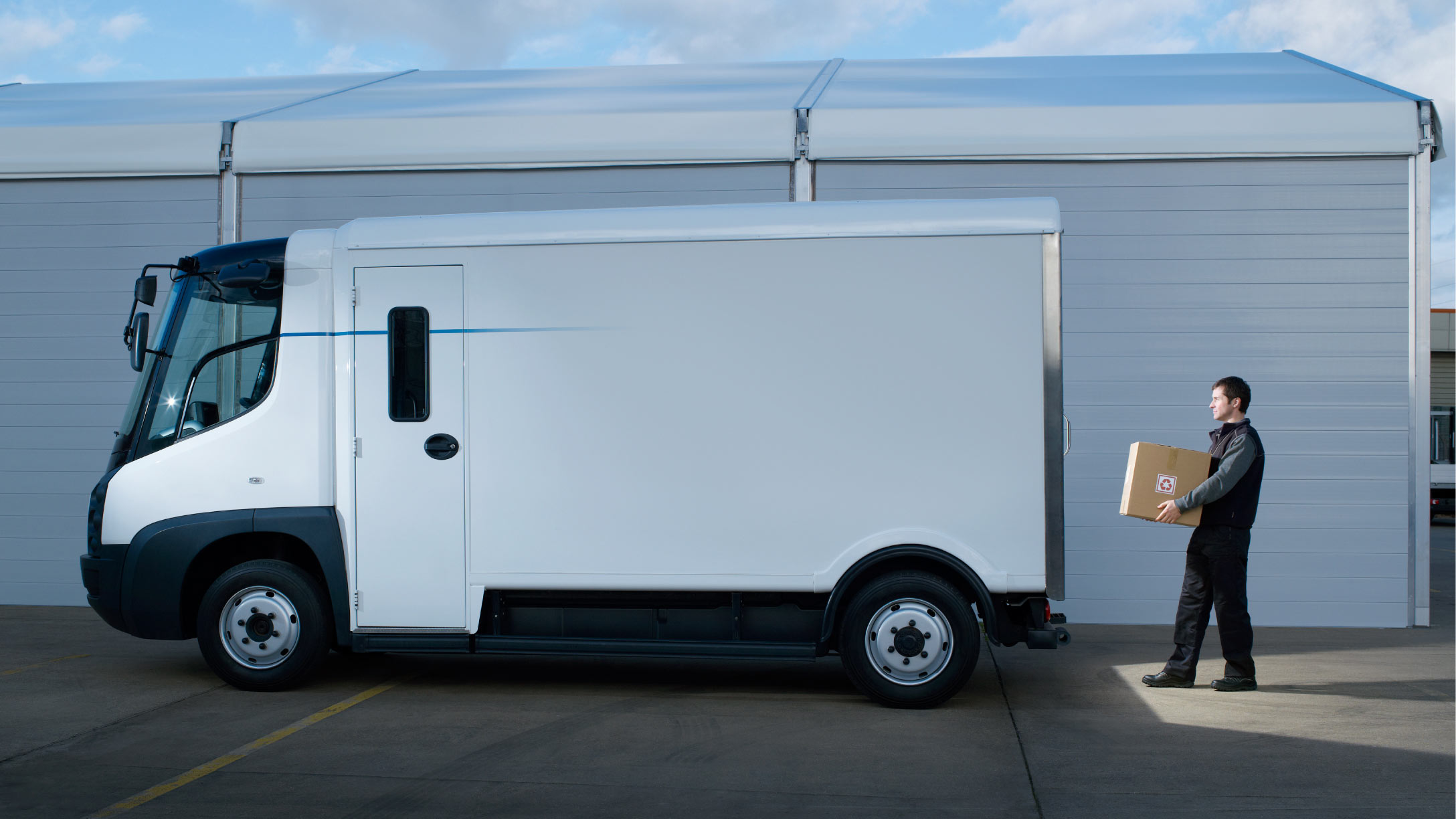 How last mile delivery fleets are customizing the Geotab solution
---
Learn how last mile delivery fleets are responding to increased demand.
As a result of COVID-19, not only is demand soaring for last mile delivery services, but new challenges are arising as well. To meet these challenges in a way that satisfies customers and is cost efficient, fleets are turning to telematics for help. There are a few ways that Geotab's last mile fleet customers are customizing our solution to their needs.
See more: Last mile is leading the way in fleet electrification
Confirm vehicle sanitization through Geotab Drive
Last mile delivery fleets are using Geotab Drive as part of their new sanitization protocols. Sanitization is especially important in the last mile as drivers do not use the same vehicle everyday and this sector has a high reliance on gig workers.
As part of the protocol, delivery vehicles are sanitized after every shift. Once cleaning is complete, the driver will display a "this vehicle has been sanitized" tag in the vehicle and it will become part of the after-shift or post-trip inspection log. This creates a series of checks and balances. The next driver can be assured that the vehicle he/she is using has been sanitized.
Identify risky driving with non-recording camera systems and AI
In an effort to increase fleet safety, some last mile fleets are installing video cameras with built-in artificial intelligence (AI) to capture risky events and increase fleet safety. Once the camera identifies a dangerous driving event, the camera sends video clips via wireless connection to the cloud platform, providing unbeatable driver Intelligence. With access to event clips, driver scoring, and custom video requests, last mile fleet managers can better manage and assess driver risk and support driver coaching by pinpointing the high-risk drivers.
What events are these smart cameras able to detect?
Cabin-facing cameras automatically detect instances of distracted driving, such as:
Distracted driving
Using a cell phone
Eating
Smoking detected
Seat belt not in use
Drowsiness
Forward-facing cameras capture events of reckless driving, such as:
Near collision / forward collision events
Tailgating
Harsh braking
Sharp cornering
Accelerating to run through a yellow light
Reaching the maximum fleet speed limit
Driving faster than the posted speed limit
These camera systems provide drivers with the ability to capture important moments with a single press of a button. As well, cameras allow managers to focus on controlling foreseeable risk and better manage and assess driver risk.
Statistics underline the need for a continued focus on safety. WIth human error causing 94% of auto crashes, distracted driving overtaking drunk driving as the top crash contributor, and that typically, 10% of drivers account for 40% of a fleet's claim costs, even for companies with a large fleet, having the data to know who and how much training a driver requires is essential.
Sometimes in unionized fleets, adding a camera system that records drivers is difficult. However, Geotab Partners with innovative camera solutions that are able to understand what is happening on the road and in the cab, without ever recording the driver. With this system, drivers are not recorded, but they can still be held responsible for their driving behavior.
Predict and avoid battery failure with big data
With Geotab, last mile fleets have access to one of the largest organically grown vehicle data sets with which to mine for greater data insights to streamline their operations. These fleets have been getting creative with how they are working with Geotab's Data & Analytics Team.
Predictive maintenance
A vehicle failing to start in the middle of a delivery route can not only lead customers unhappy with late arrivals can negatively impacts a last mile delivery fleet's reputation, but is also very costly:
Spoilage
Lost time
Delays in the supply chain
Towing costs
To prevent this, last mile fleets need to replace a part before it fails, but replacing it too early is also costly. So how can these fleets better predict when a part will fail to replace it at the right time?
There are many variables that contribute to the failure of a component. The health of other vehicle components will impact the life cycle of a part, driving behavior, weather, and road conditions. There are often too many variables and complex patterns for a human to reliably predict failure. Because humans have trouble predicting failure, many companies rely on preventive maintenance based on common failure rates, however, this results in unnecessary maintenance time and cost on healthy parts.
This is where last mile fleets have been using the Geotab big data environment. Geotab aims to identify the precise time of failure as accurately as possible with the help of big data. This allows a fleet to delay maintenance until it is really necessary, saving time and cost. Geotab's predictive maintenance solution draws on a large volume and variety of data, from running and cranking voltage, to tire pressure and oil temperature, to develop models which predict component failures.
Real-world application
With over 70,000 vehicles in their fleet, one of Geotab's customers was looking to improve their predictive maintenance schedules. To aid them in this goal, they partnered with Geotab's Data & Analytics team to use Geotab's big data environment to find a way to predict battery failure rates. The customer's ultimate goal was of replacing batteries no more than three weeks prior to ultimate failure. Geotab began by analyzing the patterns in the voltage data from the customer's vehicles during the ignition process to determine specific signals that indicate the battery is getting close to failure. As variations occurred by vehicle type, each vehicle was evaluated and grouped with other vehicles with similar characteristics. Once that was done, Geotab was able to create an Electrical System Rating.
The Electrical System Rating, or ESR, is a rating that measures the status of a vehicle electrical system on a scale from 0 to 100. It is calculated on a daily basis and provides a common rating system for all vehicle types, makes and models, engine and fuel types in a format that is easy for everyone to understand. Using this data, Geotab was able to forecast when a battery is near its failure point and automatically send a work order to the Customer's fleet team. With this information, the Customer was able to take the vehicle out of rotation at the right time and ensure battery failures do not result in a breakdown during the delivery cycle.
As a result:
Road calls and expenses were reduced by 12%
On-road battery replacements (premium priced) were reduced by 26%
Total battery replacement volume were reduced by 2.7%
Internal labor savings of 9% led by reductions in diagnostic labor tasks and battery replacement labor
Mitigate risk with big data
One client has been working with the Geotab Data & Analytics Team to aggregate camera event information, with vehicle data captured by the Geotab's telematics GO device, and driving schedules to identify trends and patterns in an effort to better predict and reduce vehicle collisions.
Other fleets have been using Geotab's big data to plan safer routes for their drivers. For instance, Geotab's Hazardous Driving Areas datasets (part of the Urban Infrastructure data) analyze real-time and historical incident data for collisions and near-miss events.
As well, it identifies hazardous areas for driving according to harsh braking and collision level events within a specific area. By incorporating this dataset into their dispatch and routing software, fleet managers can reduce the number and severity of collisions.
Geotab has many available datasets that are being utilized to not only mitigate risk, plan more efficient routes, reduce costs, and more. These datasets fall under the following categories:
New datasets are continually being added.
Optimize route plans for electric vehicles
When it comes to using electric vehicles (EVs) in a delivery cycle, special considerations need to be taken into account that do not apply to combustion engine vehicles. For instance, if a vehicle is low on gas, a driver can simply take a quick detour to the nearest gas station. For EVs, it is not so simple. When an EV's battery charge is low, it can take several hours to recharge. For these reasons, many last mile delivery fleet customers have been leveraging Geotab's Electric Vehicle Suitability Assessment (EVSA) and Electric Vehicle Battery Degradation Tool when deciding whether or not EV adoption is cost effective.
The EVSA analyzes a fleet's unique driving profiles and patterns to identify the fleet vehicles best suited for EV replacement. With this assessment, last mile fleets can ensure EVs have the range performance they require, even in extreme weather conditions and the information they need to make the best decision for their fleet, including:
Personalized make and model recommendations that take into consideration: EV availability in the local market, EV performance in extreme weather conditions and financials related to procuring the EVs
Report on how much their fleet can reduce CO2 emissions and fuel consumption
Assessment of multiple electrification scenarios specific to their business
In addition, the EV Battery Degradation Tool compares battery degradation over time for different vehicle makes and model years provides last mile delivery fleets with the data they need to choose the right EV for their fleet.
Conclusion
Adapting to a continually changing operating landscape is a reality for many last mile delivery fleets. With a customer-first approach and a focus on innovation, last mile delivery fleets can rely on telematics and Geotab to provide the tools they need to quickly adapt to new and existing fleet challenges.
Would like more information about how Geotab can partner with your fleet to implement a fleet management solution that will empower your company and provide the necessary flexibility to meet challenges? Book a consultation with one of our industry experts.
---
If you liked this post, let us know!
---
Disclaimer
Geotab's blog posts are intended to provide information and encourage discussion on topics of interest to the telematics community at large. Geotab is not providing technical, professional or legal advice through these blog posts. While every effort has been made to ensure the information in this blog post is timely and accurate, errors and omissions may occur, and the information presented here may become out-of-date with the passage of time.
Get industry tips and insights
Sign up for monthly news and tips from our award-winning fleet management blog. You can unsubscribe at any time.
Republish this article for free
Other posts you might like