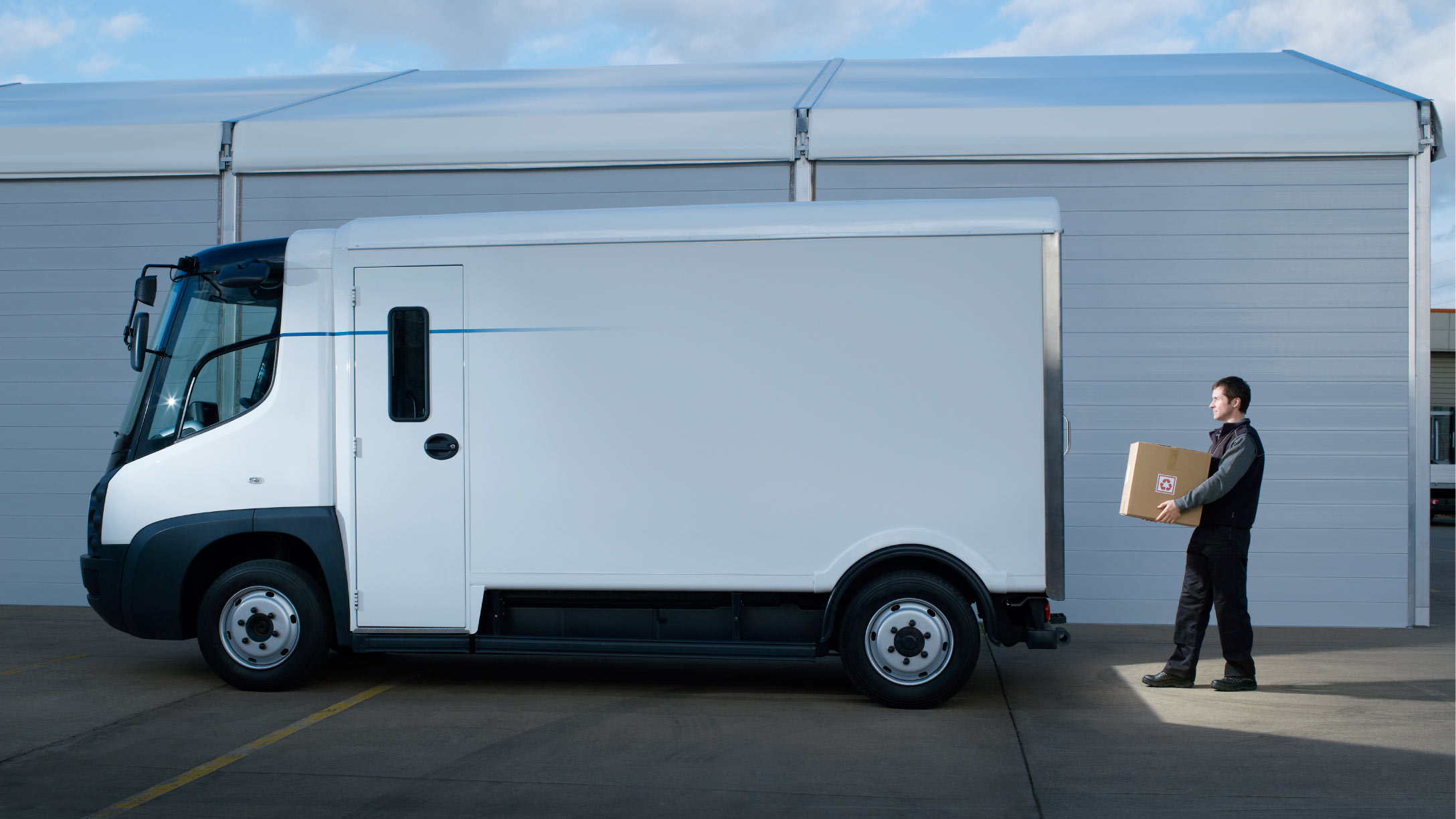 How last mile delivery fleets are customizing the Geotab solution
---
Learn how last mile delivery fleets are responding to increased demand.
For a long time now, consumers have been shopping online. The demand for online shopping only increased during the pandemic. Although some consumers have returned to in-store shopping, the e-commerce trend is predicted to grow in the long term. Today, in our post-pandemic world, a lot of businesses continue to function primarily online and are looking to expand their online consumer base. According to a report in Internet Retailing, 70.6% of consumers have stated that they are now less likely to shop in stores and prefer to shop online.

Last mile delivery fleets are relying now more than ever on their telematics implementation to not only meet the rising demand in a safe and cost-effective manner but to provide the agility to quickly respond to the changing operating landscape. There are a few ways that Geotab's last mile fleet customers are customizing our solution to their needs.
Identify risky driving with smart camera systems and AI
In an effort to increase fleet safety, some last mile fleets are installing video cameras with built-in artificial intelligence (AI) to capture risky events and increase fleet safety. Innovative solutions, such as Surfsight, offer technology like machine vision and artificial intelligence (MV+AI), combined with video telematics and driving data, to help reduce risky driving behavior.

Once the camera identifies a dangerous driving event, the camera sends video clips via a wireless connection to the cloud platform, providing accurate driver intelligence. With access to event clips, driver scoring and custom video requests, last mile fleet managers can better manage and assess driver risk and support driver coaching by pinpointing the high-risk drivers.
What events are these smart cameras able to detect?
Cabin-facing cameras automatically detect instances of distracted driving, such as:
Using a cell phone
Eating
Smoking
Seat belt use
Drowsiness

Forward-facing cameras capture events of reckless driving, such as:
Near collision and forward collision events
Tailgating
Harsh braking
Sharp cornering
Accelerating to run through a yellow light
Driving faster than the posted speed limit
In addition to allowing managers to focus on controlling, managing and assessing foreseeable risk, these camera systems also provide drivers with the ability to capture important moments with a single press of a button.
Statistics underline the need for a continued focus on safety. According to the U.S. Department of Transportation's National Highway Traffic Safety Administration's 2020 annual traffic crash data, 38,824 lives were lost in traffic crashes nationwide. In 45% of fatal crashes, the drivers of passenger vehicles were engaged in at least one of the following risky behaviors: speeding, alcohol impairment, or not wearing a seat belt. Distracted driving has overtaken drunk driving as the top crash contributor and typically 10% of drivers account for 40% of a fleet's claim costs. Taking these points into account, any company with a fleet – large or small – will benefit from having data that identifies which of their drivers needs training and at what level.
Sometimes in unionized fleets, adding a camera system that records drivers is difficult. However, our Geotab Marketplace Partners offer innovative camera solutions that are able to understand what is happening on the road and in the cab without ever recording the driver. With this type of system, drivers are not recorded but they can still be held responsible for their driving behavior.
Incorporate electric vehicles into your fleet with confidence
Last mile delivery fleets are in a prime position to reap the cost and operational benefits of fleet electrification because the duty cycles tend to be more conducive to meeting an EV's operational sweet spot. That is the point where the EV drives short enough distances in a single day to be well within the range of newer EV models, but drives enough annual mileage to benefit from lower energy costs compared to fuel – resulting in a lower total cost of ownership overall. Recognizing that every fleet's duty cycle is unique and the learning curve that comes with fleet electrification, Geotab's EV Suitability Assessment (EVSA) uses your fleet-specific data to help you pinpoint whether EVs are right for your last mile delivery fleet.
The EVSA analyzes a fleet's unique driving profiles and patterns to identify the fleet vehicles best suited for EV replacement. Get an in-depth analysis backed by the largest set of real-world EV performance data, including:
A tailored electrification blueprint based on the fleet's daily range requirements
Potential total cost of ownership savings and CO2 emissions reduction forecasts
Personalized recommendations for current and upcoming EV makes and models available in the local market
Predict and avoid battery failure with big data
With Geotab, last mile fleets have access to one of the largest organically grown vehicle data sets with which to mine for greater data insights to streamline their operations. These fleets have been getting creative with how they are working with Geotab's Data & Analytics Team.
Predictive maintenance
A vehicle failing to start in the middle of a delivery route can not only lead to unhappy customers with late arrivals but can also negatively impact a last mile delivery fleet's reputation. Delays and breakdowns can also cause costly issues such as:
Spoilage
Lost time
Delays in the supply chain
Towing
.
To help reduce this, last mile fleets need to replace a part before it fails, but replacing it too early is also costly. So how can these fleets better predict when a part will fail and replace it at the right time?

There are many variables that contribute to the failure of a component. The health of other vehicle components will impact the life cycle of a part, such as driving behavior, weather, and road conditions. There are often too many variables and complex patterns for a human to reliably predict failure. Because humans have trouble predicting failure, many companies rely on preventive maintenance based on common failure rates, however, this results in unnecessary maintenance time and cost on healthy parts.

This is where last mile fleets have been using the Geotab big data environment. Geotab aims to identify the precise time of failure as accurately as possible with the help of big data. This allows a fleet to delay maintenance until it is really necessary, saving time and cost. Geotab's predictive maintenance solution draws on a large volume and variety of data, from running and cranking voltage, to tire pressure and oil temperature, and engine system faults, to develop models which predict component failures.
Real-world application: predicting battery failure
With over 70,000 vehicles in their fleet, one of Geotab's customers was looking to improve their predictive maintenance schedules. To aid them in this goal, they partnered with Geotab's Data & Analytics team to use the Geotab big data environment to find a way to predict battery failure rates.

The customer's ultimate goal was to create a process to meet the goal of replacing batteries no more than three weeks prior to ultimate failure. Geotab began by analyzing the patterns in the voltage data from the customer's vehicles during the ignition process to determine specific signals that indicate the battery is getting close to failure. As variations occurred by vehicle type, each vehicle was evaluated and grouped with other vehicles with similar characteristics. Once that was done, Geotab was able to create an Electrical System Rating.
The Electrical System Rating, or ESR, is a rating that measures the status of a vehicle's electrical system on a scale from 0 to 100. It is calculated on a daily basis and provides a common rating system for all vehicle types, makes and models, engine and fuel types in a format that is easy for everyone to understand. Using this data, Geotab was able to forecast when a battery is near its failure point and automatically send a work order to the Customer's fleet team. With this information, the Customer was able to take the vehicle out of rotation at the right time and ensure battery failures do not result in a breakdown during the delivery cycle.
As a result:
Road calls and expenses were reduced by 12%
On-road battery replacements (premium priced) were reduced by 26%
Total battery replacement volume was reduced by 2.7%
Internal labor savings of 9% led by reductions in diagnostic labor tasks and battery replacement labor.
Confirm vehicle sanitization through Geotab Drive
Last mile delivery fleets are using Geotab Drive as part of their new sanitization protocols. Add sanitization to your post-trip inspection checklist and consider adding a section that covers vehicle clean-up at the end of a trip. When vehicles are shared among drivers, disinfecting and sanitizing becomes even more important.

As part of the protocol, delivery vehicles are sanitized after every shift in high-touch areas to keep drivers healthy. Once cleaning is complete, the driver will display a "this vehicle has been sanitized" tag in the vehicle and it will become part of the after-shift or post-trip inspection log. This creates a series of checks and balances. The next driver can be assured that the vehicle he/she is using has been sanitized.

Telematics can help last mile fleets adapt and innovate
Adapting to a continually changing operating landscape is a reality for many last mile delivery fleets. With a customer-first approach and a focus on innovation, last mile delivery fleets can rely on Geotab telematics to provide the tools they need to quickly adapt to new and existing fleet challenges.

We would love to partner with you to review how Geotab telematics and data can help empower you and your company to meet today's and tomorrow's challenges! If you would like more information, please book a consultation with one of our industry experts today!
---
If you liked this post, let us know!
---
Disclaimer
Geotab's blog posts are intended to provide information and encourage discussion on topics of interest to the telematics community at large. Geotab is not providing technical, professional or legal advice through these blog posts. While every effort has been made to ensure the information in this blog post is timely and accurate, errors and omissions may occur, and the information presented here may become out-of-date with the passage of time.
Get industry tips and insights
Sign up for monthly news and tips from our award-winning fleet management blog. You can unsubscribe at any time.
Republish this article for free
Other posts you might like