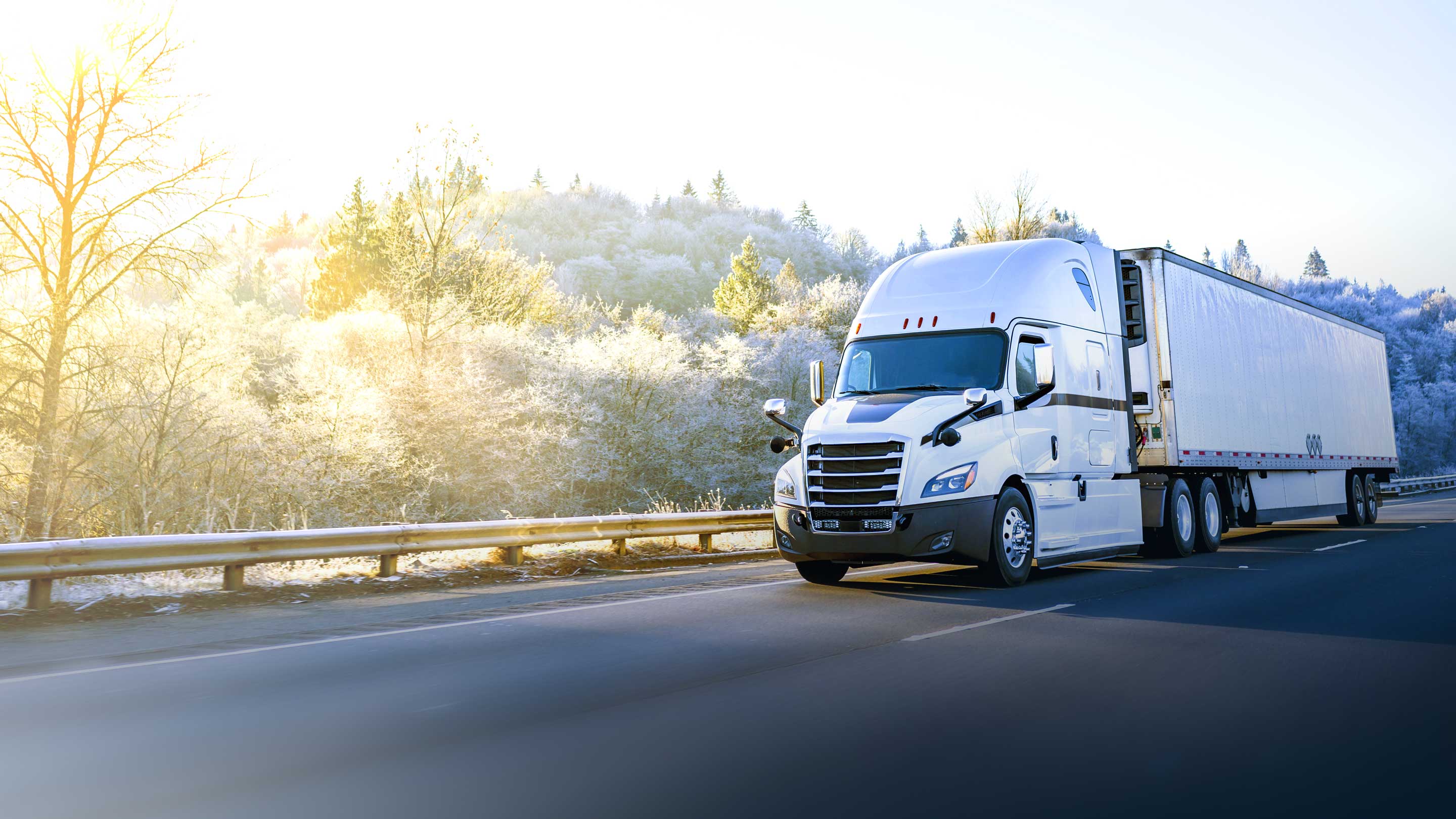 DOT compliance management solutions for fleets
Simplify fleet and driver compliance to regulations with Geotab DOT compliance solutions.
Easily manage federal DOT compliance for your fleet
These inspections are about more than just ticking boxes. DOT compliance is about bolstering safety, protecting profits, and streamlining operations for your fleet. Geotab is committed to helping you follow Department of Transportation (DOT) rules and regulations, while avoiding violations. Navigate this ever-changing landscape with FMCSA compliance software that helps you adhere to Government requirements by:
Addressing ELD, DVIR, and HOS
Automating audits and processes
Keeping you FMCSA compliant
Improving CSA scores across the board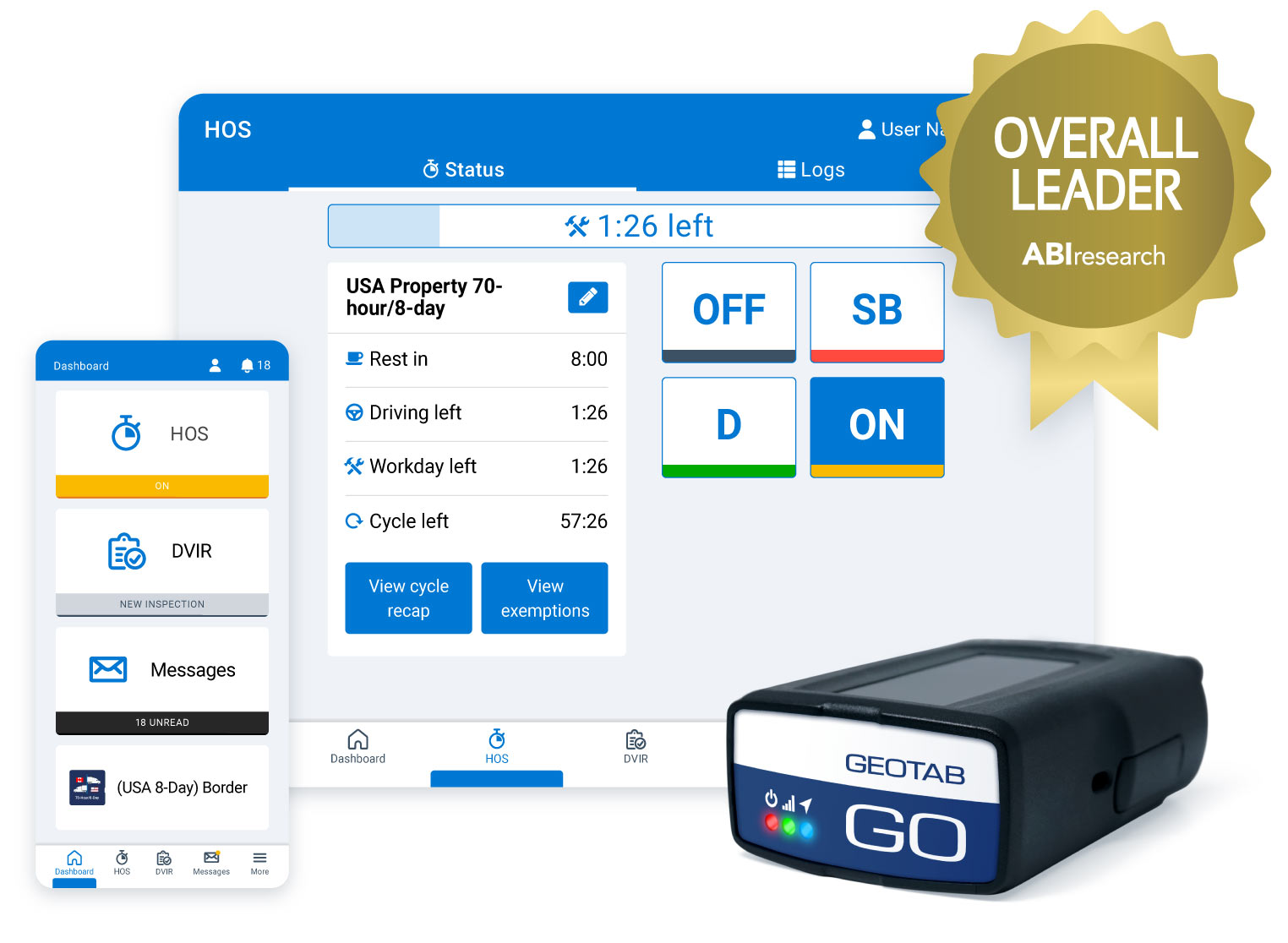 ---
More than Compliance
Compliance management, made easy
We're designed for heavy fleets. WIth over 200 software and system integrations — including tailored add-ins for DOT compliance — we can help you manage compliance by streamlining and automating tasks for every driver and manager. Monitor, assess, and align with regulations across a spectrum of systems. Take the hassle out of compliance with efficiency and simplicity.
DOT & Transport Compliance
Easily address FMCSA, DOT, and transport MTO rules with a robust solution for Canada and the U.S. Whether you're transporting goods across borders or managing a local fleet, our management software makes it intuitive to stay compliant while maintaining — or even enhancing — your CSA score.
Easy driver compliance for enhanced safety
Prioritize safety and compliance with ease. Our simplified solution helps drivers meet compliance requirements and reduce HOS, DVIR, and IFTA violations. Plus, an intuitive interface makes it easy for managers and drivers to improve compliance and safety through automated, real-time alerts and reporting tools.
Maintain fleet compliance, increase ROI
Safety is important for drivers, assets and the general public. But why compromise on ROI? Our solution offers the best of both worlds, helping you maintain fleet compliance for both Transport Canada and DOT. Industry-leading reliability and minimal failure rates help provide fleets with value on every dollar spent. Automated processes mean cost savings and increased efficiency. Comprehensive analytics and reporting tools keep your fleet ahead of the competition.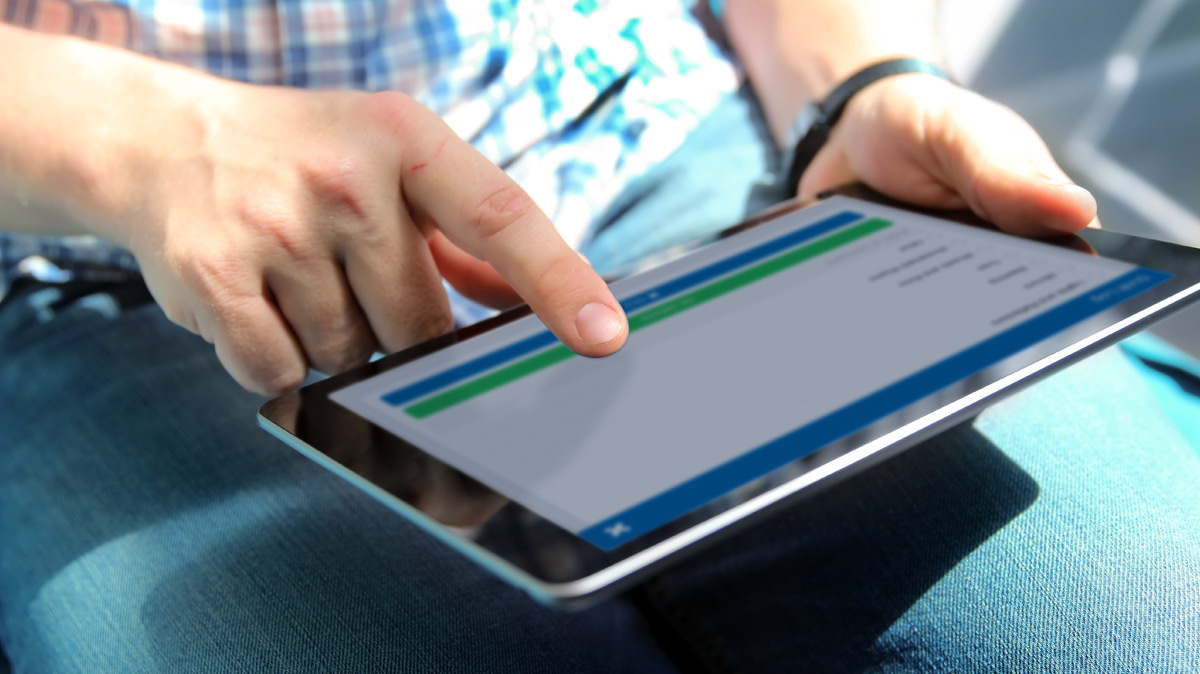 ELD compliance
Make compliance easier for you and your drivers. Our FMCSA-certified ELD automates data collection and provides step-by-step workflows with pop-up reminders to minimize violations. Dashboard reports on driver status and real-time alerts keep you in the know.
---
DVIR compliance
Help drivers become compliant with Driver Vehicle Inspection Reporting (DVIR) software right from their smartphone or tablet. Driver compliance management has never been easier.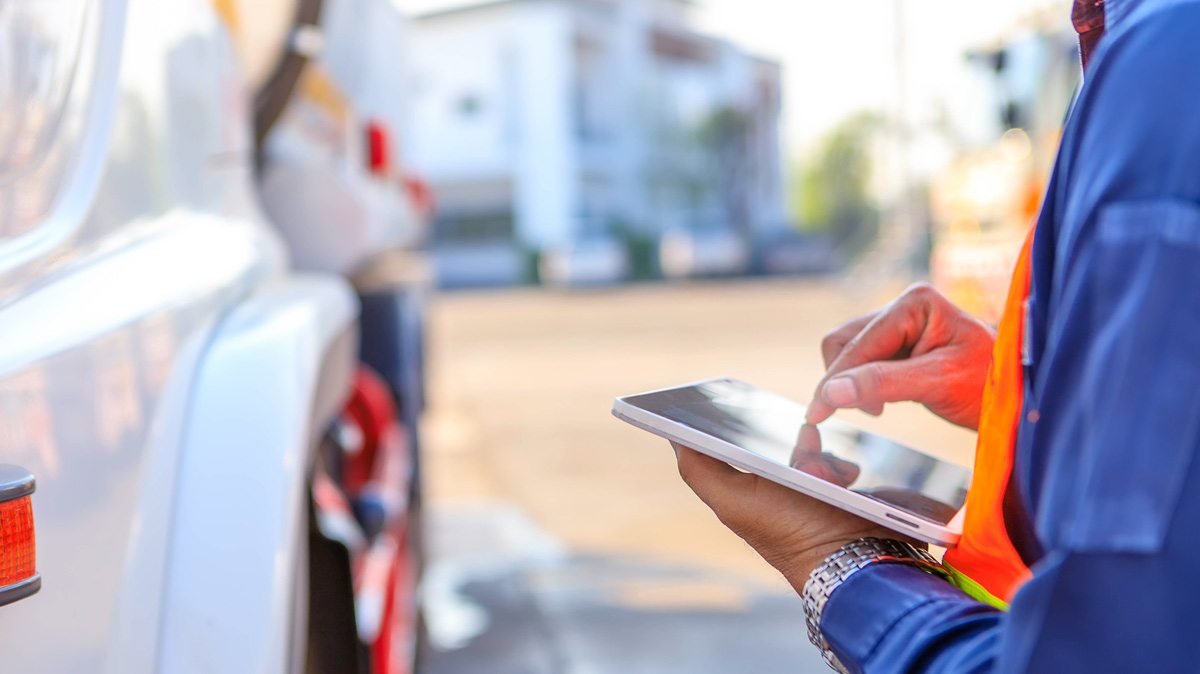 ---
See what our customers are saying about our compliance solutions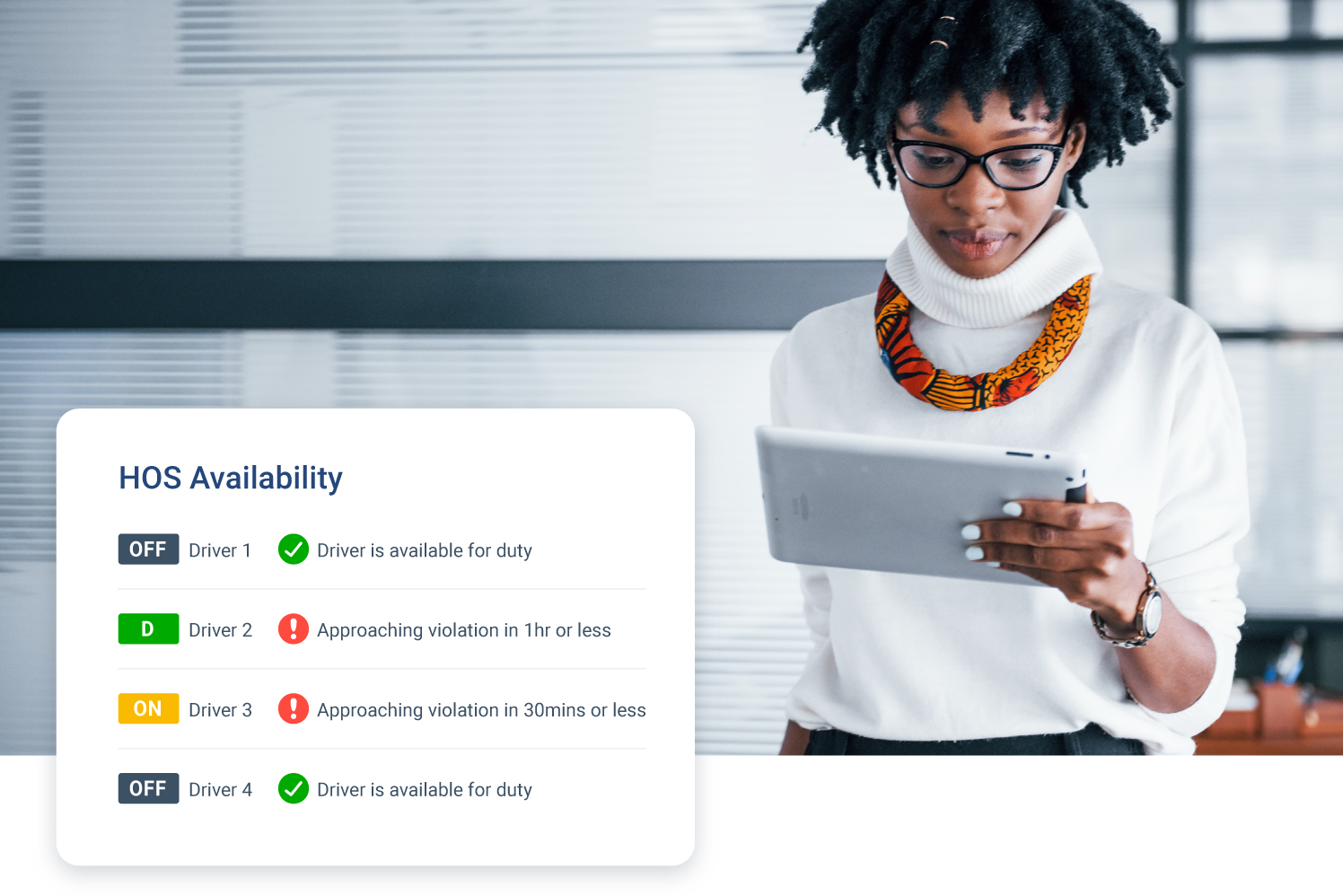 HOS compliance
Our HOS compliance software helps keep fleets safe while supporting cross-border compliance. You can track all HOS reporting to reduce violations and automatically log hours service.
---
IFTA compliance
Streamline IFTA compliance with automated reporting from telematics. Track miles by state or province for each vehicle and get accurate entry and exit odometer readings.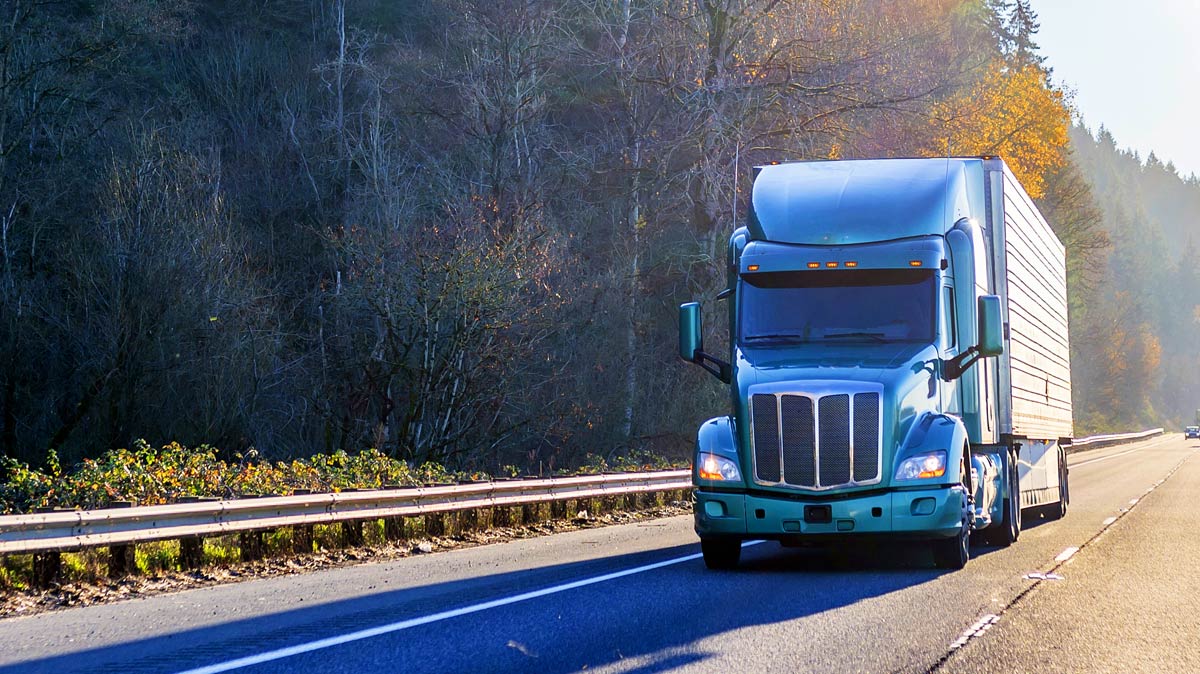 ---
Compliance solutions from Geotab Marketplace
Fleet compliance blog resources
Fleet compliance is a vital part of your operation. The right tools can help you simplify the process with clear HOS visibility, cross-border solutions and easy vehicle inspections. Check out our resources.
---
Commonly asked fleet compliance questions
What is fleet compliance?
Fleet compliance means meeting or surpassing compliance obligations and staying current with Federal Motor Carrier Safety Administration (FMCSA) and Department of Transportation (DOT) government rules and regulations. This includes electronic logging device mandate (ELD) compliance, Driver Vehicle Inspection Report (DVIR), and Hours of Service (HOS). Fleet compliance affects millions of commercial drivers throughout North America.
How can I achieve and maintain fleet compliance with Geotab?
Geotab's compliance management solution allows you to meet and maintain DOT compliance. Our compliance solution consists of ELD which ensures compliance for Hours of Service (HOS), Driver Vehicle Inspection Reporting (DVIR), and driver identification. Geotab's electronic logging solution is self-certified and FMCSA registered.
Can Geotab help my fleet become DOT compliant?
Yes! Strengthen DOT compliance, safety and more. Our DOT compliance solutions can help you meet your regulatory obligations and maintain, or improve, your compliance safety accountability.
How can my fleet maintain DOT compliance?
In order to maintain DOT compliance, you will need to keep a current copy of FMCSA rules at all times. This includes inspecting all vehicles before and after each trip and keeping track of your findings. You should also begin a routine vehicle maintenance program and keep track of all activities. Ensure all vehicles are marked with their official DOT registration number.
How can I make fleet compliance easier with Geotab?
Geotab streamlines fleet compliance with compliance management software. This includes compliance management for ELD, HOS, DVIR and IFTA.
When does my fleet need to be fully compliant?
Now. Fleet compliance needs to be constant and ongoing as it pertains to DOT and FMCSA rules and regulations. For example, is Hours of Service (HOS) is one of the more important DOT regulations. The final HOS rule was put in place in December 2011. For the electronic logging device (ELD) mandate, the US regulation went into effect in December 2017. Commercial Motor Vehicle drivers are required to use Electronic logging devices and to track track Hours of service. If you are found in violation of HOS rules or the ELD mandate, you run the risk of negatively impacting your carrier's safety score or being forced out of service.
What can I do to ensure my fleet is compliant?
Fleet operators should look to create robust fleet compliance procedures, which include the following elements:

• Create a fleet safety management programme that includes daily driver vehicle checks and new vehicle safety checks. Streamline this process and support your staff by electronically recording this data to minimise paperwork and administration errors, and enable end-to-end vehicle inspection workflows and defect resolution.
• Develop a predictive maintenance schedule that improves overall fleet uptime, vehicle safety and compliance. Use fleet maintenance software to schedule automated maintenance reminders, approve repair requests in real-time, and have access to an end-to-end record of all defects and how they were resolved.
• Keep a record of your drivers' training and education needs to ensure that staff are fit and competent to drive.
• Use duty of care fleet compliance solutions to back up your management policies and procedures that protect the health and safety of your employees and the reputation of your company.
• Keep abreast of the development of the cities that are establishing clean air zones (CAZ), low emission zones (LEZ) and ultra-low emission zones (ULEZ), and ensure that the vehicles you operate in these zones comply with their requirements.
How does fleet management software support compliance?
Geotab's robust suite of fleet management solutions can help to support compliance across all areas of fleet operations:

• Geotab's driver tracking solutions identify driver training and education needs to ensure that staff are fit and competent to drive. They can also assist in incentivizing drivers to improve their driving, reduce collision rates and incidents of aggressive driving, and improve accident investigations.
• Geotab's duty of care fleet compliance solutions support your management policies and procedures to protect the health and safety of your employees and the reputation of your company.
• Geotab Drive defect reporting app enables drivers to electronically record their pre- and post-trip driver vehicle inspection reports, and managers to complete their safety inspections, without creating mountains of paperwork.
• MyGeotab's fleet maintenance software helps you to prioritise safety on the road and extend the life of your vehicles by preemptively identifying engine issues, helping you to switch from a reactive to a proactive maintenance programme.
• Geotab's open platform telematics solution provides you with the tools to run your fleet in a safe and secure manner, while remaining compliant with data protection regulations (GDPR), protecting sensitive information about your fleet operations and drivers.
• Geotab tachograph makes compliance with drivers' hours rules and tachograph regulations easier by offering driver identification, real-time tacho status, remote download and analysis. With automatic remote downloading, all information is updated in real-time, eliminating the need for either the truck or the driver to be present.
Streamline fleet compliance today
Learn more about how simple it is to use our web-based software and fleet management devices to improve fleet compliance.