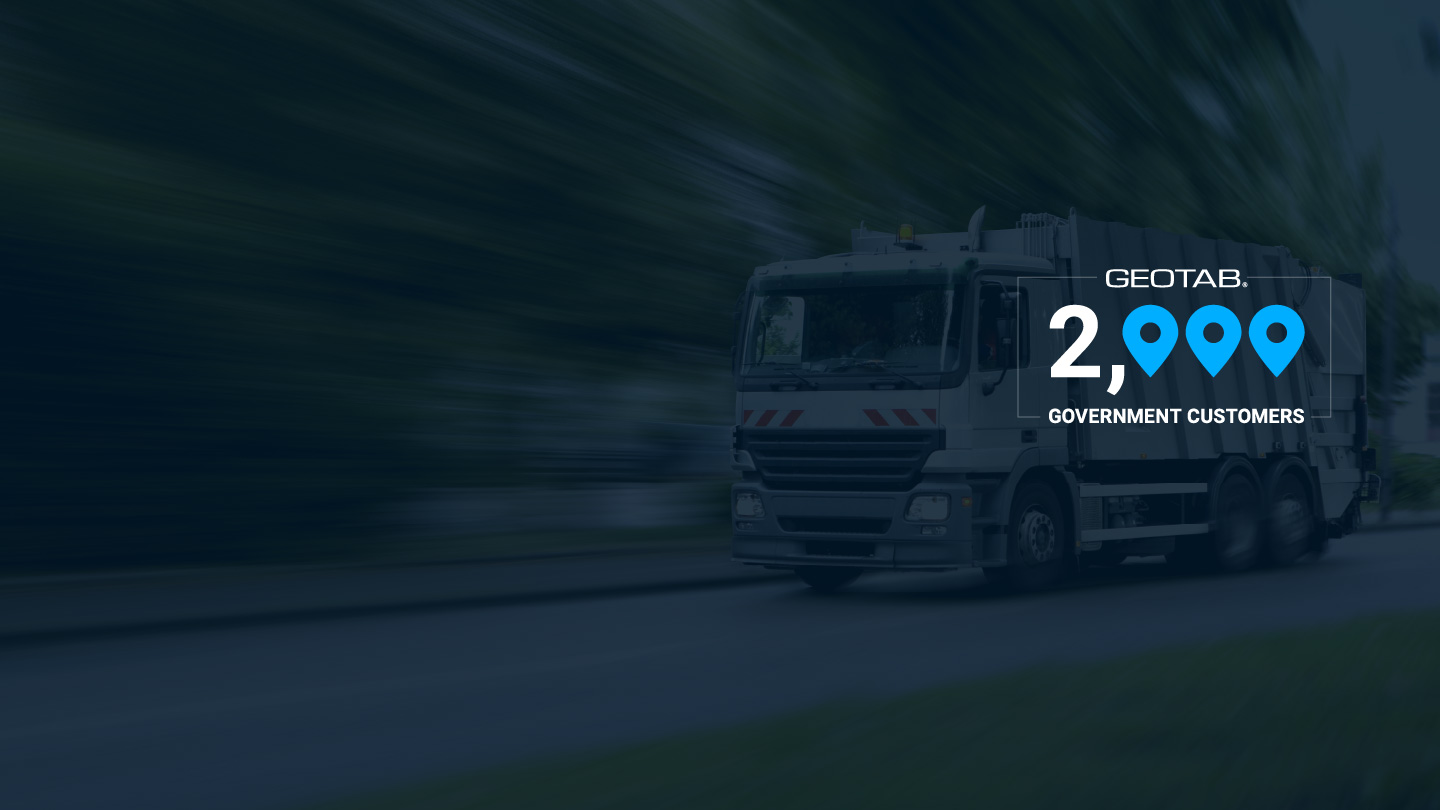 Geotab solidifies position as top telematics provider for government agencies across North America
Published on April 27, 2021
---
Company surpasses 2,000 government customers, connecting over 250,000 government vehicles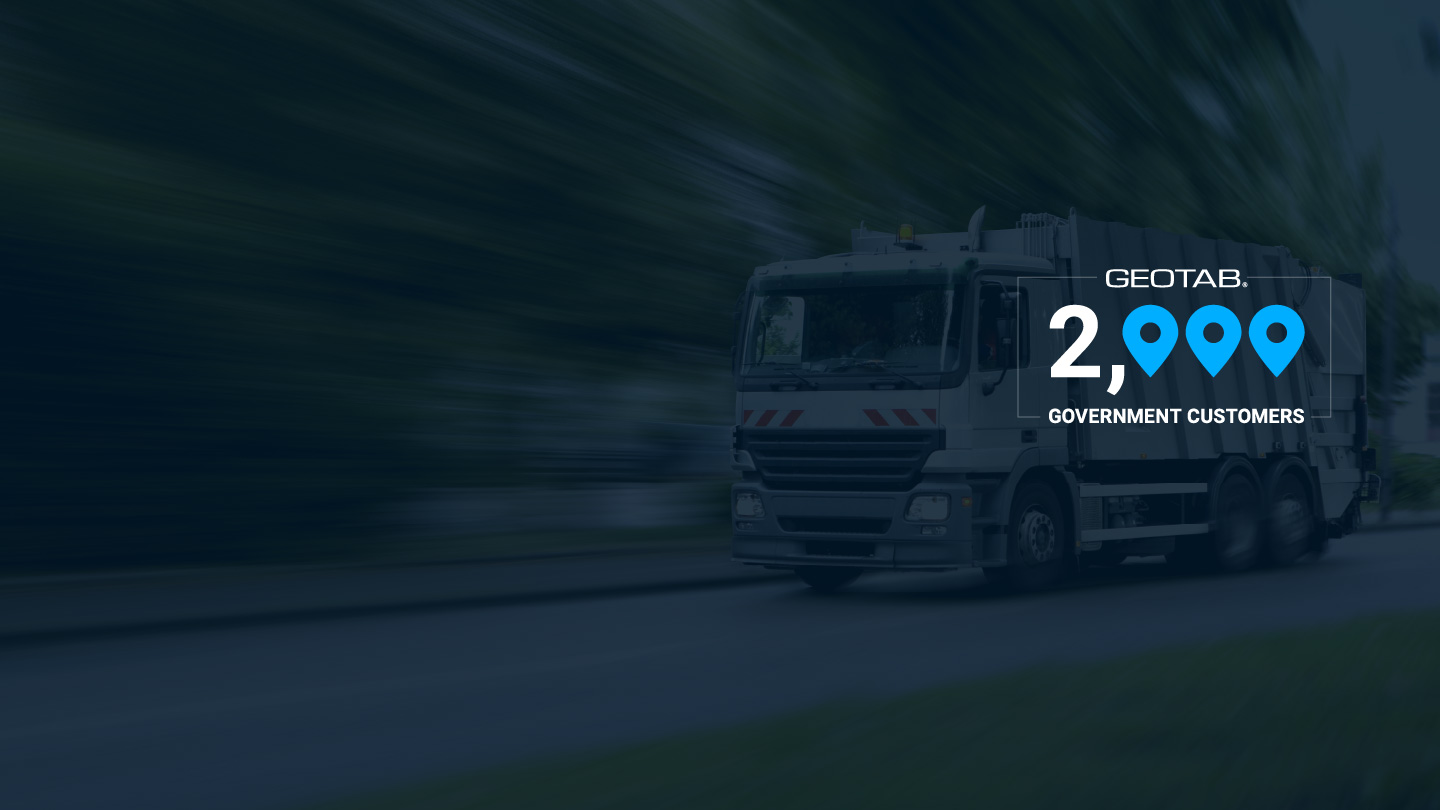 Toronto, ON – April 27, 2021 – As Government agencies and departments across the world continue to turn to telematics to better serve their local constituents and achieve greater sustainability goals, Geotab—a global leader in IoT and connected transportation—today reported that the company surpassed 2,000 government customers. From small municipal fleets to the largest, most diverse state and federal fleets, these government agencies are made up of a combined 250,000 vehicles using a range of Geotab telematics solutions to improve overall operating efficiency, reduce traffic related injuries and fatalities, streamline public services, and reduce harmful environmental impacts.
As the ongoing pandemic continues to rewire our transportation networks and communities, Government agencies are facing new challenges to traditional operations. Government fleets are being used in new ways to respond to public safety challenges and adapt to widespread changes in population densities. Geotab is helping to address these challenges with innovative extensible solutions for government fleets of every size and function. For example, Geotab's Active Tracking solution gives unprecedented situational awareness to first responder fleets while Geotab's Public Works solution allows public service fleet managers to seamlessly monitor winter street clearing efforts, street cleaning operations and waste collection performance and level of service. As government fleet managers strive to right-size their fleet and streamline operations, Geotab's Keyless solution provides remote vehicle access and management tools to help increase utilization and reduce costs.
"As Government agencies and departments continue to adapt to a rapidly changing world, telematics is a critical technology that can be used to characterize existing operations, expose inherent inefficiencies within them, and implement the necessary changes to better service the public", said Jean Pilon-Bignell, Vice President of Business Development, Government and Smart Cities at Geotab. "Geotab's growing list of government customers across North America and the world is a testament to our unique ability to partner with Government agencies through this digital transformation and help them not only achieve their agency objectives but also unlock new and innovative public services that improve our collective quality of life."
Geotab's proven track record with government agencies ranges from providing fleet management solutions to the U.S. General Services Administration's GSA Fleet's Program to working with the City of Seattle to help meet its goals of cutting carbon emissions by 50 percent by 2025 and being fossil fuel free by 2030.
Pilon-Bignell continued, "Our ability to successfully capture, measure and analyze crucial fleet data with unparalleled granularity—coupled with our continued focus on developing advanced and secured integrations to meet the growing and changing needs of fleet managers—not only sets Geotab apart from the competition but it enables us to improve the communities that we live in. We are extremely proud of the work that we have done in helping our government customers become cleaner, safer and more efficient, and we look forward to growing this list of customers moving forward."
Geotab's standing reputation as the chosen solution provider for all levels of government across North America includes achieving Federal Risk and Authorization Management Program (FedRAMP) authorization for its cloud-based telematics platform, which validates the company's ability to meet stringent encryption requirements set forth by the U.S. federal government and enables Geotab to offer its fleet management products and services to the GSA and other federal, state and local government agencies. Ensuring rigorous security measures that meet industry best cybersecurity practices, Geotab also achieved ISO 27001 certification in 2020, and was the first telematics company to achieve FIPS 140-2 validation for its cryptographic library in February 2019.
Additional information on Geotab's array of government solutions as well as its work with government organizations, including specific case studies can be found here.
Post Tags
---
Media Contact
Hanna Corrente
Manager, Strategic Communications & Public Affairs
pr@geotab.com
About Geotab
Geotab is a global leader in connected transportation solutions. We provide telematics — vehicle and asset tracking — solutions to over 47,000 customers in 150 countries. For more than 20 years, we have invested in ground-breaking data research and innovation to enable partners and customers, including Fortune 500 and public sector organizations, to transform their fleets and operations. We connect to over 3.5 million vehicles and process more than 55 billion data points a day so that customers can make better decisions, increase productivity, have safer fleets, and achieve their sustainability goals. Geotab's open platform and Marketplace, offers hundreds of third-party solution options. Backed by a team of industry leading data scientists and AI experts, Geotab is unlocking the power of data to understand real-time and predictive analytics — solving for today's challenges and tomorrow's world. To learn more, visit www.geotab.com, follow @GEOTAB on Twitter and LinkedIn or visit the Geotab Blog.