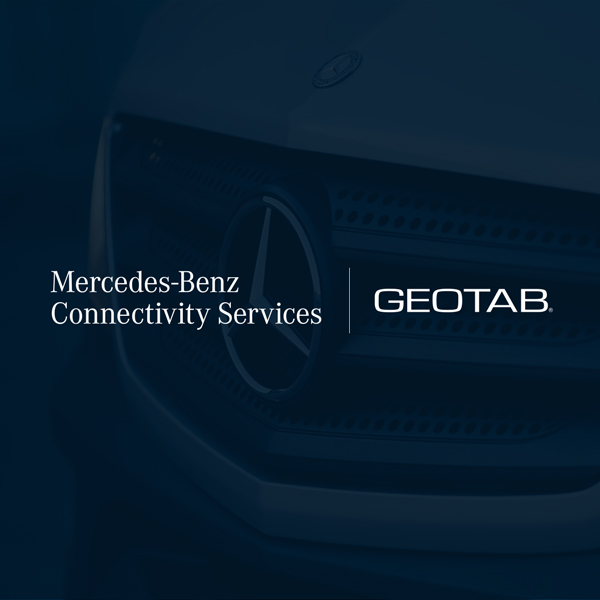 Geotab and Mercedes-Benz Connectivity Services come together to help fleet customers make faster decisions with new integrated telematics offering
Published on October 15, 2020
---
New solution supports improved fleet management by seamlessly incorporating vehicle data from Mercedes-Benz vehicles and vans into MyGeotab platform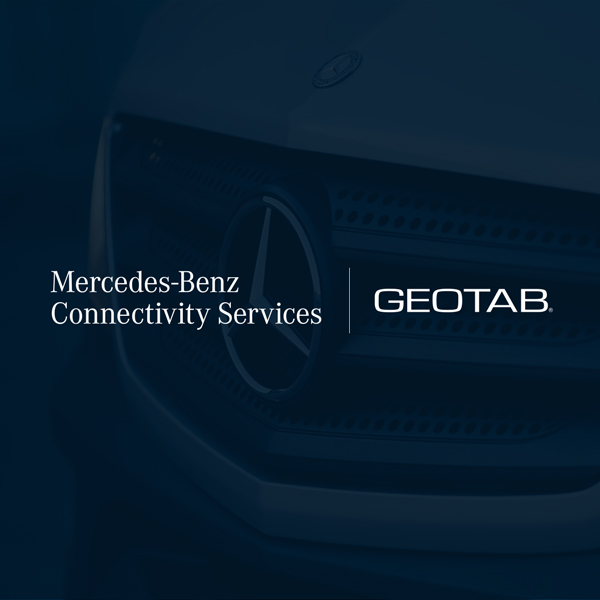 London, UK - October 15, 2020 - Underscoring its continued commitment to innovation and delivering turnkey telematics solutions, Geotab, a global leader in IoT and connected transportation, today announced the availability of the Geotab and Mercedes-Benz Connectivity Services integrated solution. Launched at the company's third annual Geotab Mobility Connect conference, this new OEM telematics program is available to order for Mercedes-Benz passenger vehicles and vans across 20 countries in Europe, including France, Germany, Italy, Spain and the United Kingdom*.
This combined product offering enables Geotab and Mercedes-Benz customers to take advantage of the Geotab platform without the need for additional hardware or after-market installations, helping to provide fleet managers with peace of mind knowing that their fleets can be readily equipped with the latest telematics advancements. Designed to help foster faster, more informed decision-making for fleets, this integration solution seamlessly transmits key vehicle data points and relevant fleet indicators from Mercedes-Benz vehicles to MyGeotab, Geotab's open and expandable fleet management platform. The joint solution can provide rich OEM data, including OEM-specific warnings that can help enable fleets to keep their vehicles moving and generate revenue.
"Like Geotab, Mercedes-Benz Connectivity Services understands not only how important data is for successful fleet management, but the importance of being able to seamlessly integrate and analyse this valuable data so that organisations have access to truly actionable insights -- to help support sustainability, safety and productivity improvements," Edward Kulperger, Senior Vice President, Geotab Europe. "We are proud to be the first global telematics partner of Mercedes-Benz Connectivity Services and know that by integrating our core competencies with Mercedes-Benz connected vehicles, businesses large and small will greatly benefit by being able make better-informed, data-driven decisions to better run their fleet operations all within one common platform."
The Geotab and Mercedes-Benz Connectivity Services integrated solution☨ enables fleet managers to have a single view of their entire fleet to help better analyse fleet-generated data, which can be used to reduce fleet costs, increase productivity and efficiency, improve safety and sustainability and strengthen compliance. The solution provides users with access to powerful MyGeotab tools such as activity reports, trip history, GPS tracking, fuel consumption, engine system information and more. In addition, fleet managers will have the opportunity to access the Geotab Marketplace, a portfolio of mobile apps, hardware Add-Ons and software Add-Ins that enable Geotab customers to further customise their fleet management solution.
"We are pleased to be working directly with Mercedes-Benz Connectivity Services, a renowned automotive brand at the forefront of providing premier connected fleet options to organisations across Europe," said Neil Cawse, CEO, Geotab. "This collaboration is aligned with Geotab's long-standing commitment to further advancing the global adoption of best-in-breed telematics solutions by partnering with global OEMs who believe in the power that data can provide to customers. Both Geotab and Mercedes-Benz Connectivity Services are committing to a long-term partnership, which will include collaboration on global trends such as electric vehicles and fleet sharing."
Learn more about the Geotab and Mercedes-Benz Connectivity Services integrated solution here.
*The Geotab and Mercedes-Benz Connectivity Services Integrated Solution is available in the following countries: Austria, Belgium, Czech Republic, Denmark, Finland, France, Germany, Greece, Hungary, Ireland, Italy, Netherlands, Norway, Poland, Portugal, Romania, Spain, Sweden, Switzerland and the United Kingdom. Furthermore, this program will soon be available in other countries and regions including the Americas.
☨Data protection is always given the highest priority. GDPR-compliant processing of the vehicle data is incorporated into the solution by, among other things, certain control mechanisms and measures that are carried out on both sides by Geotab and Mercedes-Benz Connectivity Services. The fleet customer always retains control of their own data.
About Mercedes-Benz Connectivity Services
As a multi-brand connectivity and data service provider, Mercedes-Benz Connectivity Services GmbH drives digitalisation in the automotive industry while providing innovative data-based product solutions. Commercial customers can purchase vehicle-specific and vehicle-related services and data to optimise their fleets or to design new products and business models. Car and Van fleet operators are just as much a part of the customers as their service providers, car rental companies, leasing companies and insurance companies, as well as neutral servers, app and software developers. Mercedes-Benz Connectivity Services GmbH is part of Mercedes-Benz AG group.
Post Tags
---
Media Contact
Hanna Corrente
Manager, Strategic Communications & Public Affairs
pr@geotab.com
About Geotab
Geotab is a global leader in connected transportation solutions. We provide telematics — vehicle and asset tracking — solutions to over 50,000 customers in 160 countries. For more than 20 years, we have invested in ground-breaking data research and innovation to enable partners and customers, including Fortune 500 and public sector organizations, to transform their fleets and operations. With over 4 million subscriptions and processing more than 75 billion data points a day, we help customers make better decisions, increase productivity, have safer fleets, and achieve their sustainability goals. Geotab's open platform and Marketplace, offers hundreds of third-party solution options. Backed by a team of industry leading data scientists and AI experts, Geotab is unlocking the power of data to understand real-time and predictive analytics — solving for today's challenges and tomorrow's world. To learn more, visit www.geotab.com, follow @GEOTAB on Twitter and LinkedIn or visit the Geotab Blog.