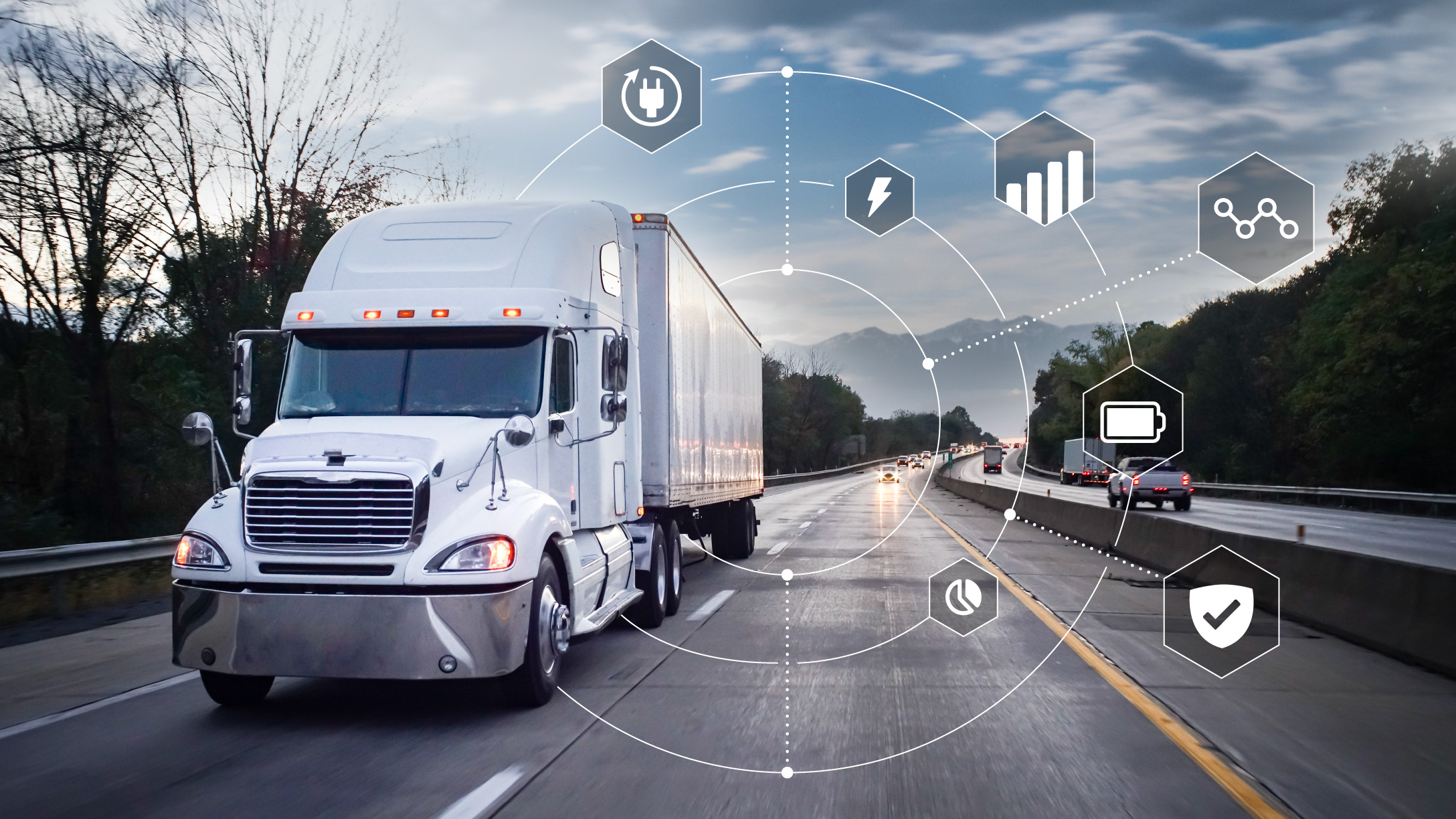 How smart trailers and telematics can help you out-smart the bad guys
---
Theft of tractor-trailers increased 29.3% from 2019 to 2020. But smart trailer technology is helping fleets fight back. And when combined with a powerful telematics platform, your fleet management skills will be miles ahead of the crooks.
What is a smart trailer?
Essentially, a smart trailer gives you data about itself and its cargo. Sensors attached to the trailer send location, status and availability information to drivers for immediate action — or simultaneously to fleet managers to make better operational decisions.
One advantage of these smart trailers is asset recovery from theft, which is a $15 to $35 billion dollar problem. And while fleets want solutions to help with this type of recovery, they also want a solution that can elevate their operations.

When you layer smart trailer technology with telematics, you can do just that — and get a better return on your investment.
4 benefits of smart trailer technology
As a fleet manager, you want to understand how new technology can support your business. Here are four specific benefits that smart trailers can bring to your fleet and how the convergence with telematics promotes better overall fleet management.
1. Scrap the crooks and track your assets
Location data from smart trailers gives you peace of mind; if someone steals your trailer, there's a better chance you'll get it back.
And with the right telematics solution, you'll have a powerful combination of asset recovery capability and theft prevention. You can set notifications if a trailer moves outside a predefined location and have door sensors alert you the moment a door is opened. You'll not only know if a trailer is stolen, but you'll be notified of a real-time attempt.
And location data goes beyond theft prevention. It can support a proactive maintenance schedule that improves road safety by determining issues like flat tires and dead batteries, which means more convenience for drivers and safer roads for everyone.
2. Create a safer environment for everyone
With many violations resulting from brake, light and tire issues, smart trailers alert you to issues before they occur, to help you proactively maintain your fleet. This helps prevent fines and unplanned downtime for your trailer.
Good maintenance programs lead to better road safety. Any catastrophic failure jeopardizes your drivers, other people on the road and — ultimately — your fleet's reputation.
By staying on top of your trailer status, you can keep your assets road-ready and safe.
3. Become awesomely efficient
As a fleet manager, you want to get the most from your investments. Whether it's vehicles, trailers, technology or people. You want the right things — or people — doing the right job.
With smart trailers, you can get the most appropriate trailers to meet your objectives. Since 20% of trailers sit idle at any given time, load volume sensors share load capacity information so you can maximize efficiency and revenue.
Later in this post, we'll show you how to conduct a quick and easy calculation that tells you if you're using your assets most efficiently.
When you're able to match loads with the right trailers and stay on top of maintenance issues to keep your fleets moving to avoid costly downtime and keep your customers happy.
4. Deliver on driver and customer satisfaction
Technology has literally put the power of experience in the customers' hands. Things like accurate billing, real-time notifications and faster dispatch help fleets deliver on their brand promise.
Customers expect an effortless experience — and smart trailers help provide it.
Information about load position, delivery status and proof of delivery help shippers, customers and brokers keep communication open. As a fleet manager, you're also made aware of any issues so you can immediately follow up with customers and set expectations.
You can also prep trailers more efficiently for pick-up so drivers don't have to search for appropriate trailers or don't run into unexpected maintenance problems. Instead, they'll spend their time earning income on the road, which is what they really want.
Don't wait… elevate your fleet management skills with smart trailers and telematics
As mentioned earlier, there's a simple way to calculate if your fleet is using assets most efficiently. This type of analysis can help you:
Plan trailer capacity for seasonal peaks
Determine the optimal balance between owned and leased trailers
Avoid purchasing new trailers or justify new trailers when needed
When you centralize data from smart trailers inside your telematics solution, you can improve your entire operation and introduce efficiencies with valuable insights about your business and your cargo.
Learn more about our asset tracking capabilities and how telematics play a big role in the smart trailers of the future.
---
If you liked this post, let us know!
---
Disclaimer
Geotab's blog posts are intended to provide information and encourage discussion on topics of interest to the telematics community at large. Geotab is not providing technical, professional or legal advice through these blog posts. While every effort has been made to ensure the information in this blog post is timely and accurate, errors and omissions may occur, and the information presented here may become out-of-date with the passage of time.
Get industry tips and insights
Sign up for monthly news and tips from our award-winning fleet management blog. You can unsubscribe at any time.
Republish this article for free
Other posts you might like