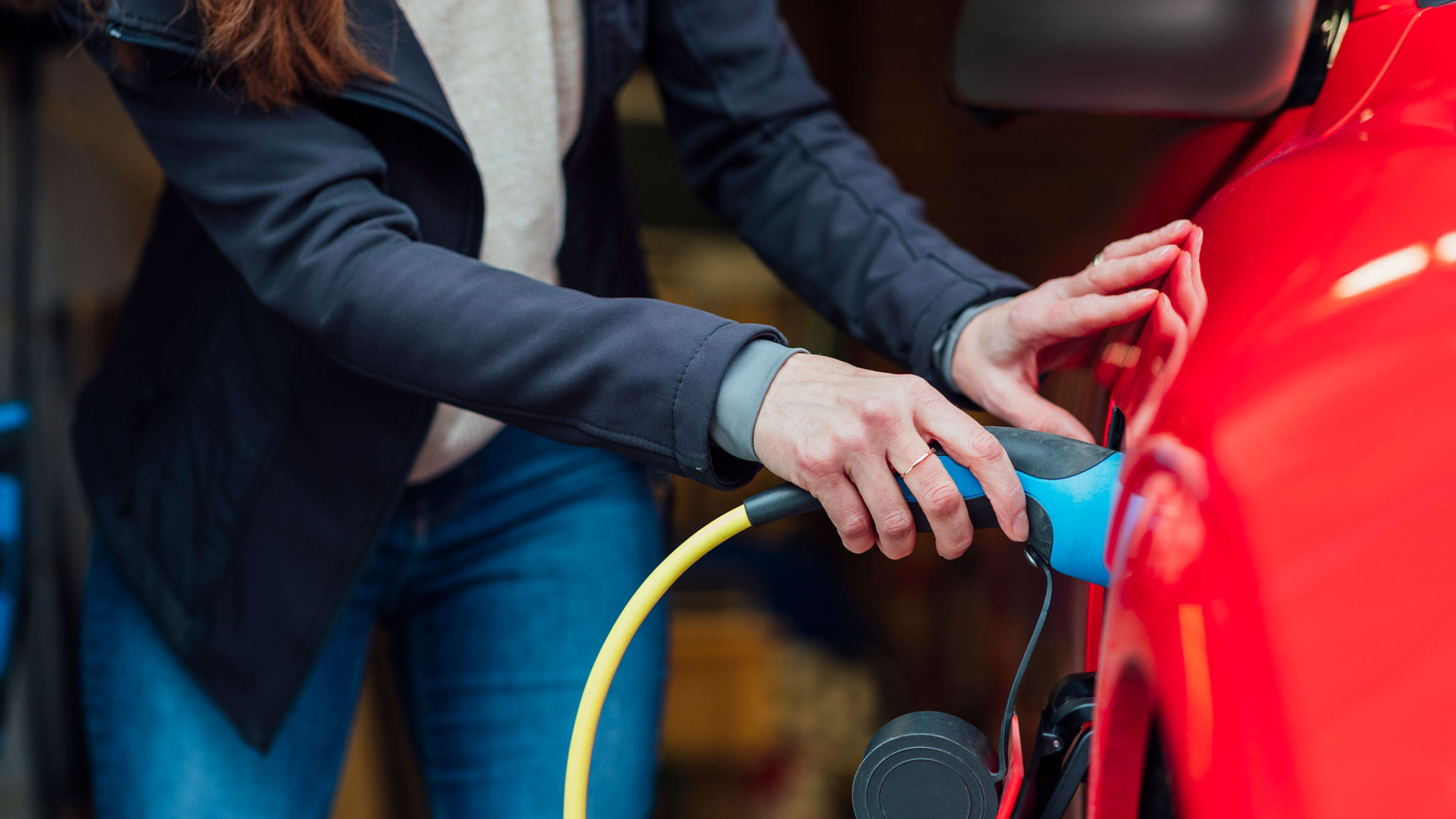 Charging EVs at home: Key considerations for fleets
---
Here are some things to consider before creating an EV policy for your employees.
Many employers offer take-home vehicles or company cars for their employees, to use for personal and business travel. If your fleet, like so many others, is electrifying, you'll likely need to introduce a policy for if and how take-home EVs are charged and reimbursed.
The right policy will be unique to your own fleet and circumstances, but here we will outline some considerations for introducing an employee home-charging program.
Allowing charging at home
The first question to ask when introducing EVs into your company car program is: Will you allow employees to charge vehicles at home? The probable answer here is: yes! The best and most convenient time and place to charge an EV is where they park overnight.
Having a home charging policy for employees who take fleet vehicles home can save both time and money. Here are several more advantages to charging EVs at home:
Saves unnecessary trips back to the fleet yard
Decreases reliance on public charging
Ensures vehicles are charged for the following day
Takes advantage of low overnight residential electricity rates
Reduces need for infrastructure investments at the fleet facilities
Setting up home charging
So you've decided to allow employee charging at home. Now what? First, consider that your employees will not all have the same housing set-up with ready-access to a place to plug in. Some drivers may be able to simply plug into an existing outlet, whereas others may require approval from a landlord, a resolution from condo or strata members, and/or pricey electrical upgrades. Asking the following questions of your drivers will help to determine how easy or complex it will be to set up charging at home.
Questions to ask employees about EV charging
Do you have access to off-street parking (such as a garage or driveway)?
In situations where the employee's only parking choice is on shared residential streets, home charging isn't likely feasible, and alternative charging options will be needed such as at the fleet facilities or public stations.
Do you own your home?
Renters may need to obtain permission from their landlord to make their home EV-ready.
Do you live in a detached home or a multi-unit dwelling?
If they live in a multi-unit apartment or condominium complex, employees will likely need to obtain approval from the strata/condo members, which if an EV policy hasn't already been established, can be a long and complex process.
Is there sufficient electrical capacity?
Getting an electrical assessment will help determine whether electrical upgrades are needed. In some cases, the most practical and cost-effective solution may be utilizing an existing low powered outlet.
Cost reimbursement for infrastructure
For employees who don't already have home charging, the company will need to be clear on what costs they will cover to set up the required charging infrastructure. Costs associated with home charging infrastructure can include electrical work, labor and associated permits, charging station hardware and in some cases charging network fees.
As home configurations can vary widely, so too will costs, ranging from several hundred to several thousand dollars.
Some companies may be inclined to offer a "one-size-fits-all" EV charging program by hiring an electrical contractor to do home assessments and installations with a single charging brand to provide a uniform program for their employees.
However, a more flexible approach may be best to accommodate different needs, allowing for a range of charging options, from a 120v or 240v wall receptacle, to various brands of level 2 charging stations, with or without network connectivity.
Be sure to find out if there are any government home charging incentives available to your employees, and what the requirements are to qualify; this may be another opportunity to save on project costs.
Cost reimbursement for electricity
If employees aren't expected to cover fuel costs for company vehicles, they shouldn't be expected to cover the increase to their home utility bill from charging the company EVs. Therefore, there needs to be a way to monitor and reimburse electricity costs when company cars are charged at home.
There are several options to measure electricity use from EV charging:
Dedicated meter or sub-meter – Typically used for billing and/or monitoring purposes, electric meters measure electricity consumption. In order to track just the EV load, the meter must be dedicated to the EV charging circuit or be combined with a smart home monitoring system. This option does have limitations though. If the charger is ever used for non-fleet vehicles, or if the meter is not on a dedicated EV-only circuit, there is no way to identify whether the electricity consumed was by the company EV, or another EV or appliance.
Networked or smart charging station – Smart charging stations that are networked have the capability to monitor electricity use, which can be used for reimbursement. Some networks allow company accounts so usage can be directly sent to the company administrator. Networked stations can additionally come with added features such as access control and charge management.
Relying on network stations has limitations as well. Condo buildings may have an existing networked or load managed system in place that is incompatible with the company's selected charging network. This could add to administrative complexity for reimbursements. Using the networked approach also misses any home charging that occurs via a wall outlet or non-networked station.
Telematics – Using fleet vehicle telematics allows the company to measure electricity use by vehicle, rather than by charger. Setting up charging reports by location ensures electricity consumed at home locations can be measured.
Benefits of using vehicle-side telematics for home reimbursement include:
Agnostic to what type of charger your employees have. Energy can be monitored from a standard outlet, or any charging station, regardless of network, or lack thereof. This allows more flexibility for employees to use whatever set up is easiest for their particular situation.
Electricity measured is specific to the vehicle; there is no risk of subsidizing non-fleet vehicles if a resident or visitor charges their personal vehicles at the home charger.
Charge events are time-stamped, ensuring compensation can account for any time-of-use electricity rates.
Converting electricity use into costs
Correct reimbursement needs to apply the proper electricity rate to the energy consumed. This will depend on what utility service territory the employee resides in, and may include time-of-use rates as well.
Depending on the variability and complexity of your employees energy rates, you may want to consider implementing a consistent flat rate reimbursement policy. This would increase simplicity for the reimbursement element, as well as simplify communication to the employees involved and would incentivize them to charge during times of low residential electricity rates. However, this would likely lead to a higher reimbursement expense. Applying actual utility rates that accounts for time of use is the most accurate way to compensate employees.
In either case, Geotab has you covered with specialized features and tools available in the MyGeotab platform to make home charging reimbursement easy. See How to Report on Cost of Charging for Home Charging Reimbursement.
The takeaway
If your company has not already done so, now is the time to develop an at-home charging policy for your employees. Geotab has solutions to help make employee reimbursement easy.
For a walk-through of the short process to set up the solution that works best for your fleet, visit this article on the Geotab Community: How to Report on Cost of Charging for Home Charging Reimbursement.
Check out our sustainability marketplace partners here.
---
If you liked this post, let us know!
---
Disclaimer
Geotab's blog posts are intended to provide information and encourage discussion on topics of interest to the telematics community at large. Geotab is not providing technical, professional or legal advice through these blog posts. While every effort has been made to ensure the information in this blog post is timely and accurate, errors and omissions may occur, and the information presented here may become out-of-date with the passage of time.
Get industry tips and insights
Sign up for monthly news and tips from our award-winning fleet management blog. You can unsubscribe at any time.
Other posts you might like