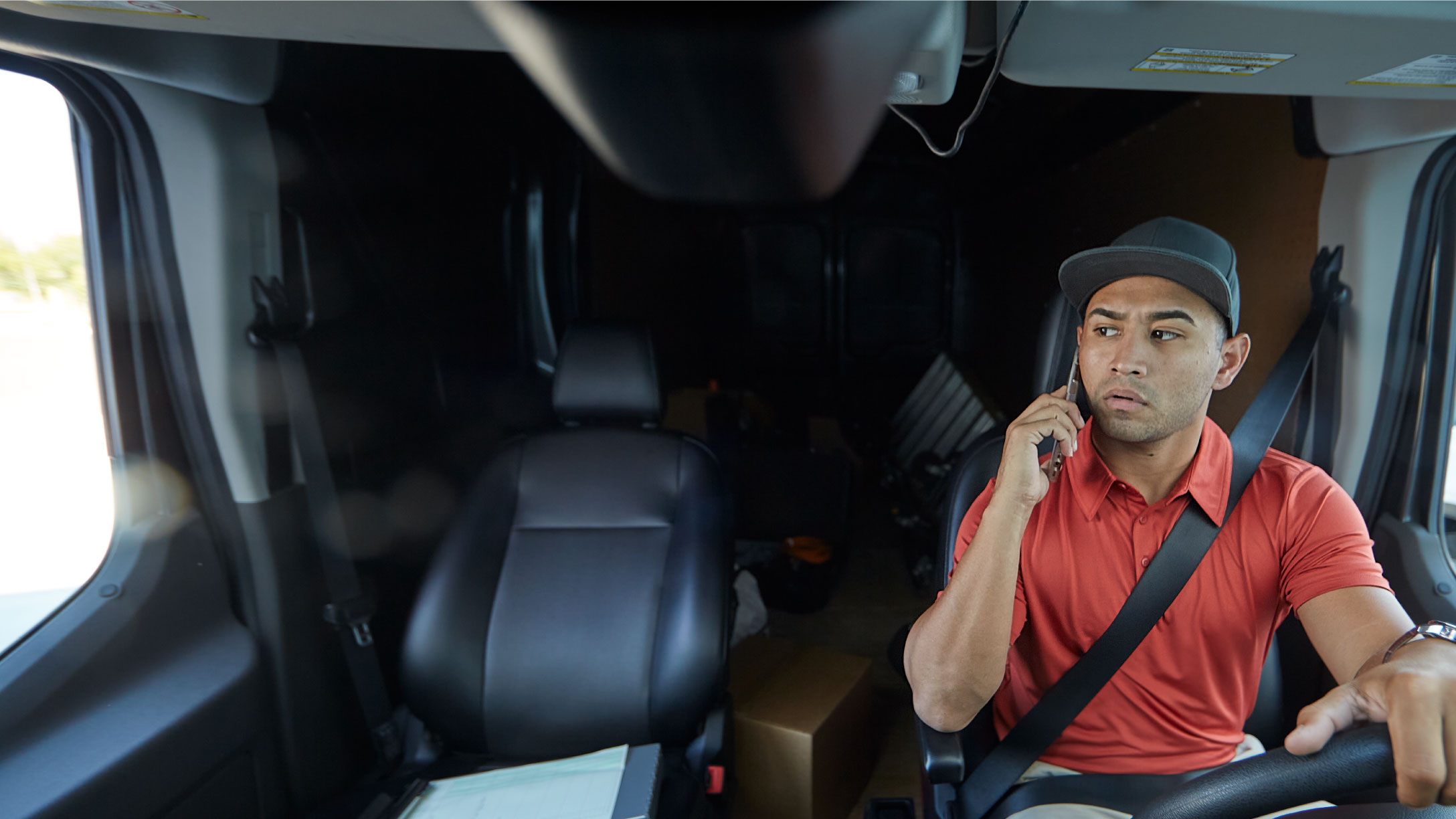 Helping drivers stay safe with Driver State Monitoring and video telematics
---
In the fast-paced world of fleet management, safety continues to be a top priority.
Fleet managers are acutely aware of the risks associated with even brief distractions. According to the Centers for Disease Control and Prevention, a startlingly 1 in 25 adult drivers admitted to momentarily nodding off behind the wheel in the previous 30 days. For commercial vehicle drivers, the FMCSA reported that cell phone use accounted for 35% of unsafe driving violations in the first half of 2023.
The temptation of quick texts, calls, or even a bite to eat while driving has proven difficult to resist for many on the road, contributing to a concerning 3,522 lives lost to distracted driving in 2021. As the vital links that connect cities and towns and fuel our economy, fleets can't afford such risks.
Focus on safety
The complexities of our roadways demand rigorous safety solutions, and fleet managers recognize the importance of safeguarding drivers, assets, and others on the road. At the heart of these solutions is video telematics, a cornerstone of modern fleet safety, that detects behaviors like harsh braking, hard cornering and the top reported unsafe driving violation, speeding. Other solutions, such as Advanced Driver Assistance Systems (ADAS) and Driver State Monitoring (DSM) are adding to this safety toolset.
ADAS acts as a driver's companion, enhancing a driver's safety by sensing external risks. With functionality like tailgating and collision detection and lane departure warnings, ADAS steps in to mitigate risks by warning drivers in real-time of those risk events.
But for a holistic safety approach, insights into the driver's actions behind the wheel are essential. AI-enabled DSM fills this gap. By monitoring the driver, DSM alerts them to distractions, such as eating and using their cell phone and can also warn of fatigue. By empowering drivers to self-correct in real-time, DSM supports self-coaching programs, reducing risk and minimizing the need for a safety manager to step in.
How fleets leverage AI-enabled DSM
AI-enabled DSM offers a range of benefits to enhance fleet safety, including:
Monitoring fatigue and distracted driving
Enabling drivers to self-correct their behavior in real-time
Enabling managers to create video capture thresholds for self-coaching opportunities
Detecting other types of risky driving behaviors
How DSM can help to create self-coaching opportunities
DSM aids in the creation of self-coaching opportunities in several ways:
Instant feedback – When DSM detects certain behaviors such as drowsiness, distraction, or even something specific like cellphone use, it can immediately notify the driver. This instant feedback, which may come in the form of visual or auditory alerts, serves as a real-time reminder for the driver to correct their behavior.
Behavior analysis – Over time, DSM can accumulate data on a driver's habits. This data can then be presented to the driver in a format that highlights areas of improvement, essentially allowing the driver to self-assess and correct their behavior.
Trend recognition – With the ability to monitor and analyze driver behavior over extended periods, DSM can identify recurring patterns. Maybe a driver consistently gets drowsy during a certain time of day or frequently checks their phone at certain intervals. By recognizing these trends, the driver can implement strategies to mitigate these behaviors before they even occur.
Personalized training – Based on the insights generated by DSM, drivers can focus on specific training modules or resources that address their unique challenges. Instead of going through generic training, they can focus on areas where they personally need improvement.
Incentive programs – Fleets can use DSM data to set up reward or incentive programs. Drivers who consistently exhibit safe behaviors or show marked improvement in areas they once struggled with can be rewarded. This not only promotes self-coaching but also encourages a culture of safety within the fleet.
Self-regulated behavior correction – By establishing thresholds, drivers are encouraged to take proactive steps towards self-improvement. When a threshold is set, drivers can correct their behavior before video footage is uploaded to the cloud for review by a manager. The video is only uploaded if the same incident happens repeatedly within a designated time frame. This empowers drivers to maintain privacy as only repeated offenses trigger an upload.
Incorporating Sensata's dash cam technology: A comprehensive safety solution
While ADAS, DSM, and telematics provide a multi-dimensional approach to fleet safety, the integration of dash cam technology completes this holistic model. Sensata's dash cam technology, exemplifies this evolution, catering specifically to the nuanced needs of the modern fleet.
The Sensata INSIGHTS KP2 dash cam is a powerful tool that offers a dual perspective—focusing on both the driver and the road. With its road-facing HD dash cam combined with a cab-facing camera, it provides real-time insights into driver distractions and fatigue.
Road-facing dash cams
Cab-facing dash cams
Provide forward visibility into road incidents, near-accidents, road hazards, severe weather and behavior from other vehicles
Monitors cab-facing driver behaviors, such as distractions (phone use, smoking, eating/drinking, etc.) and drowsiness

Can be used as concrete evidence to help exonerate drivers, reduce fleet litigation and even lower insurance premiums

Can be also used for virtual and self-coaching to improve and reward driving behaviors

Can be used for virtual and self-coaching to improve and reward driving behaviors
Leverages ADAS technology improve driver and vehicle safety for fleets by providing much more visibility into what happens on the road
Leverages DSM technology to monitor distracted driving and drowsiness

Moreover, the Sensata INSIGHTS KP2 dash cam seamlessly integrates with the Geotab platform – together with the Geotab Camera Add-in – enabling customers to easily set up safety rules and view video footage within one unified platform. This combination provides managers with a detailed view of their operations, further enhancing safety protocols and responses.
Sensata INSIGHTS KP2 dash cam now available through the Geotab Marketplace Order Now program
More than an ordering option with the Geotab Marketplace, the Order Now program streamlines the purchase to fulfillment, support and training. Order Now Solutions have the advantage of leveraging Geotab's Camera Add-in as well.
Learn more about the Sensata INSIGHTS solution and Geotab's Order Now program.
About Sensata INSIGHTS
Sensata INSIGHTS, a business unit with the full backing of Sensata Technologies (NYSE:ST), delivers products to leverage the Internet of Things (IoT) including hardware, software, AI and ML-based analytics and business intelligence designs. No matter what the commercial industry, our solutions provide flexibility and versatility that delivers value across the entire supply chain. These solutions include cloud platforms, supply chain and logistics, telematics and worksite and asset monitoring — all from one source, end to end.
Learn more at sensatainsights.com/ and follow Sensata on LinkedIn, Facebook and Instagram.
---
If you liked this post, let us know!
---
Disclaimer
Geotab's blog posts are intended to provide information and encourage discussion on topics of interest to the telematics community at large. Geotab is not providing technical, professional or legal advice through these blog posts. While every effort has been made to ensure the information in this blog post is timely and accurate, errors and omissions may occur, and the information presented here may become out-of-date with the passage of time.
Get industry tips and insights
Sign up for monthly news and tips from our award-winning fleet management blog. You can unsubscribe at any time.
Republish this article for free
Other posts you might like