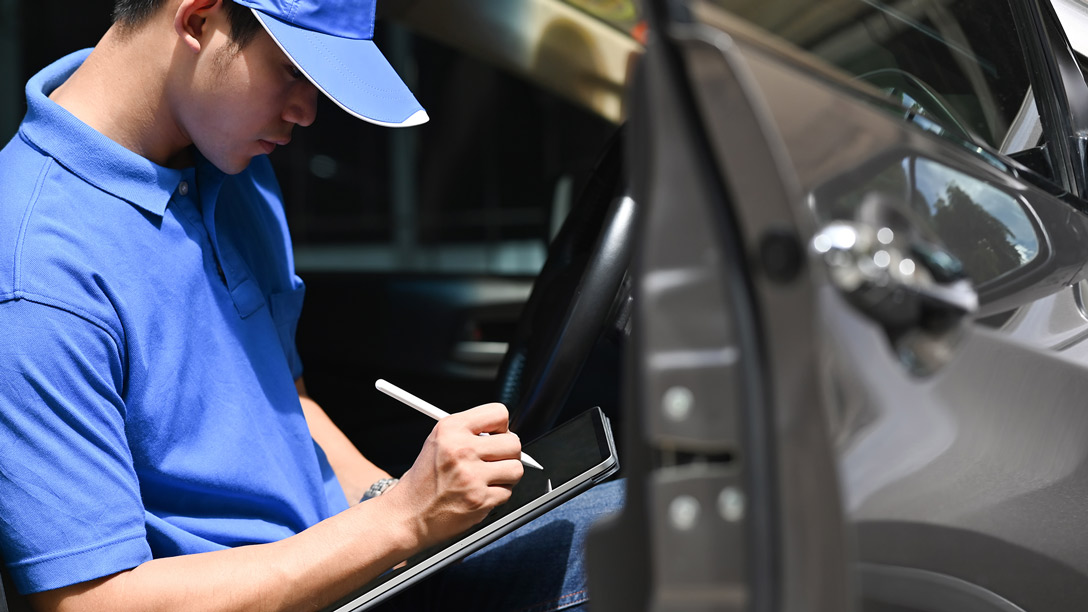 ELD data transfer options for Geotab Drive
---
Learn how to perform ELD data transfers at inspection sites with Geotab Drive.
With electronic logging devices (ELDs) becoming such a major part of the transportation industry, it's important for drivers to know how to access and transfer their data when required. In regions where ELDs are mandatory, drivers stopped at inspection points will need to transfer their Hours of Service (HOS) data to an officer as a compliance check.
In this blog post, we outline the various ELD data transfer options available through the Geotab Drive app.
See also: Geotab takes steps towards Canadian ELD certification
ELD data transfer methods
Currently, there are three options provided by Geotab:
Email — An encrypted message is sent to the federal agency responsible for monitoring ELDs in your country directly and is then routed back to an officer.
Web Services — Using encrypted HTTPS, the data is transferred over the internet and then downloaded by the officer directly.
Report Display — The officer has to be able to access the phone or tablet and view a compliant report of the HOS logs. This method is the fallback if there are any internet connectivity issues when transferring data using other methods.
Where to find the ELD data transfer steps
The ELD data transfer process can be started from the Geotab Drive Dashboard. You will need to set up a one-time personal identification number (PIN).
For step-by-step instructions for transfering your data to an officer, please refer to the Driver's Guide to Data Transfer at Roadside Inspection.
Email transfer tips
When using email, the governing agency will respond to the party that sent the message to confirm success or provide an error message.
If the driver's username is an email address, Geotab will mark the driver as the person to be replied to. This lets drivers find out on their own email system the result of the data transfer. The driver's logs are not returned in the message, just the confirmation receipt.
Web Service transfer error messages
The "Broadcast" message is provided to all drivers, and Geotab outputs the broadcast on all web service responses. If Geotab Drive is running, but servers have connection issues, you will get a timeout message.
Additional error message you may see when using the Web Service transfer method are:
Warnings: Invalid VIN
Information: Missing Required Field
Errors: Invalid Field Length
In these cases, your best plan of action is to try to transfer via Email or use the Report Display option.
Sample ELD data transfer error message.
Advantages of telematics transfer by web
Geotab embraces the transfer methods that are simple for both drivers and officers. Web services are more responsive and will return confirmation or errors back to the driver immediately from federal servers.
Tip: We recommend Web Services as the first approach, but you should always check with the officer as to their chosen methods.
Each state or province will have its own choice over what system to use, but it is likely that they will focus on web services. Both email and web services data are fully encrypted between Geotab and the governing agency to protect drivers' data from theft or man-in-the-middle attacks.
To learn more about Geotab ELD, visit our Fleet Compliance page.
While Geotab recognizes our place as a self-registered ELD manufacturer and provider and we will answer questions regarding those Hours of Service (HOS) ruleset options we provide, neither Geotab nor any of its employees, officers or agents can offer legal advice to any resellers or customers concerning which HOS ruleset(s) or exemption(s) may apply to any particular situation. Please contact your local DOT department or refer to the FMCSA website at https://www.fmcsa.dot.gov/ for questions Geotab is unable to answer.
---
If you liked this post, let us know!
---
Disclaimer
Geotab's blog posts are intended to provide information and encourage discussion on topics of interest to the telematics community at large. Geotab is not providing technical, professional or legal advice through these blog posts. While every effort has been made to ensure the information in this blog post is timely and accurate, errors and omissions may occur, and the information presented here may become out-of-date with the passage of time.
Get industry tips and insights
Sign up for monthly news and tips from our award-winning fleet management blog. You can unsubscribe at any time.
Republish this article for free
Other posts you might like