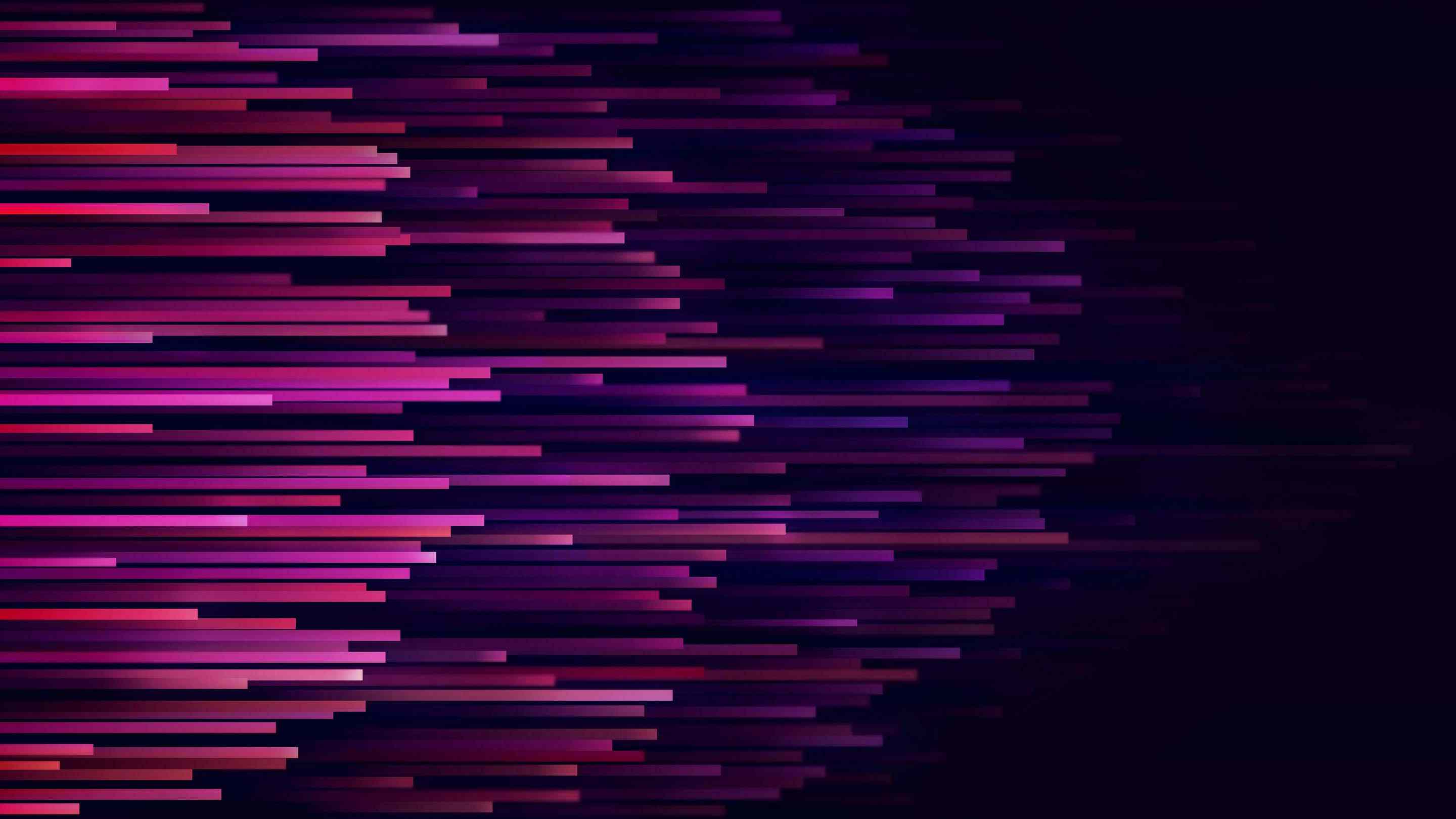 ELD roadside inspection: what you should do
---
Important ELD roadside inspection information. Learn about presenting HOS logs, drivers' rights and upcoming changes to Geotab Cloud ELD.
As of April 1, 2018, full enforcement begins for the ELD Mandate. Carriers and drivers will be expected to fully comply with U.S. electronic logging regulations. Please read this post for important information on ELD roadside inspection procedures with Geotab Cloud ELD.
See also: Everything you need to know about bypass programs
How to present HOS Logs at roadside inspections
When a commercial vehicle driver goes through a U.S. roadside inspection they are expected to show their record of duty status for the previous 7 days to the officer. There are several ways of presenting hours of service (HOS) logs. Geotab Cloud ELD (Geotab Drive) offers three methods.
Three Methods of Presenting Logs with Geotab Drive:
Web Services (Preferred method of FMCSA)
Email
Display option (Presenting the logs off the tablet)
Tip 1: It is mandatory at all times to have instructions on how to use Geotab Drive in the cab for the driver and officer to reference.
See Also: ELD Data Transfer Options for Geotab Drive
What is the DOT officer expected to do?
When an enforcement officer pulls over a driver for a roadside inspection they are expected to:
review the driver's previous logs to determine if they are in violation, and
check that their ELD is malfunctioning.
It is the officer's responsibility to determine if the driver is in violation. Geotab Drive will not display violations to the officer when using any of the three methods outlined above.
What are the driver's rights?
In some cases enforcement officers may ask for a specific method to review the logs, such as the email method. If the driver is not able to transfer ELD data electronically at roadside, they can fall back on another method, either printout or showing the ELD display.
Tip 2: The Display option is an accepted method that a driver can use during an inspection.
Upcoming changes to Geotab Cloud ELD for roadside inspections
On the Geotab 1802 software/firmware release, we are introducing a whole new workflow on what to do during a roadside inspection called Inspection Mode.
In this new mode, if any of the transfer methods fail, Geotab Drive will direct the officer to the display option with a disclaimer.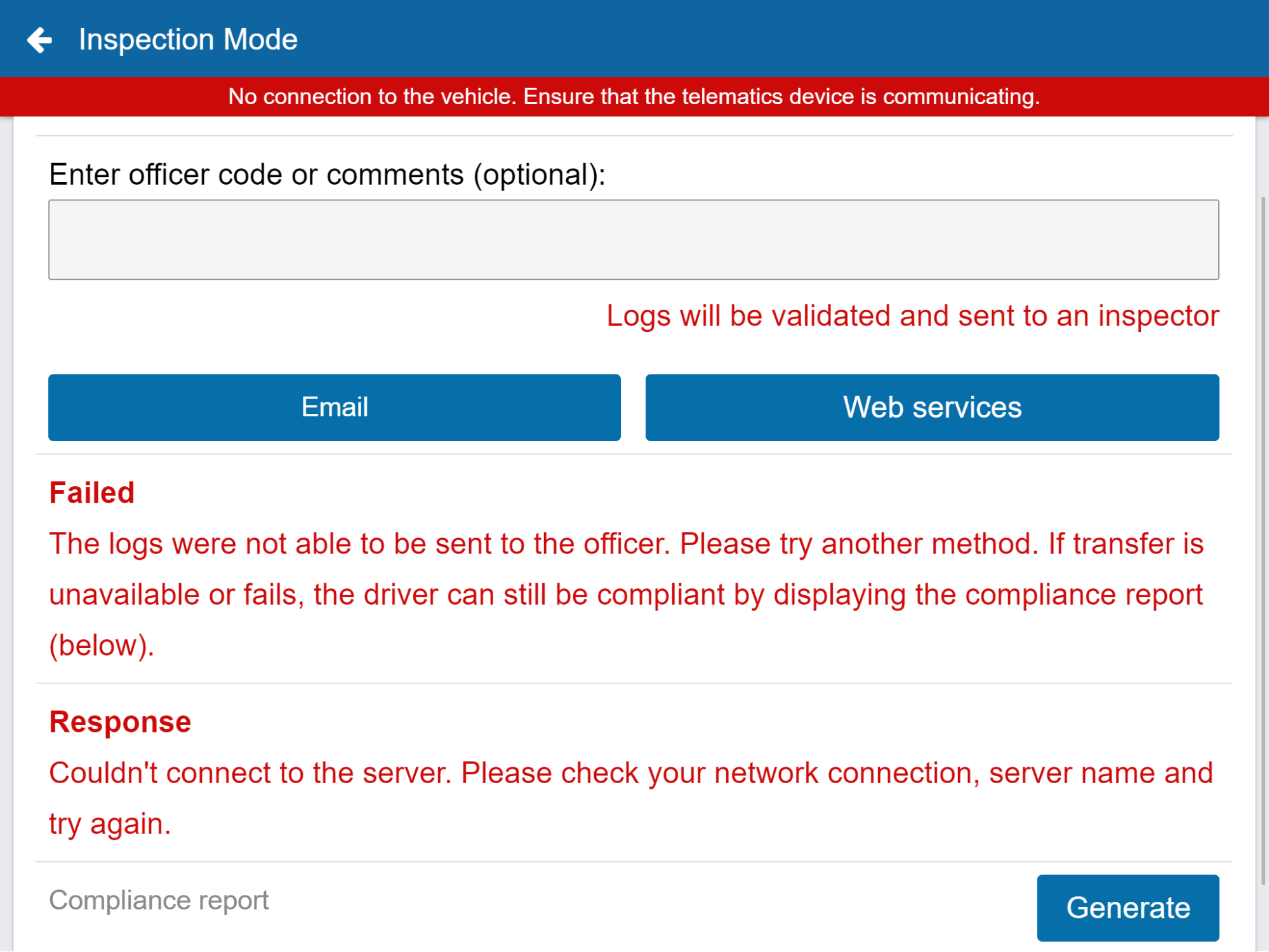 There is also a new warning displayed to the officer when they attempt to leave "Inspection Mode" that they need to hand the mobile device back to the driver. This is to help prevent officers from looking at other places within the app they shouldn't be on.

Tip 3: If you have questions about roadside inspections, please call your local Federal Motor Carrier Safety Administration (FMCSA) field organization. Go here for Field Office contact info.
ELD Compliance by state
While ELD enforcement has varied across the U.S., with some states leaving the decision to issue tickets up to officers, as of April 1, full enforcement will be in effect. After this date, the FMCSA states that trucks and buses will be placed out of service, if they are subject to the rule, but stopped at a roadside inspection and found to not have an ELD.
Geotab Analysis of ELD Data Transfers
We conducted a big data analysis of Geotab-connected vehicles to review the distribution of successful ELD data transfers over the past 90 days. The heat map below shows a higher number (in red) in the Northeast and southern regions, as well as Texas and California.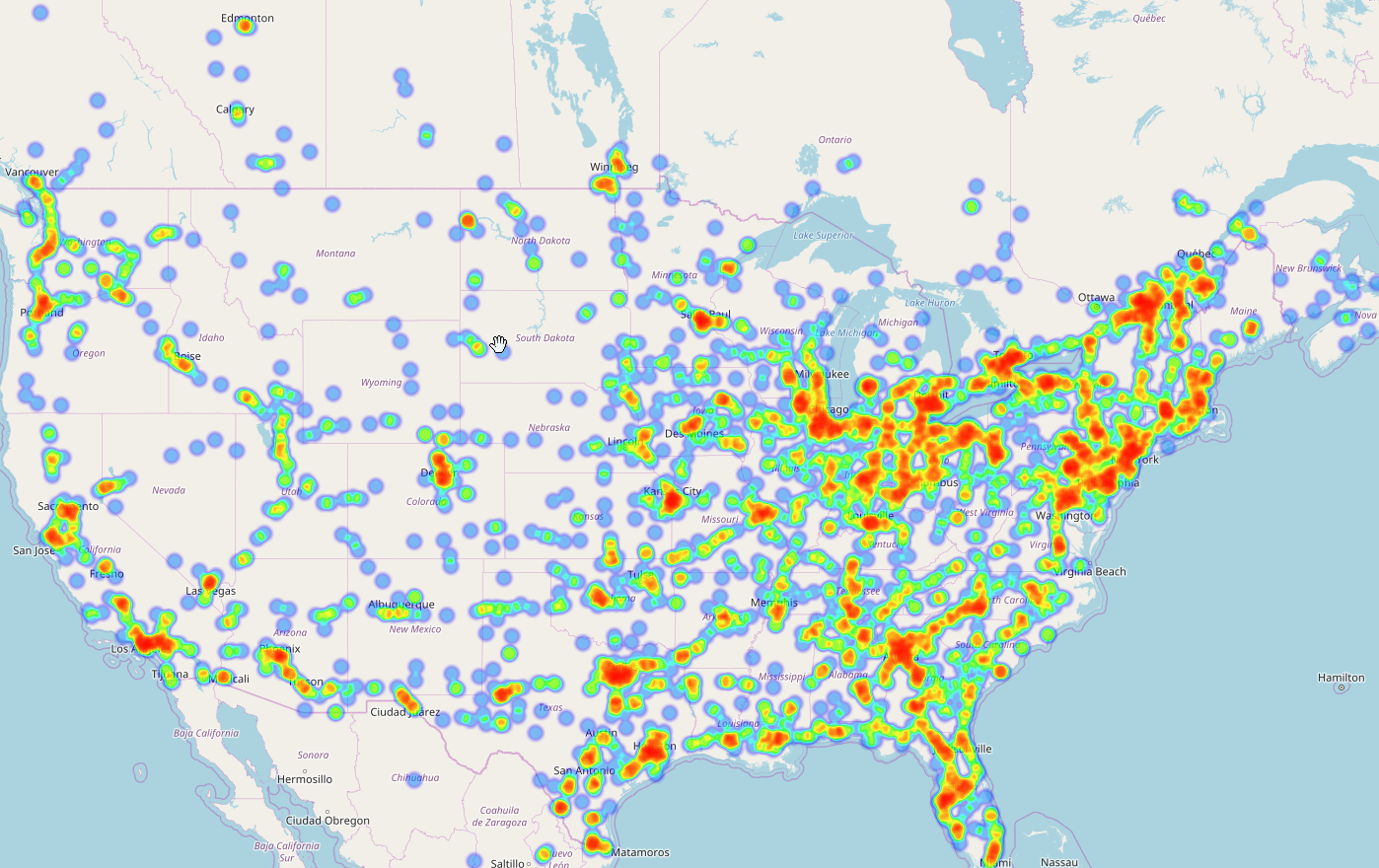 Map showing successful Geotab ELD data transfers in the past 90 days.
Additional Geotab ELD resources
To learn more ELD roadside inspections and Geotab Cloud ELD, watch these videos.
Tip 4: To stay informed of the latest Geotab updates and ELD news, please subscribe to the Geotab newsletter.
Find the Geotab Drive manuals and compliance guide on the Geotab Drive Marketplace page.
Related:
ELD Tips for drivers: Going from paper logs to electronic
ELD FAQs: Unassigned driving time
While Geotab recognizes our place as a self-registered ELD manufacturer and provider and we will answer questions regarding those Hours of Service (HOS) ruleset options we provide, neither Geotab nor any of its employees, officers or agents can offer legal advice to any resellers or customers concerning which HOS ruleset(s) or exemption(s) may apply to any particular situation. Please contact your local DOT department or refer to the FMCSA website at https://www.fmcsa.dot.gov/ for questions Geotab is unable to answer.
---
If you liked this post, let us know!
---
Disclaimer
Geotab's blog posts are intended to provide information and encourage discussion on topics of interest to the telematics community at large. Geotab is not providing technical, professional or legal advice through these blog posts. While every effort has been made to ensure the information in this blog post is timely and accurate, errors and omissions may occur, and the information presented here may become out-of-date with the passage of time.
Get industry tips and insights
Sign up for monthly news and tips from our award-winning fleet management blog. You can unsubscribe at any time.
Republish this article for free
Other posts you might like