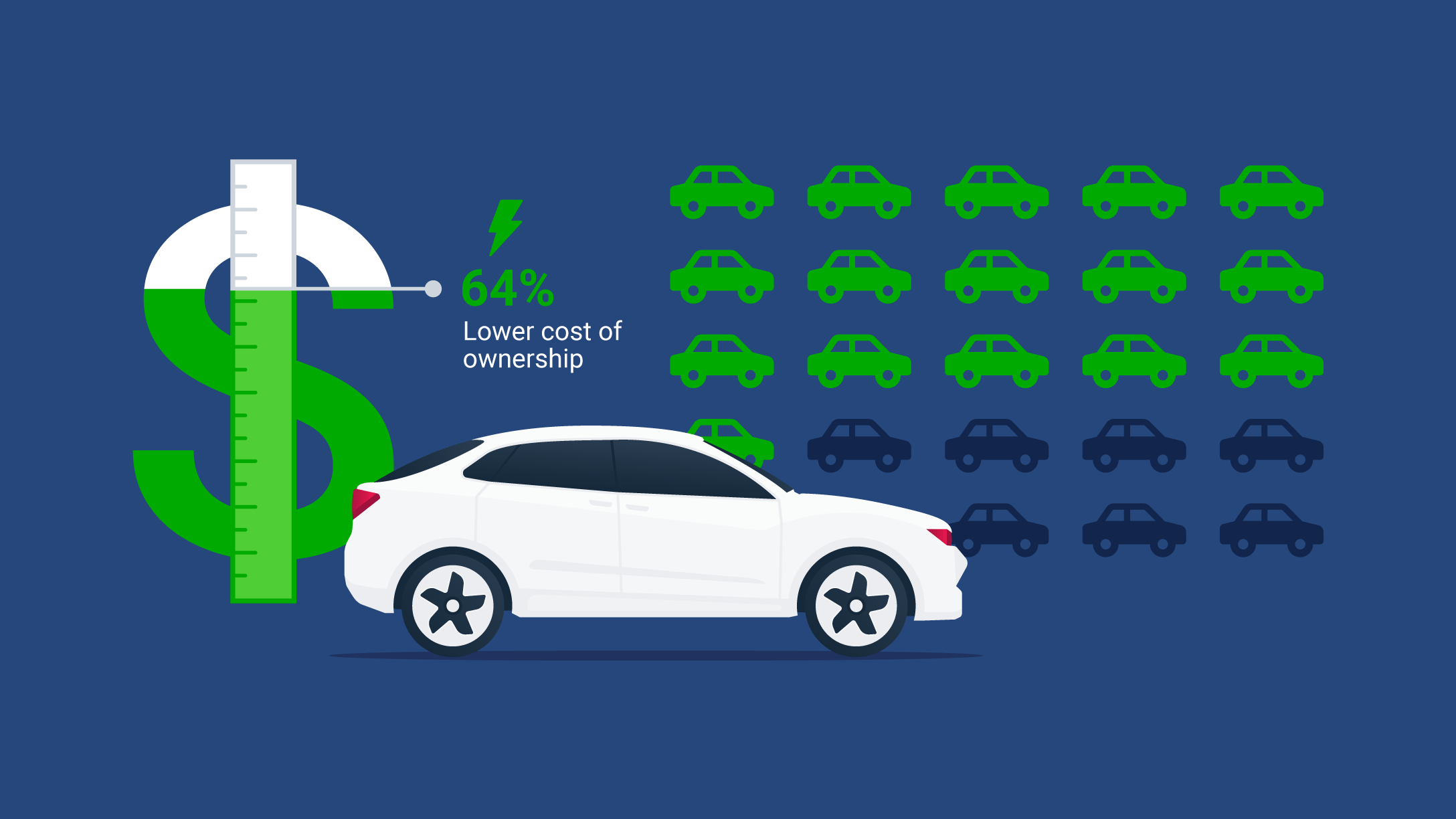 Fleets that don't electrify leave money on the table
---
Nearly two-thirds of North American fleets would save money by swapping for electric cars today, according to Geotab's largest EV suitability assessment.
The time is ripe for fleet electrification. Businesses and governments around the world are setting electrification targets, with many aiming for 100% of their fleets to be zero-emission by the end of the decade. Regulators have already started phasing in sales bans on new internal combustion engine (ICE) vehicles.
With the writing on the wall, many fleet operators are finding ways to stay ahead of the regulations and their own organizational targets by being early adopters. Admittedly, in many ways the medium- and heavy-duty market is still in its infancy with a relatively limited selection of vehicles. This is quickly changing with manufacturers planning a wave of new EVs in the next few years.
For light-duty fleets on the other hand, virtually every major automaker already has an electric car or SUV in its lineup. Most of them have several. With dozens of fully electric and plug-in hybrid passenger cars already on offer, fleets don't have to wait idly by to start their transition.
But are today's EVs capable of meeting the needs of fleets, and at what cost?
We help fleet operators answer this question every day, with our EV Suitability Assessment (EVSA). However, never before has there been a large-scale analysis of EV suitability that would allow us to understand the true potential of EVs across North American fleets. Are they range-capable? Will they help the fleet's bottom line? What portion of fleet vehicles can make the shift today?
Data-driven approach sheds light on the true opportunity for fleet electrification
Powered by our EVSA and big data analysis, we took a data-driven approach to determine EV-suitability for 179,000 light-duty fleet vehicles (cars, SUVs and minivans) across 3,500 organizations, spanning 24 industry sectors in North America.
Our analysis considers actual daily vehicle usage and trip temperature conditions over a year [1] and compares this to the real range performance of EVs on the market today. We then contrast the total cost of ownership for capable EVs versus an equivalent ICE vehicle, factoring in regional fuel and electricity prices according to where the vehicles operate.
The results of this extensive big-data EVSA surprised even the pro-EV team here at Geotab.
Insight #1. Today's battery electric vehicles (BEVs) have enough range for half of North America's passenger car fleet.
Generally speaking, we ask a lot of our fleet vehicles. They tend to have higher usage than our personal cars, which has led to some questioning if EVs are really suited for fleet use. When it comes to meeting daily requirements for fleets, can fully electric vehicles deliver on range, or do they come up short?
Nearly half of North American fleet cars and SUVs could be replaced with a fully electric car, and wouldn't have to charge during the day. Of the 179,000 vehicles analyzed, an impressive 48% had a BEV alternative available today that would be range-capable for over 98% of their daily needs. [2]
Insight #2. EVs are cost-effective.
Of course, fleet operators care about more than just range. They need to make the numbers work. Of the range-capable vehicles identified, 30% would have a lower cost of ownership than a ICE-vehicle counterpart – even without incentives. That's over 26,000 vehicles that could be immediately replaced by a BEV resulting in savings to the bottom line.
The cost-savings opportunity is even greater when plug-in hybrid electric vehicles (PHEVs) are included in the analysis. When looking at overall suitability of both BEVs and PHEVs, 64% of fleet vehicles could be switched to a comparable fully electric or plug-in hybrid option, for less money (over a seven-year service life) before any incentives are applied.
If all the vehicles that had a best-fit EV recommendation in our study were accordingly replaced, fleets in this analysis would collectively save an astounding $561 million USD and a staggering 1.4 billion liters of fuel over the vehicles' service life [3.] This would also prevent 375,550 metric tons of CO2 emissions from being released each year (about the equivalent of 2,000 railcars of coal being burned).
Insight #3. Incentives help tip the scale.
Many jurisdictions offer incentives for EVs, and while they're not universally available, incentives have a significant impact on overall fleet suitability.
For instance, with a modest $2,000 rebate, 87% of fleets would be more cost-effective by switching to EVs. When applying a $4,000 incentive, an extraordinary 95% would have a lower TCO by going electric, saving fleets an average of $6,000 per vehicle over its seven-year service life!
Insight #4: A few years goes a long way for an EV TCO.
To calculate the total cost of ownership, we assumed a seven-year lifecycle. Seven years is on the higher end for internal combustion car replacements in fleets. However, evidence points to EVs out-performing and out-lasting their ICE car equivalents. In addition to far fewer parts that require maintenance and repair, EV manufacturers typically offer at minimum seven- or eight-year battery warranties for their vehicles.
Analysis by Geotab shows that EV batteries are maintaining their health reasonably well, allowing for a longer service life. A longer replacement cycle for EVs means more opportunity for savings.
Furthermore, when accounting for the full lifecycle emissions of the EV, the relative impact of manufacturing emissions decreases with every extra mile you're able to get out of your EV.
Charging infrastructure investments need to be part of the equation
Most fleets are unlikely to rely on public infrastructure for their day-to-day operations, and instead will invest in their own fleet charging assets at their fleet yard. For this reason, our study assumes vehicles are not charging during the day, and are taking advantage of overnight electricity rates, provided on site.
However, while our study factored in charging (electricity) costs, our TCO calculation does not include capital cost investments for charging infrastructure. Costs can vary significantly depending on the charging power needs, existing capacity at facilities, and site-specific logistics such as how far the wiring needs to run from the electrical panel.
Charging is also not a one-to-one ratio; a single charger may be servicing multiple fleet vehicles, and charge management software can be used to optimize the available electricity.
While capital expenditures are often treated separately from operating costs in budgets, a holistic perspective helps make the economic case to invest in infrastructure.
Not electrifying today means leaving money on the table
The takeaway for fleets is clear: EVs are a viable option today. There are tens of thousands of fleet vehicles currently in service that could be replaced by an equivalent EV and would save the organization money. Furthermore, every year of delay is another year of unnecessary emissions being released.
Over time, as sticker price goes down and new models come to market, the electrification opportunity will only continue to expand. Fleets that make their move now will gain the experience needed to successfully electrify the rest of their operations. For instance, electric pickup trucks are right around the corner, and our early analysis suggests over half of fleet pickups have daily driving needs that could be covered by the all-electric pickups coming to market. Sign up for our newsletter and stay tuned for updates as we expand our study into pickup trucks in the coming months.
Large studies such as this one can tell us a great deal. But for individual fleets, the truth lies in their own data. Fleet operators can start by completing their own EV Suitability Assessment with Geotab to identify best-fit replacements. Geotab customers can take advantage of our free EVSA, to dive into the specific vehicles that make up your fleet and uncover the best strategy for electrification.
Footnotes:
Vehicles evaluated from March 1, 2019 – March 1, 2020 to exclude vehicle behavior disruptions due to COVID-19.
This factors in range loss that would be expected on hot and cold days.
Over a seven year service life.
---
If you liked this post, let us know!
---
Disclaimer
Geotab's blog posts are intended to provide information and encourage discussion on topics of interest to the telematics community at large. Geotab is not providing technical, professional or legal advice through these blog posts. While every effort has been made to ensure the information in this blog post is timely and accurate, errors and omissions may occur, and the information presented here may become out-of-date with the passage of time.
Get industry tips and insights
Sign up for monthly news and tips from our award-winning fleet management blog. You can unsubscribe at any time.
Republish this article for free
Other posts you might like