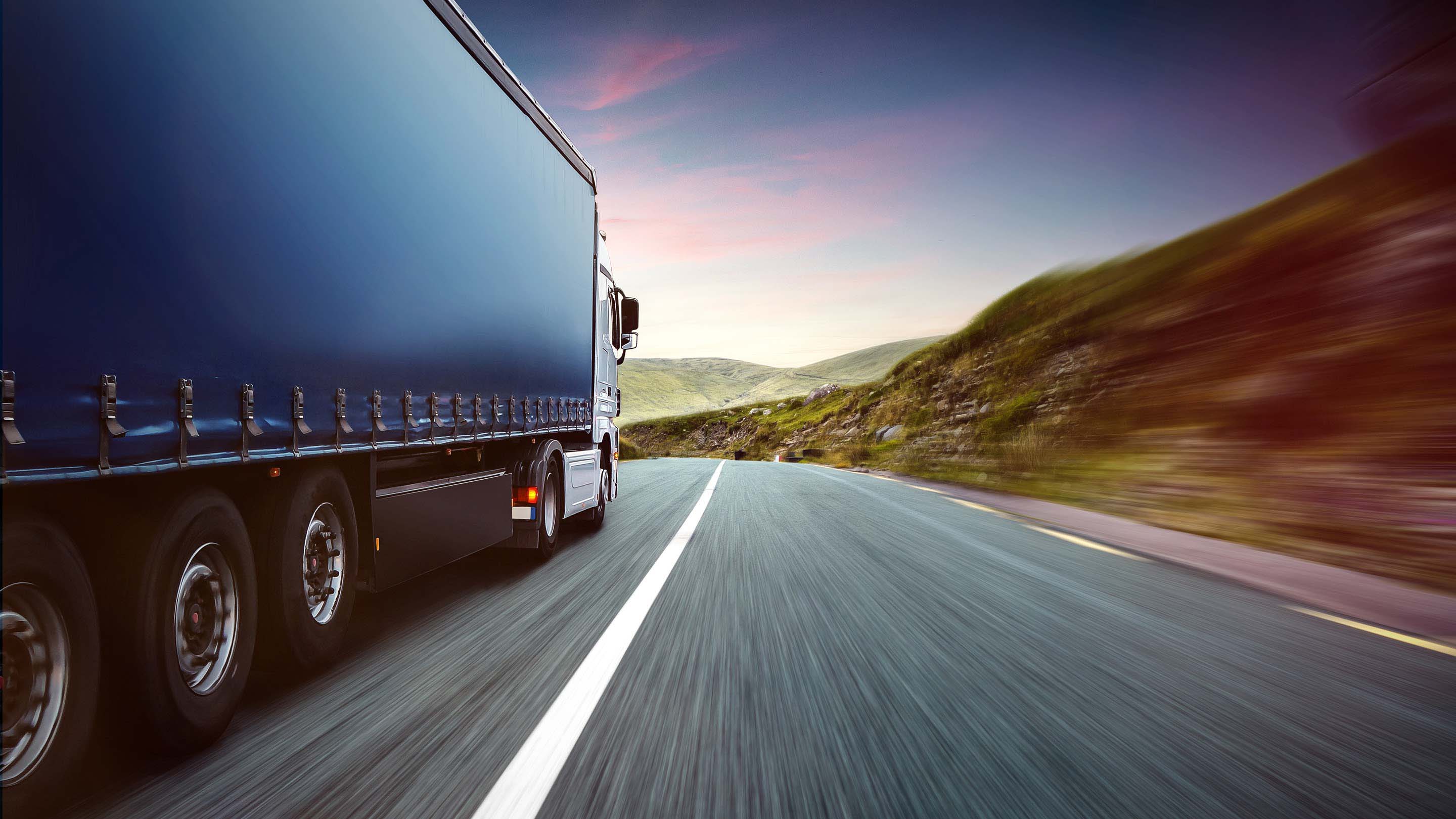 9 must-do fall foliage drives in the U.S. and Canada
---
Read a list of the top fall foliage drives. Take a roadtrip and enjoy the colors! Includes Door County, MI, the Million Dollar Highway, and more.
Fall is the perfect time to take a drive in the countryside and immerse yourself in the scenery. Stop off at a bed and breakfast or local cafe and enjoy the winding roads and fall color palette as the seasons shift. The Geotab team has put together a list of some of the most popular fall foliage drives in the U.S. and Canada.
1. Blue Ridge Parkway - North Carolina & Virginia
The Drive: The Blue Ridge Parkway is considered one of the most-visited scenic drives and national parks in the United States. It starts in Virginia near the James River at the Blue Ridge Parkway North Entrance in Afton, VA, and ends in North Carolina near Mount Pisgah just outside Cherokee, NC. The drive has a significant elevation change by about 6,000 ft. Depending on your location or how much time you have, it's easy to do part of the drive or all of it.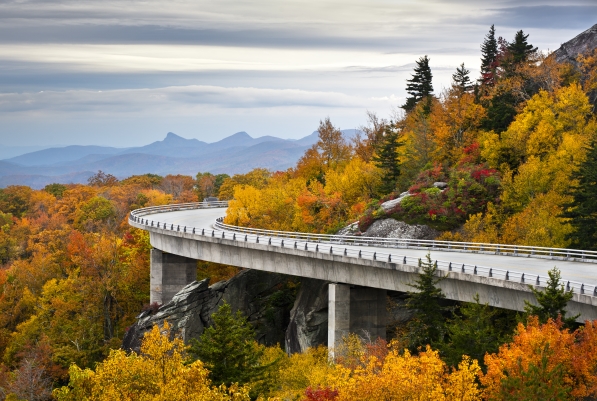 Why It's Great: The Blue Ridge Parkway runs through many diverse East Coast forests with different types of trees, making the fall color changes one of the most colorful forests you'll ever see. From Red Maples to Birch and Oak trees to Sassafras and Sourwood, the colors range from deep purples and reds to bright yellows. Wildlife such as black bears and hawks are also common. In fact, black bears are common enough nowadays that forest managers urge caution and ask motorists to not feed the bears.
2. Door County - Wisconsin
The Drive: Door County is a peninsula that stretches out into Lake Michigan, forming the famous Green Bay of Wisconsin. The Door County drive is well-known for its windy roadway. While there are many tales as to why these curves exist (since there doesn't seem to be much reason for them on this fairly flat land), the most commonly told story is that the road was designed after famed architect Jens Jenson, who designed many of Chicago's parks well-known for their meandering paths. There are exactly 15 curves along Highway 42.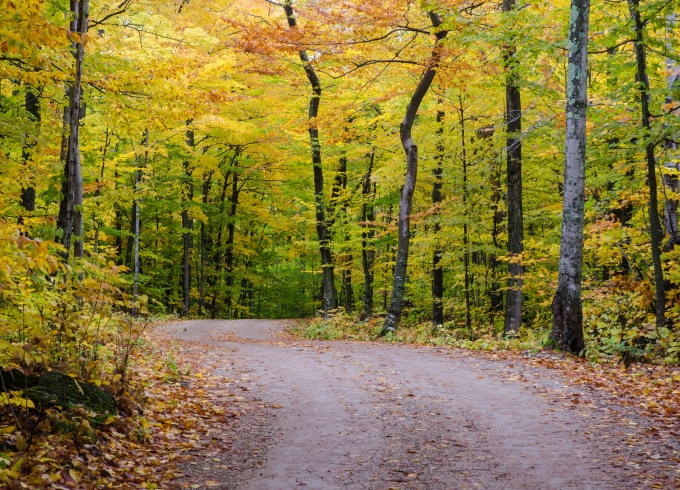 Why It's Great: This fall drive is highly recommended by our very own Vito Centofanti, Vice President Sales, who says the view of the fall leaves against a backdrop of water will make you feel like you are by the ocean. Get to know some of Wisconsin's quaint, bayside towns. Travel all the way to Northport at the tip of the peninsula for the famous stretch of curves and end at the beautiful Lake Michigan views. Continue the trip and take a ferry on over to Washington Island. Read more about Door County here.
Bonus Drive -- Illinois River Road: If you're in the Midwest, another great drive is the Illinois River Road. Specially recommended by Nadine Haupt, Geotab's OEM & Dealership Business Development Manager, this tree-lined twisty road leads to two different state parks, Starved Rock and Matthiessen, which offer scenic hiking trails overlooking tall bluffs and striking waterfalls. View the fall colors and have fun taking the curves at the same time.
3. Hermann Wine Trail - Missouri
The Drive: Just west of St. Louis, off the original Route 66, you will find the Hermann Missouri Wine Trail with 20-plus miles of winding roads along the Missouri River. The drive takes you between towns of New Haven and Hermann, wandering through what's considered the "heart and soul of Missouri wine country."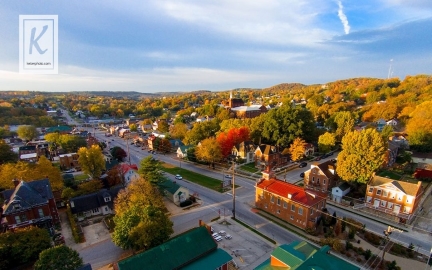 Permission from Dave Keiser at keiserphoto.com
Why It's Great: Stephen White, Geotab's Heavy Truck Fleet Enterprise Business Manager recommends this popular route. Wine-making has been a tradition in the area since the early 1800s, with the first wine festival taking place in 1848, a tradition that continues today. Along the way, several family-owned wineries open their doors for tastings, so be sure to bring a designated driver if you plan to enjoy. A number of big wine events happen throughout the year, such as the Holiday Fair Wine Trail in November. Plus, enjoy some of the best twisty and hilly roads in the state with scenic viewing areas to enjoy the fall colors.
4. Hill Country - Texas
The Drive: A classic country drive, several Texas roads take you slightly north and west of Austin and San Antonio. Head west from Austin or northwest from San Antonio to travel a loop that takes you through several smaller Texas towns, eventually leading you back to San Antonio. The route takes you through the rolling hills of the area with rivers and canyons cutting into the land. One vista to check out takes you to a granite monolith called Enchanted Rock.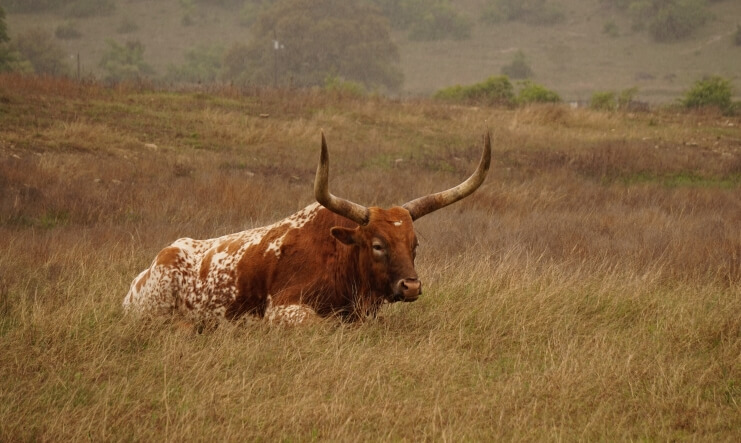 Why It's Great: Stopping in the small towns makes this route even more special, besides the beautiful scenery of the outdoors. One route via Highway 16 out of San Antonio brings you to the town of Bandera, which deems itself "Cowboy Capital of the World." Learn about historic Texas culture, blending the life of Native Americans and Texas cowboys.
The National Geographic has a great guide on Texas Hill Country here.
5. Million Dollar Highway - Colorado
The Drive: Passing over three mountain passes in Colorado — Coal Bank, Molas and Red Mountain — the Million Dollar Highway, or Highway 550, is only about 25 miles long. But with so many sites to stop and see, the route can feel much longer.
Why It's Great: The three mountain ranges are each unique and have their own terrain so you get three different experiences along the route. Plus, with Colorado's snow-tipped mountains, get a sneak peak at the beautiful winter snow when travelling the route in fall (without the risk of needing chains). Plus, if you decide to make a longer trip out of it, go enjoy the various natural hot springs.
6. Natchez Trace Parkway - Alabama, Mississippi & Tennessee
The Drive: This famous parkway is a two-lane highway through Tennessee, Mississippi, and Alabama. Take the entire 444-mile route or just part of this historic corridor that was used by the Kaintucks frontier people and then by European settlers, soldiers, and so on. The drive passes through four different ecosystems and eight major watersheds.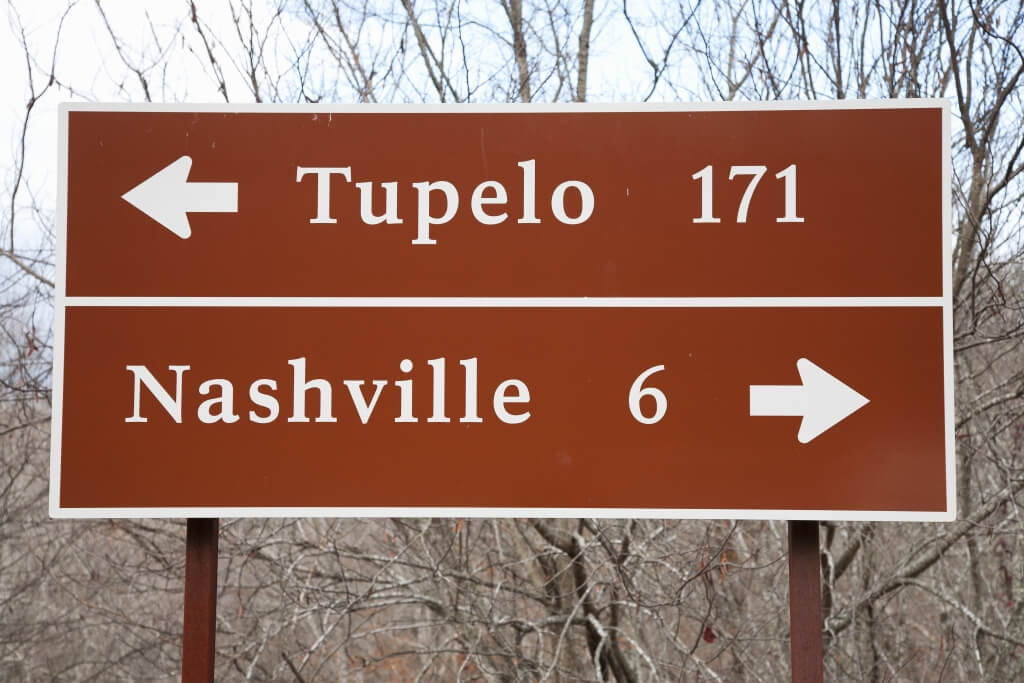 Why It's Great: In middle to late October, the maple, hickory, oak and other hardwood trees begin to change into beautiful fall colors. According to the National Parks Service, more than half of the national forest lands remain undisturbed by human development. A favorite drive of Trena Wade, Geotab's Partner Account Manager, the parkway has many attractions along the way (hiking, horseback riding, camping, and biking). Follow this path to learn the history of the area and how it was traveled by many throughout America's history.
View more info about attractions at the Natchez Trace Parkway here.
7. Trinity Scenic Byway, California
The Drive: From the valley of Redding, through the Shasta-Trinity National Forest to the towering Redwoods along the coast of Eureka, this drive takes you through every type of ecosystem in Northern California. Much of the drive follows the Trinity River, such as the photo above. Straight through, it typically takes about three hours but with so many small towns and country cafes, plan on it taking longer, especially if you're not used to windy routes. (The state has actually been working on a highway straightening project because of some dangerous corners, so you might also hit road work.)
Why It's Great: Northern California is extremely diverse from grassland valleys to the giant Coastal Redwoods, so this drive gives you a peek at all of it. Linger in old towns like Weaverville and see California's historic mining culture, where you can actually stop in an old blacksmith museum and watch men at work like they would have 100 years ago. Check out the beautiful views of Whiskeytown Lake and end with views of the bay as you drop down to the coast.
8. Algonquin Provincial Park - Ontario
The Drive: From Toronto, take Highway 400 to Barrie, then Highway 11 and finally Highway 60 to the enter the park at the West Gate.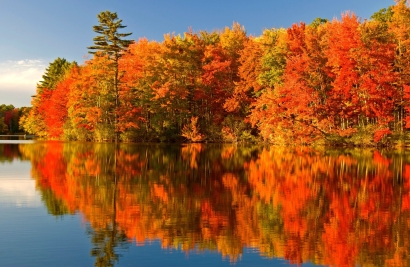 Photo credit: Sylvain Jette
Why It's Great: Mid-September to late October is a fantastic time to visit Algonquin Provincial Park for many reasons. For one, the colours of the trees are breathtaking. From the Sugar and Red Maples, followed by the Poplars, Tamaracks, and Red Oaks, the scenery is picturesque. It's virtually impossible to take a bad photo when you're in Algonquin Park.
This area is for the adventurous — you can encounter a variety of animal wildlife here from moose, deer, beavers, foxes, and in very rare occasions, wolves or bears. The park offers many different activities, including hiking the trails (15 major ones ranging in length), and providing access to spectacular views of nature, the lake, and kayaking or canoeing (rent or bring your own).
9. The Laurentians - Québec
The Drive: Starting in the city of Montreal, head north on Highway 15. Many locals day trip through this route during fall to enjoy the change of seasons.
Why It's Great: Stop in at the charming Mont Tremblant resort, a pedestrian village. Take the gondola up to the summit to see an incredible panoramic view from the highest peak in the Laurentians. Another highlight is the Charlevoix region, where you can view the picturesque Mont-Ste-Anne and the St. Lawrence River. Or head to Cap Tourmente, where you can view thousands of Canada geese migrating south for winter. See Quebec's tourism fall guide for more info.
We hope you enjoyed these fall foliage drives. When you're out on the road, don't forget to practice driving safety.
What's your favorite fall scenic drive? Leave us a comment and share your favorite.
References:
Blue Ridge Parkway Association. (n.d.). Fall Color - Tips for Leaf Season. [Online]. Available: http://www.blueridgeparkway.org/v.php?pg=286
A. Heckel. (2016, May 2). Road Trip: 10 Must-See Spots on the Million Dollar Highway. [Online]. Available: http://www.10best.com/interests/road-trip/road-trip-10-must-see-spots-on-the-million-dollar-highway/
Related:
---
If you liked this post, let us know!
---
Disclaimer
Geotab's blog posts are intended to provide information and encourage discussion on topics of interest to the telematics community at large. Geotab is not providing technical, professional or legal advice through these blog posts. While every effort has been made to ensure the information in this blog post is timely and accurate, errors and omissions may occur, and the information presented here may become out-of-date with the passage of time.
Get industry tips and insights
Sign up for monthly news and tips from our award-winning fleet management blog. You can unsubscribe at any time.
Republish this article for free
Other posts you might like