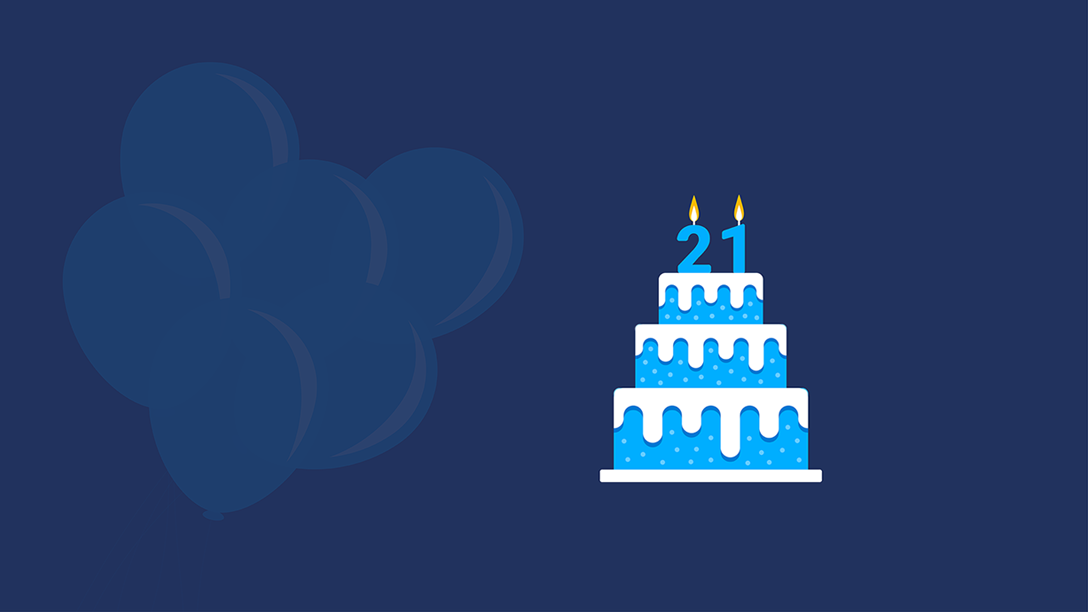 21 Fun facts about Geotab
---
Dive into some fun facts you may not have known about Geotab.
Over the past two decades, Geotab has grown from a small family business to the world's largest commercial telematics company. To celebrate the company's 21st birthday, we've compiled a list of fun facts about Geotab.
1. Geotab has devices installed in 130 countries and on all 7 continents
Since its inception, Geotab has quickly expanded to offer its solutions to fleets all over the world. We are also the first telematics company to be present in all seven continents, including Antarctica.
2. Geotab has been ranked the #1 commercial telematics provider worldwide for both 2020 and 2021
ABI Research ranks telematic providers based on two key factors: innovation and implementation. In 2021, a competitive analysis placed Geotab first, making us the top commercial telematics provider in the world for two straight years. To learn more, read our blog post: ABI Research releases its latest commercial telematics vendor ranking: Geotab lands top spot.
3. The very first Geotab device was launched in 1997 was called V1
By the time Geotab opened an office in North America in 2000, the Geotab device was already at V13. The V13 device took 8 minutes to download trip data onto a memory key from a vehicle and another 8 minutes to transfer the data from memory key to PC software using a key downloader.
Geotab's hardware and software now work together in real-time to transfer data from the vehicle to the GO device and finally to MyGeotab. Take a look at the evolution of Geotab devices from past to present.
4. If all vehicles in our database were lined up end to end, they would reach from Toronto to Sydney
That's roughly 17,000 kilometers or 10,500 miles! Collectively, all of these vehicles drive approximately 140 million miles (225 million kilometers) every day.
5. Geotab has offices in 11 countries around the world
Geotab is a global company with offices in Canada, the U.S., the U.K., Germany, Spain, Australia, Mexico, China, France, Italy and Singapore. See below for a virtual tour of Geotab's recently completed office in Madrid.
Take a tour of Geotab's recently constructed office in Madrid, Spain.
6. Geotab has 15 regional websites in various languages
The Geotab website is available in English, French, Spanish, German, Italian, Brazilian Portuguese, Dutch and Swedish with regional variations available for some languages. Each regional site offers solutions specific to that region and in the language most often spoken in that region.
7. Geotab is committed to creating a greener future
Founder and CEO of Geotab, Neil Cawse, explains "At Geotab, we believe that it is our collective responsibility to leave the world a better place than how we found it." Read more about our approach to sustainability on our Corporate Sustainability page.
8. Geotab hosts student challenges for prizes
The Geotab Student Challenge was created in Fall 2020 by the Geotab Campus Team. The 5-week challenge requires participants to come up with creative solutions for a problem that currently faces Geotab and the telematics industry. Though they must use their own ideas, they are supported through the process by Geotab mentors. At the end of the challenge period, students compete for prizes. We even have a closing ceremony celebration for all who participate.
Members of one of Geotab's Student Challenge teams.
9. Geotab's original name in North America was "Fast Track Technologies"
Geotab still existed in South Africa even as it was expanding in North America. In 2006, after meeting with the Geotab team in South Africa, it was agreed that the company in North America would hire teams of hardware designers and automotive engineers to produce hardware and that the team in South Africa would import the GO devices from North America. At this point, the company united under one banner: Geotab Inc.
10. Geotab has helped 8 small businesses using Torque Labs
Torque Labs is Geotab's corporate accelerator program designed to work closely with early-stage technology companies. Through Torque Labs, we provide businesses with access to mentorship, funding and internal Geotab resources. The goal of the program is to enable innovative companies to accelerate their success, which ultimately benefits Geotab's existing customers. This helps to attract a new class of customers as well as provide strategic benefits to the tech companies we work with.
11. Geotab received approximately 80,000 resumes in 2020
Geotab's Talent Team is committed to candidate experience and finding the best talent out there. As of September 2021, we have hired more than 800 new Geotabbers around the world and are still hiring! If you're interested in a position, visit our careers page.
12. Millenials make up more than 30% of Geotab's workforce
Though Geotab is made up of employees from many different age groups, the number of millennials in our ranks has risen in recent years. We have seen the many benefits that millennials bring to the workplace, including flexibility, innovative thinking and tech knowledge.
13. Interns have become full time Geotabbers
Interns play an integral role in Geotab's culture, community and organizational structure. Because interns are such a big part of making our company what it is, we often look to them to fill entry-level positions once they are out of school. If you are currently in school and looking for a placement, visit our internship web page for more information.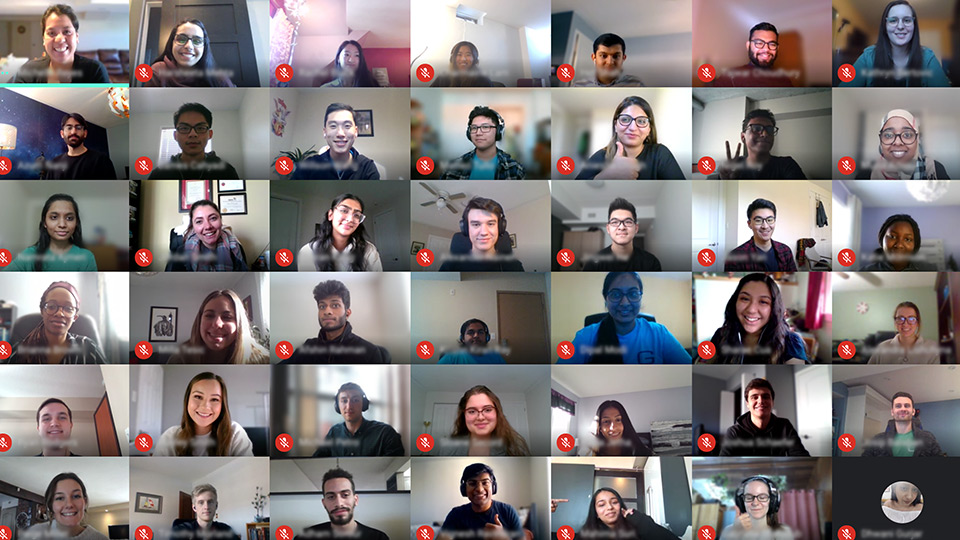 A collection of our Geotab interns from across different departments.
14. Geotab offers an internal networking tool for all employees
Built by Geotabbers who were looking for a way to connect with other employees while working remotely, Geotab's internal networking tool, Tabr, was created. This tool randomly matches Geotabbers with a colleague for an informal video chat so that participants can create meaningful connections regardless of their location, department or role.
15. Geotab hosts monthly virtual team-building events for Geotabbers across the globe
As a way to stay connected during the COVID-19 pandemic when Geotabbers were working remotely, Geotab began hosting virtual employee games and trivia events every month. This allowed Geotabbers to connect, meet new colleagues and have fun! The competition is always fierce and leads to ultimate bragging rights. Examples of events help include a virtual ping pong tournament and trivia on topics ranging from the Marvel Cinematic Universe to Harry Potter.
16. Geotab has an international internal cookbook
To help share the varying cultures and cuisines that Geotabbers enjoy, we created a global cookbook with recipes from all over the world. The Geotab cookbook is an open-access, internal document that allows Geotabbers to share their own recipes and browse others to foster a global community of foodies and introduce each other to a wide range of cuisines.
The Geotab cookbook features delicious recipes such as this one for scones created by one of our very own Geotabbers.
17. Geotab offers an EV purchase incentive program for all employees
Geotab encourages all of its employees to invest in sustainable practices, so we put our money where our mouth is. We offer employees an incentive for positively impacting the environment through the purchase or lease of a new or used electric vehicle. This helps promote an atmosphere where eco-friendly transit and lifestyle is promoted. To help further incentivise employees, many Geotab office locations offer charging stations for employee use. At this time, these stations are available at our Oakville, Waterloo, Las Vegas, Denver and Germany offices.
18. Before our software was called MyGeotab, it was called Checkmate
The name was developed during a backyard BBQ with original Geotabbers. Checkmate software was burned onto DVDs at an employee's house where they printed color paper DVD labels for each DVD set. Microsoft MapPoint 2002 on CD was the first mapping product compatible with Checkmate software.
Geotab moved to MyGeotab with the migration to cloud hosting in 2010.
The original logo for Checkmate (the predecessor to the MyGeotab software featured a globe.
19. Geotab offers a recycling program for Geotab products
The GO Recycle Program makes it easier for our customers to dispose of GO devices and accessories in an environmentally friendly manner by partnering with R2-certified recycling centers. Under this program, Geotab products are recycled in the country they are manufactured, greatly reducing the greenhouse gas (GHG) emissions generated by international shipping.
20. Geotab now has a Swag Shop for all internal employees
The Geotab Swag Store was launched in Summer 2021 and features a wide range of items including Geotab-branded t-shirts, sweaters, hats, hoodies, mugs, water bottles and more. We even offer kids clothing for all of the mini Geotabbers out there.
Hoodies and tees are available for staff ordering on Geotab's Swag Store.
21. Geotab is building a pickleball court in our Oakville office
As a part of the Geotab headquarter renovations in Oakville, Ontario (Canada), Geotab has added a multi-purpose sports area featuring a brand new pickleball court! Once completed, Geotabbers will be provided with lessons and be able to set up tournaments to get in some daily exercise while working at the office. Learn more about working at Geotab
Join in on the fun
Did you know Geotab is hiring? Check out our open positions on our Careers site. For the latest Geotab news, photos and career updates, follow @InsideGeotab on Twitter, Facebook and Instagram.
See also: Debunking the top 10 vehicle tracking myths
---
If you liked this post, let us know!

Geotab Team
The Geotab Team write about company news.
---
Disclaimer
Geotab's blog posts are intended to provide information and encourage discussion on topics of interest to the telematics community at large. Geotab is not providing technical, professional or legal advice through these blog posts. While every effort has been made to ensure the information in this blog post is timely and accurate, errors and omissions may occur, and the information presented here may become out-of-date with the passage of time.
Get industry tips and insights
Sign up for monthly news and tips from our award-winning fleet management blog. You can unsubscribe at any time.
Republish this article for free
Other posts you might like