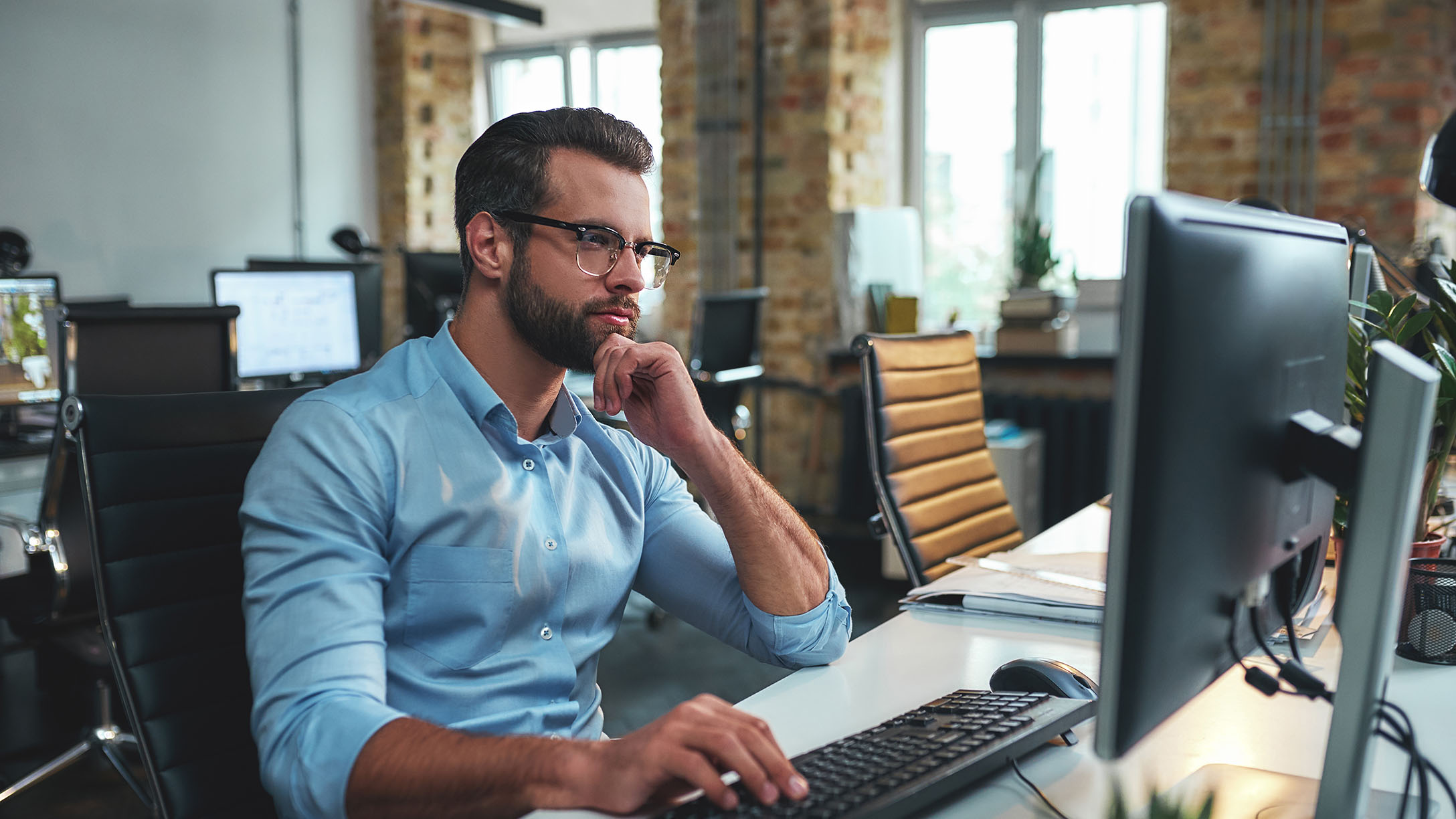 What's new in the Geotab Marketplace?
---
Refreshed with you in mind. Keep reading for the latest Geotab Marketplace updates to deliver the best experience for you.
The Geotab Marketplace has launched a new website update that makes navigation easier than ever. The largest fleet and data-focused e-commerce store, the Geotab Marketplace offers over 200 solutions including video telematics, connected sensors, fuel management, electric vehicles and more. Our solutions focus on helping fleet businesses increase their productivity both on-road and off, encouraging compliance and lowering operating costs.
See also: Reduce risky driving behavior with video technology
Homepage redesign: Find what you need faster
The Geotab Marketplace homepage has been completely redesigned. With our cleaner, more streamlined layout, you will be able to find what you need with ease. Whether you are just browsing solutions or have something specific in mind, you can do it all with just a couple of clicks.
Additionally, we've added two dynamic solution categories to the home page, Trending Solutions and Recently Updated. You can stay up-to-date with the newest and most popular solutions on the Geotab Marketplace without navigating.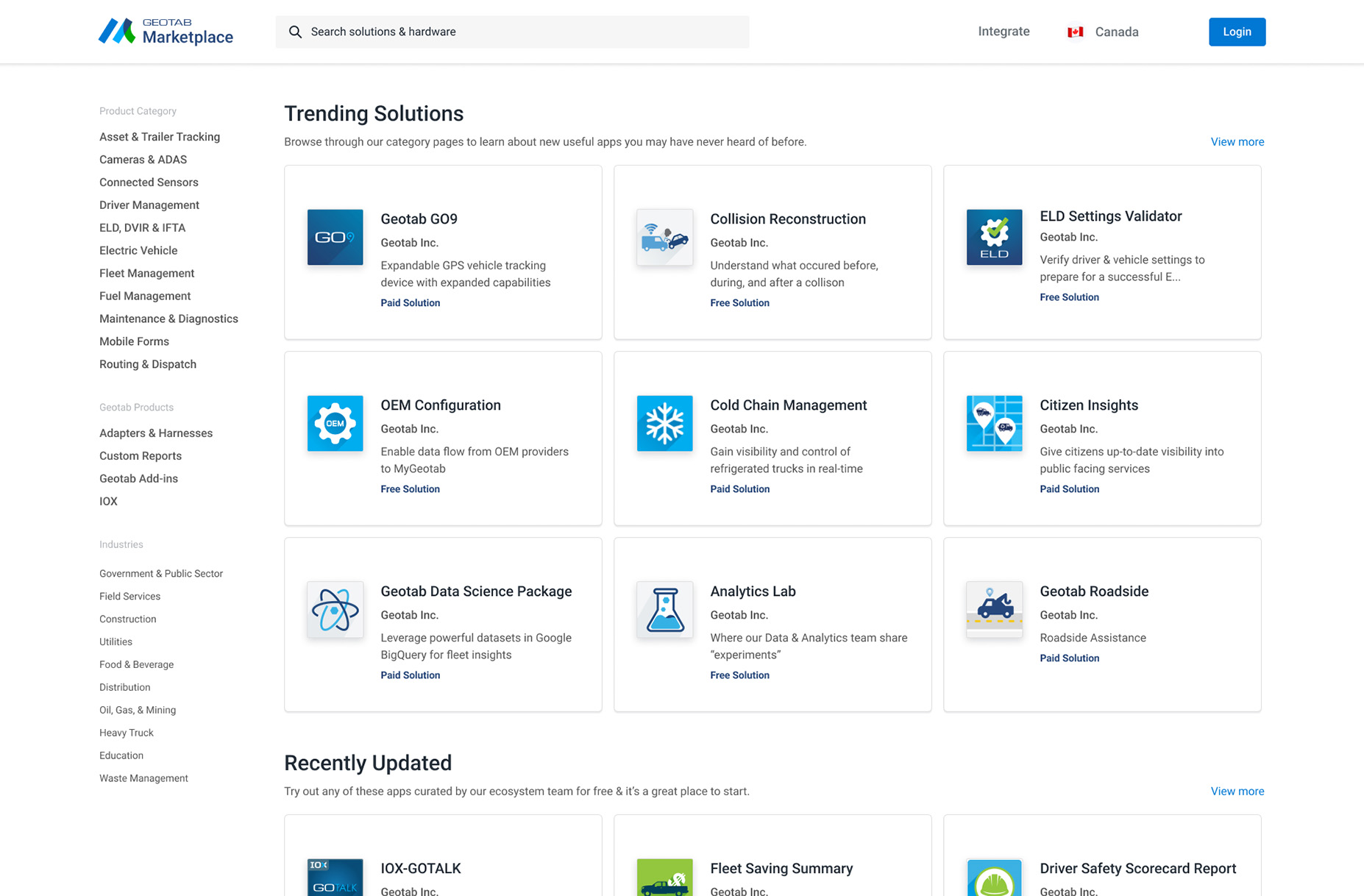 We've updated the left hand navigation menu so you can easily find the solutions you're looking for depending on what you need for your business.
Product Category — Find easy access to all of our general product categories, including Cameras & ADAS, Compliance and Asset & Trailer Tracking.
Geotab Products — If you're looking for a specific product developed in-house at Geotab, look no further. This category includes solutions like Adapters & Harnesses, Custom Reports and IOX Add-Ons.
Industries — Browse solutions that directly impact the industry that you operate in. Whether it's Government & Public Sector, Construction or Electric Vehicles, we have something for everyone.
Once you choose a category to browse, you're given even more options on how you want to break it down. This helps you get as specific or general as you need for each product category.
New Partner Profile pages: Get a more in-depth look at our Partners
Our new Partner Profile pages help you learn all there is to know about a specific Marketplace Partner. It is your one-stop resource for all the information you need on your Partner of choice. Get a general overview of their solutions, look through the benefits and features they offer and browse additional resources like infographics, videos and fact sheets.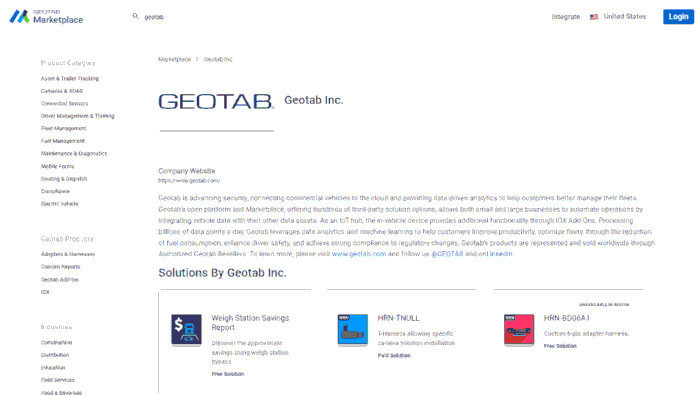 New login and check-out functionality: Streamline your shopping experience
An entirely new feature that has never been included on the Marketplace site before has also been announced. If you are a MyGeotab user, you can now log in to the Geotab Marketplace using your MyGeotab credentials directly from the Marketplace website. This helps streamline your shopping experience and offers a higher level of organization to your Marketplace purchases.
Place orders and view your order history for our Order Now solutions with just a couple of clicks. You can also use this new feature to download free Geotab solutions right from the Marketplace website.
Region selector: Connect with Partners in your region
Lastly, we've added the convenience of browsing region-specific solutions in order to save you time while shopping on the Geotab Marketplace. Ensure that you are seeing only the solutions that apply to your region so that you can be sure you're getting a personalized experience.
Explore more of the Geotab Marketplace
Harness the power of choice with our comprehensive solutions. Find one that best fits your needs today on the Geotab Marketplace.
---
If you liked this post, let us know!
---
Disclaimer
Geotab's blog posts are intended to provide information and encourage discussion on topics of interest to the telematics community at large. Geotab is not providing technical, professional or legal advice through these blog posts. While every effort has been made to ensure the information in this blog post is timely and accurate, errors and omissions may occur, and the information presented here may become out-of-date with the passage of time.
Get industry tips and insights
Sign up for monthly news and tips from our award-winning fleet management blog. You can unsubscribe at any time.
Republish this article for free
Other posts you might like