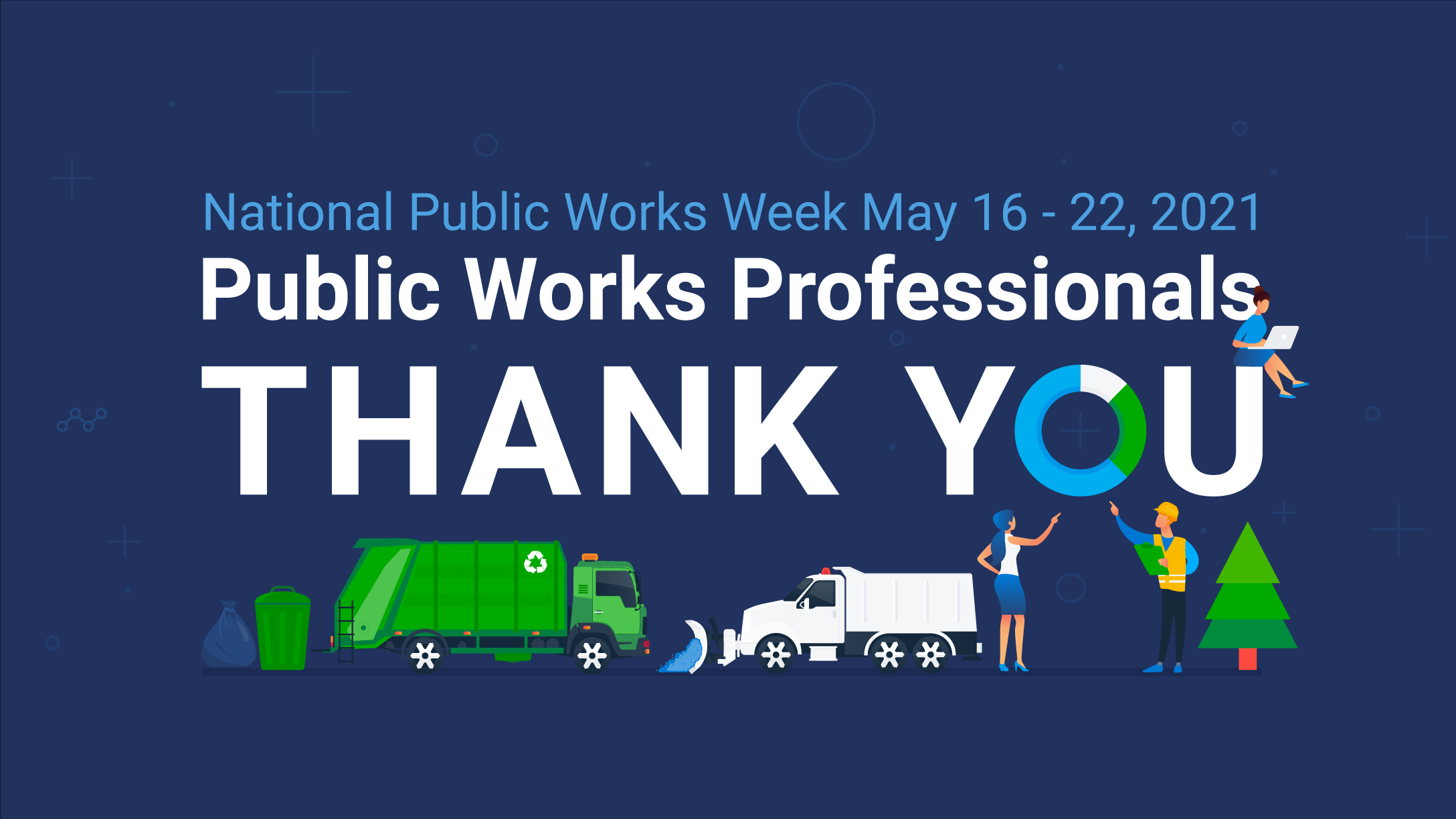 National Public Works Week: A day in the life of public works professionals
---
Read interviews with two public works fleet professionals in honor of National Public Works Week.
A lot of hard work goes on behind-the-scenes in public works departments to keep our cities moving safely and efficiently. In fact, public works professionals affect our lives and the way we're able to move around our communities every single day.
The American Public Works Association (APWA) has recognized the week of May 16-22, 2021 as National Public Works Week. The theme for this year's event is "Stronger together," acknowledging the impact that citizens and public works professionals can have in their communities when they work together.
Geotab celebrates public works professionals, alongside the APWA, for their contributions and dedication to service in our communities.
We spoke to two of our public works customers to share stories about the important work they do and the passion they have for public works.
Jeff Markusic, Fleet Superintendent, Franklin County Engineer's Office on the data-driven approach
The team at the Franklin County Engineer's Office in Columbus, Ohio, pride themselves on ensuring the safe transportation of people and goods.
Jeff Markusic is the Fleet Superintendent in the Fleet Maintenance Department. He oversees and evaluates fleet operations, develops maintenance programs, and ensures equipment, materials, tools and vehicles are available when needed – especially during emergencies such as snowstorms.
Geotab: Describe a typical day in your department.
Jeff Markusic: My day starts with checking emails and weather conditions. I work closely with my Fleet Supervisor to prepare a snapshot of the shift's activities which is then provided to the team. Next, I review the status of current work and address any requests that came in the night before. From there, I communicate with the team on short and long-term goals and ensure everyone is aware of upcoming road closures and other events or updates that could impact the team's daily routines.
Once employees go off to start their days, I go back into the office to check on our asset and fleet management reports. This gives me a health status and insight on the fleet and helps me prioritize any fleet issues.
We're always capturing data and using it to make informed decisions. For instance, I can use the data to understand where training might be needed to ensure the safety of employees – which is a top priority for me. Ultimately, telematics data helps me put safety first while ensuring we're fiscally responsible and environmentally aware.
Geotab: What do you enjoy most about your role in public works?
Jeff Markusic: I enjoy solving challenges, especially when small wins solve long-term issues. Being able to work with a talented team that can adapt quickly to overcome challenges together is a great feeling. It is nice to see my team work so well together and understand what we do is important to the public.
I also enjoy working with County Engineer, Cornell R. Robertson. He has a clear defined vision for the agency that outlines our responsibilities and goals. Our days' work is driven by the high standards that he has set for all departments. He challenges us to be an agency of action, innovation and collaboration, and provide consistent and resourceful services to constituents of Franklin County. We consistently meet deadlines, budgets and we hold ourselves to be fiscally, environmentally and socially accountable.
See also:
Franklin County (Ohio) Engineer's Office: Achieving vision zero goals
Public works fleet operations: Using telematics for planned, urgent and emergent activities
Geotab: How does the work you do benefit the community you serve?
Jeff Markusic: The public only really sees the final result, but behind the scenes we make sure our ground crew gets the materials, tools and equipment they need to respond to any public service requests. Our number one priority is ensuring public safety for our citizens and ensuring the safe transportation of people and goods.
Geotab: How can we show our appreciation to public works professionals like yourself?
Jeff Markusic: Be patient and slow down when crews are working on the road. They are always doing their best work to make sure the public is safe on the roadways. We should always strive to keep them safe while they work.
David Koehler, DC Department of Public Works on how to show appreciation for public works professionals
The Department of Public Works (DPW) provides municipal services in two distinct program areas: environmental services/solid waste management and parking enforcement. Both contribute greatly to making streets and public spaces clean, safe and accessible.
David Koehler is the IT Program Manager for the Washington, DC Department of Public Works. With a focus on applications and geographic information systems (GIS), Koehler has developed public facing and internal user applications to make operations more efficient and accountable.
Geotab: What do you enjoy most about your role in public works?
David Koehler: There's always a variety of projects and interesting problems to solve. I get to work with people at all levels of the organization learning about what they do to complete their work every day and how we can meet their needs through use of technology to make their work easier.
Geotab: How does the work you do benefit the community you serve?
David Koehler: Through increased efficiency and clarity that our technologies bring to the workers in the field and the managers in the office, DPW is better able to carry out the mission of maintaining a clean and safe city.
Geotab: How can we show our appreciation to public works professionals like yourself?
Koehler: Please learn and follow good habits of maintaining a clean city at home through proper disposal of trash, recycling and yard waste. Additionally, follow rules of parking and sanitation, and respect hard working public servants that collect and dispose of refuse, ensure clean and unobstructed public rights of way and improve safety conditions all across the city.
We appreciate you
While public works departments can go by different names and responsibilities, their mandates are always the same – making sure their communities are safe, vibrant and amazing places to live.
Recognize your public works employees by thanking them for their service by sending an email to your local office or posting on social media. Remember to use the #NPWW official hashtag to make your shout out heard.
---
If you liked this post, let us know!
---
Disclaimer
Geotab's blog posts are intended to provide information and encourage discussion on topics of interest to the telematics community at large. Geotab is not providing technical, professional or legal advice through these blog posts. While every effort has been made to ensure the information in this blog post is timely and accurate, errors and omissions may occur, and the information presented here may become out-of-date with the passage of time.
Get industry tips and insights
Sign up for monthly news and tips from our award-winning fleet management blog. You can unsubscribe at any time.
Republish this article for free
Other posts you might like