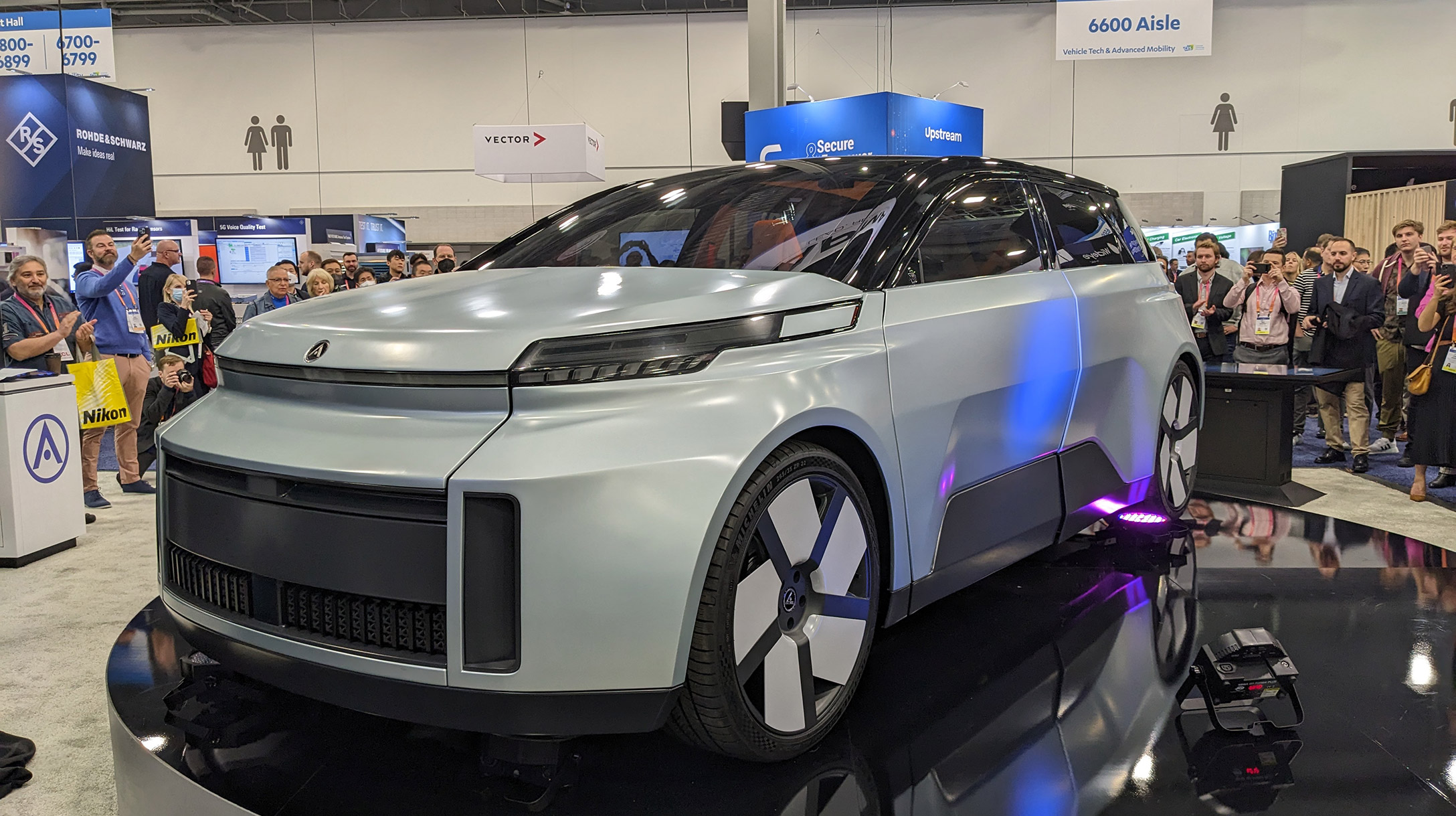 Transforming the driver experience in next generation vehicles
---
A turnkey, customizable intelligent cockpit solution offers a unique experience for drivers and speed-to-market for OEMs.
In 2020, The Automotive Parts Manufacturers' Association (APMA) of Canada launched Project Arrow – the development of the first full-build, all-Canadian, zero-emission concept vehicle. This is a cutting edge project as North America moves closer to a new automotive era and Canada works towards its goal of zero emissions by 2050.
Project Arrow is a Lighthouse Initiative that showcases the capability of Canada's world-class automotive supply sector to deliver innovative, intelligent solutions for the next generation of connected vehicles. The prototype vehicle was unveiled at the Consumer Electronics Show in Las Vegas January 5, 2023.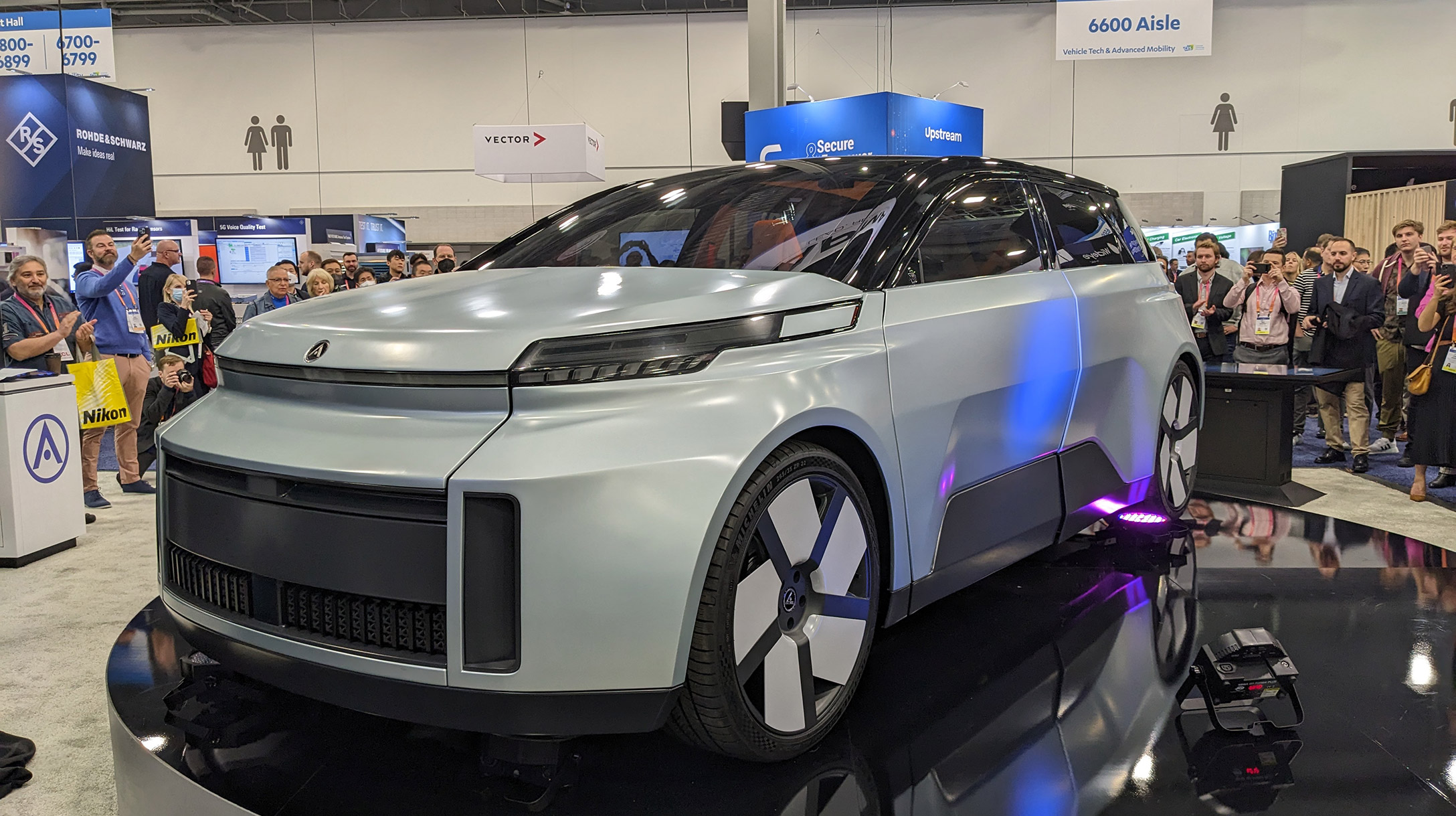 The concept vehicle is designed, engineered and built by Tier 1 and 2 automotive suppliers, auto-tech experts and post-secondary institutions. Geotab is a lead technology partner in Project Arrow and in the Mutualism partnership's intelligent cockpit, which is an ecosystem of integrated, state-of-the-art technologies that have come together to develop a layered, customizable user experience for commercial and passenger vehicles.
What is Mutualism?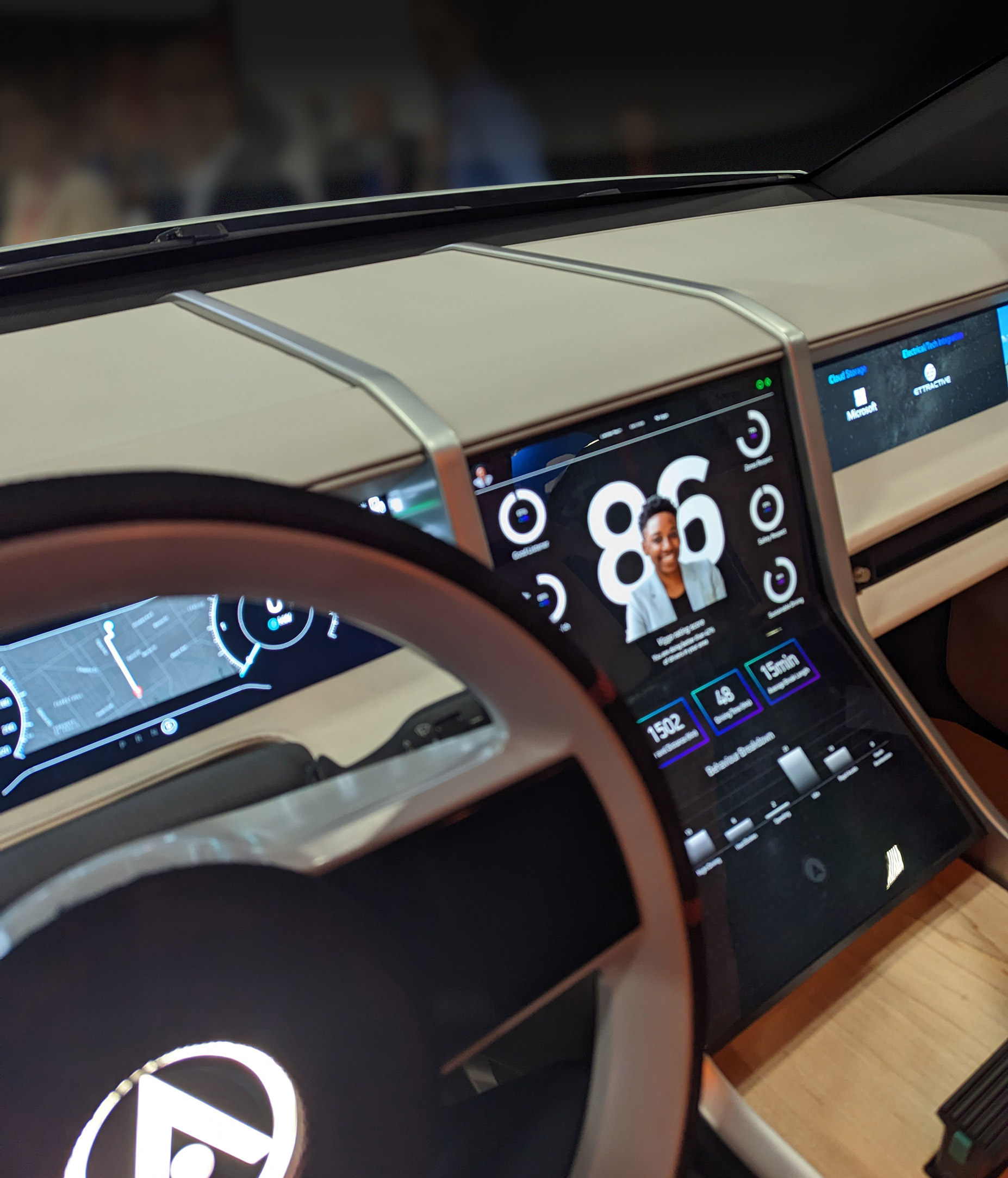 The Mutualism partners came together to make mobility simple, smart, safe and fun for everyone and change how vehicle cockpits are developed and delivered. The mission: accelerate the delivery of personalized and intelligent in-vehicle user experiences through an innovative, secure standard and open technology platform.
Mutualism is built around an intelligent, conversational assistant that captures critical data and information and facilitates the use of smart components, navigation and third-party technologies and services. It is portable to a variety of hardware, technologies and vehicles.

The Mutualism platform includes:
Smart components for a comfortable, personalized, intelligent interior
An intelligent assistant that is deeply integrated to provide a safe, simple personalized experience
Personalized driver behavior analysis to promote safe driving
Safe and secure vehicle telematics data and control integration
Easily developed and deployed tools with plug-and-play architecture
Advanced computing displays and intelligent interfaces driven by an open operating system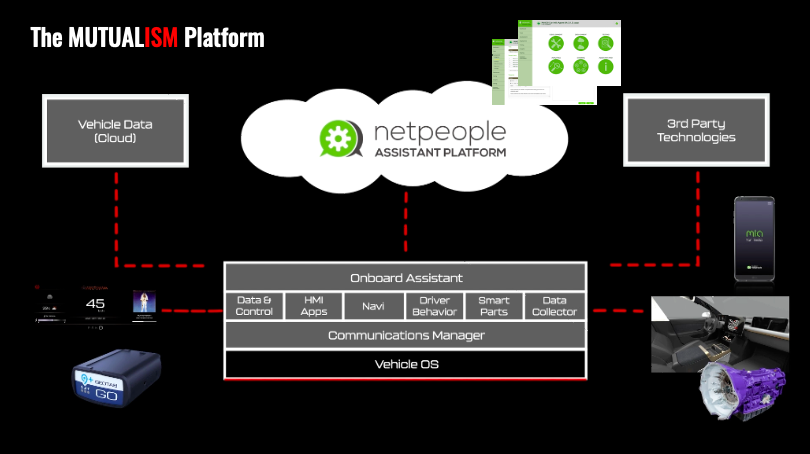 Geotab's embedded telematics technology is integral to the Mutualism ecosystem
As the global leader in IoT and connected vehicles, with over 3.2 million connected vehicles and 50,000 customers, Geotab was selected to provide the embedded telematics technology for Mutualism.

Working with our partners, iNAGO, ABC Technologies, Lenovo, Denso, Vehiqilla and Aisin we have expanded our reach into the digital cockpit to create new real-time experiences with new data points.

The telematics technology embedded in Mutualism will provide drivers with recommendations and insights at every stage of their journey.
What Mutualism will bring to next generation vehicles
Safety
The platform features driver behavior analysis and proactive safety recommendations. The intelligent assistant will be programmed to answer more than 1,500 questions from the owner's manual and provide weather and navigation support so drivers can select the safest, most efficient routes for travel. Integration with an exterior camera will improve blind spot visibility.
Sustainability
Project Arrow is a test bed for the next generation of OEM connected, electric and autonomous vehicles. It is designed to support the growth of zero-emission EV manufacturing. The Mutualism platform supports sustainability by enabling drivers to stay abreast of vehicle health and extend vehicle life with regular maintenance reminders. It keeps drivers informed of battery charge and allows them to easily locate charging stations.
Expandability
Data, learning and AI are core features of the platform. It is designed with open AI, open source and open standards, low and no-code development tools, and is integrated with other consumer platforms. OEMs and mobility carriers have access to unlimited technologies and services to customize, control and expand the cockpit to meet their needs.
A revolutionary opportunity for OEMs
The launch of Mutualism presents a critical opportunity for the automotive industry. While there have been incremental changes, such as adding smartphone services to vehicles, OEMs have only scratched the surface of delivering a fluid digital experience to drivers.
Mutualism is a turnkey solution that offers speed-to-market, a unique, customizable in-vehicle experience and the opportunity to tap into lucrative monetized personal services. This McKinsey article highlights that monetized services could deliver $250 to $400 billion in annual incremental revenue to car manufacturers.
Working with an ecosystem of suppliers enables OEMs to take advantage of expertise and core competencies offered by third-party providers to expand service offerings at scale and deepen integration for a high-value user experience.
Read more about mining value from connected car data.
North American tour
Project Arrow and Mutualism were unveiled at the Consumer Electronics Show in Las Vegas January 5, 2023 – the first of six stops on a North American Tour.

Learn how to go to an open and fast, modern, digital cockpit. Visit https://www.mia-netpeople.com/mutualism or contact MUTUALISMMarketing@inago.com.

Some of the top vehicle and asset manufacturers around the world have partnered with Geotab to integrate with our world class platform. Learn more about becoming an OEM partner.
---
If you liked this post, let us know!
---
Disclaimer
Geotab's blog posts are intended to provide information and encourage discussion on topics of interest to the telematics community at large. Geotab is not providing technical, professional or legal advice through these blog posts. While every effort has been made to ensure the information in this blog post is timely and accurate, errors and omissions may occur, and the information presented here may become out-of-date with the passage of time.
Get industry tips and insights
Sign up for monthly news and tips from our award-winning fleet management blog. You can unsubscribe at any time.
Republish this article for free
Other posts you might like