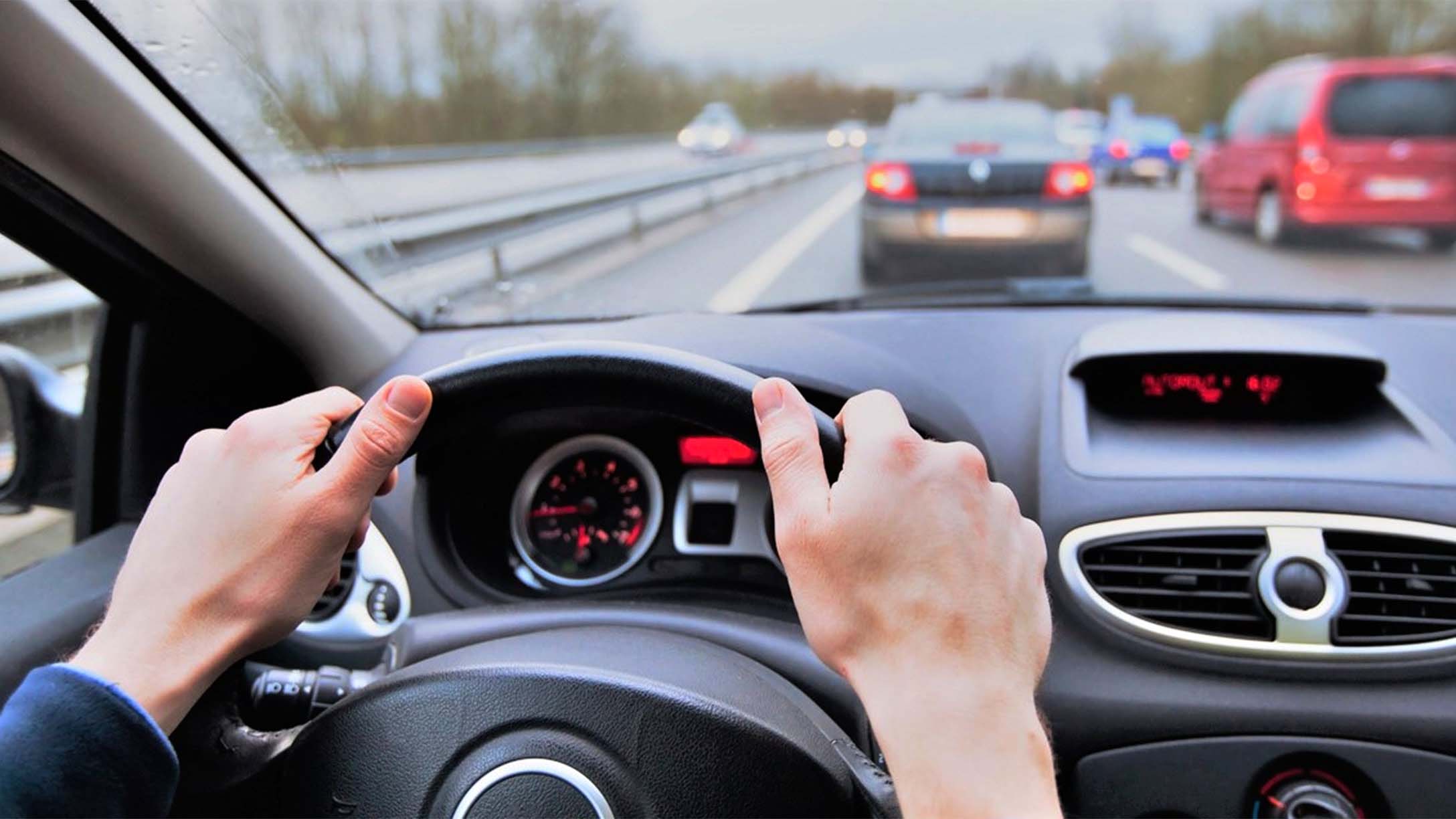 Two-step risky driving action plan for fleets
---
What is risky driving and how can you stop it? Read about solutions to help measure risky driving and tools for coaching drivers.
Do you know how your fleet drivers actually perform while on the road? Wouldn't you like to know? After all, risky driving is estimated to cause or contribute to 40% of crashes, according to the University of Michigan Transportation Research Institute (UMTRI). In this blog post, we'll cover just what risky driving is and describe several solutions to help monitor and coach fleet drivers.
See also: Distracted driving facts: Common causes and solutions
What is risky driving?
Risky driving, as defined by UMTRI, refers to a range of driving behaviors, such as speeding, that increase the likelihood of a crash or the severity of injuries in the case of a crash.
This type of driving occurs more frequently than you would think. Around 87 percent of a sample of drivers displayed at least one risky behavior while driving within the past month, according to the AAA Foundation for Traffic Safety.
Common risky driving behaviors include but are not limited to:
Driving under the influence of drugs or alcohol
Being distracted, e.g., by talking or texting on the phone, eating and drinking, even adjusting the radio station
Not wearing a seat belt
Speeding (driving over the speed limit or driving too fast for road conditions)
Driving while drowsy
Other types of reckless driving include running red lights and not stopping at stop signs, failing to yield, passing on a two-lane highway where it is restricted, and passing a school bus when it's stopped and has its lights flashing.
The good news is that risky driving is a problem that can be significantly reduced, if not fully eliminated, within your fleet. It is behavior that drivers choose to engage in, which means they can choose to drive more safely instead.
See Also: Causes of Aggressive Driving and How to Solve It
The consequences of risky driving
According to the Network of Employers for Traffic Safety (NETS), taking an active approach and "investing in road safety" can reduce a fleet's crash rate by 50 percent. How can you stop risky driving in your fleet?
Risky driving may seem a difficult obstacle to tackle. The following section provides some ideas for taking action.
Risky driving action plan
Step one: Determine the scope of the problem
The first step is to find out what specific risky behaviors are present in your fleet. As Geotab has shown, you can only manage what you measure. There are many safety solutions on the Geotab Marketplace to help fleets collect data on risky driving. Having accurate data supports informed decision-making.
Here are two examples of Geotab Marketplace solutions for measuring driving safety:
Advanced Driver Assistance System — Advanced driver assistance system solutions like Mobileye Advanced Collision Prevention and MOVON Driver Assistance System use various warnings and alarms to measure risky behaviors displayed while driving. Take advantage of alerts like forward collision warnings and safe driving distance alarms to indicate to your drivers if they are following too closely to the vehicle ahead. Integration with MyGeotab means that fleet managers can create rules and exceptions for drivers and use the camera feature to monitor all risky driving events. The Mobileye Exception Report measures and logs the type and number of safety warnings in events per 100 miles (screenshot below).
Driver Safety Scorecard — Geotab's Driver Safety Scorecard makes it easy to see trends in risky driving behavior. This report primarily focuses on aggressive driving, seat belt usage and speeding behaviors in your fleet. This report will pinpoint where additional training is needed. Learn how scorecarding works.

Mobileye Exception Report
Step Two: Provide Resources for Drivers to Improve Their Skills and Behavior.
How will you educate and motivate your drivers to create a safety-focused driving culture within your fleet? Here are some training and coaching solutions from the Geotab Marketplace that can be used to support a driver coaching program:
GO TALK Live In-Vehicle Verbal Feedback — Geotab's IOX-GOTALK uses text-to-speech to provide real-time spoken alerts to drivers based on predefined set rules. Drivers receive immediate feedback in the areas of seat belt usage, dangerous driving, speeding and more. Customize the messages so they offer specifically tailored instructions for each driver.
Automated Driver Training — Predictive Coach actively monitors driver behavior and assigns specific training courses to drivers based on their displayed driving behaviors. Drivers can view the courses from their smartphone or tablet, as well as a desktop computer or laptop. This automated solution helps save money and time, while keeping fleet managers in the loop on how their drivers are performing.
Motivating drivers
Old driving habits can be hard to break, making it difficult to motivate drivers to maintain new safe driving practices and keep improving their skills. One of the best ways to keep your fleet motivated is to boost employee engagement. Recognizing your fleet for their hard work and achievements, especially in front of all their coworkers, can be highly motivating and help cultivate an environment where safety is a priority.
Challenge your drivers and turn everyday driving into a friendly competition with The Driver Challenge by d2go. This gamification solution scores drivers based on customizable KPIs and tracks and analyzes behavior trends. By making safe driving an interactive and social task for your fleet, you help spark their competitive side and get everyone involved. Drivers will be able to encourage and support each other and recognize who is improving.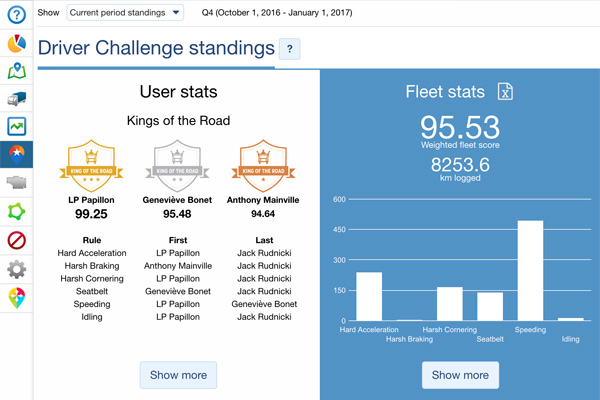 The Driver Challenge fleet gamification dashboard
Continue to collect data, track progress, and push for future improvements
To keep your fleet advancing forward it is important to continue tracking their driving behavior. By taking stock of the goals your fleet has achieved and goals they are striving for, you can make sure they push ahead and are on track for future improvements.
A simple way to track driving trends among your fleet is with the Geotab Trended Exception Report. View daily, weekly, or monthly trends on your dashboard. Share these trends and insights with your fleet to show them their actions have an impact on fleet safety and to continue to motivate them.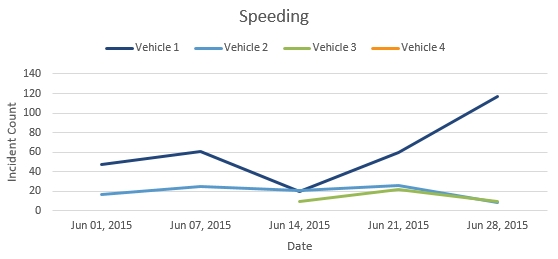 Trended Exception Report showing speeding incidents over time.
Final takeaways
Dedicating time to create safety practices within your fleet benefits not only your drivers and your business, but everyone your fleet meets while on the road.
Establishing a culture of safety can positively impact other areas of business, such as employee engagement and company reputation.
To learn more about these safety solutions and others, please visit the Geotab Marketplace.
Related posts:
Distracted Driving Facts: Common Causes and Solutions
Mobile In Car Video System: Advanced Telematics
Real Fleet Strategies for Coping with Driver Objections to Tracking
---
If you liked this post, let us know!
---
Disclaimer
Geotab's blog posts are intended to provide information and encourage discussion on topics of interest to the telematics community at large. Geotab is not providing technical, professional or legal advice through these blog posts. While every effort has been made to ensure the information in this blog post is timely and accurate, errors and omissions may occur, and the information presented here may become out-of-date with the passage of time.
Get industry tips and insights
Sign up for monthly news and tips from our award-winning fleet management blog. You can unsubscribe at any time.
Republish this article for free
Other posts you might like