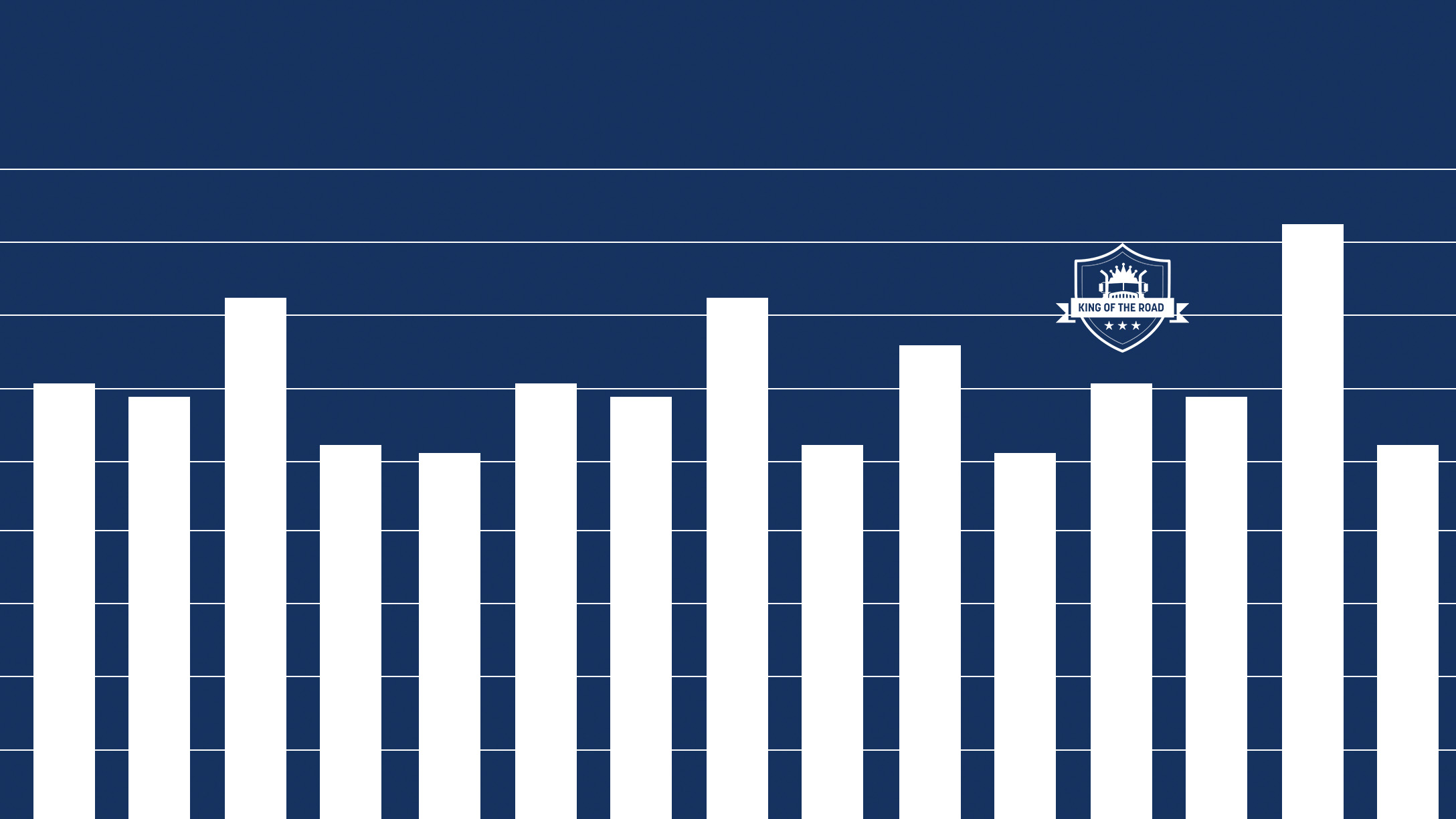 Motivate drivers with fleet gamification
---
Learn about fleet gamification and how it can help your fleet improve driver safety, cut costs and achieve productivity.
Looking for a great way to motivate drivers and improve their behavior? Try gamification. Companies are using gamification for employee motivation and much more, from marketing products to promoting social causes.
Research and Markets forecasts that the global gamification market, which was valued at $10.19 million (USD) in 2020, is expected to reach $38.42 million by 2026. The same report also suggests that gamification is also being used by companies to shape human behavior to further innovation, get more work done and increase engagement. Companies have come to realize that gamification can have a positive impact on both customers and employees, which provides a rich brand experience and eventually also helps increase sales.
What is gamification?
The term "gamification" describes the process of applying characteristics typical of games to ordinary tasks to encourage participants and keep them engaged. The term was first used back in 2002 by Nick Pelling, a computer programmer and creator of Frak! — a Commodore 64 game. Companies from a broad range of industries use gamification for several reasons, such as increasing customer loyalty or driving employee productivity.
When a company implements gamification, they essentially track and rank performance through points and leaderboards and may offer rewards or badges for achievements.
How gamification is used in the workplace:
Virtual badges for completed training
Competition among employees for achieving goals with a reward
Points leaderboard and progress bar for achieving sales targets
Why is gamification effective?
Gamification turns mundane or repetitive tasks into a rewarding experience. Humans naturally like to compete and be rewarded for good behavior. Gamification taps into this desire in order to encourage positive behaviors in the workplace and create a fun learning environment. It is a good way to inspire healthy competition, engage the workforce, improve processes, deliver learning experiences and ultimately leave participants with a sense of achievement. It is comparable to a gym trainer giving their clients rewards for achieving certain goals.
Key characteristics of gamification solutions
Primarily, gamification is used to change behavior, which is otherwise quite difficult to achieve. Brian Burke, Research Vice President at Gartner and author of Gamify: How Gamification Motivates People to Do Extraordinary Things, explains that gamification solutions have several elements in common:
Game mechanics: Use of points, badges, leaderboards, or levels and prizes.
Experience design (XD): Focus on the user experience of the players.
Digital engagement: Games are played on computers or mobile tech, like smartphones or wearable devices.
Motivation: Intention to get people to perform a desired action.
Goals: Ultimate objective that is to be achieved.
How does fleet gamification work?
In the fleet industry, companies can use gamification to improve safe driving, save on fuel and identify and reward quality drivers. Introducing gamification can make day-to-day activities more interesting. Most importantly, drivers and other employees have the chance to earn bonuses and prizes that motivate them to work towards company goals.
Best practices for fleet gamification:
Choose key performance indicators (KPIs) that you want to improve
Review the results regularly
Provide coaching to support behavior change
Ensure feedback to drivers is immediate and continuous
To gain buy-in, ask your employees what rewards they prefer
Benefits of gamification for fleet management
For fleets, gamification can be a powerful way to reinforce company policies and make improvements to safety, driver productivity and other fleet goals.
Top benefits of gamification for fleet managers:
Track fleet performance
Retain high-performing drivers
Help coach drivers with immediate feedback
Reduce instances of speeding and distracted driving
Motivate and keep drivers engaged
The benefits of gamification can also extend to enriching company culture. By using gamification methods, fleet managers can reward drivers for avoiding harsh braking and cornering or vehicle idling. Using gamification data, fleet managers can provide real-time feedback and guide drivers to improve their performance. Fleet managers can provide that critical and insightful lesson all at once to improve their fleet safety. As with any solution, flexibility and options for customization are important.
Marketplace Add-Ins for gamification
Gamification, combined with a telematics system, can help fleet managers maintain a ranking system that indicates driver performance. Gamification tools that are integrated with a telematics platform like MyGeotab collect data on driver behaviors like aggressive driving, speeding, time spent idling and seat belt use. The solutions then analyze the data to identify the top drivers and those who might need more training.
The Geotab Marketplace includes multiple solutions that allow businesses to combine telematics and gamification to increase driver safety, customize driver coaching and provide instant driver feedback. These solutions integrate seamlessly with MyGeotab to create a unified, holistic experience while collecting and communicating data.
In addition to third-party gamification solutions, the Marketplace also offers a Driver Safety Scorecard Add-In developed in-house at Geotab to help fleet managers track driver behavior and keep their data organized. Fleet managers can use the scorecard for gamification. The Driver Safety Scorecard is easy to understand as it uses the traffic light color system to group drivers into colors (green, yellow and red). The colors represent where each driver is on the performance spectrum in comparison to the rest of your fleet.
Level up with The Driver Challenge for Geotab
The Driver Challenge by d2go is a gamification solution that works with the Geotab platform. The Driver Challenge leverages Geotab data to monitor and score driving behavior based on set KPIs. The mobile app and MyGeotab Add-In motivates and coaches drivers and also tracks trends to provide managers insight on what needs improvement and who merits recognition.
Fleet managers can pinpoint areas of improvement with the weekly and quarterly trend analysis. Printable fleet and driver report cards make it easy to share fleet performance results.
Reduce collisions with Mentor TSP and Geotab
Another Geotab Marketplace solution for driver management and training is Mentor TSP, which connects your existing Geotab fleet management solution with eDriving's driver risk management platform. When implemented in your fleet, this tool helps reduce incidents, collisions, motor vehicle record (MVR) license violations and total cost of fleet ownership.
Mentor TSP uses sensors to collect, analyze and score data on the driving behaviors most predictive of risk. These include acceleration, braking, cornering, speeding and phone distraction – one of the biggest threats to road safety today.
The future of gamification in fleet management
According to a report in Fleet Equipment, gamification is not just about fun and games but when implemented effectively, can help businesses achieve goals, increase productivity, avoid downtime and improve driver safety. It also helps fleet owners save on fuel, insurance and maintenance.
Gamification brings out a competitive spirit that helps motivate drivers to achieve company goals and hit KPI targets.
Explore the Driver Management and Training category on the Geotab Marketplace to find more solutions.
Originally published on September 5, 2017.
---
If you liked this post, let us know!
---
Disclaimer
Geotab's blog posts are intended to provide information and encourage discussion on topics of interest to the telematics community at large. Geotab is not providing technical, professional or legal advice through these blog posts. While every effort has been made to ensure the information in this blog post is timely and accurate, errors and omissions may occur, and the information presented here may become out-of-date with the passage of time.
Get industry tips and insights
Sign up for monthly news and tips from our award-winning fleet management blog. You can unsubscribe at any time.
Republish this article for free
Other posts you might like