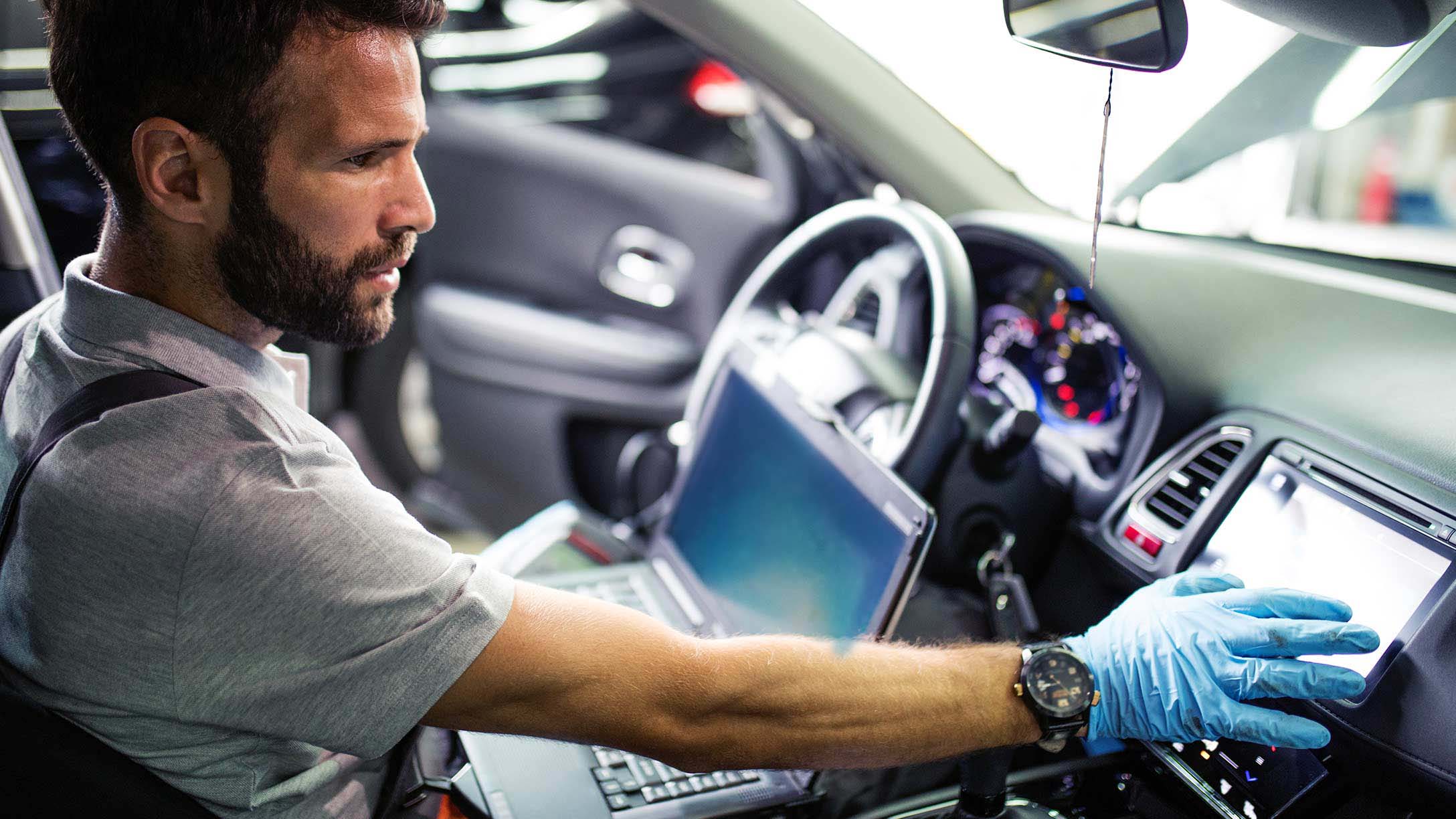 How to leverage vehicle maintenance software to optimize operations
---
Learn the key benefits of vehicle maintenance software.
When it comes to the compliance of your fleet, this ongoing initiative can be time-consuming, and sometimes overwhelming to say the least. The good news? With the right tools in place, it is possible to avoid non-compliance penalties, and a whole host of other problems that go along with it.
In this post, you will discover five key benefits that vehicle maintenance software offers, and how you can use it to help optimize how your business operates.
Five key benefits of vehicle maintenance software
When it comes to vehicle maintenance software in general, there are five key benefits to be aware of that make it worth the investment.
1) Significant cost savings
One of the most important reasons for implementing maintenance software relates to cost saving and the impact it has on reducing waste. By identifying parts and components of your vehicle that are prone to failure, you can lower maintenance bills.
2) Faster decision making
Real-time access to data, including updates on your entire fleet is another key benefit that enables fleet managers to make quicker decisions.
With vehicle maintenance software, your information is in one centralized location so you don't have to spend time searching through paper reports or handwritten work orders that may be illegible.
3) Minimized downtime
The cost of fleet downtime can really add up per vehicle. Vehicle downtime is also another consequence of a paper-based inspections and maintenance process. Forms can get lost, misplaced, damaged, or destroyed, and can lead to gaps in your maintenance history.
As a solution, vehicle maintenance software ensures important information is always collected digitally, and easy to access at any time.
4) Ability to keep track of vehicles and equipment
Fleet managers have a lot of responsibility. With a centralized software solution, you can have the peace of mind you need to focus on other duties. Instead of sorting through papers, know that the information you need is inside of a single platform.
5) Reduced risk of liability
When it comes to avoiding liability, vehicle damage and injuries to drivers are occurrences you never want to risk. At times, these issues are the result of irregular preventative maintenance, or an inadequate inspection process. With a vehicle maintenance solution in place, features like automatic updates and reminders can help reduce these risks.
See also: Geotab's fleet optimization solution
Why implementing fleet management software is worth it
The long-term benefits of implementing robust software can have implications that not only can save your organization time and money due to a better-maintained fleet, but also provide several other benefits worth noting. Here are four reasons to consider implementing a vehicle maintenance solution:
Ability to attract and keep top talent
With driver shortages being common, having an efficient solution for vehicle inspections and maintenance can help attract and keep drivers in a competitive labor market. Not only will the best drivers appreciate a streamlined approach to maintenance, but also fleet managers who are looking to step into a company that puts driver and fleet safety at the forefront.
Enhanced industry reputation
By introducing vehicle maintenance software, standing out amongst the competition is another key benefit to consider. Deploying more reliable vehicles as a result of having a fleet maintenance strategy in place can also lead to more satisfied customers, more contracts and less turnover over time.
Improved compliance
One of the best reasons to select a quality vehicle maintenance software is that it enables you to remain compliant in the event of a safety audit. Instead of scrambling to produce maintenance records, you can rest assured that all of your historical inspection and maintenance data is in a safe place, and accessible by anyone, at any time.
Cleaner, safer vehicles
Important features of basic fleet maintenance software, like maintenance reminders, can ensure vehicles don't get neglected, and stay clean at the same time. By noticing the small details and problems before they become bigger, you can rest assured your fleet is safer, cleaner, and more profitable than your competitors who do not use vehicle maintenance software.
See also: Top 3 tools for successful fleet maintenance in MyGeotab
About Whip Around
Whip Around Inc is a leader in vehicle inspection and maintenance solutions for commercial fleet operators. With the Whip Around integration with Geotab, it is possible to streamline the way your drivers do inspections, your mechanics manage faults and work orders, and you make decisions about your fleet. Visit Whip Around on the Geotab Marketplace for more information.
---
If you liked this post, let us know!
---
Disclaimer
Geotab's blog posts are intended to provide information and encourage discussion on topics of interest to the telematics community at large. Geotab is not providing technical, professional or legal advice through these blog posts. While every effort has been made to ensure the information in this blog post is timely and accurate, errors and omissions may occur, and the information presented here may become out-of-date with the passage of time.
Get industry tips and insights
Sign up for monthly news and tips from our award-winning fleet management blog. You can unsubscribe at any time.
Republish this article for free
Other posts you might like